Accor Says Au Revoir To The Rive Gauche
Accor has sold the 617-room Pullman Paris Rive Gauche to Bouygues Immobilier, the property development subsidiary of Paris-based conglomerate Bouygues Group, for €77 million. Accor reported that the hotel's operating performance and technical standards were not in line with the group's requirements, and the hotel is to shut down this year, leaving Accor with four Pullman-branded hotels in the French capital.
Kingdom Sells Its Stake In Two Hotels
Kingdom Hotel Investments has finalised the sale of its 82% share in the Four Seasons Hotel Jakarta, Indonesia, and its 96% stake in the Mövenpick Dar es Salaam in Tanzania, Africa, for a total of US$93 million.
Dublin Hotel Soon To Be Sold
It was reported this week that the National Asset Management Agency is close to selling the Morrison Hotel in Dublin city centre, Ireland, for between €20 million and €25 million. There is a bidding shortlist for the 141-room hotel, which includes Russian billionaire Yelena Baturina, the wife of Moscow's former mayor, Yury Luzhkov. The hotel was previously owned by Irish developer and hotelier Hugh O'Regan before it fell into administration in 2010.
New Owner For A London Travelodge
M&G Secured Property Income Fund has purchased the London Marylebone Travelodge, in London, UK, for £15.35 million from asset management company Aviva Investors. The 92-room hotel is run by Travelodge on a 30-year lease.
De Vere To Expand Its Village Hotels Brand
It is rumoured that De Vere Group is looking to raise around £65 million by selling four hotels and one conference venue in the UK, in order to fund the development of three new-build Village Hotels properties. The group's Village Hotels chain, now led by former Malmaison and Hotel du Vin chief executive Robert Cook, plans to expand with up to 18 new hotels over the next few years. The hotels on the market are reported to be the 173-room Grand Harbour, in the port of Southampton; the 140-room Royal Bath, in the seaside resort of Bournemouth; the 119-room University Arms, in Cambridge; and the 188-room De Vere Village Daresbury Park, in Warrington, northwest England.
Major Conference And Spa Hotel For Sale
HVS Hodges Ward Elliott (HVS HWE) has been appointed by administrators to offer for sale Whittlebury Hall, a four-star conference and spa hotel adjacent to the Silverstone motor racing circuit, in the south of England. The hotel, which is connected to the circuit via a private road, has a total of 212 guest rooms, 54 conference rooms and a 2,000 m² spa with 22 treatment rooms and a leisure club. Adjacent to Whittlebury Park, a 36-hole championship golf course, Whittlebury Hall is easily accessible from both the M1 and the M40 motorways. For further information, please contact Puneet Kanuga from HVS HWE at pkanuga@hvs.com.
When Two Become One
US-based hotel, restaurant and travel firm Carlson and Rezidor Hotel Group have been working together since 1994, when the Radisson SAS brand was first created. This week, it was announced that they are uniting in order to bring their hotel operations under the same name: Carlson Rezidor Hotel Group. The legal status and ownership structure of both groups is to remain the same, but all commercial activities will be conducted under Carlson Rezidor Hotel Group. "The goal of this development is to generate more attractive financial returns for the owners and greater value for all shareholders, to be perceived by business partners around the world as one global hotel company, to offer more compelling and consistent value propositions to the guests, and to offer global career and development opportunities to the staff," said Rezidor's president and chief executive, Kurt Ritter. The group's new website www.carlsonrezidor.com is expected to go live on 1 February 2012.
UK's First Residence Inn Opens In Scotland
Marriott International has opened its first Residence Inn property in the UK. The Residence Inn Edinburgh, in Scotland, is part of the £450 million mixed-use Quartermile development in the city centre. The 107-room hotel is owned by Gladedale Ventures, a subisidiary of Scotland-based Gladedale Group Holdings. Marriott now has two Residence Inns in operation in Europe.
Join HVS In Turkey
The HVS Madrid office is delighted to announce that it will be sponsoring a series of Shared Holiday Ownership Workshops across Europe in 2012. The first event will take place on Monday 6 February at the Ceylan InterContinental Istanbul, in Turkey, immediately prior to the Central Asia & Turkey Hotel Investment Conference welcome reception (www.cathic.com). Subsequent workshops will be held later in the year in Edinburgh and Vienna. The workshops will be focused, hands-on events for owners, developers and operators interested in adding a shared holiday ownership/mixed-use component to their projects. Please note that spaces on the workshops are limited. To register, visit www.SHOWorkshops.com. Come join the SHOW! We look forward to seeing you there.
A Plus For Best Western In Russia
Best Western has opened its third hotel in Russia: the 84-room Best Western Plus Spasskaya in the port of Tyumen, Siberia, which marks the debut of the group's Plus brand in the country. "This hotel represents a significant move forward for our development efforts in Russia," said Suzi Yoder, Best Western's vice president of internal operations. "We see many excellent opportunities for us to develop the brand further throughout the region," she added.
The Innside Scoop On Meliá
Meliá Hotels International is bringing its Innside brand to the UK. The Spanish group has signed an agreement for the Innside Manchester Hotel, which will be developed as part of Ask Property Developments' 20-acre, £80 million First Street mixed-use development in the city of Manchester, northwest England. Investment in the 208-room hotel, Melia's third signing in the UK, is reported to be £25 million. A decision on planning permission for the project is expected in April 2012 and, if the scheme is approved, construction is scheduled to start in June, with an opening planned for summer 2014.
Once A Mint Now A DoubleTree
Hilton Worldwide has officially rebranded two more former Mint Hotels in the UK. The Mint Hotel Leeds and the Mint Hotel Manchester are now operating as the 333-room DoubleTree by Hilton Leeds City Centre and the 285-room DoubleTree by Hilton Manchester-Piccadilly, respectively. The three remaining Mints (in Bristol, Birmingham and Glasgow) will be renamed shortly.
A Polish Affair For Qualia Development And Louvre Hotel Group
Polish real estate company Qualia Development, a subsidiary of PKO Bank Polski, has announced plans to enter the hotel industry. The Warsaw-based firm has signed a strategic franchise partnership with Louvre Hotels Group that will see it develop seven hotels and serviced residences (approximately 1,000 rooms) across Poland under Louvre's Golden Tulip and Royal Tulip brands. The Golden Tulip Miedzyzdroje Residence will be the first of the portfolio to open in June 2012, on the island of Wolin in northwestern Poland, and rest are expected to be in operation by 2016. Investment in the project is reportedly expected to exceed PLN500 million (US$146 million).
Rezidor On Its Way To Qatar
Rezidor Hotel Group is to make its debut in Qatar – after an US$18 million renovation, in the third quarter of 2012 the Ramada Plaza Doha will be transformed into the 583-room Radisson Blu Hotel, Doha. Additionally, with hotel number one only just announced, Rezidor is already planning a second trip to Qatar. The group has also signed an agreement with Al Jassim Group for the Hotel Missoni Doha. This flagship lifestyle hotel is expected to open at the end of 2015 with 200 rooms and 70 serviced apartments.
A Second DoubleTree For Ras Al Khaimah
Hilton Worldwide has signed a management agreement with Mohamed Ruqait Real Estate for its second DoubleTree by Hilton property in the emirate of Ras Al Khaimah, UAE. The new-build, 309-room DoubleTree by Hilton Marjan Island is scheduled to open at the beginning of 2014 on the man-made Al Marjan Island development. Overall, Hilton currently has three hotels in operation in Ras Al Khaimah and two in the pipeline (including a Waldorf Astoria due to open by the end of 2012).
Accor's 2011 Performance
Accor reported four-quarter revenue for 2011 for its hotel business of €1.4 million, a like-for-like increase of 3.7% on the same period in 2010. Year-end revenue for 2011 was €5.7 million, a like-for-like increase of 5.4%. France was a strong performer for Accor in the last three months of 2011, with increases in revenue of 3.3% and 3.9% in the upscale/midscale and economy segments, respectively. The London market was the main driver of growth in the UK; however, Accor reported that occupancy outside the city improved sharply, particularly for economy hotels, owing to marketing campaigns directed at short-break leisure travellers. Overall, occupancy for upscale and midscale hotels in Europe was 62.9% for the fourth-quarter of 2011, and economy hotels reached 67.9%. Over the past year, Accor set a new record for expansion, exceeding its target by opening 38,700 rooms. The group has confirmed a full-year EBIT target of €510 million to €530 million.
Gladen's Tidings
The news from Spain by Esther Gladen, Business & Market Intelligence Analyst, HVS Madrid. A New Meliá for Benidorm: Meliá Hotels International has signed a management agreement for the Meliá Villaitana resort in Benidorm, which comprises two hotels with a total of 455 rooms, five swimming pools, a spa, 11 restaurants and 6,000 m² of conference space. The resort is expected to open shortly. Melía adds value to Magaluf: the new Calvía Beach Resort by Sol Hotels is scheduled to open in June 2012, in an area of Magaluf, on Majorca, which is undergoing a regeneration. BlueBay plans three new resorts in Spain: the company plans to open three more resorts in Ávila and Málaga in 2012, under management contracts. A new property for AC Hotels in Tenerife: AC Hotels by Marriot has shown an interest in Tenerife and plans to add a four-star property on the island to its portfolio. A new ABBA in Barcelona: the company recently incorporated the four-star, 103-room ABBA Balmoral to its portfolio.
Absolute Share Price Performance Over the Past Week – 12-19 January 2012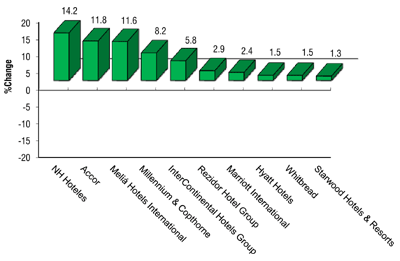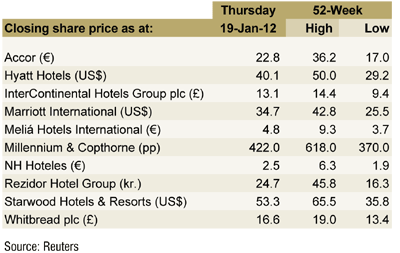 Accor – Credit Suisse raised Accor's rating to "neutral".
Meliá Hotels International – Meliá rose 1.3% on weak volume for a third consecutive day, a three-day rise of 6.0%.
InterContinental Hotels Group (IHG) – IHG hit a six-month high during the past week.
---
For the latest in the hospitality industry, please visit: http://www.hvs.com. You are also welcome to contact the following personnel.
| | |
| --- | --- |
| Russell Kett, Managing Director – HVS London (@russellkett) | rkett@hvs.com |
| Charles Human, Managing Director – HVS Hodges Ward Elliott | chuman@hvshwe.com |
| Tim Smith, Director – HVS London | tsmith@hvs.com |
| Chris Martin, Director – HVS Hodges Ward Elliott | cmartin@hvshwe.com |
| Demetris Spanos, Managing Director – HVS Athens | dspanos@hvs.com |
| Hala Matar Choufany, Managing Director – HVS Dubai | hchoufany@hvs.com |
| Christopher Mumford, Managing Director – HVS Executive Search (@ChrisMumford) | cmumford@hvs.com |
| Philip Bacon, Managing Director – HVS Madrid and Managing Director, EMEA & Asia – HVS Shared Ownership Services | pbacon@hvs.com |
| Saurabh Chawla, Director – HVS Asset Management and Strategic Advisory | schawla@hvs.com |
| Louise Fury, Senior Editor and EMEA Hospitality Newsletter Author – HVS London | lfury@hvs.com |