A Major Purchase For Accor In Asia-Pacific
Accor has acquired Australian hotel management company Mirvac Hotels & Resorts for €149 million. Mirvac has 48 hotels (including two owned hotels) across Australia and New Zealand, and the deal brings Accor's portfolio in these two countries up to 241 hotels (32,500 rooms). Accor has also paid €46 million for a 21.6% stake in investment vehicle Mirvac Wholesale Hotel Fund (MWHF), which owns seven of the 48 hotels. Additionally, it is also reported that Accor and Singapore-based real estate developer Ascendas plan to jointly acquire Mirvac's 49.2% stake in MWHF. The deal is expected to be completed in the first half of 2012 and most of the hotels are to be rebranded as Sofitel, Pullman, MGallery, Novotel or Mercure properties. "This operation is a major success in a high growth market," said Accor's chairman and chief executive officer, Denis Hennequin. "With our growth strategy which includes both organic growth and targeted acquisitions such as this one, enabled by our excellent financial situation, I am confident in our capacity to reach our objectives," he added.
Thomas Cook Sells Spanish Hotel Portfolio
As part of an ongoing disposal programme, holiday firm Thomas Cook has reached an agreement to sell its 51% stake in holding company Hotels Y Clubs De Vacaciones (HCV) to Majorca-based Iberostar Hoteles y Apartamentos, the hotel arm of Grupo Iberostar, for €72.2 million (with a net debt of €22.4 million). Along with a co-investor, Iberostar is spending €94 million in total to acquire 100% of HCV, which owns five hotels and one golf club in Spain, and also operates another golf club in the country. The deal will reduce Thomas Cook's net debt by €94.6 million. Thomas Cook's acting chief executive, Sam Weihagen, said, "I am delighted that we have been able to agree this transaction which will significantly reduce Thomas Cook's net debt and demonstrate our ongoing commitment to strengthen the balance sheet. Importantly for our customers, we have been able to maintain access to this popular portfolio of hotels through a commercial arrangement with our partner Grupo Iberostar."
A New Owner For The Hotel Verta
Simon Cowell may be famous in the world of music and celebrity, but when it comes to property and the hospitality industry it is his brother, Nicholas, who gets the headlines. Woodlon, which was set up by Nicholas Cowell, has bought the Hotel Verta, in London, out of administration off a guide price of £20 million. The 70-room hotel was one of four properties that didn't form part of the administration of von Essen, when it collapsed earlier this year. However, the hotel went on to fall into administration at the end of July. Woodlon have picked Rhombus International Hotels Group to operate the hotel, which will be rebranded Hotel Verta by Rhombus. Rhombus currently manages four hotels in Hong Kong, with a flagship property due to open in China in 2012, but this is its first hotel project in Europe. Cowell's co-founder of Woodlon, Adrian Levy, commented that the group is looking to buy more hotels in 2012. "We are mainly looking for distressed assets and will be bringing in hotel operators to run the properties to add value to the assets," he said.
HNA Walks Away From Its Investment In NH Hoteles
Despite receiving all of the necessary approvals from China's Government, Beijing-based HNA Group has terminated its €431.6 million investment in NH Hoteles, owing to economic volatility and uncertainty. NH Hoteles has received US$15 million in compensation for the collapse of the deal, which would have seen HNA acquire a 20% stake in the Spanish chain. However, HNA has confirmed that it is still willing to enter into a joint strategic alliance with NH which would include the joint development of hotels in Greater China and the distribution of NH properties in China through HNA's airline and travel agencies network.
A DoubleTree Debut In The Netherlands
The former Mint Hotel Amsterdam has been rebranded this week as the DoubleTree by Hilton Amsterdam Centraal Station, marking the brand's debut in the Netherlands. The 553-room hotel, which opened earlier this year in June, is the first of the eight Mint Hotel properties to become part of Hilton's portfolio and the group's third hotel overall in Amsterdam.
A Second Scandic For Stavanger
Stockhom-based Scandic has signed an agreement with Norwegian real estate company Øgreid Eindom for its second hotel in the port of Stavanger, southwest Norway. The new 201-room Scandic hotel is expected to open in 2013. "Scandic is growing rapidly in Norway," said Svein Arild Steen-Mevold, Sandic's head of operations in Norway. "Stavanger is one of Norway's most important cities, with a growing hotel market. Our second hotel here will have a very central location and expand our room capacity in Stavanger to 450 rooms," he added.
Half A Dozen Courtyards In Russia
Marriott International opened its sixth Courtyard by Marriott hotel in Russia this week: the 171-room Courtyard by Marriott Moscow Paveletskaya, which is the group's eighth hotel overall in Moscow. "We are excited about the expansion of our Courtyard by Marriott brand in Eastern Europe and see strong opportunity to continue to grow the brand here in Russia," said Amy McPherson, Marriott's president and managing director for Europe.
Accor's Style Makeover
Whilst December for some people means putting up their Christmas trees and switching on fairy lights, Accor has been decorating several hotels with signs for its new ibis Styles brand. Two previously independently run hotels in Spain – the Ramiro 1, in Zaragoza, and the Hotel Victoria, in La Rioja – have become the ibis Styles Zaragoza Ramiro 1 and the ibis Styles Arnedo La Rioja, respectively. In Berlin, Germany, the ibis Styles Berlin Ost is getting ready to open its doors on 22 December. And in France in the town of Evry, near Paris, the all seasons Evry Cathédrale, the very first all seasons hotel to open back in 2007, has now become the ibis Styles Evry Cathédrale.
A New Leader For Marriott In 2012
Next year, at the age of 79 and after 60 years of working for the family company, Bill Marriott is to step down from his role as chief executive of Marriott International. Arne Sorenson has been announced as his replacement. Mr Sorenson joined Marriott in 1996, and since 2009 he has been the group's president and chief operating officer. Mr Sorenson will take up his new post on 31 March 2012. At the same time, Robert McCarthy, who began his career at Marriott 35 years ago as a restaurant waiter, will take on the role of chief operating officer. However, Bill Marriott, whose parents founded the firm in 1927, is not heading off into retirement – he is to become the group's executive chairman. "As executive chairman, I will continue to share my many years of experience with our senior management team as we pursue further growth," he said. "My energies will also be directed at reinforcing the timeless core values that have been the bedrock of our success. I still plan on visiting a lot of our hotels and continuing to be a company ambassador as we build opportunity throughout the world," he added.
A First For Fairmont In Jordan
Fairmont Hotels & Resorts is to make its debut in Jordan in 2014 with a hotel in Amman, in the northwest of the county. The 290-room Fairmont Amman is being developed by Jordanian real estate development company Isam Khatib and Partners.
A New Landmark In Dubai
Landmark Hotels & Suites has opened its sixth hotel in Dubai, UAE: the 174-room Landmark Grand Hotel – Rigga. Commenting on the new addition to the Landmark family, SM Sadique, the group's managing director, said, "The dynamism of Dubai's hospitality sector and the growing global appeal of the UAE as a leisure and lifestyle hub inspired us to come up with a new development that harmonises luxury and functionality to offer the perfect home away from home for holiday adventurers and business travellers alike." Landmark now has nine hotels in operation across the Middle East and India and several more in the pipeline.
Sarova Expands In Africa
As part of an expansion plan, Mumbai-based hotel management company Sarova Hotels & Resorts has signed a contract with M & H Corporation Ltd for a three-star hotel in Nairobi, Kenya. The 100-room hotel is expected to open in 2014. Sarova currently manages and franchises 54 hotels across India and two in Africa, in Dar es Salaam (Tanzania) and Nairobi.
Gladen's Tidings
The news from Spain, by Esther Gladen, Business & Market Intelligence Analyst, HVS Madrid. Pierre & Vacances announces a new property in Salou: the new-build property, only one kilometre from Port Aventura, will offer 96 apartments, each with capacity for six people. New low-cost hotel company Nest Style: the new company, which combines boutique style with a low-cost concept, has recently opened its second property: the one-star, 28-room Nest Style Granada, which is located in the centre of the city and will be refurbished at the beginning of next year.
Absolute Share Price Performance Over the Past Week – 8-15 December 2011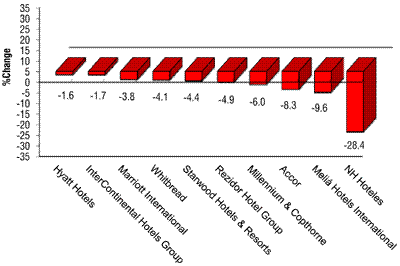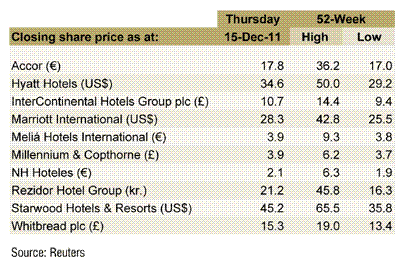 InterContinental Hotels Group (IHG) – IHG dropped 2.7% on high volatility, a three-day fall of 4.4%.
NH Hoteles – NH hit a year low during the past week.
Meliá Hotels International – Meliá hit a year low for the fifth time in three months.
---
For the latest in the hospitality industry, please visit: http://www.hvs.com. You are also welcome to contact the following personnel.
| | |
| --- | --- |
| Russell Kett, Managing Director – HVS London (@russellkett) | rkett@hvs.com |
| Charles Human, Managing Director – HVS Hodges Ward Elliott | chuman@hvshwe.com |
| Tim Smith, Director – HVS London | tsmith@hvs.com |
| Chris Martin, Director – HVS Hodges Ward Elliott | cmartin@hvshwe.com |
| Demetris Spanos, Managing Director – HVS Athens | dspanos@hvs.com |
| Hala Matar Choufany, Managing Director – HVS Dubai | hchoufany@hvs.com |
| Christopher Mumford, Managing Director – HVS Executive Search (@ChrisMumford) | cmumford@hvs.com |
| Philip Bacon, Managing Director – HVS Madrid and Managing Director, EMEA & Asia – HVS Shared Ownership Services | pbacon@hvs.com |
| Saurabh Chawla, Director – HVS Asset Management and Strategic Advisory | schawla@hvs.com |
| Louise Fury, Senior Editor and EMEA Hospitality Newsletter Author – HVS London | lfury@hvs.com |