Halcyon Days For Seven Former Von Essens
A Patron Capital Partners' fund and its joint venture partner Halcyon Hotels and Resorts have purchased seven former von Essen hotels in the south and west of England off a guide price of £40.5 million. Four of the hotels, the 32-room Fowey Hall, in Cornwall; the 27-room Ickworth Hotel, the east wing of the national-trust owned Ickworth House; the 36-room Moonfleet Manor, in Dorset; and the 26-room Woolley Grange, near the city of Bath, were sold to von Essen in 2006 by Nigel Chapman, now the head of Halcyon Hotels and Resorts, and his then business partner, Nicholas Dickinson. The other three properties in the newly acquired portfolio are the 17-room, Grade II-listed Elms, in Worcestershire; the 27-room Thornbury Castle, in Gloucestershire, which dates from the 16th century; and the 24-room New Park Manor, in the New Forest. Halcyon, which was launched by Chapman earlier this year, will manage the properties and also plans to invest £10 million in the seven hotels. This deal brings Halcyon's portfolio up to eight.
Accor Sells Its Share In Hotel Formula 1 To Southern Sun
Accor and South African group Southern Sun Hotels formed the Hotel Formula 1 budget chain in South Africa as a joint venture in 1991. This week, Accor announced that it has sold its 52.6% stake in the chain to Southern Sun under a sale-and-franchise-back deal for €28 million; €25 million of this sum is attributable to Accor's stake in the chain and the remaining €3 million is a refund of a loan made by Accor to the venture. Hotel Formula 1 currently owns 20 hotels (1,474 rooms) across South Africa and manages three properties owned by Southern Sun. All 23 hotels will now be operated under franchise agreements.
Starwood Goes Designer
Starwood Hotels & Resorts has signed an agreement to purchase a 49.8% stake in Berlin-based sales and marketing consortium Design Hotels from Munich-based Arabella Hospitality. The deal is expected to be completed in the first quarter of 2012, subject to anti-trust approval in Germany. Starwood currently manages/franchises 20 of Arabella's hotels across Europe. "This is an investment presented to us by a longtime partner," said Starwood's president and chief executive officer, Frits van Paasschen. "With our own passion for design and innovation, we have long admired Design Hotels…as a shareholder, we are delighted to have a seat at the table of this dynamic company," he added. Design Hotels comprises a portfolio of more than 200 member hotels in 40 countries.
A New Owner For The Kempinski Hotel Gravenbruch
Octavian Hotel Holding has sold the 284-room Kempinski Hotel Gravenbruch Frankfurt in Germany to London-based retail and hotel investors the Mashali family for an undisclosed sum. It is reported that no changes will be made to the management agreement with Kempinski, which runs until 2020.
Life's A Beach In Sochi And Two Towers For Oslo
Rezidor Hotel Group announced three new hotels this week. First, Rezidor headed to the city of Sochi in southwest Russia, where, in partnership with Hotel Development CJSC, the Radisson Blu Resort & Conference Hotel, Sochi is to be developed. This 500-room, beachfront hotel is expected to open during the first quarter of 2013. Rezidor currently has one hotel in operation in Sochi and five in development. Next stop was Oslo, where the 135-room Radisson Blu Hotel, Oslo Alna and the 208-room Park Inn by Radisson Oslo Alna are to be housed in adjacent towers, ten kilometres east of the city centre. Both hotels are owned by Wenaasgruppen and are scheduled to open in the third quarter of 2013. The group now has ten hotels (2,800 rooms) in operation or in the pipeline in Oslo.
Courtyard By Marriott Makes The Grade In Serbia
Marriott International has signed a management agreement with PFB Properties, a subsidiary of PSP-Farman Holding, for its first hotel in Serbia. The 107-room Courtyard by Marriott Belgrade City Centre is expected to open at the beginning of 2014 in Old Belgrade, the city's historic centre. Commenting on the new opening, Branislav Grujic, co-chairman of PSP-Farman Holding, said, "Having Marriott, one of the leading hotel operators in the world, now in Belgrade shows that international partners are looking upon Serbia as an interesting and prospective market for serious investment."
Jumeirah's Grand Plans For Rome
Dubai-based Jumeirah Group plans to open its first hotel in Italy. The luxury hotel company is to take over the management of the privately owned Grand Hotel Via Veneto in Rome. The 122-room hotel will be rebranded as the Jumeirah Grand Hotel Via Veneto Rome at the beginning of next year. With this new addition, Jumeirah now manages five hotels in Europe (three in London and one in Frankfurt); next spring will see five become six as the Jumeirah Port Soller Hotel & Spa opens in Majorca, Spain.
A Second MGallery For Morocco And Novotel Number Five For Egypt
The Medina Hotel Thalassa Sea & Spa in the city of Essaouira, southwest Morocco, has become part of Accor's up-market MGallery Collection. The 117-room, beachfront hotel is Accor's third hotel in Essaouira and its second MGallery property in Morocco. It was also reported this week that Accor has signed an agreement with the Egyptian International Company for Tourism and Hotels for its fifth Novotel in Egypt. The Novotel Marsa Alam is expected to be ready by the end of 2013.
Gladen's Tidings
The news from Spain by Esther Gladen, Business & Market Intelligence Analyst, HVS Madrid. New hotel for Barcelona: after a long refurbishment and an investment of €2.5 million, the four-star, boutique Hotel Primero Primera has opened its doors in Barcelona. The 30-room hotel, in Tres Torres, is operated by the family that owns it and offers meeting facilities and a gym.
Absolute Share Price Performance Over the Past Week – 1-8 December 2011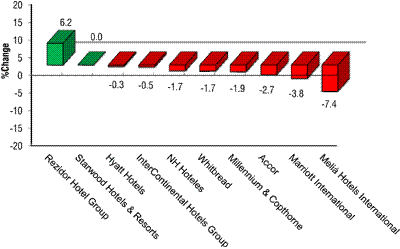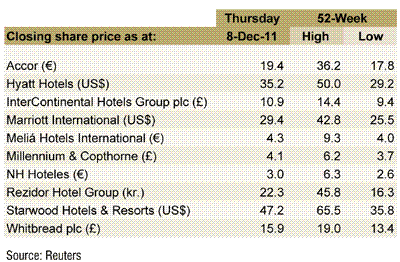 Accor – Accor strengthened 0.4% during the past week on spectacular volume.
NH Hoteles – NH dropped 1.7% on high volatility, a two-day fall of 2.1%.
Meliá Hotels International – Meliá's five-year Credit Default Swap rose 11.24 basis points.
---
For the latest in the hospitality industry, please visit: http://www.hvs.com. You are also welcome to contact the following personnel.
| | |
| --- | --- |
| Russell Kett, Managing Director – HVS London (@russellkett) | rkett@hvs.com |
| Charles Human, Managing Director – HVS Hodges Ward Elliott | chuman@hvshwe.com |
| Tim Smith, Director – HVS London | tsmith@hvs.com |
| Chris Martin, Director – HVS Hodges Ward Elliott | cmartin@hvshwe.com |
| Demetris Spanos, Managing Director – HVS Athens | dspanos@hvs.com |
| Hala Matar Choufany, Managing Director – HVS Dubai | hchoufany@hvs.com |
| Christopher Mumford, Managing Director – HVS Executive Search (@ChrisMumford) | cmumford@hvs.com |
| Philip Bacon, Managing Director – HVS Madrid and Managing Director, EMEA & Asia – HVS Shared Ownership Services | pbacon@hvs.com |
| Saurabh Chawla, Director – HVS Asset Management and Strategic Advisory | schawla@hvs.com |
| Louise Fury, Senior Editor and EMEA Hospitality Newsletter Author – HVS London | lfury@hvs.com |