Edwardian Group Buys Hotel In Canary Wharf
After picking up the Radisson Edwardian hotel in Manchester at the beginning of last month, Jasminder Singh's Edwardian Group has now also purchased the Radisson Edwardian New Providence Wharf London, in the city's Canary Wharf financial area, from property investment and development company Ballymore Group. The 169-room hotel was sold off a guide price of £37.5 million, and brings the number of owned properties in the group's 14-strong portfolio to 13. Radisson Edwardian has managed the hotel for the past four years.
Eden Collects A Third Von Essen
Eden Hotel Collection has purchased its third former von Essen hotel this week. After acquiring the Greenway Hotel & Spa last month and Brockencote Hall in August, the group is now the owner of the Mount Somerset Hotel & Spa, in southwest England. The 19-room hotel was on the market with a guide price of £3 million. Eden now has a portfolio of seven hotels across England. "We are excited to be adding our second spa property to the Eden Hotel Collection, which has added a different dynamic to our company, and to be taking the Mount Somerset back into private ownership, where it will get the care and attention needed to return it to its former glory," said Mark Chambers, Eden's managing director.
From The Pub…
Budget brand Travelodge has exchanged contracts with Greene King, JD Wetherspoon and Mitchells & Butlers for four hotels in the UK for £10.4 million. The deal is part of the £100 million expansion programme announced back in April that saw the group team up with various UK pub companies to develop 36 properties adjacent to public houses in the UK. The new assets include a 60-room Travelodge, which is expected to open in spring next year, in the town of Darlington, northeast England; a 68-room hotel in King's Lynn, east England; a 71-room hotel in Stevenage, north of London; and a 60-room hotel in the highland town of Fort William, Scotland.
…To The Supermarket
Travelodge also announced this week that it has signed a deal with Waitrose to develop three hotels alongside new Waitrose stores in the south of England. An 84-room hotel is due to open in August 2012 along with a Waitrose convenience store in Sidcup, southeast London; an 81-room hotel will be constructed next to a Waitrose supermarket in the town of Aylesbury; and a 154-room hotel is planned alongside a Waitrose convenience store for Vauxhall, south London. Travelodge is to invest £27 million in the deal. The group is also reportedly looking at a further 25 sites next to supermarkets as part of a £130 million expansion scheme. "We are developing with, or in talks with, virtually every supermarket brand in Britain," said Travelodge's chief executive, Guy Parsons.
Barceló's First Trip To Rome
Spanish group Barceló Hotels & Resorts has signed a management agreement with Rome-based chain Aran Hoteles that will see it make its debut in Italy early next year with three new hotels in Rome. The 323-room Aran Mantegna, the 326-room Aran Park and the 68-room Aran Blu are due to open on 15 January 2012. Barceló now has hotels in 17 countries.
Two Hotels Become Best Westerns
Best Western has added a new hotel in Ireland to its portfolio this week: the 65-room Best Western Plus Ballina Manor Hotel in the town Ballina in the west of the county. The group also announced its first hotel on the Isle of Man, in the UK, for ten years. The Palace Hotel and Casino in the island's capital, Douglas, has now joined the consortium and has been rebranded as the Best Western Palace Hotel & Casino. The 133-room hotel, which is owned by the Isle of Man-based Sefton Group, is Best Western's first casino property and the only branded hotel on the island. Sefton Group will continue to operate the property.
Harbour Hotels To Dock At Ocean Village
UK-based Harbour Hotels has got together with marina and boatyard owner and operator MDL Developments to create a superyacht-style hotel at MDL's Ocean Village mixed-use development in the port of Southampton, south England. The 70-room, new-build hotel is designed to give the appearance that it floats on the marina. A total of £25 million is to be invested in the project. Harbour currently operates five other hotels in coastal locations across southern England but this will be its first new-build property.
A Quartet Of Centros For The UAE
Rotana has opened its second Centro by Rotana hotel in Abu Dhabi: the 229-room Centro Al Manhal, which joins its sister property in the emirate, the 259-room Centro Yas Island. Rotana's portfolio of hotels across the Middle East and Africa now contains four Centro by Rotana properties, all of which are located in the UAE.
Marriott Debuts Three Brands In Doha
Marriott International has opened a new hotel complex in Doha that marks the debut of three of the group's brands in Qatar. Two 48-storey towers contain the 257-room Renaissance Doha City Center Hotel, the 204-room Courtyard by Marriott Doha City Center and the 123-unit Marriott Executive Apartments Doha City Center. Marriott now operates six hotels in Qatar.
Hilton Number Three For Dubai
Hilton Hotels & Resorts opened its third property in Dubai, UAE, this week: the 364-unit Hilton Jumeirah Hotel Apartment, which is linked to the 389-room Hilton Jumeirah Resort by a footbridge.
A New Meliá For Cape Verde
Meliá Hotels International has signed a management agreement for its fourth hotel in Cape Verde, off the coast of West Africa. The 850-room Meliá White Sands will be located on the island of Boa Vista. Meliá currently has one hotel in operation in the archipelago on the island of Sal, the Meliá Tortuga, and two under construction. All four hotels are owned by property developer the Resort Group.
Gladen's Tidings
The news from Spain by Esther Gladen, Business & Market Intelligence Analyst, HVS Madrid. Sunborn Boat hotel in Barcelona ready to drop anchor: the 180-room Sunborn will be ready for spring 2012. The five-star boat hotel will be run under the Husa Hoteles flag and will only leave the port of Barcelona for one month every year in order to follow regulations. The construction cost of the project is approximately €120 million. New Holiday Inn for Andorra: the former Crowne Plaza has undergone a six-month thorough refurbishment and will now be operated under the Holiday Inn brand. The property has 133 rooms, a spa and a business centre.
Absolute Share Price Performance Over the Past Week – 24 November-1 December 2011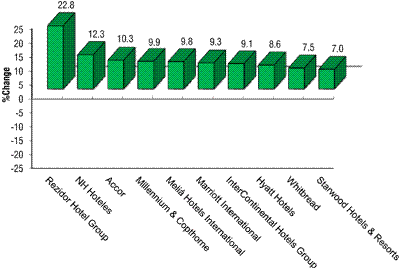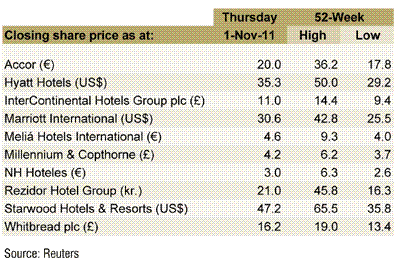 Accor – Accor's five-year Credit Default Swap fell by 0.16 basis points.
InterContinental Hotels Group (IHG) – IHG rose 1.3% on weak volume for a second consecutive day, a two-day rise of 5.3%.
NH Hoteles – NH rose 4.9% on high volatility and expanding price range.
---
For the latest in the hospitality industry, please visit: http://www.hvs.com. You are also welcome to contact the following personnel.
| | |
| --- | --- |
| Russell Kett, Managing Director – HVS London (@russellkett) | rkett@hvs.com |
| Charles Human, Managing Director – HVS Hodges Ward Elliott | chuman@hvshwe.com |
| Tim Smith, Director – HVS London | tsmith@hvs.com |
| Chris Martin, Director – HVS Hodges Ward Elliott | cmartin@hvshwe.com |
| Demetris Spanos, Managing Director – HVS Athens | dspanos@hvs.com |
| Hala Matar Choufany, Managing Director – HVS Dubai | hchoufany@hvs.com |
| Christopher Mumford, Managing Director – HVS Executive Search (@ChrisMumford) | cmumford@hvs.com |
| Philip Bacon, Managing Director – HVS Madrid and Managing Director, EMEA & Asia – HVS Shared Ownership Services | pbacon@hvs.com |
| Saurabh Chawla, Director – HVS Asset Management and Strategic Advisory | schawla@hvs.com |
| Louise Fury, Senior Editor and EMEA Hospitality Newsletter Author – HVS London | lfury@hvs.com |