Accor Takes Over 24 Jarvis Hotels
French hotel group Accor has announced a major franchise agreement in the UK following the placement of Jarvis Hotels into a pre-pack administration, whereby the Royal Bank of Scotland took control of the properties. A total of 24 Jarvis hotels will be rebranded Mercure under the agreement with Jupiter Hotels Ltd, the hotels' new owner. This deal brings the number of Mercure hotels in the UK to 68, setting Accor firmly on track to achieve its goal of having 300 hotels in the country by 2015. The hotels are located in several key areas across the UK including London, Leeds, Bradford, Manchester, Bristol, Brighton, Edinburgh and Leicester. Jean-Jacques Dessors, chief operating officer of Accor UK and Ireland said, "This major franchise agreement is a significant milestone for Accor in the realisation of our ambitious growth targets. This expansion further demonstrates our commitment to building the Mercure hotel brand in the UK, which is such an important market for Accor. We will continue to pursue further franchise growth opportunities this year and beyond."
Quite An Event In Estonia
An affiliate of Cologne-based international hotel owner and investor Event Hotel Group has bought the 280-room Radisson Blu, Tallinn and an adjacent office building in Estonia for an undisclosed sum. The high-rise city centre property will continue to operate as a Radisson Blu hotel under the management of Event Hotel Group. Event currently owns and operates 14 hotels under Rezidor Hotel Group's Radisson Blu and Park Inn by Radisson brands. Anders Braks, Event's chief executive officer, said, "Becoming a member of the EU, some ten additional flights to Tallinn, being the cultural capital of Europe and a meaningful increase of Russian visitors underpin our confidence in buying this highly visible hotel with major brand recognition in the Baltics, Scandinavia and Russia."
Almulla Purchases Ishraq Dubai
UAE-based private business group Almulla has completed the acquisition of hotel firm Ishraq Dubai from Dubai International Capital (DIC) for an undisclosed sum. DIC held a 51% stake in Ishraq; the remaining 49% belonged to Ishraq Gulf Real Estate Holding, of which DIC is a majority owner. Ishraq owns four hotels in the UAE, which are operated under a franchise agreement with InterContinental Hotels Group's Holiday Inn Express brand. Commenting on the deal, Almulla Group's chairman, Saeed Almulla, said, "We have a long and successful track record of owning and managing four- and five-star hotels across Dubai and the Holiday Inn Express hotels will complement our current portfolio. This acquisition is in line with our strategy to diverse our current hospitality portfolio to include the budget two- and three-star hotels category."
The Vermont Newcastle For Sale
The Vermont Newcastle in northeast England is on the market for £9 million. The 101-room hotel, a landmark in Newcastle city centre, opened in 1993 and operates as a four-star hotel under direct management. The hotel is reportedly available to purchase because of the impending retirement of its current owner.
Marriott Opens Its First Extended Stay Property In Europe
So far this year, Marriott International has given Europe its first taste of three new brands: AC Hotels by Marriott, Autograph Collection and EDITION. This week, Germany took a little bite out of new brand number four with the opening of the Residence Inn Munich City East, in southern Germany, Marriott's first extended stay hotel in Europe. The 125-unit hotel is connected to the newly opened 227-room Courtyard by Marriott Munich City East, and both properties are being operated under a franchise agreement with Switzerland-based SV Group. It looks like Marriott could be planning on serving Europe a whole platter of extended stay properties – "Next month we will open our second Residence Inn in Edinburgh, Scotland and see tremendous potential for future growth," said Amy McPherson, Marriott's president and managing director in Europe.
A Room With A View
Starwood Hotels & Resort's St. Regis brand has made its official debut in Florence, central Italy. The 100-room Grand Hotel Florence, formerly a Luxury Collection hotel, has emerged from a ten-month restoration to be rebranded as the St. Regis Florence. Overlooking the River Arno, the hotel's building, which was designed by Renaissance architect Filippo Brunelleschi, dates from the 15th century, and it became the city's first luxury hotel in the mid 1800s. Starwood currently operates one other St. Regis hotel in Italy, in Rome, but further expansion is planned for the brand. "2011 marks a moment of unprecedented growth for St. Regis which will unveil a total of ten new and restored hotels and resorts in the next six months, the most the brand has opened in one year since the founding of The St. Regis New York in 1904," said Paul James, Global Brand Leader St. Regis and The Luxury Collection Hotels & Resorts.
Wyndham Wings Over To Turkey
Wyndham Hotel Group is planning to open the 306-room Wyndham Petek Istanbul. The new five-star, 21-storey hotel is to be operated by Kilicbey Turizm and is scheduled to open in autumn 2012. The hotel will be part of a mixed-use development that will also include 11,000 m² of retail space. Wyndham's president and chief executive officer, Eric Danziger said, "The addition of this first Wyndham hotel in Turkey will not only help solidify our presence in this important market, but will also serve as a shining example of the high quality and personalized service associated with the Wyndham name around the world."
RIU Takes Plaza Brand To Berlin
Spanish hotel group RIU Hotels & Resorts has chosen Berlin for the European debut of its RIU Plaza Hotels brand. The Hotel Riu Plaza Berlin will be the group's first city hotel in Europe and its third Plaza hotel overall; the first two opened in Panama and Mexico. The 400-room, four-star hotel is due to open in June 2013 in Berlin's famous Ku'Damm shopping area.
Travelodge Makes It Four In Spain
UK budget hotel chain, Travelodge, has opened its fourth hotel in Spain: the Travelodge Valencia Aeropuerto Hotel. The 116-room hotel is the first Travelodge hotel in Valencia and follows the group's two hotels in Madrid and one in Barcelona. The company is reported to be opening a second hotel in Barcelona and building one in Seville, earmarked to open in 2013. Guy Parsons, Travelodge's chief executive, commented, "Our target is to have 1,100 hotels by 2025 and Spain will play a fundamental part of our growth strategy. Our aim is to have at least 100 hotels in Spain's top cities."
Msheireb Chooses Hyatt
Msheireb Hospitality has announced that it has appointed Hyatt Hotel Corporation to manage the 181-room Park Hyatt Doha, one of the four hotels in its flagship Msheireb Downtown Doha project. The five-star hotel, which will be located at the heart of the Msheireb Downtown business district, is currently under construction and is expected to open in mid 2016. Peter Fulton, managing director for Hyatt International in Southwest Asia said, "We have been actively increasing our full service portfolio in the Middle East with the upcoming Park Hyatt Abu Dhabi Hotel and Villas and Hyatt Capital Gate Abu Dhabi. Park Hyatt Doha will further add to our luxury portfolio and offer the personalized luxury and discreet service that Park Hyatt hotels around the world are known for."
InterContinental Hotels Group Goes To Uganda
InterContinental Hotels Group (IHG) has signed an agreement with Kingdom Kampala for the Kampala InterContinental – the first InterContinental hotel to open in Uganda. John Bamsey, chief executive office for IHG in the Middle East and Africa commented, "We are looking to key international gateway cities to expand this brand and with the rapid growth of commerce and the business community in Uganda, [the] InterContinental Kampala and adjoining conference centre are perfectly placed to offer unrivalled facilities and service." The hotel will be the third five-star hotel in Kampala, following the Kampala Serena and Kampala Hilton.
Marriott International Reports Its Third-Quarter Results
Marriott International achieved revenue of almost US$2.9 billion for the third quarter of 2011, and adjusted net income increased by 25% to reach US$104 million. The group recorded adjusted EBITDA of US$240 million, a rise of 9% on the same period in 2010. RevPAR for worldwide comparable systemwide properties increased by 6.9% for the quarter. "We were very pleased with our performance in the third quarter," said JW Marriott, Jr, the group's chairman and chief executive officer. "We are cautiously optimistic about 2012 and are well-positioned for continued growth. We expect to add approximately 30,000 rooms in 2012, most of which are already under construction and included in our 105,000-room development pipeline," he added.
Gladen's Tidings
The news from Spain by Esther Gladen, Business & Market Intelligence Analyst, HVS Madrid. Two new hotel projects for Madrid: Ayre Hotels, part of the Fiesta Hotel Group, already has one property in the city, the Ayre Gran Hotel Colón, and building work recently started on a second hotel. The investment in the refurbishment of the historic building, owned by Ayre Hotels, on calle Barquillo is reported to be €20 million. The four-star superior, 70-rooms hotel is scheduled to open in 2012. Ayre Hotels' second development will be a four-star superior, 227-room hotel close to Atocha train station. The company has signed a long-term lease contract for this hotel with the owner of the property. Husa extends its portfolio: the group has added a 22-room property in Girona to its portfolio and taken over the former 82-room Aguilas Hotel Resort in Murcia. Sol Meliá Vacation Club turns into Club Meliá: Meliá Hotels International has given its vacation club a new name, a new logo and a new web design. The recently opened special suites in the Meliá Marbella Banus are the first units available on the Spanish Mainland. The original club was founded in 2004 and has approximately 27,000 members worldwide.
Absolute Share Price Performance Over the Past Week – 29 September-6 October 2011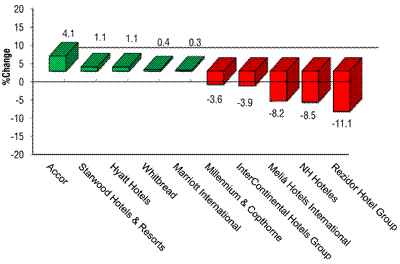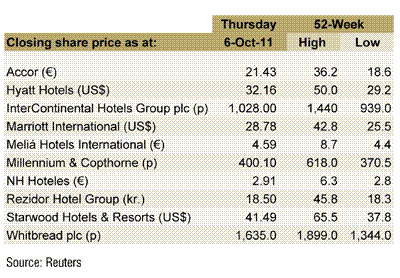 Meliá Hotels International – Meliá closed at 8.2% below VWP during the past week but at 5.2% premium to 52-week low.
Accor – Accor rose 4.6% on high volatility.
NH Hoteles – NH Hotels raised to 'buy' from 'neutral' by UBS.
---
For the latest in the hospitality industry, please visit: http://www.hvs.com. You are also welcome to contact the following personnel.
| | |
| --- | --- |
| Russell Kett, Managing Director – HVS London (@russellkett) | rkett@hvs.com |
| Charles Human, Managing Director – HVS Hodges Ward Elliott | chuman@hvshwe.com |
| Tim Smith, Director – HVS London | tsmith@hvs.com |
| Chris Martin, Director – HVS Hodges Ward Elliott | cmartin@hvshwe.com |
| Demetris Spanos, Managing Director – HVS Athens | dspanos@hvs.com |
| Hala Matar Choufany, Managing Director – HVS Dubai | hchoufany@hvs.com |
| Christopher Mumford, Managing Director – HVS Executive Search (@ChrisMumford) | cmumford@hvs.com |
| Philip Bacon, Managing Director – HVS Madrid and Managing Director, EMEA & Asia – HVS Shared Ownership Services | pbacon@hvs.com |
| Saurabh Chawla, Director – HVS Asset Management and Strategic Advisory | schawla@hvs.com |
| Louise Fury, Senior Editor and EMEA Hospitality Newsletter Author – HVS London | lfury@hvs.com |
| Lesley Parrott, Junior Editor and EMEA Hospitality Newsletter Author – HVS London | lparrott@hvs.com |