London's W Hotel Welcomes A New Owner
The 192-room W hotel on London's Leicester Square has been acquired by Al Rayan Tourism & Investment Company, a subsidiary of Al Faisal Holding (a conglomerate owned by the Qatari royal family), for almost £200 million. Previous owners, Northern Ireland-based property firm McAleer & Rushe put the ten-storey hotel on the market at the beginning of this year. The sale also includes 11 penthouse W Residences and 35,000 ft² of retail space, which houses Europe's first M&M's World shop. Eamonn Laverty, McAleer and Rushe's managing director, has said that the funds raised by the sale are to be reinvested in the business. "This has very much been a flagship, showcase development for McAleer & Rushe. We built a hotel that is instilled with the highest levels of design and exclusivity that one would expect of such a glamorous brand as W and on such a prominent site, on one of London's most famous squares," he added.
Ferré Goes Shopping In Paris
US-based private equity firm Starwood Capital Group recently sold the Hotel Concorde Montparnasse on rue du Commandant Mouchotte in Paris, France, to Rennes-based group Ferré Hotels for a reported €87 million. The seven-storey, 354-room hotel, which was built in 2004, is being operated by Starwood Captial's subsidiary Louvre Hôtels Group.
A Top Sale In More Ways Than One
Earlier in September, we reported that the Royal Bank of Scotland (RBS) had sold number ten of its 11 Hilton hotels on the market – this week, RBS said goodbye to number 11. Gibraltar-based Topland Group has purchased the 319-room Hilton Glasgow, in Scotland, for £35.7 million in cash, and the privately owned investment company completed the transaction within four days. Clive Bush, Topland's managing director of operations said, "The property offers a long-term secure income stream and is typical of the type of investments which we are seeking. This is the second time in recent months we have completed a major transaction in four days." Hilton Worldwide's lease on the property runs for a further 20 years and the hotel produces a turnover-based rent which has consistently exceeded the base rent. Rising above the city's skyline with 20 storeys, the five-star property is Glasgow's tallest hotel.
Starman Rockets Into Warsaw
London-based Starman Hotels has acquired full ownership of the 205-room Le Méridien Bristol, Warsaw in Poland. Starman previously held the leasehold interest in the building, and it has now purchased the Perpetual Usufruct title from Polish group Orbis SA. Our very own HVS Hodges Ward Elliott advised Starman on the acquisition. Edward Nixon, Starman's finance director, said, "This is a value-accretive purchase for Starman and we look forward to working with our partners to further cement the hotel's pre-eminent position in Warsaw." Starman now plans to renovate the hotel, which is operated by Starwood Hotels & Resorts under a management agreement.
Travelodge Acquires Eight Hotels In London
Travelodge has exchanged contracts on eight hotels in the suburbs of London, adding 801 rooms to its portfolio in the UK. Commenting on the new acquisitions, Paul Harvey, Travelodge's managing director for development, said, "The London hotel market is well served in Zone 1, but has significant gaps across the rest of the capital." The budget chain has invested £63.5 million in the hotels, four of which are in south London, three in the north and one in the east of the city. "With London's excellent public transport network you can stay as far out as Zone 6 but still be in the centre of London within half an hour. This makes London's suburbs very attractive for tourists and business people looking to avoid paying the high prices in the heart of the capital," added Mr Harvey.
A Hall In Salford And Four English Roses
Other transactions in the UK this week include the freehold sale of the 36-room Best Western Salford Hall Hotel in the town of Stratford-upon-Avon, central England, to hotel, wedding and conference group Skylane Hotel. The Grade I-listed hotel was put on the market with a guide price of £2.25 million after its previous owner, midlands-based Cube Hotels, went into administration in February. Additionally, four hotels from UK-based chain English Rose Hotels' six-strong portfolio have been put on the market by administrators. The 110-room Royal Hotel, the 70-room Clifton Hotel, the 20-room Wrea Head Country House Hotel and the 33-room Hackness Grange Country House Hotel are all located in the seaside resort of Scarborough, northeast England.
Meet Up With HVS In Munich
Autumn is a busy time of the year for conferences and one of the major commercial real estate exhibitions is fast approaching: Expo Real in Munich. From 4-6 October, 1,645 exhibitors will gather across the 64,000 m² site in the New Munich Trade Fair Centre to present their real estate product portfolios. Hotels, retail, office and residential property – these are the topics of the event's Special Real Estate Forum. Industry experts will be presenting their property projects, explaining expansion strategies, answering questions and engaging in debates. As part of this forum, the first day of the conference will be dedicated to the Hospitality Industry Dialogue, a mix of panel sessions, discussions and networking events specifically for the hotel investment industry. HVS will be represented by Arlett Oehmichen, an associate director at HVS London. Please contact Arlett on +44 207 8787 753 (aoehmichen@hvs.com) if you would like to arrange a meeting. Arlett will also be part of the panel launching IPD's new European hotel index, which HVS proudly sponsors. This event will be held on Tuesday 4 October at 2:15pm in Room B13. For more information on Expo Real 2011, visit www.exporeal.net.
Après Ski And Swissôtel
It looks like Swissôtel Hotels & Resorts may need to book some skiing lessons as the luxury chain has signed a management agreement with Russian developer NBB-Development for its third hotel in Russia and its first ever ski-resort property. The 158-room hotel is currently under construction and will be part of the Gorky-Gorod complex in the Krasnaya Polyana ski resort near Sochi, in southwest Russia. The complex is expected to be completed in time for the 2014 Winter Olympic Games. The luxury chain already operates the 233-room Swissôtel Krasnye Holmy in Moscow, and the Swissôtel Sochi Kamelia is due to open in 2014.
Interstate Intertwines With TVHG
Interstate Hotels & Resorts has formed a joint venture with Netherlands-based TVHG Budget Group Beheer BV (TVHG), which will see the US hotel management company invest in and manage a portfolio of nine hotels across the Netherlands. One of the hotels, the 112-room Holiday Inn Express Schiphol Airport, recently opened in Amsterdam and the remaining eight are expected to open by the end of 2012. The hotels, which will comprise 1,800 rooms, are all conversions from existing buildings, and will be managed by Interstate under long-term agreements as Holiday Inn, Holiday Inn Express or Hampton Inn hotels. "This joint venture marks our entry into the Netherlands and significantly increases our European presence to more than 25 hotels open or in the pipeline," said Thomas F Hewitt, Interstate's chairman and chief executive officer.
The Jewel In The Crowne Of Southeast England
After a multimillion pound upgrade, the four-star Five Lakes Resort near the town of Maldon, on the southeast coast of England, has now been rebranded, and it officially reopened this week as the UK's first Crowne Plaza resort. The 194-room Crowne Plaza Resort Colchester – Five Lakes is owned by AB Hotels and managed by BDL Management under a franchise agreement with InterContinental Hotels Group (IHG). BDL is no stranger to IHG as the Glasgow-based management company currently operates a further eight hotels across the UK under the Crowne Plaza, Holiday Inn and Holiday Inn Express brands.
London Is A Premier City For Hotel Development
Premier Inn is planning to open 20 new hotels in the UK capital over the next two years, in areas such as Leicester Square, Blackfriars, Old Street, Holborn and Islington. And it doesn't plan on stopping there! Whitbread's budget hotel chain intends to double its portfolio in the city by 2016. The company's latest offering, the 267-room Premier Inn London Stratford, officially opened this week. Patrick Dempsey, managing director of Whitbread Hotels and Restaurants, said, "Our exciting growth in London means that we can offer even more people a great night's sleep in the best locations when visiting the capital. We are also delighted to be bringing investment to London whilst creating 1,000 new jobs."
Best Western Divided By Three = ?
Best Western has split its portfolio into three brands: Best Western, Best Western Plus and Best Western Premier. The hotel company said that this change came about from customer feedback and is designed to give its customers more choice and to make the decision-making process easier. The brands are differentiated by the standard of key areas in the hotels, including customer service, food and drink, and entertainment. Out of the group's existing portfolio, there will initially be ten Best Western Plus hotels and nine Best Western Premier hotels; the other 257 properties will remain Best Western. The company plans to have more than 20 Best Western Plus hotels by the end of the year as well as continuing to introduce new Best Western Premier properties to the brand.
Changes At De Vere
De Vere Group's chief executive, Richard Balfour-Lynn, and chief financial officer, Jag Singh, are stepping down from their posts. Mr Balfour-Lynn, who created De Vere Group (formerly the Alternative Hotel Group) in 2005 with the £325 million acquisition of Initial Style Conferences and the £1.1 billion takeover of De Vere Hotels, is reported to have said that he and Mr Singh are leaving to concentrate on their other business interests, which include MWB Group, owner of the Malmaison and Hotel du Vin chains. UK-based De Vere's current executive chairman, Andrew Coppel, will be taking over Mr Balfour-Lynn's role, and the group's finance director, Gareth Caldecott, will become the new chief financial officer.
E-Books At Bedtime A Good Idea? The Jury's Out
Jurys Inn has launched 'e-books at bedtime', an e-reader loan service. It will initially be trialled in five UK hotels in Newcastle, Birmingham, Liverpool, Manchester and Derby. Guests staying at one of these hotels can borrow an e-reader pre-loaded with a selection of short stories to help them relax before bedtime. If it is successful, the Dublin-based group plans to make the service available in all 32 of its hotels across the UK, Ireland and the Czech Republic. Guests will also have the option to download any novels they may have started at home but did not bring with them to the hotel. For using the service, guests will be asked to make a donation to the National Literacy Trust. John Brennan, chief executive officer of Jurys Inn, said, "Our city centre locations naturally attract a lot of business guests who find it difficult to unwind after a busy day at work. We also find many of our guests travel light because they are often here for a short stay, which is why our new service, e-Books at Bedtime, offers a hassle-free way to unwind."
Gladen's Tidings
The news from Spain by Esther Gladen, Business & Market Intelligence Analyst, HVS Madrid. The Meliá Valencia is no longer with Meliá Hotels International: as of 1 October 2011, the hotel's owner, URBEM, will be responsible for its management. The 262-room hotel, which is close to the Ciudad de las Sciencias in Valencia, is to be renamed Primus Valencia. The Grand Hotel Mencey in Santa Cruz Tenerife to reopen after a refurbishment: the Iberostar hotel, owned by the local government, underwent a 20-month refurbishment, which required an investment of €43 million. The reopening is scheduled for 11 November 2011. Plans for a new development in the Murcia region: the project, which has been recently announced by local authorities, is to be environmentally friendly and in harmony with the landscape. The total capacity of the several four- and five-star hotels could be around 2,000 beds. The idea of the project is to increase the relatively low offer of hotel accommodation in the region and to attract a more exclusive clientele.
Absolute Share Price Performance Over the Past Week – 15-22 September 2011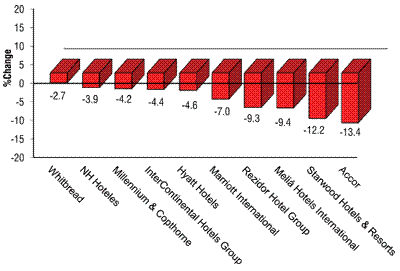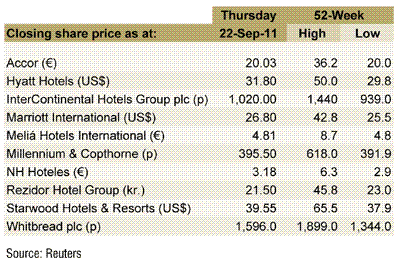 NH Hoteles – Natixis downgraded NH Hoteles to "reduce" from "add".
Meliá Hotels International – Natixis cut Meliá to "add" from "buy".
Accor – Accor weakened below its Exponential Moving Average Price.
---
For the latest in the hospitality industry, please visit: http://www.hvs.com. You are also welcome to contact the following personnel.
| | |
| --- | --- |
| Russell Kett, Managing Director – HVS London (@russellkett) | rkett@hvs.com |
| Charles Human, Managing Director – HVS Hodges Ward Elliott | chuman@hvshwe.com |
| Tim Smith, Director – HVS London | tsmith@hvs.com |
| Chris Martin, Director – HVS Hodges Ward Elliott | cmartin@hvshwe.com |
| Demetris Spanos, Managing Director – HVS Athens | dspanos@hvs.com |
| Hala Matar Choufany, Managing Director – HVS Dubai | hchoufany@hvs.com |
| Christopher Mumford, Managing Director – HVS Executive Search (@ChrisMumford) | cmumford@hvs.com |
| Philip Bacon, Managing Director – HVS Madrid and Managing Director, EMEA & Asia – HVS Shared Ownership Services | pbacon@hvs.com |
| Saurabh Chawla, Director – HVS Asset Management and Strategic Advisory | schawla@hvs.com |
| Louise Fury, Senior Editor and EMEA Hospitality Newsletter Author – HVS London | lfury@hvs.com |
| Lesley Parrott, Junior Editor and EMEA Hospitality Newsletter Author – HVS London | lparrott@hvs.com |