Akkeron Leaves Devon
UK-based Akkeron Hotels has sold the Moorland Links Hotel in Devon, southwest England, to private buyer Brian Meaden for an undisclosed sum. The 45-room hotel was on the market with a guide price of £1.3 million and this is the second time this year that the property has changed owners; it was part of a portfolio of 18 hotels Akkeron acquired from Forestdale Hotels Ltd in January. Mr Meaden now plans to carry out a full refurbishment of the business.
DoubleTree's Romanian Debut
Just over three years after DoubleTree by Hilton was first introduced to Europe, the brand has made its debut in Romania with the DoubleTree by Hilton Bucharest-Unirii Square, which opened this week in the country's capital. The 88-room hotel, the result of a conversion and upgrade of the Bucharest City Unirii Square Hotel, is being operated by VIS 7 Import Export SRL under a franchise agreement. "We are proud that our brand is now open in Romania," said Rob Palleschi, DoubleTree by Hilton's global head. "In the coming months we look forward to additional Romanian DoubleTree by Hilton openings in the cities of Ploiesti and Oradea," he added. This new addition to the Hilton family is the group's third hotel overall in the country; the Hilton Athenee Palace opened in 1997 and the Hilton Sibiu in 2009.
Renaissance Number Three For Switzerland
The Renaissance Zürich Tower Hotel recently opened as Marriott International's third Renaissance hotel in Switzerland. The 300-room hotel is located in the newly constructed Mobimo Tower in Zürich West. The hotel is housed in the first 14 storeys of the 24-floor high-rise tower; the rest of the building comprises residential property. Commenting on the new addition to the group's portfolio, Amy McPherson, Marriott's president and managing director in Europe said, "This hotel embodies the very best of the Renaissance Hotels brand experience, offering cutting edge design and a truly authentic travel experience in Zürich. As we expand the Renaissance Hotels brand throughout Europe, it is exciting to see our hotels embrace the history and local culture of its destination, pulling through what makes each location special and unique."
A New Destination For Leonardo
Berlin-based Leonardo Hotels, the European division of Israeli chain Fattal Hotels, has added a new destination to its portfolio of hotels across Europe and Israel. Formerly the Ramada Hotel Budapest, the 182-room Leonardo Hotel Budapest opened this week near Budapest city centre as the first of its brand in Hungary. The group now has a presence in four European countries and according to Daniel Roger, general manager of Leonardo Hotels Europe, further expansion is on the cards. "This is only the beginning. In 2011 Leonardo guests can look forward to numerous other projects that will be just as multifaceted as the needs of the travellers themselves," said Mr Roger.
HVS To Turn Up The Heat At Hot.E
HVS London's managing director Russell Kett will be moderating a leaders' panel at the very first Hotel Investment Conference Europe (Hot.E), which runs from 6-8 September next week at the Park Plaza Riverbank hotel in London. Russell's panel, The View From the Top – the Owners' Perspective and Outlook for Hotel Investment in Europe, is on Wednesday 7 September at 2.30 pm and he will be joined by Marty Kandrac of Blackstone, Ian Livingstone of L&R, Anders Nissen of Pandox, Steve Goldman of Starwood Capital and Homi Vazifdar of Canyon Equity. Additionally, to get news and gossip from HVS and to take part in some interesting industry related discussions, you can follow Russell on Twitter @russellkett.
A New Hilton Flies Into Heathrow
Hilton Hotels & Resorts opened its second property at London's Heathrow Airport this week. The Hilton London Heathrow Airport Terminal 5, just over a mile from the airport's newest terminal, has 350 rooms and 13 acres of landscaped grounds. This new addition brings Hilton Worldwide's portfolio of hotels in the UK's capital up to 17.
A 50% Discount For HVS Newsletter Readers
Arlett Oehmichen and Tim Smith from the HVS London office will be speaking at the Finance for Hotel Investment and Development in the UK and Continental Europe Conference on 27 September 2011 at Le Méridien Piccadilly, in London. The event's organiser, Henry Stewart, is offering HVS contacts and newsletter readers a 50% discount off the registration price, reducing the cost per delegate to £249.50. To claim your discount click here and insert the code "HVS" when prompted. If you would like to be invoiced email dawnb@henrystewart.co.uk and provide the full name(s), position(s) and email addresses of all delegates; the title of the conference; the full company name and address for the invoice; the name of the person making the booking if different from the delegate(s); and don't forget to quote HVS for your 50% discount. Arlett, an associate director with HVS London, will be giving a talk called "What's possible, on what terms, in Germany." Tim, HVS London's director of valuations, will be taking part in a panel session on the "latest thinking on survival strategies to ensure it's you, not someone else, who profits from the economic upturn" with Shane Harris from Moorfield Group, Graeme Smith from Zolfo Cooper Corporate Finance and Marc Socker from Invesco Real Estate.
Jurys Inn Number Two For Newcastle
Irish hotel group Jurys Inn has opened its second hotel in the city of Newcastle, northeast England: the newly built Jurys Inn NewcastleGateshead Quays. Located on the city's famous South Shore Road, which is the home of the BALTIC art gallery and overlooks the iconic Gateshead Millennium Bridge, the 203-room hotel will be adding its own unique piece of architecture to the area with its green roof covered in living plants.
It's All About Me At Lindner
Lindner Hotels & Resorts plans to launch a new brand in the German market in late 2012. It was reported this week that the Düsseldorf-based chain is looking for prime city locations for its me and all brand, which is to target techno savvy business and leisure travellers. Instead of featuring a typical lobby, reception and restaurant, the new four-star hotels will have a lounge area with a modern food/coffee shop concept. Lindner is looking for existing properties in order to be able to establish the new chain as quickly as possible and negotiations for the first few sites are said to be underway already.
More Amara Hotels Planned
Russian tour operator Tez Tour has reportedly taken out a US$150 million loan with Turkish bank Is Bankasi in order to build more hotels under the Amara World Hotels brand. The negotiations for the new financing are said to have entered the final stage. There is no information available yet on where the new hotels will be located but the chain currently has four hotels across Turkey.
Hotel To Be Built At Royal Arsenal Riverside Site
Developer, Key Homes Group, is planning to build a 130-room mid-market hotel at the Royal Arsenal Riverside development in Woolwich, southeast London. The hotel, which is due to open under a well-known brand by spring 2013, will be operated under a franchise agreement and will form part of Berkeley Homes' regeneration site, where 1,750 homes have already been built, as well as a gym, a gastropub, a museum and a café. Key Homes Group currently has several other London hotels in the pipeline, including the Holiday Inn Docklands near Canary Wharf, a Holiday Inn in Barking and a Park Inn by Radisson in Wembley.
Ramada Reaches Five In Dubai
Ramada Worldwide, a subsidiary of Wyndham Hotel Group, opened its fifth hotel in Dubai, UAE, this week. The 252-room Ramada Jumeirah is owned by Mohamed & Obaid Almulla LLC and managed by Abjar Hotels International under a franchise agreement.
Two New Tulips For Saudi Arabia
Golden Tulip has reportedly signed agreements this week that will see it take over the operation of two hotels in Saudi Arabia, bringing its portfolio in the country up to 20. Agreement number one was with Saudi Arabian conglomerate Al Ohali Holding for the 69-suite Golden Tulip Al Jubail Hotel, in Al Jubail city centre, on the Gulf Coast. Agreement number two was signed with the Al Khobar-based Etqaan company for the 60-suite Golden Tulip Dammam, in the port of Dammam in the east of the country.
Hilton Worldwide Debuts In Sierra Leone
Hilton Worldwide has signed a management agreement for its newest hotel in Africa and first in Sierra Leone. The 200-room Hilton Freetown Cape Sierra is due to open in 2014 and will be located in Aberdeen in Sierra Leone's capital, Freetown. This is the second signing Hilton made in Africa in August; the first, the Hilton N'Djamena in Chad, featured in our newsletter on 12 August. Patrick Fitzgibbon, Hilton's senior vice president for Europe and Africa said, "Hilton Worldwide has enjoyed a presence in Africa for more than 50 years and our commitment to the continent remains as solid as ever. We have opened five hotels in Africa already this year and we're confident Hilton Freetown Cape Sierra will prove to be an important addition to our growing portfolio."
Three Hartkorp Hotels To Be Auctioned
Three Hartkorp Group properties in South Africa's Southern Cape are to go under the hammer following the liquidation of the company. The auction of the Riviera Coastal Inn, in Hartenbos; the Garden Route Boutique Hotel, in Diaz Beach; and the Boland Park Hotel & Lodge, in Mossel Bay, will take place on 16 September, according to auction house Auction Alliance. Rael Levitt, chief executive of Auction Alliance, commented, "My sense is that the hotels will be snapped up by smaller operators or property developers who will convert them into retirement complexes or residential apartments."
Gladen's Tidings
The news from Spain by Esther Gladen, Business & Market Intelligence Analyst, HVS Madrid. Three openings in the Balearic Islands: Luabay Hotels & Leisure, the hotel division of Orizonia, has incorporated three new properties (408 beds) in the Balearic's to its portfolio; the hotels will be open to guests from May 2012. Hotusa opens the Eurostars Patios de Córdoba: the four-star hotel has 65 rooms (including six junior suites), meeting facilities and six Andalusian patios, which were the inspiration for the hotel's name. Some of the archaeological remains that were uncovered during construction have been left exposed inside the hotel for guests to view. Ibersol leases a new hotel in Majorca: the three-star Hotel Voranova, close to Palmanova, is Ibersol's ninth property overall and its first in the Balearic Islands. The first four-star Superior opens in Formentera: the recently opened 18-room hotel, in the centre of San Francesc, is owned by a local family. Fuengirola's old town hall to be converted into a hotel: construction work recently started on the 43-room hotel, which is expected to open in 2013. A total of €5.7 million is to be invested in the project.
Absolute Share Price Performance Over the Past Week – 25 August-1 September 2011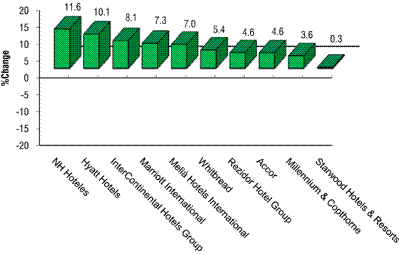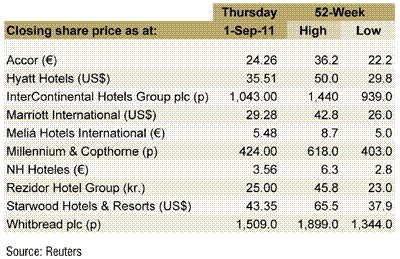 InterContinental Hotels Group (IHG) – IHG gained 2.0% as Jefferies initiated coverage of the European hotels sector with a "buy" rating.
Meliá Hotels International – Meliá rose on high volatility and expanding price range.
Accor – Share prices rose at the end of the week despite Accor's Credit Default Swap significantly widening.
---
For the latest in the hospitality industry, please visit: http://www.hvs.com. You are also welcome to contact the following personnel.
| | |
| --- | --- |
| Russell Kett, Managing Director – HVS London (@russellkett) | rkett@hvs.com |
| Charles Human, Managing Director – HVS Hodges Ward Elliott | chuman@hvshwe.com |
| Tim Smith, Director – HVS London | tsmith@hvs.com |
| Chris Martin, Director – HVS Hodges Ward Elliott | cmartin@hvshwe.com |
| Demetris Spanos, Managing Director – HVS Athens | dspanos@hvs.com |
| Hala Matar Choufany, Managing Director – HVS Dubai | hchoufany@hvs.com |
| Christopher Mumford, Managing Director – HVS Executive Search (@ChrisMumford) | cmumford@hvs.com |
| Philip Bacon, Managing Director – HVS Madrid and Managing Director, EMEA & Asia – HVS Shared Ownership Services | pbacon@hvs.com |
| Saurabh Chawla, Director – HVS Asset Management and Strategic Advisory | schawla@hvs.com |
| Louise Fury, Senior Editor and EMEA Hospitality Newsletter Author – HVS London | lfury@hvs.com |
| Lesley Parrott, Junior Editor and EMEA Hospitality Newsletter Author – HVS London | lparrott@hvs.com |