It's A-OK For Ascott In Paris
Singapore-based The Ascott Ltd, a wholly owned subsidiary of real estate group CapitaLand, is to purchase SNC Costes K for €65 million. SNC owns the 83-room Hotel Costes K, in Paris, along with an adjacent vacant residential property. Once the acquisition is complete, Ascott plans to develop both freehold properties into the 106-unit Ascott Arc de Triomphe, which will become the first Ascott-branded serviced residence in France when it opens in July 2011.
Pierre & Vacances Purchases Citéa
Pierre & Vacances/Center Parcs has signed an agreement with Lamy (a subsidiary of Paris-based real estate company Nexity Group) to purchase 50% of Citéa, which runs aparthotels and villas across France. This acquisition brings Pierre & Vacances' interest in Citéa to 100%. Additionally, Pierre & Vacances intends to cede Citéa to serviced aparthotel operator Adagio, its joint venture with Accor Group. When the deal is finalised by the end of June 2011, Adagio will manage 84 residences (almost 10,000 apartments).
A Right Royal Exclusive
UK group Exclusive Hotels has acquired the freehold of the Royal Berkshire hotel in the town of Ascot, south England. The 63-room hotel, which was previously operated by Jarvis as the Ramada Ascot, Royal Berkshire, was on the market with a guide price of £15 million. Exclusive Hotels currently has a portfolio of eight owned, managed and associate properties across the UK, Ireland and Italy.
Mount Hotel Sold
Newly formed company Aspen Leisure has purchased the grade-II listed Mount Hotel near the city of Wolverhampton, in west central UK, for an undisclosed sum after the hotel's owner, Blue Cedars Leisure, went into administration earlier this month. The 66-room hotel, which was originally built in 1865 as a manor house, was reportedly put on the market in March for £3.8 million.
Rezidor Heralds A New Hotel In Istanbul
Rezidor Hotel Group's new hotel will be having a blast when it opens in Istanbul in the first quarter of 2013. The 133-room Radisson Blu Golden Horn, Istanbul, which is owned by Dilek Holding, will face the Golden Horn, the iconic inlet of the River Bosphorus that divides the city into East and West. Rezidor currently has four Radisson Blu hotels in operation in Turkey and one other in development (the 305-room Radisson Blu Hotel, Istanbul, Sisli).
Want To Know More About The Boutique Hotel Sector?
Boutique hotels are opening at an ever increasing rate, defying tough economic conditions. This industry niche is booming, with small and large international companies alike looking to invest and establish a presence in the boutique sector. If you want to discover more then the place to be is Europe's first boutique hotel conference! The Boutique Hotel Summit 2011, cosponsored by HVS, is taking place at the St. Ermin's Hotel in London, on the 13 and 14 June. On day two of the event you will be able to catch Tim Smith, a director with HVS's London office, taking part in a panel called Performance of the Boutique Hotel Sector. Philip Bacon, managing director of HVS's Madrid office and HVS Shared Ownership Services, is also attending. Philip will be part of a panel called Boutique Hotels and Mixed-Use Developments. For more information or to book your place visit, www.boutiquehotelsummit.com.
Dazzling New Dozen For Saudi Arabia
Hilton Worldwide, Hyatt Hotels and Marriott International have all signed deals with Jabal Omar Development Company to manage and operate 12 new hotels being developed as part of a mixed-use project in the city of Mecca, Saudi Arabia. Hilton will triple its portfolio in the country by operating six of the new properties: the 496-room Conrad Makkah, the 516-room Hilton Suites Makkah, the 865-room Hilton Bab Makkah North, the 865-room Hilton Bab Makkah South, the 566-room Hilton Makkah Convention Hotel and the 806-room DoubleTree by Hilton Makkah, which are all expected to open in 2014. Marriott will be bringing is portfolio in Saudi Arabia up to 11 with three new hotels: the 636-room JW Marriott Hotel Makkah (opening in 2015), the 540-room Makkah Marriott Hotel (2014) and the 432-room Courtyard by Marriott Makkah (2015). Hyatt will be introducing the remaining three: the 628-room Hyatt Regency Mecca (2013), the 200-room Hyatt Place Mecca (2013) and the 200-room Hyatt Summerfield Suites Mecca (2014). Jamal Omar has invested US$5.5 billion in this mixed-use development, which has taken 20 years to come to fruition.
Staybridge Comes To Dubai
InterContinental Hotels Group is to bring its Staybridge Suites brand to Dubai for the first time. The group announced this week that it has signed an agreement with Sheikh Rakadh Bin Salem Bin Rakadh Al Amiri to open the 165-unit Staybridge Suites Dubai – Union Square. The hotel is expected to be ready for guests in December 2012.
Al Habtoor Group To Start A Trend
Al Habtoor Group has teamed up with satellite network Fashion TV to launch a new fashion-themed hotel in Dubai. The five-star, 200-room hotel will be owned and operated by Al Habtoor. A 100-metre-high LED screen will adorn its exterior, broadcasting the latest Fashion TV highlights. "It's a great pleasure to sign an agreement with Mohammed Al Habtoor to share this vision and make this fantastic, global project a reality. Hotel experiences will no longer be the same," said Michel Adam, president of Fashion TV.
RIU Number Ten For Tunisia
Spanish company RIU Hotels & Resorts has opened hotel number ten in Tunisia. The 390-room ClubHotel Riu Palm Azur is located on the Island of Djerba, off the southeast coast of the mainland; this is Riu's second hotel on the island.
Sol Meliá Heads To Spice Island
Sol Meliá has signed a management agreement for a hotel on the island of Zanzibar in Tanzania, East Africa. Previously operated as the Zamani Kempinski, the hotel is to reopen next August as the Meliá Zanzibar. The five-star resort, which will be Sol Meliá's sixth property in Africa, will have 100 rooms and seven villas.
Radisson Blu Makes Its Debut In Nigeria
Rezidor Hotel Group's first Radisson Blu hotel in Nigeria opened its doors in the southwest port of Lagos this week: the 170-room Radisson Blu Anchorage Hotel, Lagos VI.
Sol Meliá's First-Quarter Results 2011
Sol Meliá has recorded an increase in profit to €4.6 million for the first quarter of 2011, compared to €1 million for the same period in 2010. Revenue increased by 13.6% to €293.7 million. EBITDA reached €52.3 million, an increase of 28.9% on 2010. RevPAR and average rate increased by 24.7% and 4.1%, respectively.
Gladen's Tidings
The news from Spain by Esther Gladen, Business & Market Intelligence Analyst, HVS Madrid. Hotel transaction in Madrid: Lebanese Investor Toufic Aboukhater has bought a portfolio of European hotels for €450 million from Morgan Stanley. The acquisition includes seven InterContinental Hotels Group properties (IHG), including the InterContinental Madrid. IHG has a 30-year management and branding contract for the properties, with the option to renew for as many as another 20 years. Bahía Principe opens in Majorca: the former Hotel Piñero Coral Playa, which has been adapted to the standards of its new brand, has 184 rooms and is located in Torrenova, Calvià. New NH project in Seville: construction work on the new four-star, 89-room hotel in Alcalá de Guadaira will start next year. The property is owned by Grupo Recio. New opening in Ibiza: Fiesta Hotel Group recently opened the 236-room Hotel Ushuaïa Ibiza Hotel.
Absolute Share Price Performance Over the Past Week – 12-19 May 2011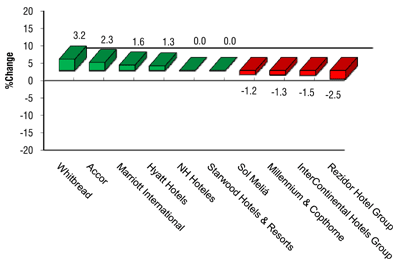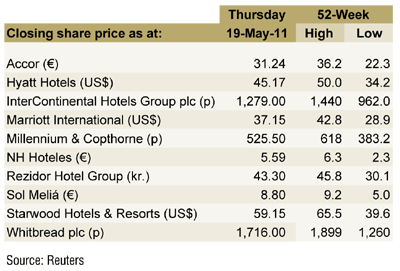 Hyatt Hotels – Moody's said that Hyatt's repurchase of some 8.9 million class B common shares had no impact on its Baa2 rating and "stable" outlook.
Sol Meliá – Sol Meliá decreased 1.5% on thin volume.
InterContinental Hotels Group (IHG) – Despite share prices falling by the end of the week, IHG strengthened 0.1% on weak volume, ending a four-day streak of losses.
---
For the latest in the hospitality industry, please visit: http://www.hvs.com. You are also welcome to contact the following personnel.
| | |
| --- | --- |
| Russell Kett, Managing Director – HVS London | rkett@hvs.com |
| Charles Human, Managing Director – HVS Hodges Ward Elliott | chuman@hvshwe.com |
| Tim Smith, Director – HVS London | tsmith@hvs.com |
| Chris Martin, Director – HVS Hodges Ward Elliott | cmartin@hvshwe.com |
| Demetris Spanos, Managing Director – HVS Athens | dspanos@hvs.com |
| Hala Matar Choufany, Managing Director – HVS Dubai | hchoufany@hvs.com |
| Christopher Mumford, Managing Director – HVS Executive Search | cmumford@hvs.com |
| Philip Bacon, Managing Director – HVS Madrid and Managing Director, EMEA & Asia – HVS Shared Ownership Services | pbacon@hvs.com |
| Saurabh Chawla, Director – HVS Asset Management and Strategic Advisory | schawla@hvs.com |
| Louise Fury, Senior Editor and EMEA Hospitality Newsletter Author – HVS London | lfury@hvs.com |