From Overdrive Into Orbit
FOR IMMEDIATE RELEASE
March 6, 2007
HVS' London office has today published its latest European Hotel Transaction Review, which analyses the single asset and portfolio hotel transactions that shaped 2006. The review highlights the significant increase in the volume of hotels sold: an increase driven yet again by large portfolio transactions.
Having already shifted from 'top gear' into 'overdrive' in 2005, frenzied hotel investment markets headed 'into orbit' last year.
"2006 saw an increased number of portfolio transactions, dominated by the Hilton International/Hilton Hotels Corporation 'remarriage' for €4.8 billion and the continuing trend for sale and leaseback and sale and manageback transactions", notes co-author Elke Geieregger. Notable examples were disposals by InterContinental Hotels Group (24 hotels for €352 million), Accor (76 hotels for €583 million) and Starwood (six hotels for €762 million).
Overall, investment values surged from roughly €15 billion in 2005 to more than €20 billion in 2006; portfolio transactions accounted for 71% of the volume, as the hotel investment arena became a more global marketplace. In regard to single assets, the average price per room transacted rose from €208,000 in 2005 to €246,000 last year.
Looking at 2007 and beyond, co-author Karen Smith, a director of HVS, raises the question of the sustainability of this ongoing buying frenzy and analyses some early signs.
"Will we look back in 12 or 24 months' time with hindsight and comment on how the signs of a market stabilisation were there, and wonder why we missed them?", she muses.
The survey provides an ongoing history of hotel sales from 1998, discusses the highest-priced per room sales of 2006, identifies the year's top buyers and sellers, and provides a listing of sales that occurred in 2006, with a comprehensive review of the following.
European single-asset hotel transaction activity - 2006;
European portfolio hotel transaction activity – 2006;
Profile of investors;
Cross-border activity;
Conclusions and outlook for the hotel investment community.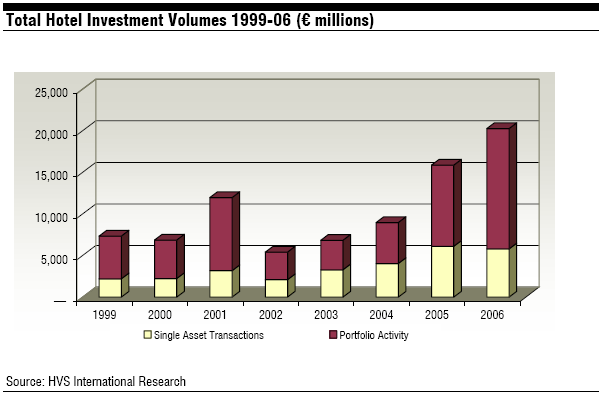 Copies of the European Hotel Transactions 2006 report are available free of charge from HVS, 7-10 Chandos Street, Cavendish Square, London W1G 9DQ, or via http://www.hvs.com.
For more information, contact:
Karen Smith, Director
Email: KSmith@HVS.com
Phone: +44 20 7878 7729
Mobile: +44 78 6641 3318

Elke Geieregger, Research Analyst
Email: EGeieregger@HVS.com
Phone: +44 20 7878 7747
Mobile: +44 78 8433 7027

Russell Kett, Managing Director
Email: RKett@HVS.com
Phone: +44 20 7878 7701
Mobile: +44 78 0241 1142

Or by fax on +44 20 7878 7799
HVS is a full-service hospitality consultancy providing industry skill and knowledge worldwide. HVS offers market and financial feasibility studies, valuations, strategic analyses, development planning, and litigation support. Additionally, HVS specialists provide unique knowledge in the areas of executive search, investment banking, brokerage, asset management and corporate and single property strategic planning, management contracts, environmental sustainability, timeshare consulting, food and beverage operations and restaurant appraisal, interior design, gaming, technology strategies, organizational assessments, operational management, strategy development, convention facilities consulting, marketing communications, and investment consulting. Since 1980, HVS has provided hospitality services to more than 15,000 hotels throughout the world for virtually every major industry participant. Principals and associates of the firm have written textbooks and thousands of articles regarding all aspects of the hospitality industry.