Watch in May as with one wave of a 20-year licence agreement 11 Courtyard by Marriott hotels in England are transformed before your very eyes into 11 Holiday Inns. The magician is the operator of the properties Kew Green Hotels (KGH), which will be assisted in its performance by the lovely InterContinental Hotels Group (IHG). The properties, most of which will be refurbished, are being rebranded because KGH considers the Holiday Inn brand to be more appropriate. The rebranding act does not though mean that KGH's relationship with Marriott International is over. KGH has up its sleeve a Courtyard by Marriott hotel at Gatwick Airport. This 218-room property, which is due to open in late 2008, has been so designed that it meets Marriott International's new specifications for the brand in Europe.
Minoan Group, a developer of leisure resorts, is expected to start work this September on the construction of five unified tourist complexes on the northeastern tip of the Mediterranean island of Crete. The long-awaited Cavo Sidero development is projected to cost €1.2 billion: the largest investment ever made in a tourist project in Greece. That money buys five five-star hotels (providing a total of around 2,500 beds) and a mix of more than 900 villas, town houses and apartments that between them will bring the total bed count at the development to 7,000. Cavo Sidero will number three golf courses among its other facilities.
Marfin Popular Bank is to pay, subject to due diligence, a reported €58.6 million for a stake of 64.3% in Cyprus Tourism Development, the owner of the 298-room Hilton Cyprus, which is the only five-star hotel in the Cyprian capital Nicosia. Marfin is to acquire its holding from Louis Group (57%) and Clin Company (7.3%). Louis Group will retain a 20% holding in Cyprus Tourism Development. Marfin Popular Bank has plans to work with hotel and cruise operator Louis Group in the southeastern region of the Mediterranean.
River Investment Group, a property firm that has the backing of the Reuben brothers, has paid Wingrove Properties £20 million for three hotels located along a stretch of the Thames leading westwards from Surrey to Berkshire. The 43-room Park Lodge Hotel, in Teddington, the 37-room Boat House, in Chertsey, and the 51-room Thames Riviera Hotel, in Maidenhead, are all to be operated by Folio Hotels on 35-year leases.
Walton Street Capital, a real estate investment firm based in Chicago, has, through an affiliate, paid around US$52 million for Burford Hotels' 50% holding in the joint venture that owns Morgans Hotel Group's (MHG) two hotels in London: the Sanderson and St Martins Lane. MHG, which holds the other 50% in the joint venture, received a cash sum of more than US$6 million for facilitating the transaction. Walton Street's purchase price implies a gross value for the assets of more than US$300 million.
Al Diar, of Qatar, is said to have signed an agreement with the ministry of tourism in Syria to build a resort complex costing a reported US$224 million in the Mediterranean port of Latakia. The 56-acre development would include a 3,700-bed, five-star hotel. On its return to Qatar, Al Diar is likely to find German firm Bavaria Hotels International in the capital Doha, where it is preparing for the soft opening next month of the 2,200-unit Bavaria City Suites Doha.
Mövenpick Hotels & Resorts has added another two luxury cruisers to its flotilla in Egypt. From November 2007, the Mövenpick M/S Royal Lily, which has 56 cabins, will share the waters of the Nile with its three sister ships after Mövenpick Hotels & Resorts signed a management agreement with Nile Exploration Corporation, the owner of one of those ships the Mövenpick M/S Royal Lotus. November will also see the launch of the Mövenpick M/S Prince Abbas, a ship of 65 cabins that will be making waves on Lake Nasser.
Jurys Doyle Hotel Group announced in August 2005 that it was to "actively pursue" the sale of the Jurys Montrose Hotel, a 178-room, three-star property that stands in the Irish capital Dublin. Jurys Doyle can call off the chase it would seem, as Select Retail Holdings, the owner of the supermarket chain Superquinn, is reported to have agreed to buy the hotel for more than €40 million. Reports in the Irish media suggest that the hotel might be demolished to make way for a supermarket with flats above.
Guests arriving for a stay at what is Golden Tulip Hospitality's (GTH) fifth hotel in Romania need have no fear of having their necks nibbled. For even the most lustful of vampires is guaranteed to be deterred by the name Sunny Hill. The Transylvania region has welcomed the €5 million 50-room Tulip Inn Sunny Hill, which will officially take its brand designation on 1 April when the franchise agreement signed by GTH and the hotel's owner Rodica Tuşa comes into effect. The property, which stands in the city of Cluj-Napoca, is set to double its room count to 100 in the near future in work projected to cost €3.9 million. It is not far as the bat flies between Cluj-Napoca and Belgrade in neighbouring Serbia. There, the Austrian firm Soravia Group is reported to have sunk its teeth and €35 million into a building that was formerly home to the Ministry of the Interior. Soravia is reportedly ready to spend another €100 million on converting the property into a luxury hotel with 400 rooms.
Sanguine Hospitality is a company newly formed by entrepreneur Simon Matthews-Williams, a former director of Centre Island Hotels. Sanguine plans to amass a total of 500 hotel rooms in the northwest of England, and the company is already roughly one-fifth of its way towards its target after paying a reported £6.35 million for the 97-room Hoole Hall Hotel, in Cheshire. Sanguine is to spend another £3 million on repositioning the three-star property, which was formerly part of the Corus chain, as a luxury country house hotel.
Hilwood Resorts & Hotels has paid close to a reported £10 million to secure its third hotel in the UK. Bailbrook House, a 78-room hotel and conference centre that stands near the city of Bath, in southwest England, is to be transformed under its new ownership into a five-star hotel and conference centre with 130 guest rooms. A figure of at least £10 million is significant too to Signature Pub Group, which has paid Saltire Taverns more than a reported £7 million for the Rutland Hotel in the Scottish capital Edinburgh. Signature has plans to spend £3 million on refurbishment work designed to transform the listed premises into a ten-suite boutique hotel that would open in spring 2008.
After 13 years' service with Orient-Express Hotels, Simon Sherwood has decided that he wants to pursue other interests. He has therefore tendered his resignation and he will step down in August from his position as the company's president and chief executive. Orient-Express Hotels will begin the search for his successor.
Andrew Cosslett, the chief executive of InterContinental Hotels Group (IHG), declared that 2006 had been a successful year for the company. In the 12 months to 31 December 2006 IHG saw continuing operating profit rise by 16%, to £201 million, and continuing revenue increase by 13%, to £805 million. RevPAR across the company's portfolio grew by 9.8%. All of these figures will have been music to the ears of IHG shareholders contemplating their portion of the £850 million that is to be returned to them. Shareholders will also take delight in hearing that IHG has signed a contract to manage the InterContinental Kiev, which will open in the Ukrainian capital in the first quarter of 2008. The 280-room hotel is owned by Yaroslaviv Val, a native real estate developer.
The 12 months to 31 December 2006 will enter the annals of Millennium & Copthorne's (M&C) history as the year when the company recorded its highest level of profits since 1996: another notable year, for that was when M&C was listed. Pre-tax profit rose by 35.9% to finish on £130.2 million. Revenue increased by 8.6%, to £646.3 million. M&C's strongest market in terms of RevPAR performance was Singapore, which posted growth of 31.5%. RevPAR in London of £74.5 was an increase of 9.5% on the previous year; the UK provinces contented themselves with a rise in RevPAR of 2.8%, to £53.9.
Now that we have your attention, we want to let you know that all HVS email addresses now have a new, much shorter domain name which we hope will make contacting us even easier. Please amend your email databases so that our addresses become xyz@hvs.com and add this suffix to your "white list" of acceptable email addresses. (Our email convention within HVS is for "xyz" to be the person's initial followed by their surname.) Our website address also has changed – to www.hvs.com – so please add this to your favourites so that you can continue to access our library of articles and publications, as well as details of our offices, services and people, and not forgetting job vacancies, of which we have a number in the London office. So we are not downsizing anything other than our domain name!
Absolute Share Price Performance Over the Past Week 15/02/07-22/02/07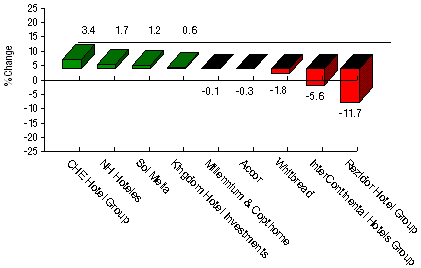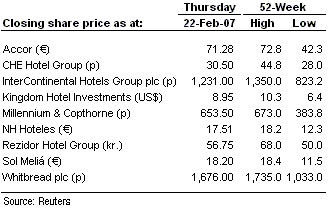 NH Hoteles - The share price rose on rumours of a takeover bid for Occidental Hoteles.
Whitbread - Numis Securities raised its target price from 1,876p to 1,934p. However, the FTSE-100 was affected by a general fall.
InterContinental Hotels Group - SG Securities lowered its rating to 'Sell' and Exane BNP Paribas to 'Neutral' on valuation grounds.