Van der Valk Hotels & Restaurants has made the short journey from its home in the Netherlands to take possession of what is its tenth hotel in Germany. The company has paid an undisclosed sum to Starman Hotels for the 110-room former Le Meridien hotel in the northern city of Hildesheim.
Apex Hotels has conducted a sale and lease back deal involving two of its properties in Edinburgh, the capital of Scotland. WG Mitchell Group has come over from Northern Ireland to pay a total of a reported £54 million for the 175-room Apex International Hotel and the 119-room Apex City Hotel. One report suggests that Apex Hotels might use the money to establish its second hotel in England: a four-star property with 180 rooms in the city of Newcastle upon Tyne.
Orco Property Group has provided its MaMaison Hotels & Apartments chain with its third property in Poland. The Parkhotel Vienna is indeed in Poland, and not in Austria as its name might suggest. In all probability the 113-room hotel takes its name from 'Little Vienna', the nickname of the southern town of Bielsko-Biała in which the four-star hotel stands. In addition to renovating the Parkhotel Vienna, Orco has plans to provide the hotel with a wellness centre.
On 1 October Rezidor SAS Hospitality took up residence, as it said back in March that it would do, as the new manager of what is the oldest five-star hotel in the emirate of Dubai. This 287-room property was the InterContinental Dubai; it is now the Radisson SAS Hotel, Dubai Deira Creek. InterContinental Hotels Group's portfolio in the United Arab Emirates was one down for but a moment. The company restored the equilibrium with a Holiday Inn hotel in Abu Dhabi. Al Qudra Real Estate will build the property, which will have at least 200 rooms, at its community project Danet Abu Dhabi. The hotel, which will be operated by Hospitality Management Services, is scheduled to open at the end of 2007.
Was it really as recently as August that we were hearing about InterContinental Hotels Group's (IHG) plans for a second hotel in Kazakhstan? It was, you know, and in the short time since IHG and Ayt-Otel have thoroughly refurbished the former Regent Almaty Hotel and turned the property out in a state fit to welcome guests. The 290-room InterContinental Almaty stands in the city of Almaty. At present, the IHG portfolio scoreline reads Kazakhstan two, Slovakia two; however, Slovakia can take the lead in January 2007: Panorama Sport Hotel is building a 126-room Holiday Inn hotel in the northern town of Žilina. The score could be 5-2 to Slovakia (in time added on), as IHG is to develop another Holiday Inn, this time one of 107 rooms in the city of Trnava, and a 176-room Express by Holiday Inn at the airport in the Slovakian capital Bratislava.
Cast your mind back to the beginning of this year and you may recall that Hilton Hotels Corporation signed a franchise deal with Acqua Pia Antica Marcia covering three hotels in Palermo, the capital of Sicily. The first of the trio to have been fully remodelled is the newly opened 109-room Villa Igiea Hilton Palermo (formerly the Grand Hotel Villa Igiea). In Scotland, Hilton's desire is to thin out the number of hotels that it owns. The company wants to sell the Caledonian Hilton Edinburgh, which stands on Princes Street in the heart of Edinburgh, and retain the long-term management contract. Reports in the press suggest that the 251-room hotel could fetch anywhere between £45 million and £50 million.
GuestInvest announced the arrival in the UK of its 'hotel-buy-to-let' concept in April 2004 by opening its first hotel in London: Guesthouse West. The Nest hotel is on its way to the capital next year and poets will doubtless be wondering whether the pleasing rhyming scheme will continue when GuestInvest unveils its third hotel in London shortly. But the company is not content with mere light verse only; it wants to write an epic, and for this work it needs a sponsor. Step forward Bank of Scotland Corporate, which, in return for a minority stake in GuestInvest, will put £140 million into a joint venture that will deliver buy-to-let hotels to at least ten gateway cities worldwide.
The first Ramada Encore hotel in Northern Ireland is the promise, and here to deliver on that promise is Culzean Holdings. The joint venture company is due to start work next month on the 169-room hotel, which will form part of the mixed-use development at St Anne's Square in the city of Belfast. The hotel, in which a reported £20 million has been invested, is set to open in April 2008. Culzean, which was formed by Kennedy Group Properties, of Coleraine, and Cusp, a specialist in urban regeneration, will be needing several requisition chits for building materials; InterContinental Hotels Group recently signed up the company to develop Express by Holiday Inn hotels in Ireland.
Late August and the sell-off party in honour of Great Southern Hotels is winding down. But who's that sitting morosely in the corner? The disco spotlight as it makes a sweep reveals the lonesome one to be the hotel from Rosslare, glum no doubt as she has seen her seven sisters disappear through the door arm-in-arm with their new lovers. Fret not; for, this being HVS EMEA Hospitality Enews, the story has a happy ending. At the very next meeting of the Irish hotel lonely hearts' club, the 100-room hotel met Mr Hilary Haydon, an accountant of some means; and, reader, she married him, the groom providing a dowry of around a reported €5 million.
Taverna Holding is a Hungarian company that has five hotels (522 rooms) and three restaurants in Budapest, the capital of Hungary. Dare Group is another Hungarian company and it has, say reports, acquired its compatriot for an undisclosed sum. The reports add that Dare Group is seeking parties to operate the hotels. Accor is said to be interested in the 227-room Hotel Taverna and the 139-room Hotel Liget. A third Hungarian company Mellow Mood is a potential operator of the other three hotels.
Fuller's Hotels has a collection of six properties in and around London. But these are of no concern to us today. No, we must instead let our interest drift westwards across England and allow it to settle on the company's other hotel: The Brigstow Hotel, in the city of Bristol. Fuller's Hotels' parent company Fuller, Smith & Turner, the brewer and retailer, has sold the 115-room, four-star hotel to the Pedersen Group for £17.09 million. The sale of the property, which as at 1 April 2006 had a net book asset value of £9.3 million, is expected to complete on 31 October.
New, "best-ever" BAHA conference: enticingly tasty speakers in a rich hotel setting. Show the one you love how much you care by visiting www.baha-uk.org/conferences.asp click here and booking them this treat. After stopping out for 24 hours or so, your little rascal will come through the door on 3 November purring contentedly, his eyes bright, after feasting on "the latest techniques and thinking in hospitality finance and IT". Karen Smith (director, HVS International, London), Gerard Greene (chief executive, Yotel), Peter Anscomb (head of hotel finance, Royal Bank of Scotland) and Pamela Carvell (chair, Hotel Marketing Association) are just four of the many leading industry figures who have expressed a preference for speaking at the Radisson Edwardian International Plaza Hotel Heathrow.
Absolute Share Price Performance Over the Past Week 28/09/06-05/10/06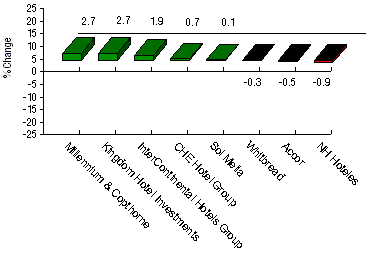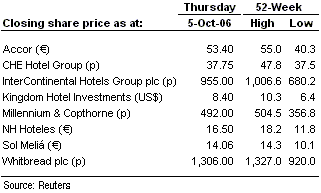 Millennium & Copthorne - BNP Paribas initiated its coverage of CDL Hospitality Trusts (Millennium & Copthorne's REIT) with a 'Buy' rating and a target price of S$1.27 per unit.
InterContinental Hotels Group - The company reported a strong increase in RevPAR for all of its brands in the USA over the eight months to 31 August 2006.
Accor - The French market was in general lower on profit taking.