HVS Hodges Ward Elliott and Bank of America acted as joint advisors to Astir Palace Vouliagmeni as the Greek firm appointed Starwood Hotels & Resorts as the new manager of the Astir Palace Hotel complex. The resort near the Greek capital Athens offers three five-star hotels, each of which will take a Starwood brand. The 123-room Arion Hotel and 76 adjacent bungalows will together be known from 1 July as the Arion Hotel and Villas, a Luxury Collection Resort. The month of July will also see the 162-room Nafsika Hotel become The Westin Nafsika Resort. The 165-room Aphrodite Hotel will have to wait until 2008 before assuming its new identity, as the hotel must first undergo (from this October) a programme of extensive refurbishment. But the wait will be worth it; the newly emerged W Aphrodite will be one of the first hotels in Europe with the W brand.
Hesperia Hoteles has taken its holding in its Spanish compatriot NH Hoteles from 9.5% to almost 21.4%. It made its acquisition at €14.5 a share, a total investment of a reported €218 million. Hesperia, which made an unsuccessful partial bid for NH Hoteles in May 2003, has indicated that it has no intention of increasing its holding beyond 25%. Any individual shareholder with a stake of more than 25% is obliged under market regulations to make an offer to take an additional 10%.
Dolce International and Med Group have announced the sale of their joint ownership of the 100% holding in Dolce Sitges. Inchydoney Partnership, a private equity fund, travelled from the Republic of Ireland to hand over €61 million and thereby clinch its first investment in Spain. Dolce International will continue to manage the 263-room property and might well pair up with Inchydoney to establish properties in Europe.
If the answer is Icade, then what is the question? Perhaps 'identify the third company that took its portion of a 16% stake in Club Méditerranée (Club Med)'. The press revealed last week that Caisse de Dépôt et de Gestion du Maroc and Air France-KLM were two of the parties lining up to share in this initial chunk of the total holding of 22.9% that Accor is to sell. Icade, a French real estate developer, took a 4% holding and expects to complete the deal by 30 September. In addition, Icade is to acquire several Club Med villages, including three Alpine properties: Chamonix, Avoriaz and Les Deux Alpes. In return, Club Med will receive shares in Icade and have no trouble in finding a builder; for Icade is to work with its new colleague in developing top-of-the-range villas at existing Club Med villages in France and elsewhere.
Hotelspotters patrolling the Istrian peninsula in Croatia will need to make a second entry in their notebooks under the heading Kempinski Hotels. This is to acknowledge the arrival in 2009 of the 250-room Kempinski Hotel Porto Mariccio, which will be part of a 128-hectare resort development. The first entry made was for the 111-room Kempinski Hotel Adriatic, which is due to open in Alberi in spring 2008. And there will be no nodding off among hotelspotters down on the Mediterranean coast of Turkey. They must keep their eyes peeled for the arrival this month in the resort of Bodrum of the 90-room Hawthorn Karaca Resort, which is managed by Hawthorn Suites Group.
Those who, like the England football team, have found the heat of Frankfurt a bit of a struggle might like to visit Steigenberger Hotels, which has its headquarters in the city. Not to enjoy the air conditioning but to be enlightened about the path to true refreshment; for the hotelier knows that no electric fan is the equal of the breeze off the Baltic that is now blowing on the recently opened 121-room Steigenberger Strandhotel Zingst. The temperature is rising in Bremen too, though this is more likely to be due to the heat generated by Atlantic Hotels' excitement at clinching a deal to build a 136-room, four-star hotel in the city of Lübeck, in northern Germany. A building formerly occupied by the local public health authority will make way for the €15 million hotel, which is due to open in summer 2008.
Spanish firm AC Hotels has eight operational hotels in Italy and at least another three on the way; the company's aim is to have a total of 40. On its future journeys through a foreign land AC Hotels will have by its side a friend and compatriot in the form of Invernostra, a subsidiary of savings bank Sa Nostra. Invernostra is to pay €26.5 million for a 30% stake (AC Hotels holding the remaining 70%) in AC Italia, the unit responsible for the growth of AC hotels in Italy.
Luella Enterprises Company, an affiliate of Hellenic Hotels Lampsa, has concluded a deal to buy North Haven, a company based in Hong Kong, for close to €11.1 million. North Haven has a 51% stake in Beogradsko mešovito preduzeće, which owns the 308-room Hyatt Regency Belgrade. The deal has no effect on Hyatt International's operation of the hotel.
An office building near Cismigiu Park in Bucharest, the capital of Romania, is being transformed into what will be the fifth hotel in Europe to fly the art'otel flag. The 62-room hotel should be ready towards the end of next year. The de luxe four-star art'otel brand belongs to Park Plaza Hotels Europe and is currently on exhibit in Dresden, Budapest and at two properties in Berlin.
The arrival of Marriott International's 54th Marriott-branded hotel in the UK was something of a treat for the residents of Leicester, who have been waiting 14 years for a new hotel of any sort to open. The 227-room Leicester Marriott Hotel is owned by Royal Bank of Scotland. Meanwhile, the residents of Birmingham will be laying their heads on the pillows within one of the 104 rooms freshly opened at the Nitenite Cityrooms hotel. Nitenite hotels are budget properties finished to a four-star standard and there could be as many as 30 of them in cities across the UK by 2012.
Tune in for news of what is happening to a building formerly occupied by the Ugandan Broadcasting Corporation and you will hear the sound of construction work in progress. Tune in a year from now and you will receive pictures of a completed five-star Hilton hotel rising 22 storeys and offering 292 rooms. The property in the Ugandan capital Kampala is being brought to you courtesy of Aya Investments.
Harry's Bar in London has been serving its members with fine Italian cuisine since 1979 and will continue to do so from now on under the sole ownership of the Birley family, the founders of the private club. This is the result of Orient-Express Hotels' decision to sell its 49% holding to Mark Birley Holdings for $9.5 million.
Absolute Share Price Performance Over the Past Week 08/06/06-15/06/06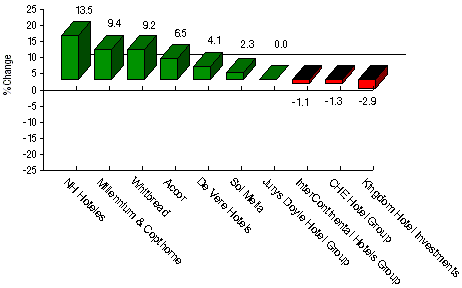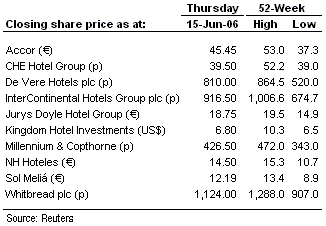 NH Hoteles - Hesperia's partial bid sent the share price soaring. Citigroup kept its 'Hold' rating and raised its target price from €12.5 to €15.0.
Whitbread - ABN Amro raised its rating from 'Hold' to 'Buy' and raised its target price from 1,075p to 1,295p.
Accor - Exane BNP upgraded Accor from 'Underperform' to 'Neutral' and gave a target price of €45.