The Hotel Arts Barcelona is used to setting records. The €285 million that Deutsche Bank Private Equity and Patron Capital Partners paid for the 483-room property in 2001 was the highest recorded figure for a transaction of a single hotel in Europe that year. Five years on, and the luxury hotel becomes the most expensive single property to be sold in Spanish history. A joint venture of Host Hotels & Resorts, Stichting Pensioenfonds (a Dutch pension fund) and Jasmine Hotels, an affiliate of GIC Real Estate, has paid around €417 million for the property, which will continue to be managed by Ritz-Carlton Hotels. The purchase price includes the assumption of debt of some €280 million and the transaction includes the purchase of a casino that is let to a third party operator.
The Howard Hotel, in London: sold for £75 million in November 2004. The Radisson SAS Hotel, Glasgow: sold for £52.5 million in November 2005. The London Marriott Hotel Park Lane: sold for £105 million in May 2006. To this distinguished list of hotels sold by Marylebone Warwick Balfour must now be added the name of the five-star London Marriott West India Quay, which stands in London Docklands. Yianis Docklands Hotels has paid £110 million for the 301-room hotel and its attendant serviced apartments. The hotel, which had a value of £93 million as at 31 December 2005, will continue to be managed by Marriott International.
InterContinental Hotels Group (IHG) will begin its adventures in Libya by visiting Tripoli, the capital of the North African nation. In partnership with Magna Holdings, IHG will build the InterContinental Tripoli as part of a mixed-use development. The 300-room hotel and 26 serviced apartments are scheduled to open in early 2009. While it waits, IHG will limber up by operating the adjacent Al Waddan hotel, which is due to reopen early next year after refurbishment. The hotel will not be taking an IHG brand.
InterContinental Hotels Group announced in May 2004 a five-year plan to develop Express by Holiday Inn (EHI) hotels in the Middle East. The latest step has taken this plan into Jordan, where Jordan Dubai Capital and Ishraq Gulf Real Estate Holding are to spend US$45 million on building three hotels (a maximum total of 500 rooms) of the brand in the country's major cities. The properties will be operated by Hospitality Management Services, which holds the master franchise on the EHI brand in the Gulf states. Lop off the words 'Express by' and you are left with Holiday Inn. A 180-room example of this brand opened recently in the emirate of Sharjah.
Interstate Hotels & Resorts, which is the largest independent hotel management company in the USA, has stepped across the Atlantic to manage its first hotel in the Republic of Ireland. The property in question is the de luxe four-star Hotel Rath, which is owned by a group of Irish investors that includes John McCabe and Paddy Kelly. The 150-room property stands in the town of Ashbourne, in Co. Meath.
By the time you read this, Whitbread should have completed the sale of 239 stand-alone pub restaurants in the UK. The outlets, which had a total net book value of £280.9 million on 1 March 2006, will have been purchased for £497 million by Mitchells & Butlers. Whitbread is to concentrate on those pub restaurants that are paired with a Premier Travel Inn hotel.
The French press reports that InterContinental Hotels Group (IHG) has clinched the contract to redevelop the Hotel Dieu in the city of Marseille. This seventeenth-century building, which once served as a hospital, is to be converted into a 180-room, de luxe four-star hotel; work is due to begin in autumn 2008. Reports indicate that IHG and its partners – Axa REIM (Axa Real Estate Investment Managers) and French property developer Cogedim – will be investing around €100 million in the project, which should be finished by the end of 2010.
Starwood Hotels & Resorts has appointed Matt Ouimet to the newly created position of President, Hotel Group. Ouimet, formerly the president of the Disneyland Resort, will oversee hotel operations worldwide. Meanwhile, Tony Potter is to leave Millennium & Copthorne for family reasons. Potter was the company's chief executive for the final two of his seven years of service.
NH Hoteles has reported its results for the six months to June 2006. The Spanish hotelier saw net profit rise by 22%, to €21.2 million, and revenue increase by 10.8%, to €508.3 million. RevPAR across the company's hotel division was 12.4% up on the previous year's comparable.
HVS International is pleased to be among the premium sponsors of Hotelforum 2006, a conference for hotel and real estate professionals. Not only that, but HVS will also be fielding three members of its London office: Russell Kett (Managing Director), Dominique Bourdais (Director) and Jakob Forstnig (Senior Associate). The action begins on 25 October at the Kempinski Hotel Vier Jahreszeiten in Munich. For further details you are advised to visit www.hotelforum.org click here. Book before 31 July and you can take advantage of an early-booking fee.
Visit www.internationalhotelconference.com click here and you will find yourself transported in an instant to a virtual world alive with the promise of casually dressed people with only one thing on their mind: yes, the acquisition of knowledge. Join them in reality at the Rome Cavalieri Hilton on 11 October; loosen your tie or slacken off your Alice band, and open your ears to the informative words of the likes of Jennifer Fox (chief operating officer, InterContinental Hotels, Europe) and Christian Karaoglanian (chief development officer, Accor). Attendees have 90 speakers to choose from, with the trio most deserving of a hearing surely that of Steve Rushmore, Russell Kett and Dominique Bourdais of HVS International.
Absolute Share Price Performance Over the Past Week 20/07/06-27/07/06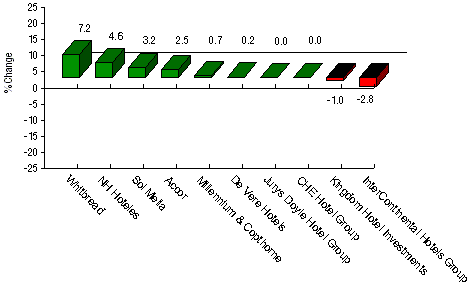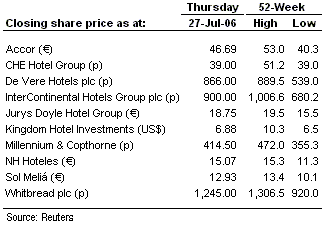 Whitbread - The share price was up on press rumours that Starwood Capital Group could be planning a takeover bid.
NH Hoteles - Spanish investment firm Inversiones Ibersuizas was the latest company linked with a takeover. The firm has denied the rumours.
Accor - Goldman Sachs reiterated its 'Buy' rating and raised its target price from €59 to €62.