A representative of Shangri-La Asia stands outside 10 Avenue d'Iena in Paris with his right hand tucked inside his jacket. Why? Could it be in homage to Napoleon, whose great-nephew Prince Roland Bonaparte once owned the mansion at this address? Or are his fingers merely marvelling at how light the company's wallet is now that a reported €92 million has been removed from it? Whatever the answer, there is no question that Shangri-La Asia, the parent company of Shangri-La Hotels and Resorts, is the new owner of a building that will open in late 2008 as the Shangri-La Hotel, Paris. This 140-room property will be Shangri-La Hotel's first hotel in Europe. It opens ahead of the Shangri-La Hotel at London Bridge Tower, which is not due to arrive until 2010.
Picture the Hôtel de Crillon in Paris and then imagine its spirit distilled and made brick in locations that could include, among others, London, Rome, Barcelona, Dubai and Qatar. You are now tuned in to Starwood Capital Group's way of thinking. The company is to launch Crillon, a luxury brand that will adorn European-style hotels and serviced residences that Starwood Capital will build working either alone or in partnership with other developers.
A Spanish Rapunzel in the medieval tower at the Sa Torre complex in Majorca would have the strength of her hair thoroughly tested by the number of eager islanders wanting to clamber up it for a better view of what is after all Hilton International's first hotel on the Mediterranean island. What they would see on the 56,000 m² plot before them is the 105-room, five-star Hilton Sa Torre Mallorca. Real estate firm the Drac Group owns the building and put up the money. The hotel, which is due to open in June 2007, will be managed by Gestión T3 Hoteles.
Acorn International Hotels would like to grow in new markets, and the €130 million or so that it expects to raise from the sale of ten properties – eight hotels and two tourist apartment buildings – in the Balearic Islands should assist with the germination. Six of the hotels, sharing among them a total of 1,600 rooms, are in Majorca. The 493-room Club Hotel Acorn Almirante Farragut in Minorca and the 245-room Hotel Acorn Playa Real in Ibiza complete the octet.
The more hotels a company opens, the higher its turnover is likely to be. In the year to 31 December 2005 Accor opened 182 hotels, and they helped boost revenue by 4.5%. The final figure for 2005 was €7.6 billion, a like-for-like increase on the previous year of 4.7%. Accor praised its budget hotels, which in Europe returned RevPAR of €36.3 (a like-for-like rise of 3.7%); those in the USA returned RevPAR of US$28.9, a like-for-like increase on the previous year of 5.6%. The company described as "sluggish" the performance of its upscale and mid-scale hotels in Europe. RevPAR here of €59.4 was up 2.3% (like for like) on the previous year.
Look down the Old Palace Road in the Bahraini capital Manama and you might notice something missing. Yes, the Hilton flag. After 30 years of fluttering, the flag outside a 250-room hotel owned by Investment & Trading (Gulf) Enterprises has been lowered to be replaced by the Golden Tulip banner. The five-star Golden Tulip Bahrain is Golden Tulip Hotels' first hotel in Bahrain. The observant will have noted too the opening of the first of the two towers that comprise the Radisson SAS Hotel, Dubai Media City in the emirate of Dubai, and they are bound to have noticed that the towers are linked by a bridge. However, there is no point yet in anyone's crossing that bridge when they come to it, as the second tower does not open until the middle of this year. When it does open, though, the second tower will offer an additional 125 guest rooms (121 are currently available) and a host of extra facilities.
Park Plaza Hotels Europe (PPHE) now has a second hotel to manage in the Dutch city of Amsterdam. The opportunity arose after a change in ownership at the former Ramada Hotel and Suites Amsterdam. The management contract was handed to PPHE by Parkvondel Hotel Real Estate, which had paid an undisclosed sum to AMS Hofpark for the 143-room hotel. The property will spend the remainder of the year engaged in a programme of refurbishment, an experience well-known to the Victoria Hotel Amsterdam by Park Plaza, which will have completed a programme of its own by the middle of this year.
Infortar, which is the majority shareholder in Estonian shipping line Tallink, would like to build hotels in the cities of Moscow, St Petersburg, Kiev, Tallinn, Riga and Helsinki, reports claim. Sunbeam, a subsidiary of Infortar, recently signed an agreement with construction firm Merko Etihus to build a €19.7 million spa hotel in the Estonian capital Tallinn. If and when it docks in St Petersburg, Infortar might well see Transaero circling the city. The Russian airline is said to want to spend up to a reported US$50 million on the construction of two four-star hotels, each of 100 to 150 rooms, near Pulkovo airport.
Mayo County Council might have enquired politely. Duffy. Duffy who? JP Duffy. I came by your offices a couple of months ago to apply for permission to build a hotel. Ah, yes, Mr Duffy, congratulations, we have approved your application. And so Duffy is free to begin work, possibly as soon as this summer, on a €20 million 103-room hotel near Knock airport in the northwest of the Republic of Ireland.
Absolute Share Price Performance Over the Past Week 19/01/06-26/01/06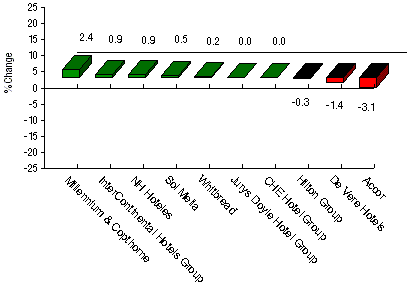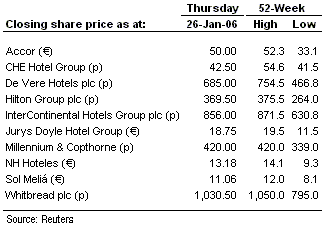 InterContinental Hotels Group - ABN Amro placed a 'Buy' rating on the stock.
Hilton Group - ABN Amro cut its rating from 'Buy' to 'Hold'.
Accor - SG Securities lowered its rating from 'Buy' to 'Hold' earlier in the week.