Deutsche Immobilien Fonds AG (DIFA) has secured a first hotel purchase for its open-ended real estate fund DIFA-Global. The hotel is the 492-room Radisson SAS Hotel London Stansted Airport, in north Essex, for which DIFA paid SAS Hotels A/S Danmark an undisclosed sum. Meanwhile, in London itself Red Carnation Hotels (RCH) is wearing a new favour: the Egerton House Hotel. RCH took its portfolio in the capital to six by paying an undisclosed sum to Franklin Hotel Investments for the 30-room property in Knightsbridge.
Chief Executive Andrew Cosslett noted that his InterContinental Hotels Group (IHG) had had a good first half, a sentiment underscored by the 33% rise in hotel operating profit (to £153 million) over the six months to 30 June 2005. RevPAR for the hotel division, spurred on by properties in the UK, the Americas and Asia-Pacific, rose by 8.1%. The stars of future performances will be found in the 50,000 to 60,000 rooms that IHG wants to add to its portfolio by 2008. These rooms will replace those in hotels sold, and continuing to be sold, by IHG. The company announced that a crop harvested mainly in continental Europe and one with a net book value of £600 million would be the next batch up for sale.
News of InterContinental Hotels Group's (IHG) latest disposal plans may have caused the InterContinental Hotel Paris to cast its mind back to last September and the moment when it heard that its name was on the transfer list. To judge from reports, the 438-room hotel has not wanted for suitors over the intervening 12 months, and at last an engagement has been announced. Dabicam SAS, a wholly owned affiliate of Singapore's GIC Real Estate, has agreed to pay €315 million in a deal that is expected to complete in the fourth quarter. Starwood Hotels & Resorts has already booked the signwriters for 10 October to come and change the name above the hotel's door to the Westin Paris. GIC Real Estate is to invest €12 million in making sure the hotel measures up to Westin's standards by the end of this year.
Marriott International is strengthening its links with the emirate of Dubai by introducing two properties to Capital Partners' RiverWalk mixed-use development in the Dubai Internet City Free Zone. The 300-room Courtyard by Marriott RiverWalk, Dubai Internet City and the 120-unit Marriott Executive Apartments RiverWalk, Dubai Internet City are set to open in 2008.
The Football Association in the Gulf state of Qatar is reported to be ready to invest US$134 million in the construction of the Digital Sports Hotel, a 'seven-star' property that is set to rise to 30 storeys over 32 months. A hotel with half that number of floors is what is apparently interesting Qatar Islamic Bank. It is to finance the reported US$13.7 million cost of construction of the property in the Al-Ghanim district of the Qatari capital Doha.
Jurys Doyle Hotel Group's verdict on its performance to 30 June 2005 was one of satisfaction. The feeling was inspired by the sight of pre-tax profit rising by 7.8%, to €23.7 million, and encouraged by the knowledge that turnover was up too, in this case by 11.8%, to €150.9 million. The 12 hotels forming the Jurys Inn portfolio in the UK were among those helping ease minds full of takeover talk and troubled by the 'disappointing' performance in Dublin of The Burlington, the Jurys Ballsbridge and The Towers by returning a combined 25% growth in trading profit. The latest addition to the Jurys Inn family in the UK will be a 229-room hotel in the city of Plymouth that Yelverton Properties is to build at a reported cost of £20 million. The hotel is due to open in spring 2007.
The headquarters of Irish airline Aer Lingus is said to be interesting hotel groups and property developers keen to get their hands on the ten-acre site in Dublin for redevelopment purposes. Aer Lingus has a long-term lease on the property from the Dublin Airport Authority. Those who want a hotel of their own in Ireland right now might care to head to Dundalk, in Co. Louth, where the 102-room, three-star Fairways Hotel & Conference Centre is up for sale with a reported asking price of between €13 million and €15 million.
Jean-Marc Espalioux is to step down as Accor's chairman next January. By that time he will hope to have seen Accor clock up the €590 million to €610 million it expects to make this year in pre-tax operating profit. At the halfway mark (30 June 2005) the company had made €230 million, a like-for-like increase on the previous year's comparable of 26.1%. Interim revenue was 5.0% higher (like for like) at €3.6 billion. Accor kicked off the second half of its financial year with RevPAR making some promising moves upfield: a 1.0% increase during July and August at the upscale and mid-scale European hotels and a 2.8% increase for the same months across the economy hotels in Europe.
Absolute Share Price Performance Over the Past Week 01/09/05-08/09/05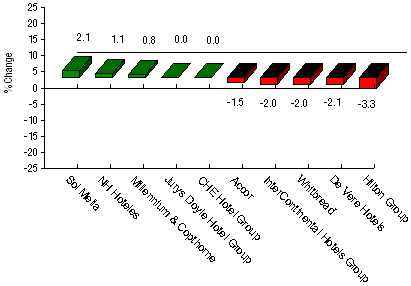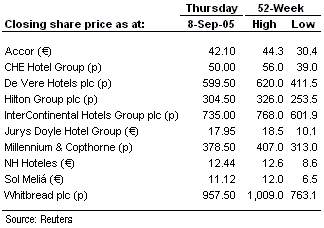 NH Hoteles - The share price rose on renewed rumours on the markets of takeover talk.
Accor - The interim results met with Deutsche Bank's expectations, but a downgrade from 'Buy' to 'Hold' was instigated as the stock has reached Deutsche Bank's price target.
InterContinental Hotels Group - UBS kept its target price unchanged at 720p and retained its 'Neutral 2' rating as IHG's interims met with UBS's expectations.