Starwood Hotels & Resorts wants to do away with "the staid same-old, polyester scenario" in the 'select service' hotel sector. Good news – unless, that is, you happen to be a polymer chemist. Mind you, even those men in white coats might admit they would themselves be mad not to want to stay in a hotel bearing Starwood's newest brand. And that brand now has its official name – aloft – which replaces the working title of Project XYZ that Starwood announced in June. Five company-owned sites in the USA will be the first to welcome the new brand, from early 2007 onwards. If Starwood's plans proceed as desired, then jaded business or leisure travellers will be able to find refreshment in the loft-like guest rooms at any one of 500 aloft hotels worldwide by 2012.
A building some 16 km from Brussels that was once used by IBM as a training centre has found a new life as Dolce International's first property in Belgium. The 264-room Dolce La Hulpe Brussels, which will open in January 2007, will be born of a renovation and expansion programme that is set to run for 12 to 15 months. And that rustling among the trees in the Forêt de Soignes was probably nothing more than the management agreement for Dolce borne by Banimmo Real Estate, the property's owner.
Whitbread revealed last October that as part of its wider strategy to exit non-core parts of its business it had plans to sell The Brewery, its conference and banqueting business on Chiswell Street in London. Those plans were realised this week by the arrival of St James Capital Chiswell Street, a company which is part of the Earls Court & Olympia Group. A £55 million cash deal on The Brewery and other buildings on the site should be completed early next month.
Orco Property Group has completed the purchase of a €70 million portfolio of five buildings in the Hungarian capital Budapest. One building of the five sold by the Ofer Brothers Group is home to the 54-suite, four-star Starlight Suiten Hotel. Over the border in Austria, meanwhile, the western town of Dornbirn has given an official welcome to the 106-room Four Points by Sheraton Panoramahaus Dornbirn. The hotel, Starwood's seventh in Austria, occupies the upper floors of the Panoramahaus, which is the tallest building in the province of Vorarlberg.
Saraya Aqaba is a tourism project that is destined to cover 610,000 m² of land in the Jordanian port of Aqaba by the time it is finished in 2009. Real estate development holding company Saraya Jordan will be wielding the spade and Jumeirah, the Dubai-based luxury hospitality group, has been lined up to manage three of the five five-star hotels and a water park that form part of the project.
The Al Futtaim Group has unveiled the latest component of its mixed-use Dubai Festival City development. Marsa Al Khor, a US$1 billion waterfront community that will be built in stages from 2007 onwards, is set to feature a 300-room boutique hotel. Save room for a little more wonderment though as you head over to Dubailand and the Falcon City of Wonders. This project, which will start to rise from the early part of next year, aims to have structures replicating the wonders of the world on its 4 million m² and have hotels among its mix of properties.
Swedish hotel property company Pandox has made an addition to its portfolio with the acquisition of a hotel in the Danish capital Copenhagen. The 200-room, three-star Mermaid Hotel, on which Pandox gains operational rights as a result of the deal, will undergo a two-year renovation. When the hotel reopens it will come under Pandox's managership.
A walk along City Road in London to view Travelodge's biggest new-build project to-date may for some be a walk of no more than a few steps' duration. For as soon as you reach Number One, you should halt. Sewing-machine enthusiasts will instantly recognise the Grade II listed property now reeled in by the budget hotelier as Lowndes House, the headquarters of Singer. Travelodge's £55 million investment will return in 2007 as a 394-room hotel, on which Travelodge will have a 35-year lease.
The city of Santiago de Compostela in northwestern Spain had never experienced the touch of NH Hoteles. All that changed this month when the company arrived to open the 159-room, five-star NH Obradoiro, a hotel that NH Hoteles will operate under lease and one that has absorbed €2.5 million of the company's money. In contrast, few are the locations in Portugal that have not enjoyed the caress of Amorim Turismo. Vilamoura on the Algarve is the latest location to be embraced; it has welcomed The Lake Resort, which includes a 192-room, five-star hotel and 95 luxury serviced apartments.
Martin Cummings, the man behind the transformation of Amberley Castle on the South Downs of England into a renowned luxury hotel, has secured a property of similar antiquity in France. Abbaye de la Bussière – an abbey founded some 900 years ago near the city of Dijon – is in the midst of a renovation programme costing a reported £2 million that will transform the property into a 20-room hotel. The property is due to open on 1 March 2006 and is scheduled to join the Relais & Châteaux collection the following year.
De Vere Group has issued a trading update covering the 52 weeks to 25 September 2005. It showed that like-for-like RevPAR had grown by 5.2% among the De Vere hotels and by 0.7% among the Village hotels. Like-for-like turnover grew too: by 3.3% at the De Vere hotels and by 3.4% at the Village hotels.
Absolute Share Price Performance Over the Past Week 22/09/05-29/09/05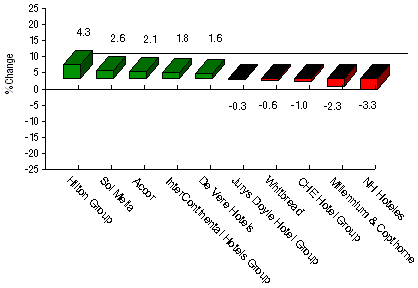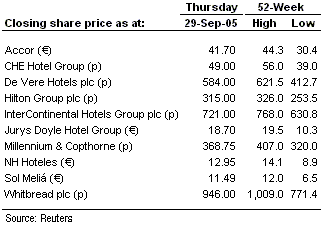 Hilton Group - ABN Amro raised its target price from 350p to 375p in the belief that Hilton might make further disposals this year.
Accor - The shares rose on news in a report from UBS in which Colony Capital said a decision on Accor's new CEO could be made by the end of October.
De Vere Group - Deutsche Bank retained its 'Hold' rating but lowered its target price from 640p to 629p.