HVS International's London office will be moving on 14-17 October – please bear with us as email, phone and fax services will be disrupted for much of this period. Our new address is 7-10 Chandos Street, Cavendish Square, London W1G 9DQ, United Kingdom. We look forward to welcoming our clients and industry friends to our new office space, which will be home to our ever-growing hotel Consulting & Valuation and Executive Search teams. To help achieve our continuing growth, HVS International remains interested in hearing from qualified surveyors and/or individuals with hotel finance and operations backgrounds who have an interest in joining the world's leading hospitality consulting firm. Please direct applications to Chris Mumford at cmumford@hvs.com.
In spring LRG Acquisition's fancy turned to a batch of 73 UK hotels that InterContinental Hotels Group had up for sale in a £1 billion 'sale and manageback' deal. With autumn here LRG's desire is to sell 11 of the 68 Holiday Inn hotels it acquired: those properties in Birmingham, Bolton, Cardiff, Carlisle, Glasgow, Hampstead, Leeds/Bradford, Leicester, Newcastle and South Mimms. The location of the eleventh hotel will be named shortly. A potential purchaser has the option of retaining the Holiday Inn brand; otherwise, the hotels, which can be acquired individually, or in batches, or all together, will be sold free of branding and management. LRG Acquisition is a consortium of Lehman Brothers Real Estate Partners, Realstar Asset Management and GIC Real Estate.
Spain will assume the brace position towards the end of 2008 as it prepares to receive the largest Novotel to have entered its shores. Real estate firm Metrovacesa aims to start work at the end of 2006 on the erection of an 18-storey building on land it owns at Avenida Diagonal 199 in Barcelona. The 264-room Novotel Barcelona Glories will sit above five floors of offices. While the country awaits this momentous €44 million project, its citizens can occupy themselves with a visit to NH Hoteles' latest offering in Madrid: the 88-room, three-star NH Parla.
Kempinski Hotels returned home this week to report on its latest adventures, its Biro dry but its eyes moist with the joy of having signed another three management agreements. The company's itinerary included a third visit to Jordan, where the 216-room Kempinski Hotel Aqaba Jordan, which is being developed by the United Saudi Jordanian Hotels & Tourism Company, is due to open in December 2008. From there, Kempinski Hotels headed off for a second visit to Latvia to put its name to a listed building in the capital Riga that is set to open in 2007 as a 250-room Kempinski hotel. The last leg of Kempinski's journey took it to Croatia for the first time. Native tourism firm Skiper Hoteli was on hand to welcome the newcomer to the Adriatic resort of Alberi, where work is about to begin on the construction of a building that will open in early 2008 as the 111-room Kempinski Hotel Istria.
German developer the Feuring Group has begun work as scheduled on the construction of a mid-market hotel in the Lebanese capital Beirut. The hotel is one of 50 aimed at the upper three-star market that the National Real Estate Company (NREC) of Kuwait wants to develop in the Middle East over the next few years. NREC chose Feuring to be its partner in this adventure back in March.
Arora International Hotels arrived on the site for the new Terminal 5 at Heathrow Airport in August 2004 ready to develop a 600-room Sofitel. The hotel and the terminal to which it is directly linked are scheduled to open simultaneously in March 2008. The turning of the first shovelful of earth in March 2006 will mark not only the start of building work but also the completion of a transaction announced this week: BAA has agreed to sell the ground lease on the hotel to Arora for £65 million.
Not for the Cambridgeshire Moat House the hurly-burly of a portfolio transaction; it is due the respect owed to a hotel unique among its Moat House brethren in having an 18-hole championship golf course. The 134-room hotel in Bar Hill, on the outskirts of Cambridge, is on sale now. Over in southwest Wales, meanwhile, how the newly opened St Brides Hotel must swell with pride as it surveys the Pembrokeshire countryside from its vantage point in Saundersfoot and reflects on the fact that it is the first five-star hotel in the county. The 35-room property is the result of five years' restoration work undertaken by its private owners.
The board at Jurys Doyle Hotel Group is to recommend to its shareholders the offer of €18.9 a share made by JDH Acquisitions, a vehicle recently established by the consortium that has members of the Doyle family in its ranks. The offer is a premium of some 1.1% over the closing share price on 11 October 2005 (the last business day before the offer was announced) and values the company at approximately €1.25 billion. The consortium behind JDH Acquisitions already holds some 41.9% of the issued share capital of Jurys Doyle Hotel Group.
Accor's supervisory board wants to hold an extraordinary meeting of shareholders sometime before 15 January 2006 to decide on proposals to replace itself and the management board with a board of directors. The supervisory board will also recommend that Serge Weinberg be elected chairman of this newly created board and that Gilles Pélisson be appointed chief executive officer. Mr Pélisson began his career with Accor in 1983 and is currently chairman and CEO of Bouygues Telecom. Mr Weinberg is presently the chairman of Weinberg Capital Partners.
Absolute Share Price Performance From 06/10/05 To 12/10/05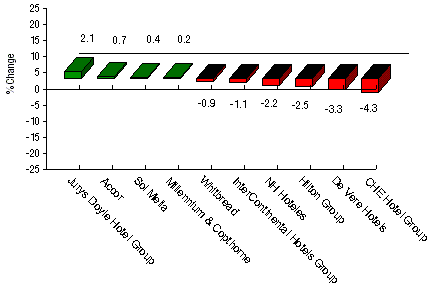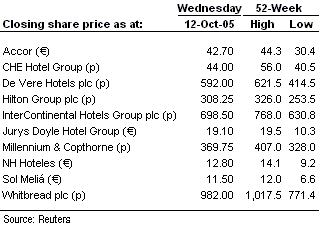 Jurys Doyle Hotel Group - News that the company's board was to recommend JDH Acquisitions' offer of €18.9 a share sent the share price higher.
Accor - Gains made earlier in the week were tempered by a downgrade – from 'Neutral' to 'Underperform' – from Exane BNP Paribas.
Hilton Group - Broker SG Cross Asset Management has a 'Buy' rating on the stock. However, shares on the FTSE 100 came under early pressure from the losses recorded on Wall Street.