Club Méditerranée's (Club Med) strategy calls for a move up-market, but money is necessary to oil the wheels. Real estate group Gecina wants a more diverse portfolio. How fortunate then that they should meet and strike a deal. The deal was doubly beneficial to Club Med; for the €225 million that it has banked from the sale and leaseback of four holiday villages (a total of 1,569 rooms) in the southeastern corner of France will allow it to break even this year for the first time in five years. Gecina is to renovate the La Plagne 2100 and Opio villages to bring both up to Club Med's four-trident standard, the standard already met by the two other villages that Gecina has acquired – Val-d'Isère and Peisey-Vallandry.
Two towers, each with a slight twist in its structure, are likely to be prominent features on the skyline of the Turkish city of Istanbul by 2008. The US$500 million mixed-use project named Dubai Towers – Istanbul is set to incorporate a luxury hotel, and is the first scheme to be put forward by Dubai International Properties, the international property development and investment arm of Dubai Holding, and Istanbul Büyükşehir Belediyesi (IBB, the 'Istanbul Metropolitan Municipality'), which recently formed a joint venture to invest a reported US$5 billion in Turkey over the next few years.
A joint venture formed by Tahincioğlu Holding, Nida and MV Holding saw off seven other bidders in the race to acquire the Büyük Efes Hotel, according to reports in the Turkish press. The threesome paid Özelleştirme Idaresi Başkanliği (Turkey's 'Privatization Administration') a reported US$121.5 million for the 406-room, five-star property, which stands in the city of Izmir. They plan to invest a reported US$40 million to US$50 million in their new acquisition.
Dubai Healthcare City (DHCC) is to treat itself to a five-star hotel, according to reports. The 439-room property will occupy one of two towers to be built on the DHCC development for a total cost of a reported US$234 million. The other tower will contain apartments, and both towers are due to open in September 2007. In the peak of health in nearby Bahrain is The Ritz-Carlton Bahrain Hotel & Spa. A recently completed six-month programme of renovation gave all 245 of the hotel's guest rooms a thorough work-out.
Millennium & Copthorne finds itself "well positioned for the final quarter" after posting its results for the third-quarter ending 30 September 2005, but notes that the outlook for next year is "less clear". The company saw pre-tax profit for the third quarter finish on £20.0 million, an increase of 51.5% on the previous year's comparable. Group revenue was 7.6% higher, at £146.6 million. New York topped the RevPAR league table, with its increase of 24.1%. Marketwide RevPAR was 4.6% ahead on the previous year's comparable figure, finishing on £48.12.
Starwood Hotels & Resorts has officially opened The Westin Paris. The 438-room hotel was the InterContinental Hotel Paris until this September when GIC Real Estate announced that its affiliate Dabicam SAS had agreed to pay €315 million for the property. Neighbouring Spain and its capital also have a new addition to their hotel family. VP Hoteles has opened the 102-room, four-star Jardín Metropolitano, which is the company's fourth hotel in Madrid.
On your next visit to the German city of Frankfurt keep an eye out for the Golden Tulip Frankfurt Offenbach. The 255-room, four-star hotel is the first in Germany to be operated by Golden Tulip Hotels itself. Time your visit to Germany right and you will be able to view a second new property. Landal GreenParks, a subsidiary of Cendant Vacation Network Group, will be opening the 103 apartments of the Landal Glubigsee, which stands on the shores of the Glubigsee, near Berlin, on New Year's Day.
Absolute Share Price Performance Over the Past Week 27/10/05-03/11/05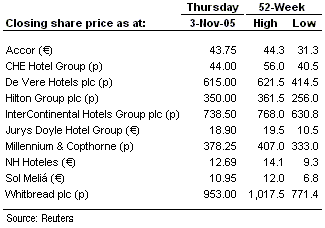 De Vere Group - The share price rose sharply at the end of last week on press rumours that two private equity firms had shown an interest in the company.
Accor - Accor has a 28.9% stake in Club Méditerranée, which announced that it would break even this year for the first time in five years.
Hilton Group - ABN Amro reiterated its 'Buy' rating and its target price of 375p in light of Hilton Hotels Corporation's proposed offer for Hilton International.