Italian real estate holding company the

Statuto Group

has agreed to pay

Starwood Hotels & Resorts

€177 million for the

Hotel Danieli

. The deal on the 233-room hotel in the Italian city of Venice should be completed in four to six months and the property will remain a part of

The Luxury Collection

after Starwood signed a long-term management agreement. While the Statuto Group draws up plans for extensive renovation, Starwood will be perusing a mini-statement showing that a total of US$398 million has thus far been banked from recent sales.
As part of its strategy of aligning itself with major brands,

Gresham Hotel Group

has signed a management agreement with

Rezidor SAS Hospitality

that will see

The Gresham Hyde Park

in London become the

Park Inn Hyde Park

on 1 June. Gresham was advised in the process by

HVS Hodges Ward Elliott

. The 188-room hotel will be the second property in the UK to fly the

Park Inn

flag; the first was the 889-room

Park Inn Heathrow

, which opened last May. London is the scene too of Spanish chain

Hotusa Hoteles

' first hotel purchase in the UK. The 107-room, four-star

Grosvenor Kensington

, which was sold by

Muirgold

, is reported to have cost the company more than £18 million.
But head off in any other direction from

Steigenberger Hotel Group

's headquarters in Frankfurt am Main and sooner or later you will come across one of the company's recently announced projects. Head south into Italy and you will find the four-star

Steigenberger Hotel Therme Meran

, which will open in the spa town of Meran in spring 2006. Spa company

Therme Meran/Land Südtirol

and the town authorities have invested a total of some €30 million in the 139-room hotel. Head east and you will find excitement on the Neumarkt in Dresden, where

Baywobau Bauträger

is spending some €36 million on the 185-room, four-star

Steigenberger Hotel de Saxe

, which is also in line for a spring 2006 opening. Head north and a short swim takes you across to the island of Norderney where a hotel company of the same name is spending some €65 million on turning the

Conversationshaus

spa hotel into the

Steigenberger Spa Hotel Norderney

. The property will have more than 170 rooms and it is due to open in April 2008.
The

Sunland Group

of Australia and

Emirates International Holdings

expect to start work early next year on the 419-suite

Palazzo Versace

resort in the emirate of Dubai. The property is set to open by 2008. In contrast, guests need wait only a few more days for the

Safir Bhamdoun

to open. The 68-room, five-star hotel in the resort of Bhamdoun will be

Safir Hotels & Resorts

' second property in Lebanon.
Hilton Group

noted that its pre-tax profit over the four months to 30 April 2005 was down 4% on the previous year's comparable as its betting and gaming arm found the going tough. The hotel division had a happier time, with the portfolio returning like-for-like RevPAR growth of 9.6%. Hilton noted that RevPAR continued strong in Scandinavia, a fact that coincided nicely with news that the company is to make a third visit to Finland.

Lentoasemakiinteistöt

, a subsidiary of the

Finnish Civil Aviation Administration

, is to invest some €40 million in the construction of a 244-room hotel, which is due to open at Helsinki-Vantaa Airport in 2007.
Stroll along King's Cross Road in central London anytime soon and you are likely to see the For Sale signs up outside the 211-room

Travelodge Farringdon

and the 375-room

Travelodge Islington

. A report suggests that property firm

Kirkmore Securities

wants £66 million for the pair, which were known, respectively, as the

London Ryan

and the

Thistle Islington

when

Travelodge

paid

Thistle Hotels

£55 million for them last summer. The hotels came into Kirkmore's possession through a simultaneous sale and leaseback deal with Travelodge, whose 35-year lease on each property will be unaffected by the newly proposed sale.
The Frankfurt-based closed-ended fund

WestInvest

is reported to have paid €18 million to Düsseldorf-based development company

NPC Gruppe

for the 180-room

Mercure Hotel Hamburg an der Messe

, which stands in the German city of Hamburg. Northern Germany has also attracted Austrian developer

Rogner International

, which reportedly wants to start work this autumn in the town of Westensee on a 300-bed hotel costing €35 million.
South African chain

Protea Hotels

has shown its fondness for Dar es Salaam by making its second visit to the Tanzanian port. The 52-room, three-star

Protea Hotel Courtyard Dar es Salaam

will partner the 48-unit

Protea Hotel Oyster Bay Dar es Salaam

. Protea Hotels sold the latter property recently and the new owner requested that the hotel's name be changed from the

Protea Hotel Dar es Salaam Apartments

. Meanwhile, Portugal's

Ornelas Monteiro Actividades Turísticas

has chosen Angola on the opposite side of the African continent as the location for its first overseas venture. Investors in that country will contribute some of the reported US$38 million that will be spent on a 150-room, five-star hotel that is due to open in the capital Luanda in 2008.
When in 2003 Spanish chain

AC Hotels

formed a joint venture with its compatriot

H10 Hotels

it was for the express purpose of opening hotels in Italy. The pairing, known as

AC10 Hotels

, this week celebrated the fifth hotel to result from their union: the 89-room

AC10 Torino

in the city of Turin. After their trip away both companies will be eager to catch up on news from home, where the main story this week concerns investment company

Cartera Hotelera

. It is said to be thinking about selling its 17.1% stake in

Occidental Hotels

, news which has sparked fresh rumours in the Spanish press that

NH Hoteles

might be among the bidders and might then go on to launch a takeover bid. For its part NH Hoteles is reported to have said that for reasons of confidentiality it cannot comment.
Every so often

Andrew Brownsword

will take a break from running his greetings card empire to call on his business partner

Michael Caines

. And should the chef and restaurateur by happy chance have just put a casserole into a slow oven then the pair know they have just enough time to go out and add another hotel to their growing UK portfolio. The perfect moment presented itself this week, and so they wended their way to Canterbury in Kent, there to pay an undisclosed sum for the 74-room

County Hotel

. When

Macdonald Hotels

placed the four-star property on the market in November it was with an asking price of £8.5 million. Reports suggest that this property will take the

Abode

brand, which Caines and Brownsword will launch this September when their

Royal Clarence Hotel

in Exeter reopens after a £3 million refurbishment.
Absolute Share Price Performance Over the Past Week 12/05/05-19/05/05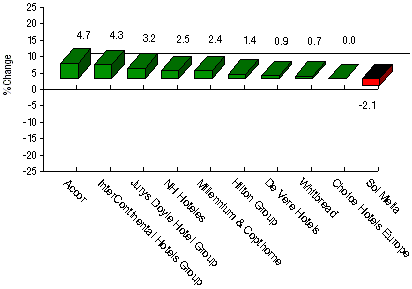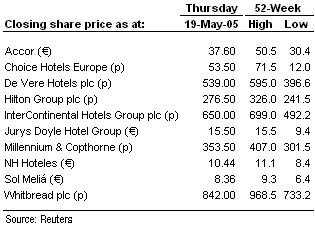 InterContinental Hotels Group - Cazenove raised its rating from 'In-Line' to 'Outperform' in anticipation of further asset disposals.
Jurys Doyle Hotel Group - Takeover fever runs high, despite the company's rejection of Precinct Investments' offer of €15.25 per share.
NH Hoteles - Cheuvreux upgraded its rating from 'Underperform' to 'Outperform' and named a target price of €12.