Accor

and

Colony Capital

have been together now for seven years, and it does not seem a day too much for the French hotel chain when it has such a thoughtful partner.

Colony Investors VI

and

Colyzéo

are to lead the investment of €1 billion in Accor in two tranches each worth €500 million: one tranche in the form of redeemable bonds and the other in the form of convertible bonds. Accor can use some of the money to shop for new hotels in places such as Russia and the Middle East, and while having €1 billion in your pocket is comforting, what is a hotel company to do if it wants a bit more money for those little extras? The answer is to sign an agreement worth €140 million with investment consortium

Foncière des Murs

to allow your fixed leases on 128 of your midscale hotels in France to be converted into variable leases. To raise additional funds, Accor is looking to strike a 'sale and manageback' deal on ten of its

Sofitel

hotels. The company hopes that these two projects together can raise a total of some €400 million over the next 18 months.
It was also finals week this week at

Accor

, and heading for first class honours was pre-tax profit for the full year 2004, which came in at the top end of Accor's expectations by finishing on €592 million, an increase on 2003 of 13.2%. Revenues had been crowned with its laurel wreath back in January for finishing 4.6% ahead (like-for-like) on 2003, at €7.1 billion. The class of 2005 has shown early signs of promise. As at the end of February, RevPAR among European economy hotels owned by Accor was 4.0% ahead. RevPAR was 1.1% ahead across the portfolio of owned upscale and midscale hotels in Europe.
InterContinental Hotels Group

(IHG) announced last September that it had put up for sale a batch of 76 hotels with a net book value of some £1.3 billion. Six months on and IHG has agreed a £1 billion 'sale and manageback' deal on 73 of the hotels – all of them in the UK – with

LRG Acquisition

. LRG is a consortium of

Lehman Brothers Real Estate Partners

,

Realstar Asset Management

and

GIC Real Estate

, and if the deal overcomes such hurdles as EU merger clearance, then the consortium will receive for its money 68

Holiday Inn

hotels, four

Crowne Plaza

hotels and one

Express by Holiday Inn

sharing between them a total of 12,841 rooms. IHG's shareholders can expect to reap the rewards of this disposal later in the year. IHG considers 63 of the hotels to be core properties and it is in these that LRG will invest an additional £21 million. LRG will be obliged to make a similar investment in the remaining ten properties after 2007 but only if it chooses to retain an IHG brand.
InterContinental Hotels Group

saw its pre-tax profit for the year to 31 December 2004 leap 26.6% to £309 million. Group turnover was 2.0% higher, at £2.2 billion. The hotel division returned an operating profit of £251 million, up 25.5% on the previous year. The UK market received a mention in dispatches for its RevPAR performance – for example, the

Holiday Inn

portfolio in London saw RevPAR 16.0% ahead – as did

InterContinental

and

Crowne Plaza

hotels in the Americas region; they posted RevPAR rises of 8.1% and 7.9%, respectively.
Marina Developments Ltd

(MDL) is Europe's largest marina group. One of the 18 marinas and boatyards it owns and operates in the UK is

Ocean Village

in the city of Southampton. As part of the £50 million redevelopment of the facility, a ten-storey hotel will be built and MDL has signalled to

Millennium & Copthorne

(M&C) to come and operate it. M&C expects that building work on the 200-room

Millennium Hotel Southampton Ocean Village

will start later this year and finish in 2007. A

Millennium Conference Centre

, with room for 500 delegates, will also be dropping anchor at the marina.
Reports from the Middle East region suggest that UK hotel operator the

Chelsea Group

is to open two properties in the emirate of Dubai. The company has spent a total of a reported US$27 million on the 99-room, four-star

Chelsea Hotel

and the 281 apartments of the

Chelsea Tower

, and both properties make their debut next month. For more hot hotel action one should cross the Gulf and head for the western Iranian city of Bakhtaran, where the

Mostazafan and Janbazan Foundation

is said to be ready to devote the next 30 months to the construction of a 100-room hotel complex costing a reported US$11 million.
South African resort development company

Peermont Global

is reported to have completed the acquisition of two hotels in Botswana for a total of US$10.8 million.

Peermont Global (Botswana)

reached an agreement last December with the owners of the 67-suite, three-star

Syringa Hotel

in the capital Gaborone and the 53-room

Syringa Lodge

in Francistown.
Whitbread

announced last October that it had plans for a 'sale and manageback' involving its

Marriott

portfolio. However, the excitement currently being generated by the likes of

InterContinental Hotels Group

with its asset disposals led newspapers such as The Times to suggest this week that Whitbread too might prefer an outright sale instead. Whitbread responded to the claims made by the press with a tantalising statement in which it said that it was currently in discussions that might or might not lead to the disposal of some or all of the hotels in its Marriott portfolio.
Choice Hotels Scandinavia

has tempted two hotels in Norway into entering the warm embrace of the

Clarion Collection

. The privately owned 99-room

Hotel Bastion

in the capital Oslo will join at the start of next month, whereas the

Hotel Havnekontoret

in the southwestern port of Bergen must wait for its hug, as it will not actually be open until May 2006. Choice Hotels Scandinavia will take a long-term lease on the 116-room property from Norwegian real estate firm

FAV Gruppen

. Meanwhile, further up the coast, in Trondheim, the results of

Rica Hotels

' extension work at the

Rica Hell Hotel

will be unveiled in March 2006. The Norwegian hotelier is to spend some €12 million on the addition of 132 new rooms.
The resort of Torquay down in the county of Devon in southwest England might like to brace itself for the arrival of a world class resort hotel.

Dawnay Shore Hotels

(DSH) has plans, which are necessarily vague at present, to extensively redevelop the

Imperial Hotel

into said resort hotel. The 169-room, five-star Imperial Hotel is one of 13 properties in the

Paramount Hotel Group

, which DSH purchased last summer for £215 million.
HVS International

is pleased to be among the gold sponsors of the

Arabian Hotel Investment Conference

. The three-day event, which opens on 30 April, will take as two of its core themes the trends and future developments in hotel financing in the Middle East region.

Bernard Mouchbahani

, the Managing Partner of

ProFinance

, and

David Jackson

, Chief Investment Officer at

Istithmar

, join

Russell Kett

, Managing Director, and Director

Bernard Forster

from HVS International's London office on the list of distinguished speakers. Further details are available from the website www.arabianconference.com click here.
Absolute Share Price Performance Over the Past Week 03/03/05-10/03/05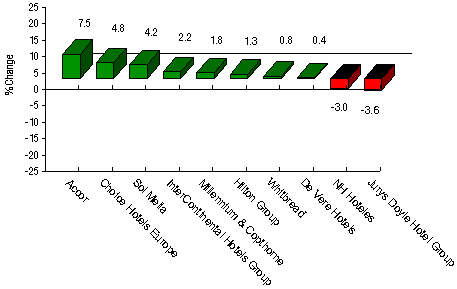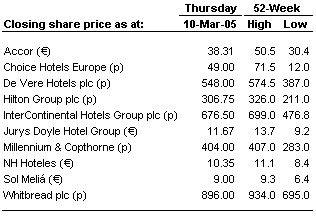 Accor - Deutsche Bank raised its rating to 'Buy' and lifted its target price from €35 to €42 on full year results that were in line with expectations and on news of Colony Capital's investment.
InterContinental Hotels Group - Results were in line with the expectations of UBS. The analyst, though, expressed concern about IHG's long-term growth potential; UBS retains its 'Neutral 2' rating.
NH Hoteles - Analysts were reported to be concerned about NH Hoteles' investment in tourist projects in the Dominican Republic in that it might signal a change in strategy; that is, away from investment in urban hotels.