London & Regional Properties

(L&R) expects to be the new majority owner of

Holiday Club Finland

(HCF) by the end of August. L&R will, through its hotel property investment company

Dividum

, pay some €120 million to

Procurator

and funds administered by

CapMan

for their holding. The management and other 'key personnel' within HCF will hold a 20% stake. HCF offers a range of services and facilities to the leisure traveller, including seven spa hotels and nine holiday resorts.
The Spanish press reports that

AC Hotels

is to pay €17.4 million to its Spanish compatriot

Habitat Hotels

for the

Capital Hotel & Restaurante

in Barcelona. The 103-room, three-star property is set to join the AC Hotels portfolio on 1 September. Meanwhile,

Altai Hoteles

, a joint venture formed between

Vincci Hoteles

and

Acciona

, has turned its attentions away from Spain for the first time to concentrate on the construction of a 66-room hotel in the Portuguese capital Lisbon. The partners are to invest a reported €8.5 million in the four-star property, which is due to open in 2007.
Rezidor SAS Hospitality

will be waiting expectantly come the start of the new year for a letter from the Swiss planning authorities to drop onto its doormat. If the letter gives Rezidor the go-ahead then the company will be straight round to

Zürich Airport Invest

, who in turn can instruct

Marazzi Generalunternehmung

to set the cement-mixers a-turning. The building site will be opposite Terminal 1 at Zürich Airport, and on that site by autumn 2008 the 329-room

Radisson SAS Hotel Zürich Airport

will stand.
Dawnay, Day & Co.

and

Shore Capital

came together last summer to create

Dawnay Shore Hotels

(DSH), a company which has dedicated its life to creating a chain of four-star hotels in the UK. DSH's latest capture is

Walton Hall

, a timeshare and leisure complex in Wellesbourne, near Stratford-upon-Avon. The company paid £15.2 million for the property and now has plans to convert the 132 timeshare units into some 200 hotel rooms and to build a conference facility, all for a projected cost of around £10 million. Once the first phase of the work is finished – and expectations are that this will be next summer – the hotel will join the

Paramount

portfolio.
Earlier this year a stroll across the Opernplatz in the German city of Frankfurt would have required a pedestrian to weave in and out between representatives of several leading hotel companies and their respective consorts, all attracted to the city by the offer of the chance to build a luxury hotel. The crowds have melted away now to leave

Mandarin Oriental

and its partners in this venture

ING

and

Stiller Immobilien

alone and triumphant. They await the approval of the city authorities that would free them to build a 160-room hotel.
Finnish property investment firm

Kapiteeli

has put €41.6 million into

Finnair

's pension fund and taken in return the remaining 40% it did not already own in hotel property company

Kiinteistö Oy Nordic Hotellikiinteistöt

. Kapiteeli's fellow Finn is the owner of two hotels in Helsinki: the 192-room

Hilton Helsinki Strand

and the city's largest hotel, the 512-room

Scandic Continental Helsinki

.
Finesse Hotels

has taken time out from operating its two hotels in Derbyshire to cross the county line into Nottinghamshire, there to execute the purchase from

Beacham Whitehead Holdings

of the

Lace Market Hotel

. Though Finesse did not disclose how much it paid for the 42-room, four-star boutique hotel, which stands in the centre of the city of Nottingham, certain sources have mentioned a figure of £5 million. The new owners want to raise the status of the property to that of a five-star townhouse and will spend a reported £500,000 in pursuit of this goal.
CHE Group

became

CHE Hotel Group

on 29 June, and the company will no doubt be hoping that a change in name will help maintain the change in fortune that was signalled in March, when CHE Group announced a profit for the year ending 31 December 2004 after five successive years of losses. The company would appear to have a favourable position on fortune's wheel at present; CHE Hotel Group noted that the outlook for the medium term was good. It is also negotiating terms on another five

Sleep Inn

developments and looking forward to flexing its managerial muscle at the

Comfort Inn London City

, which will be opening in a few weeks' time.
Italy's

Domina Hotel Group

has plans to bring 16 properties into the world by 2007. One of these will be the

Domina Milano Residence

, which is set to open in the third quarter of 2006. The 42-suite hotel will be Domina's second in the northern Italian city of Milan.
A reminder to those of you who have not already done so to have a read of an informative article written by two members of the London team of

HVS International

: Senior Associate

Jakob Forstnig

and Director

Bernard Forster

. Entitled "

P2P: Are There Any More Public-to-Private Deals Left?

" the article addresses such issues as whether any more deals are likely to happen this year and investigates if investors and owners have alternatives to P2Ps. You can download the article free of charge from the 'Library' section of our website www.hvs.com click here.
The

Sofitel St James

in London is the venue for the

5th Annual European Hotel Finance & Investment Summit

, brought to you by

Euromoney Seminars

. Distinguished speakers at the event, which runs from 28-29 September, include

Accor

's

Michael Flaxman

,

Gill Baker

(

Premier Travel Inn

) and

Amar Lalvani

(

Starwood Hotels

).

HVS International

London's Managing Director

Russell Kett

will be moderating a panel addressing the question, "Where are the investment opportunities and who is exploiting them?". Such fare should be enough to satisfy the biggest of appetites, but those with room for more could stay on at the hotel for the separately bookable

Limited Service Hotels Briefing Day

, on 30 September. You will then be able to feast your ears on the likes of HVS International's

Dominique Bourdais

, and

Gerard Greene

, the CEO of

Yotel

. Further details are available from the website www.euromoneyseminars.com click here.
Absolute Share Price Performance Over the Past Week 23/06/05-30/06/05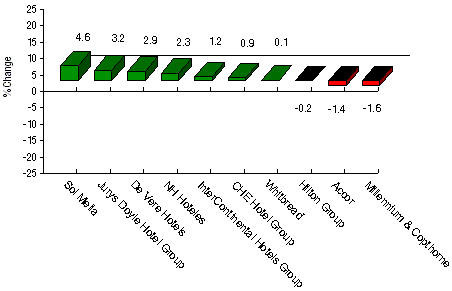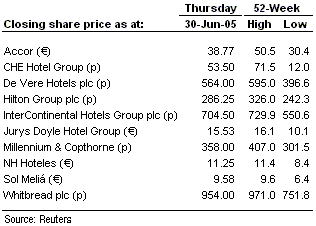 Sol Meliá - The Spanish hotel confederation Cehat noted that most of its members were confident of a good summer season.
Jurys Doyle Hotel Group - The share price climbed once more as rumours circulated that Precinct Investments would soon be back with its third offer.
Hilton Group - One of the many companies whose share price was affected by news of a rise in oil prices.