US firm Harrah's Entertainment is the world's leading provider of branded casinos. At present, the USA, Canada and Uruguay have all the luck, but this situation is set to change; for Harrah's wants to open a casino resort in both Spain and Slovenia. El Reino de Don Quijote de La Mancha will lead the charge into Spain, where a Caesars resort costing some US$670 million will form part of the El Reino de Don Quijote mixed-use development near the southern town of Ciudad Real. An 850-room luxury hotel will be one element of a development that should start to rise from the end of next year. Slovenia's project has no time-frame as yet, but it is destined to involve the border town of Nova Gorica and native casino operator the Hit Group. Hit and Harrah's will form a 50:50 joint venture that will invest some US$700 million in the proposed development, which will include a luxury hotel of 800 to 1,200 rooms.
Norwegian hotel property company Norgani Hotels has shown that it is still sweet on Sweden by bidding 1.7 billion Swedish kronor (approximately €179 million) for hotel company Hotelleiendom, which was formed earlier this year and which in June acquired 16 Scandic hotels in Sweden from Capona. Thus far, eight out of every ten shareholders in Hotelleiendom have said that they would prefer Norgani to any other new owner. Norgani expects to have completed the deal by the end of the year, at which point in time its portfolio will swell by 2,910 rooms to 10,382 rooms. Norgani completed a deal with Capona on five hotels in Sweden only a few weeks ago.
Real estate developer Emaar Properties and industrial and financial group ONA are to make their second trip together to ONA's native Morocco. They have given themselves five years from the first quarter of 2006 to build another in their series of residential and golfing communities. Bahia Bay is a US$1.2 billion 530-hectare development near the western city of Casablanca that will feature two hotels among the assortment of buildings.
The emirate of Dubai is not the only country in the Middle East to have man-made islands. Bahrain has its Amwaj Islands, which Ossis Property Developers has reclaimed from the sea off the country's northern coast. And those islands are reportedly set to see the opening of the Renaissance Amwaj Islands Hotel in 2008 after Marriott International accepted Ossis's offer of a management contract on the US$119 million property. At 20 storeys, the 323-room hotel will apparently be the tallest in Bahrain.
NH Hoteles describes nhow, a new brand that it has been working on with Design Hotel Development, as being "especially created for industrial chic lovers". The first hotel to wear the brand will open in the Italian city of Milan. Lovers who have yet to decide which category they fall into might like to come to their decision in the privacy of NH Hoteles' third hotel in and around the German city of Nuremberg. The company has invested €3.2 million in the 244-room, four-star NH Nürnberg-City.
Mövenpick Hotels & Resorts' second hotel in Turkey is in line for its official opening in the middle of next year. The 185-room, five-star Mövenpick Hotel Izmir, in the city of Izmir, will be the product of the renovation of an existing hotel owned by Viltur Inşaat Ve Turizm. Meanwhile, a couple of native Turkish hotel companies have wandered far and near in search of their next openings. Kainak is reportedly in the republic of Tajikistan, where it has plans to build two five-star hotels – one with 150 rooms and the other with 400 – in the capital Dushanbe, whereas Kaya Group has made the short journey to Cyprus, where it is putting the finishing touches to the Kaya Artemis Holiday Resort. The 528-room, five-star property is due to open next year.
Norwegian hotel and real estate firm Buchardt has handed a contract worth some 500 million Swedish kronor (€53 million) to Skanska that permits the construction firm to build what will be the largest hotel in the Swedish capital Stockholm. The 558-room Clarion Hotel on Norra Bantorget Square is due to be finished in January 2008.
A lump of cheese might be sufficient temptation for a mouse but what bait would Rentokil Initial need to lure a hotelier? The company found that the answer was to offer for sale its Initial Style Conferences business. De Vere Group and Dawnay Shore Hotels reportedly had a nibble but proved immune, unlike the Alternative Hotel Group (AHG), which found itself unable to resist the 29 UK conference centres. AHG is a group of investors led by Richard Balfour-Lynn and other directors from Marylebone Warwick Balfour and it expects to complete the £325 million deal within the next two weeks.
If you want a view over the waters of the Ruppiner See in Germany, then book a stay in one of the 139 rooms of the Golden Tulip Fontane – Neuruppin, which arrived recently in the eastern town of Neuruppin. An elevated view of the River Elbe as it flows through Hamburg awaits all those who can contain their excitement until 2007. Work has just begun on the 21-storey 328-room Empire Riverside Hotel in the St Pauli district of the city.
Pearl Hotels has paid close to the asking price of a reported £8.25 million for the Best Western Gatwick Worth Hotel, which is close to Gatwick Airport. The 118-room property joins the likes of the Ramada Encore Swansea Bay, in south Wales, in Pearl's portfolio. Up in the West Midlands, Pritchard Holdings has begun work on a 12-storey tower at the Orbital Plaza mixed-use scheme on the outskirts of Cannock. The tower will be home to a hotel of between 80 and 100 rooms.
De Vere Group is facing the future with cautious optimism after its latest financial year (it ended on 25 September 2005) closed with pre-tax profit excluding exceptional items 7.8% down on the previous year, at £42.0 million. Turnover of £312.0 million was 3.0% lower than last year. Like-for-like RevPAR was ahead both at the De Vere Hotels and the Village Hotels at 5.2% and 0.7%, respectively.
Absolute Share Price Performance Over the Past Week 24/11/05-01/12/05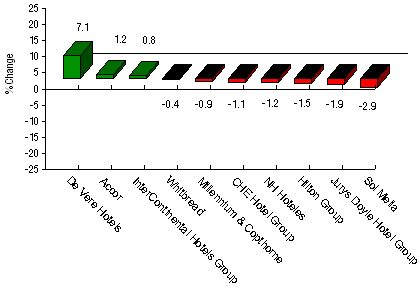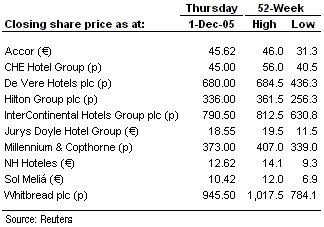 De Vere Group - De Vere's full-year figures came in at the top end of UBS's expectations. UBS keeps its 'Buy 2' rating.
Accor - JP Morgan initiated its coverage with a 'Neutral' rating and a target price of €46.
NH Hoteles - Hesperia Hoteles has denied rumours that it is interested in NH Hoteles. Deutsche Bank's opinion is that it is this takeover speculation that is keeping the share price high and that once such talk dies down the share price will reflect the underlying performance of NH's business. Deutsche Bank has therefore reiterated its 'Sell' rating.