July ended in much the same way that June began: with Jurys Doyle and its Ballsbridge site making the news. The calendar showed 9 June when Jurys Doyle announced that the five-acre site in Dublin was up for sale, and 28 July when the company revealed that, subject to shareholder approval, the sale would complete in October. The intended buyer is Padholme, a company controlled by property developer Sean Dunne, which will pay €260 million for a site bearing the Jurys Ballsbridge Hotel, The Towers and The Berkeley Court. Jurys Doyle intends to continue operating all three hotels until late 2007.
Chicago-based real estate investment firm Walton Street Capital and investment bank Merrill Lynch decided to celebrate the end of July by teaming up to purchase (for an undisclosed sum) the 293-room Prague Marriott Hotel and the BH Centrum, an office and retail complex. Selling the properties in the Czech capital Prague was Austrian investment fund IDAG.
Sicilian wine producer Donnafugata is hoping to grow something a little different in the province of Ragusa. 280 Hectares of land in southern Sicily will be given over to the cultivation of the 211-room Donnafugata Golf Resort & Spa, which to grow into a specimen of five-star hotel will require feeding with €45.5 million and the support of Italian development agency Sviluppo Italia. NH Hoteles will be there at the uncorking in July 2006 as it is to manage the property.
Patrolmake, a wholly owned subsidiary of Corus Hotels, has paid investment holding company Supreme Touch £12.06 million for a 49% equity interest in Plaza on Hyde Park (POHP). Corus holds the remaining 51% stake in POHP, a private company that operates the 390-room Corus Hotel Hyde Park in central London. Supreme Touch acquired the 49% stake from Morning Star Resources four months ago for some £11.3 million.
So, how have Millennium & Copthorne's (M&C) 91 hotels fared over the six months to 30 June 2005? "In line with expectations" is the reply from company chairman Kwek Leng Beng. Those wanting illustrations with those words might choose to look at pre-tax profit (up 115%, to £40.1 million) or to admire the group revenue (6.6% higher, at £281.0 million). The picture highly commended in the RevPAR gallery depicts New York rampant, with growth of 15.6%. When you have viewed the figures, remember to peruse the new works, which include a photograph of the Millennium Hotel Doha. M&C is to manage this 270-room, five-star property, which is due to open in the Qatari capital in autumn 2006.
On the first day of August Rezidor SAS Hospitality gave to Rostock a new 251-room Radisson SAS Hotel. The four-star hotel, which required a total investment of some €60 million, took three years to build. The German port needs only another six hotels of the brand and it will draw level with France. The latest addition here is the 170-room Radisson SAS Boulogne-Paris, which stands in the heart of the French capital.
Reports this week rang out the news that Grange Hotels is to build a 300-bed hotel near St Paul's Cathedral in London. Where will it be? On Queen Victoria Street on the site of Faraday House. Brickbats and tiles? Yes, these are already raining down, as Grange Hotels, which manages 12 luxury properties in London, begins the demolition of a building it purchased for a reported £28 million in January 2004. When will it open? Reports suggest that the hotel should be finished by 2008.
Golden Tulip Hotels (GTH) has announced the opening of the Golden Tulip Bellambriana in the Italian capital Rome. The 91-room property, which is close to Fiumicino Airport, is the company's fifth hotel in the city. GTH has three hotels in Israel, and one of them – the Golden Tulip hotel on the Dead Sea – is reported to be under new ownership. HEI Hotels is said to have paid A. Levy Investments and Construction US$32 million for the 302-room property.
Signposts along the financial highway leading from one quarter to another gave Sol Meliá all the indication it needed to confirm that it was on the road to recovery. One read second-quarter RevPAR in Spanish cities 6% ahead. When it halted at the end of June to review its half-year progress, the company found it had clocked up a 5.0% increase in EBITDA, to €122.5 million, and a 6.2% rise in revenues, to €532.5 million. The RevPAR counter showed an increase of 7.3%, to €45.3.
Ali Gureli, a former chairman of TUROB (Turkey's Touristic Hotels & Investors Association), is gearing up for the imminent opening of The Sofa Hotel & Residences, his 82-room luxury property in the Nişantaşi district of the Turkish city of Istanbul. Expect Taha Holding to have been suitably attired when it entered the room for talks with Dedeman Hotels & Resorts International. Turkish clothing firm Taha is said to be keen to collaborate with its compatriot in the construction of a five-star hotel near the northeastern town of Safranbolu.
You have been presented with three days away in Monte Carlo. Do you waste them gazing upon the beautiful people on their yachts reclining? No, because as a connoisseur of the conference your preferred organ is the ear, not the eye. And your ears are in for a treat between 12 and 14 September when the International Hotel Conference comes to the Le Meridien Beach Plaza. Distinguished moderators and speakers spanning the alphabet from A to Z, from Frank Anderson (HSH Nordbank) to Michael Zartmann (ZTS Information System and Fulfillment), will be there to delight, as will representatives of HVS International's London office: Managing Director Russell Kett and Director Dominique Bourdais. Further details may be obtained from the website www.internationalhotelconference.com click here.
Absolute Share Price Performance Over the Past Week 28/07/05-04/08/05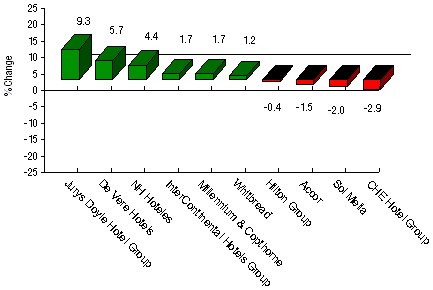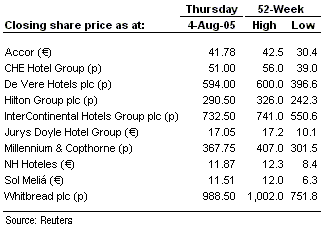 Jurys Doyle Hotel Group - The share price remained buoyant after the company's board noted that it would be prepared to recommend Precinct Investments' latest offer, of €17.50 a share, to shareholders.
NH Hoteles - The company found favour with dealers after dropping out of the race to acquire Occidental Hoteles. Many dealers apparently see the asking price of a reported €1 billion as too high.
Millennium & Copthorne - Deutsche Bank retained its 'Hold' rating but raised its target price from 375p to 385p while it waited to see whether proceeds from any possible disposals M&C might make would be invested in shares or in acquisitions.