When

London & Regional Properties

(L&R) sets off from the UK on the acquisition trail it invariably returns from the hunt with a respectable bag. Fans of the group can always recall exactly where they were when they heard the news in that heady summer of 2002 of L&R's purchase from

ABB

of US$300 million worth of assorted office and industrial buildings in Sweden. To prove that it has not lost the scent of big game, L&R returned to Scandinavia earlier this month to acquire the Finnish hotel property company

Dividum

. Though the financial details of the deal were not disclosed, L&R said that of all its transactions outside the UK this latest one ranks second behind that ABB deal in terms of the investment made. Dividum has 32 hotels, a total of 5,600 rooms, across Finland and was formerly owned by Finnish firms

Nordea

, which had a 47.2% holding,

Sampo

and

Ilmarinen

. The portfolio has a book value of more than €300 million.
Cendant Hotel Group

has signed a non-binding letter of intent with

Marriott International

that may pave the way for Cendant to acquire

Ramada International

within the next few months. Marriott need not worry, for it is not as if Ramada would be going off with a stranger; after all, Cendant already has the trademark rights on the

Ramada

brand in the USA and the rights to license the same brand in Canada. As Cendant Hotel Group's Chairman and Chief Executive

Steven A. Rudnitsky

says, the deal will serve to unite the Ramada brand as a worldwide entity – Ramada International's flags fly in 24 other countries – under a single company.
Fairmont Hotels & Resorts

has agreed to manage the

Savoy Hotel

in London and has pencilled in January 2005 as a potential start date. As in all good tales, though, such plans can only be awoken by a prince: in this instance, HH Prince

Alwaleed Bin Talal

, who, as was reported last week, is currently in talks with

Quinlan Private

on a possible acquisition of the 263-room property for a sum thought to be higher than £200 million. Any other princes who may happen to be riding through London this week might care to direct their chauffeurs to

Swissôtel The Howard

, which

Marylebone Warwick Balfour

has put up for sale. Some reports suggest that the 189-room hotel could fetch around £75 million.
The Israeli affiliates of Florida-based resort developer

Israel Golf Resorts

have chosen a US firm,

West Paces Hotel Group

, to manage the proposed

Arbel by the Sea Resort & Golf Club

. The US$100 million luxury resort, which is due to open by 2008, would perch atop Mount Arbel in northern Israel and offer those staying in one of the 150 bungalows and suites views over the Sea of Galilee.

HVS International

is pleased to have advised the promoters on the market and financial feasibility aspects of the project.
Park Plaza Hotels Europe

(PPHE) prefers to expand through franchising, ideally with a local partner to lend a hand. Earlier this year, the company announced that it had employed

Wren's Hotel Group

for such purposes in Croatia and chosen

Fitzwilliam Hotel Group

to take care of Ireland. This week PPHE announced that a similar submaster contract, this time one covering Scandinavia and the Baltic States, had been awarded to

Oak Hospitality Services

. Oak, which has former

Rezidor SAS

man

Claes Livijn

as its CEO, will begin its work, offering out franchise and management contracts, in the principal cities of Sweden.
The

Courtyard by Marriott

brand will make its bow in Switzerland in 2006, after a subsidiary of the country's largest contract caterer, the

SV Group

, signed a franchise agreement with

Marriott International

. The 152-room

Courtyard by Marriott Zürich North

will be part of a mixed-use development that will be built on the former

Accu

industrial estate in the Oerlikon district of Zürich. Transformation on a smaller scale is underway in south Wales, where the 184-room

Cardiff Marriott Hotel

has been enjoying a programme of refurbishment work since July. By the time the work ends in November, the property will boast a new 'executive floor' of 18 rooms and all for an outlay of a reported £1.5 million.
Jarvis Hotels

has set out again on the path to market it trod earlier this year and put another four hotels from its UK portfolio up for sale. Prospective purchasers might find it fitting to arrive by air to view the 120-room

Ramada Gatwick/East Grinstead

in West Sussex, which has a minimum asking price of £7.75 million, or perhaps on horseback in the case of the

Ramada Wetherby

. This 103-room hotel in West Yorkshire has a minimum asking price of £6.75 million. You may care to jog to the 78-room

Ramada Loughborough

in Leicestershire, although you should ensure before you set out that your shorts are stuffed with at least £3.95 million. What is now the

Ramada Perry Hall

was once the country home of the poet

A.E. Housman

; so perhaps your trip to Bromsgrove in the West Midlands should be made on the back of a swan or by means equally poetic. The 58-room hotel is available for more than £3.25 million.
Subchi Tanus

is probably the proudest man in Romania this week, as his 83-room new-build hotel will open as the four-star

Golden Tulip Bucharest

this December and in the process the hotel will have the honour of becoming

Golden Tulip Hotels

' first property in the country. In neighbouring Bulgaria, state-owned firm

Terem

repairs military arms but reportedly no longer has the arms to hold onto the 400-bed

Hotel Smokinite

near the Black Sea resort of Sozopol. The three-star property will be put up for sale at the end of this month with a reported minimum asking price of US$10.6 million.
Richard North

is to leave

InterContinental Hotels Group

(IHG) by mutual agreement at the end of this month after serving two years as the company's Chief Executive. IHG is a company now turning its attention to growth through franchises and management contracts, and the board has ordained that a new leader is necessary in such a move. Non-Executive Chairman

David Webster

will fill the position until such time as a permanent successor to Mr North can be found.
Dedeman Hotels & Resorts International

is to put another link in what is already the largest hotel chain in Turkey by setting the

Okyanus Group

to work in the city of Konya on what will become the 180-room, five-star

Hotel Dedeman Konya

. The property is due to open in 2006. Across the waters of the Mediterranean lies the coast of Egypt, and it is there, in the region of Marsa Matruh, that

TUI Group

is reportedly keen to build a tourist resort consisting of five four-star hotels. TUI would work on the project with local firm

Travco Group

.
Time your visit to London Docklands exactly right in early November and you could have chance to regale your friends with tales of the night you went to bed at the

Holiday Inn London-Docklands ExCeL

and awoke the next morning to find it had become a

Crowne Plaza

.

BDL Hotels Group

is to lower the

Holiday Inn

flag, which has flown at the 210-room property since May 2003, and raise the Crowne Plaza banner in response to customer demand for upscale accommodation. The hotel will then embark on a programme of refurbishment work. And where more appropriately named place to send your friends to prolong their mirth than the

Merry Hill

shopping centre in Dudley in the West Midlands. The

Aspinall Packer Group

, which takes one half of its name from Australian media tycoon

Kerry Packer

, will be all smiles if its plans to develop a £50 million leisure complex next to the shopping centre are approved. The mixed-use complex is set to include an 80-bed hotel and a casino.
HVS Executive Search

has completed its survey of management salaries at four-star and five-star hotels in London. The report includes salary and benefits data from more than 25 hotels and profiles more than 35 management positions. Copies of the report are available for £150 (+ VAT) from

Christopher Mumford

, cmumford@hvs.com.
Ripe, tasty and deliciously satisfying. These words can be describing only one thing; namely, the finest fruit in the conference season: the

International Hotel Conference

, which runs from 17-19 October at the

Le Meridien Beach Plaza Hotel

in Monte Carlo. Would you deny yourself a nibble? A bumper crop of attendees is expected, drawn by the promise of hearing the knowledgeable pronouncements of at least 100 top-quality speakers including

Rod Taylor

(

Barclays Bank

),

Roeland Vos

(

Starwood

) and

HVS International

's Managing Director

Russell Kett

and Director

Dominique Bourdais

. The featured fruit on the day before the conference opens is the grape, as a tour of two wineries is the highlight of the pre-conference gala. And better still, on the opening morning of the conference those still capable of doing so are unlikely to bat an eyelid at the sight of your tie at half-mast or your crumpled pashmina, for the whole event is designed to be informal and fun. Further details are available on the website www.internationalhotelconference.com. click here
Absolute Share Price Performance Over the Past Week 09/09/04-16/09/04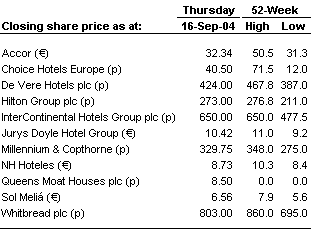 InterContinental Hotels Group - Deutsche Bank sees the impending departure of CEO Richard North as casting little shadow over the company in the short term. ABN Amro raised its rating to 'Buy' from 'Hold', although this was a sign of its approval of IHG's asset disposal strategy.
Accor - Lehman Brothers initiated its coverage with an 'Underweight' rating and a target price of €29.
Sol Meliá - The Spanish market as a whole reacted unfavourably to a fresh rise in oil prices.