Hotel du Vin

(HDV) has six designer properties in the UK and to these have been attributed the qualities of substance and wit. This heady combination proved sufficiently seductive to property company

Marylebone Warwick Balfour

(MWB), which won the object of its desire by paying £66.4 million in cash. 'A fantastic marriage', beamed MWB's Chief Executive

Richard Balfour-Lynn

, no doubt thinking how much delight his company's

Malmaison

chain would take in having a new companion with which it has so much in common. The future happiness of the two chains will be overseen by Malmaison's Chief Executive

Robert B. Cook

, with

Robin Hutson

and

Gerard Basset

, Hotel du Vin's parents, finally letting go of the chain they conceived in Winchester ten years ago. Malmaison will be continue to seek hotels of between 60 and 120 rooms in larger cities, and HDV will spend its time in cathedral and university towns looking for properties of between 30 and 60 rooms.
In July

Travelodge

expressed a desire to raise at least £400 million through a sale and leaseback involving 136 of its hotels on the UK mainland. This week The Times reported that

Tom Hunter

of

West Coast Capital

and the property entrepreneur

Nick Leslau

could be the men to fulfil that desire. If a sale is concluded, then Travelodge intends taking a lease of between 25 and 35 years on each property and using the money raised to reduce its debt and speed up the roll-out of a portfolio that already numbers more than 240 hotels.
NH Hoteles

has realised a long-cherished dream by setting foot on Italian soil for the first time. The Spanish company has invested a reported €10.5 million in a long-term lease on the

NH Laguna Palace

in Venice. The 384-room property was built and most recently managed by local property firm

Danieli

. In contrast, NH Hoteles' 11 hotels make it a readily recognisable face in the Dutch city of Amsterdam. The company wants to extend that familiarity by managing the 200-room

AMC Zotel

in the grounds of the

Academic Medical Centre

(AMC). Builders have made an appointment to come in and start work next year and the prognosis is that the hotel should be ready in 2007.
The compilers of the 2006 edition of the Guinness Book of Records might well for the moment leave blank the entry beneath the heading 'World's Tallest All-Suite Hotel' in anticipation of that record being claimed by

Rotana Hotels

. The

Arabian Construction Co

. will be calling for its special long ladders as it prepares to embark on the task of raising all 333 metres of the 480-suite

Rose Rotana Suites

in Dubai. Elsewhere in the region, the summer of 2006 is the dateline that

Accor

has pencilled into its diary for the opening, perhaps under the

Sofitel

brand, of a hotel on a mixed-use development consisting of seven towers in the Saudi Arabian city of Mecca. Accor signed the management agreement with Kuwait-based developer

Munshaat Real Estate

. The tower at

Cairo International Airport

in Egypt might be about to guide in the

Egyptian Holding Company for Airports and Air Navigation

, which reportedly has plans to join up with subsidiaries of

EgyptAir

. The consortium's purpose would be to build a 400-room, five-star hotel costing a reported US$48.2 million alongside the airport's new third terminal, which is itself due to be finished in 2007.
Reval Hotels

, the leading hotel chain in the Baltic States, has for some time been casting wistful glances at the Russian city of St Petersburg and longing for the day when it might have a hotel there. The property developer

Manutent

, which worked on the

Reval Hotel Central

in the Estonian capital Tallinn, must have heard the sighs of its old friend. The Tallinn-based firm has shouldered its hod and with its other hand led Reval Hotels to Vassiljevsky Island in St Petersburg, where it will to begin work next year on a 200-room, four-star hotel that will cost €14 million and be open in mid 2006. Expansion into a new country is also reportedly on the mind of the French chain

Akena

, whose one-star and two-star hotels are well known in France and Belgium. Akena is said to be searching Hungary for franchise partners wishing to open hotels in the same two categories.
Hilton International

's fifth hotel in Italy will be the company's first

Hilton

franchise in that country. The honour goes to the 267-room

Hilton Portorosa

, which

Euro Costruzioni

is to build on the Patti Gulf in Sicily. The hotel is due to open at the end of 2005. The remainder of this week's action in Italy is to be found in and around Rome. The authorities in the Lazio region reportedly have plans to turn the

Palazzo Orsini

in the town of Licenza into a 20-bed hotel that would be the first in what could be a chain of environmentally friendly hotels. Meanwhile,

Acqua Marcia Turismo

has visited the capital to sign a preliminary contract to buy, for a reported €58 million, a four-star hotel currently being built by

Tecno Costruzioni

. The property will have some 200 rooms and is set to open in early 2007.
The

Old Course Hotel Golf Resort & Spa

in St Andrews on the east coast of Scotland should have no excuse from now on for not having the best-looking kitchens and bathrooms after

Kohler Co

. of Wisconsin moved in as the new owner. Kohler's expertise though is not confined solely to the U-bend or one chained to the sink; the company's

Destination Kohler

subsidiary owns two hotels and four championship golf courses in the USA. The 134-room Old Course Hotel is thus Kohler's first overseas venture in the hospitality sector, and the company needed to find a reported £35 million to take the property from Japan's

Kosaido Corporation

.
The next time you are asked to name something famous and Belgian it will be quite in order for you to reply the

Courtyard by Marriott Brussels

. The 191-room hotel is famous as it is the first to fly the

Courtyard by Marriott

flag in Belgium.

Accor

has visited the Austrian capital Vienna twice before with its

Ibis

brand, and the company completed a hat-trick of Ibis hotels at the start of October by opening the 94-room

Ibis Wien Schönbrunnerstrasse

. A third European capital celebrating a new arrival is Madrid in Spain, which has welcomed

Hotusa Hoteles

' 91-room, four-star

Eurostars Zarzuela Park

.
SRS-WorldHotels

' collection now includes its first hotel in the Turkish city of Istanbul: the recently opened 141-room

Point Hotel

.

Joy Hotels & Resorts

' latest property – a 58-room boutique hotel – is to be found in the southwestern resort of Dalyan, while the wind has carried

Anemon Hotels

to the northwestern town of Eskişehir where the company has opened the 174-room, five-star

Anemon Eskişehir

. In nearby Greece, meanwhile, the port of Salonika is seeing five stars too: those adorning the newly opened 261-room

Grand Hotel Palace

.
The Irish Times reports that the

Fitzpatrick Hotel Group

has sold the four-star

Fitzpatrick Bunratty Hotel

to

Pugadar

, a company owned by Irish property developer and financier

Noel Connellan

and his business partner

Seán Lyne

, for more than €13 million. The 115-room hotel in the village of Bunratty, Co. Clare, will see its new owners add a resort facility at a cost of a reported €10 million; planning permission had already been granted for 39 holiday homes on the 18-acre site.
Few hotel companies can claim to have had a European Cup winner in their line-up, but

Hilton International

could when it had

Desmond Taljaard

as its Director and Senior Vice President, Real Estate. Mr Taljaard secured the

HVS European Cup 2003

for his mantelpiece by winning a fun competition held by

HVS International

at that year's

IHIF

conference in Berlin. A man clutching such a prestigious trophy was bound to attract attention, and

J Sainsbury

subsequently signed him as its Property Director, Supermarkets. Now

Whitbread

has lured Mr Taljaard back to the hospitality sector by appointing him as its Group Development Director. He will be responsible for the company's new business development, its acquisition and divestment activities and managing Whitbread's retail property portfolio.
Absolute Share Price Performance Over the Past Week 30/09/04-07/10/04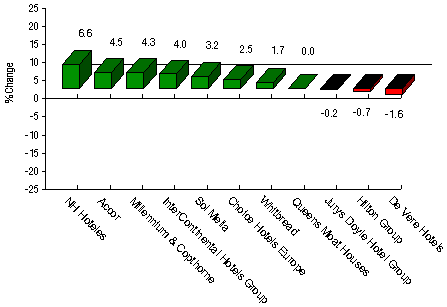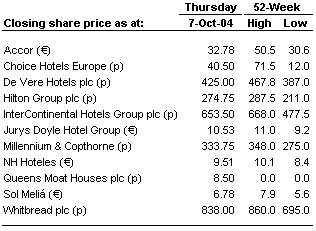 NH Hoteles - The Spanish market took note of another share purchase by Spanish bank Bancaja, which has taken its holding to 6.12%.
Accor - Goldman Sachs recently named Accor among its top picks in the hotel sector.
Hilton Group - UBS recently cut its rating to 'Neutral'.