The 15 new countries created by the break-up of the Soviet Union are to be reunited; not politically – no hotel group has that power, yet – but by a shared interest in the

Days Inn

brand.

Cendant Hotel Group

has awarded

Hermitage Hospitality

a master franchise on the brand, and the privately owned firm, which has offices in Moscow, will repay Cendant's kindness by aiming to open more than 45 Days Inn hotels over the next five years. Cendant's vice president of international strategy and development

Michael Schiff

sees this as a 'substantial opportunity' to plug a gap in the nations' economy and midscale market. Hermitage feels that the network of hotels in Russia could return gross revenue of US$195 million in their first five years of operation.
Fans of

Accor

who dwell in Algeria or Turkey, or on the island of Madagascar are in for a treat, if the projects described in reports from the three countries come to fruition. Those in North Africa have the best chance of catching sight of the French chain, which is said to have formed a partnership with the

Mehri Group

with the aim of opening 36 two-star and three-star hotels across Algeria in three batches of 12. Accor's mission in Turkey is confined to the Zeytinburnu district of Istanbul, where construction firms

Akfen Group

and

Yuksel Insaat

have already parked their vans and begun the task of unloading the bricks that will make an

Ibis

and a

Novotel

. The hotels, which will have a total of 880 beds, are expected to open in September 2006. Madagascan Accor fans will have to turn detective, as although reports say that two hotels will be built they do not reveal where. Accor announced in November 2003 that it would be spending US$25 million on opening five hotels on the island of Madagascar by the end of 2005.
Bar and restaurant group

Montpeliers (Edinburgh)

is reported to have applied for planning permission to open a boutique hotel and restaurant on George Street in Edinburgh just a few doors down from its

Opal Lounge

bar and nightclub. Work to convert the currently vacant five-storey townhouse into a 33-room hotel would cost a reported £5 million. Those who may prefer a lifestyle property south of the border should head for Teddington in Middlesex, where opportunity knocks for a buyer prepared to part with at least £1.6 million. Up for sale is a set of eight serviced apartments known as

Bushy Park Lodge

.
Privately owned Austrian chain

K+K Hotels

has reopened the 130-room

K+K Hotel Central

in the Czech capital Prague after the completion of renovation work costing some €19 million. Aesthetes wishing to discuss the property's Art Nouveau features in greater detail could perhaps gather at the city's

andel's Conference Centre II

, which as its name suggests is the second such facility to form part of the

andel's hotel Prague

. Across in Romania,

Proconfort

will have little time to talk next year as it sets about building its third hotel in the country: a 200-room, three-star property in the capital Bucharest costing a reported €6 million. The Bulgarian subsidiary of Italian textile firm

Gruppo Miroglio

will be weaving its magic in the town of Sliven in southeastern Bulgaria. The company is to spend a reported €1.5 million on turning the former

Sinite Kamani

hotel into the 47-room, three-star

Park Central

, which is due to open in mid 2005.
Those hoping that

InterContinental Hotels Group

(IHG) would be providing weighty news of its asset disposal programme had to be content instead with drawing what comfort they could from the knowledge that the sale of the Americas hotels was well advanced and that encouraging progress was being made in the sale of the others. That sentence came wrapped inside IHG's results for the third quarter ending 30 September, which showed hotel operating profit flat at £76 million and hotel turnover, in actual currency terms, down 2.6% on the previous year's comparable, at £377 million. Group pre-tax profit for the quarter was 4.3% higher, at £97 million.

David Webster

, the company's Chairman and interim Chief Executive, noted however that trading had been strong in October, and he added that the outlook for the full year was positive.
Kempinski Hotels & Resorts

has ventured into Lithuania for the first time to sign a management contract on a property that will become the 107-room, five-star

Kempinski Hotel Vilnius

. The building, which overlooks the capital's university, will be fitted with two new wings and will be ready for take-off in 2006. Elsewhere,

Donbass-Industria

has spent the last ten months renovating the former

Tourist Hotel

in the Ukrainian city of Donetsk. The result of the mining company's handiwork is the 176-room, three-star

Atlas Hotel

.
In February this year

Danesfield

agreed to pay €9.75 million for the 95-room

Jurys Limerick Hotel

. The property in the Irish town of Limerick was subsequently reborn as the

Limerick Strand Hotel

and it will have to believe in reincarnation for a second time if its owners have their way. Danesfield is seeking permission to clear the site and develop a 183-room hotel of four-star or five-star rating as part of a mixed-use scheme costing a reported €75 million. Over in Dublin the café in Westmoreland Street may be about to close but

Bewley's Oriental Cafés

intends that life will go on at the hotel on the premises. The company has applied for permission to refurbish and extend the property, which it may choose to purchase next year.
Chandris Hotels & Resorts

is reportedly ready to begin work next year on what would be its fifth hotel in its native Greece. The company is to spend €30 million on the construction of a 215-room, five-star hotel in the northeastern port of Salonika. In January this year reports announced that Chandris had paid construction firm

Themeliodomi

€8 million for a 4,200 m² plot of land in Salonika. Over the sea on the island of Cyprus stands the

Hawaii Grand Hotel & Resort

. The 255-room, five-star property in Lemesos will close in January to enjoy a three-month renovation.
Britannia Hotels

can now watch the tide rolling in at three seaside towns in England and one in north Wales. The UK's largest private hotel company struck an off-market deal with

Grand Leisure Hotels

for four hotels, a total of some 1,100 rooms: the

Grand Metropole Hotel

in Blackpool, the

Grand Burstin Hotel

in Folkestone, the

Grand Hotel Scarborough

and the

Grand Hotel Llandudno

.
According to a report from Spain, construction firm

Single Home

is to team up with

The Stein Group

and Spanish golf course operator

Golf Park

to build a mixed-use complex in Casares in southern Spain. A 62-suite luxury hotel will be one feature of the proposed

Finca El Cortesin

complex, which will cover some 204 hectares and cost a reported €350 million to build.

Barceló Hotels & Resorts

is also reported to be heading for the same part of the country to build three hotels sharing a total of 1,200 rooms in the resort of Punta Umbría. The

Barceló Puntaenebral

complex, which will cost a reported €125 million to build, is expected to open in 2007.
Cityscape 2004

is an event that brings together investors, owners, developers, architects and designers. Within the walls of the

Dubai International Exhibition Centre

, the investors will be using the three days from 29 November to 1 December to find out what opportunities there are in the Middle East. One highlight of the event will be a presentation entitled 'Hotel Investments In The Middle East' given by

Elie Younes

, the Middle East specialist at

HVS International

's London office. Further details of the event may be obtained from the website www.cityscape-online.com. click here
Absolute Share Price Performance Over the Past Week 18/11/04-25/11/04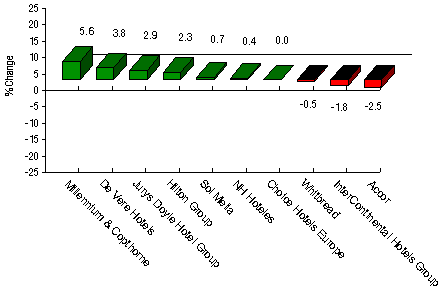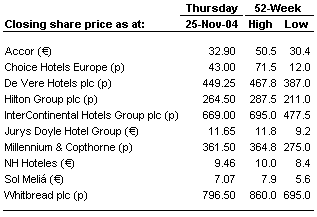 Millennium & Copthorne - The share price rose in response to market rumours of the possible disposal of more assets.
Hilton Group - The possibility that Hilton may dispose of low-return assets boosted the share price.
InterContinental Hotels Group - Though Deutsche Bank retained its 'Buy' rating it was among those sharing in the general disappointment that the company had not given more substantial news of its asset disposal programme.