Several newspapers carry the story that

Hilton Group

is preparing to sell 11 of its hotels in the UK and hoping to raise between £80 million and £100 million. The press north of the border names three of the properties in Scotland to be sold as the 189-room

Hilton Edinburgh Grosvenor

, the 101-room

Hilton East Kilbride

, which stands on the outskirts of Glasgow, and the 208-room

Hilton Dunblane Hydro

. Hotels on offer in England are said to include the 72-room

Hilton London Mews

in Mayfair. The Times and others suggest that the portfolio of 11 properties might be of interest to private equity firm

Alchemy Partners

, which is thought to be looking at ways of growing its chain

Quintessential Hotels

(QH). QH rose to prominence in April last year when it acquired two UK properties from

Le Meridien

:

Le Meridien Queens

in Leeds and

Le Meridien Warwick

.
If the 11 hotels are to leave

Hilton Group

then they will do so with their heads held high, knowing that they helped their sister properties in the UK portfolio record a 1.5% increase in like-for-like RevPAR for the month of October 2004. The company's trading update for the four months to 31 October showed like-for-like RevPAR worldwide for October 2.3% ahead of the previous year's comparable. Hilton noted that its best like-for-like RevPAR return between July and October – an increase of 5.1% – came from its owned and fixed-lease hotels. The sight of a 19% increase in Hilton Group's pre-tax profit for the period moved Chief Executive

David Michels

to express his confidence in the company going forward. He also predicted a three-year recovery period for hotels.
The planned initial public offering of shares in

Autobahn Tank & Rast

has been abandoned after the company's principal shareholders –

Allianz Capital Partners

,

Lufthansa Commercial Holding

, and funds advised by

Apax Partners

– agreed to sell their shares to private equity firm

Terra Firma Capital Partners

. Terra Firma saw off a challenge from bakery founder

Heiner Kamps

to secure a company that operates 381 service areas (home to 51 hotels) and 338 filling stations across the German motorway network. Some newspapers put the purchase price at close to €1.1 billion.
Fans of the

Rank Group

remember well the moment in June 2003 when their idols took centre stage in Chicago alongside Spanish star

Sol Meliá

and previewed what would be their first hit together:

Hard Rock Hotel

. After fixing up further dates in the USA – New York in 2005 and San Diego in 2006 – Rank has sent

Hard Rock International

on its first tour of Europe, which will start in the Spanish capital Madrid in autumn 2005. The 202-room

Tryp Reina Victoria

, which Sol Meliá holds on a long-term lease, will be extensively refurbished in readiness for its rebranding as the

Hard Rock Hotel Reina Victoria

. The joint venture formed between Hard Rock and Sol Meliá will manage the property under a long-term contract.
Rezidor SAS Hospitality

's plans for further expansion in France have led it to the southwestern town of Biarritz. One flourish of a franchise agreement was all it took to convince the 150-room

Crowne Plaza Hotel Biarritz

to rebrand as the

Radisson SAS Hotel, Biarritz

in January. The early part of 2005 will find Rezidor SAS busy too in the Italian capital, where it will be officially opening the

Radisson SAS Hotel, Rome

. The company has signed a management agreement on the 262-room

ES Hotel

that will result in a refurbishment and rebranding of the property. The hotel will not only be the first in Rome to fly the

Radisson SAS

flag but will also be the one to restore the brand to the Italian market after an absence of three years.
The Irish press reports that

Gerry Barrett

, the head of property developer

Edward Holdings

, has paid close to €20 million for

Hatch Hall

in Dublin, a property that was run by the Jesuits as student accommodation. Edward Holdings might redevelop the 80-bedroom property as a hotel. A 100-room, five-star hotel and a championship golf course could be just two of the attractions on offer at a proposed €150 million leisure development in Boyle, Co. Roscommon in the northwest of Ireland. A development group named

Newfound Consortium

has journeyed from Canada and landed at a site it purchased recently near

Lough Key Forest Park

. The consortium will beat a path through the trees to the door of

Roscommon County Council

and pop an application for planning permission through the letter box.
Swedish hotel and leisure company

Capona

expects to complete the sale of the

Best Western Täby Park Hotel

on 1 December.

Guldskålen J469

will pay €5 million for the 147-room, four-star property, which stands in Täby in the northern suburbs of the Swedish capital Stockholm. Across the waters of the Baltic,

Le Meridien

now has an eighth hotel in Germany. Heralded in May and opened as planned in November, the 281-room

Le Meridien Stuttgart

has been enjoying a €19 million refurbishment courtesy of its owners, the insurance company

Aachener und Münchener Versicherungen

.
Sutton Oil (Bermuda)

, which is about to spend a reported £1 million on refurbishment work at the 15-room

Altnaharra Hotel

in the town of Altnaharra, is said to have given its subsidiary

The Altnaharra (Sporting Hotel)

licence to roam elsewhere through the Highlands of Scotland looking for further hotel opportunities. While Sutton Oil sets out on the high road,

McMillan Hotels

is content to take the low road again. The family firm has headed for the Borders with the

Bank of Scotland

at its side to pay an undisclosed sum for two hotels in Peebles: the 128-room

Hotel Hydro

and the 24-room

Best Western Park Hotel

.
The

Club Aliga Hotel and Holiday Centre

is 50 hectares of fun on the shores of Lake Balaton in western Hungary, and it is reported to be up for sale. Prospective purchasers have until 10 December to submit their bids for the resort, which boasts facilities including three hotels and 22 villas.

Kincstári Vagyoni Igazgatóság

has set the opening bid price at a reported €41 million. Buyers interested in opportunities elsewhere in eastern Europe should head for Russia, there perhaps to spend the winter in the western city of Yaroslavl at the newly opened 122-room, four-star

Ring Premier Hotel

tucked up with a copy of the

St Petersburg Property Fund

's sales catalogue. Stakes of various sizes held by the government in a selection of hotels in St Petersburg will be on offer either later this year or early next. For example, a 23.3% stake in the

Astoria Hotel

will set you back a reported US$17 million; alternatively, one might prefer, say, a 74.9% stake in the

Pulkovskaya Hotel

, which comes only a little more expensive at US$17.8 million.
The Portuguese press reports that travel group

TUI

is to spend €45 million on a 700-bed hotel for its

Robinson Club

subsidiary in Vila Real de Santo António on the Algarve. Meanwhile, in northern Portugal, the local subsidiary of US footwear company

Aerosoles

has taken its first step into the hotel sector by opening a property near the

Peneda-Gerês National Park

. Aerosoles could do a roaring trade in flip-flops were it to set up a stall next month in Tenerife. Spanish chain

Dunas Hotels & Resorts

expects to be welcoming guests to the 500-room, four-star

Hotel Dunas Paraíso

on the island in December.
Absolute Share Price Performance Over the Past Week 11/11/04-18/11/04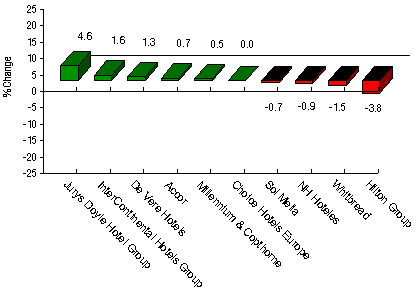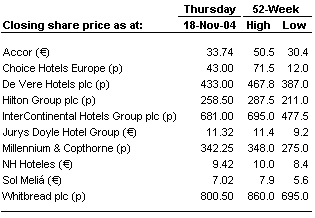 Jurys Doyle Hotel Group - The Dublin stock exchange was in confident mood on news of falling oil prices.
InterContinental Hotels Group - Deutsche Bank raised its target price from 700p to 735p in expectation of the company's announcing good results later this month.
Hilton Group - UBS retained its 'Neutral 2' rating and Bear Stearns its 'Peer Perform' rating amid mixed news on betting profits and slowing but continued growth across the UK hotel portfolio.