Whitbread

announced in May that it was putting the UK's entire stock of 11

Courtyard by Marriott

hotels up for sale. Property investment company

Chiltern Mondiale

has gathered together a group of private investors – their anonymity preserved in Whitbread's latest statement – that on 9 December is due to complete the purchase of the nine freehold properties. The sale of the two leasehold properties will follow once the necessary consents have been obtained, and once this is done Whitbread will be £79 million better off. The new owners will lease all 11 properties, which have a total of 867 rooms, to a company in the

Kew Green Hotels Group

, and it will operate the assets as Courtyard by Marriott hotels under franchise from

Marriott International

.
Flamingo Hotel Management

this month finds itself with one foot in Dubai and the other on the east coast of Saudi Arabia, a stance it is more than happy to adopt for a long-term partner like

Golden Tulip Hotels

. Flamingo has clutched in its toes two franchise agreements; the one in the emirate is for the 40-room

Tulip Inn Knowledge Village

, which is to open at the

Knowledge Village

development in early 2005, and the one in the Saudi port of Ad Dammām is for the 148-room

Golden Tulip Al Hamra Dammam

. The new additions take the number of hotels in Golden Tulip Hotels' Middle East and Africa portfolio to 20.
Marylebone Warwick Balfour

(MWB) has announced that it expects to complete the sale of its 91-year long leasehold interest in

Swissôtel The Howard

later this month. Private hotel investment company

Samosir

is poised to hand over £75 million in cash for the 189-room property, which stands in Temple Place in London.

Swissôtel Hotels & Resorts

' operating and management agreement, which runs until 2020, is unaffected by the deal. The hotel has been in MWB's possession since March 2000, when it paid

Ellerman Investments

£40 million for a property which at the time had 141 rooms. Over the years MWB has spent £14.8 million on refurbishment and extension work; the company might on reflection see this as money well spent: the sale will generate net cash of £28.5 million.
In March this year

Park Plaza Hotels Europe

(PPHE) chose the

Fitzwilliam Hotel Group

(FHG) to be its franchise partner in Ireland. FHG's Chief Executive

Michael Holland

spoke at the time of his desire to see the

Park Plaza

flag flying at ten properties inside five years. PPHE will be able to tick off hotel number one on the list later this month as it unveils the 106-room

Park Plaza Belfast

, the four-star hotel formerly known as the

Fitzwilliam International Hotel

. The property is PPHE's first in Northern Ireland and it brings to five the total number of hotels in the company's UK portfolio; this total will rise to eight in early 2005.
Sol Meliá

saluted its Spanish resorts, the Caribbean market and European cities outside Spain for their contributions to the company's results for the nine months to September. The Spanish chain saw EBITDA rise by 7.0% on the previous year's comparable to finish on €192.0 million, and total revenue climb by 5.0% to €799.4 million. The Spanish resorts, which account for 98% of all revenue generated in the European Resort Division, helped that division record a 2.5% increase in RevPAR, to €41.2. London and Paris were the European cities singled out for praise, as RevPAR rose by 33.7% and 9.5%, respectively. RevPAR across the owned and leased portfolio worldwide remained essentially flat, at €45.9.
Summa Hoteles

, which has a portfolio of 17 hotels on the Spanish mainland, has reportedly ventured to the Balearic Islands for the first time. The company has acquired the three-star

Hotel Mexico

in Majorca, and will stay on to renovate the property. Summa's Portuguese counterpart

Bensaude Turismo

adores the Azores, and is poised to open its eighth hotel on the islands later this month. The company invested a reported €25 million in the 185-room, four-star

Hotel Marina Atlantico

, which will stand on the island of São Miguel.
The Times is among those reporting that the 'For Sale' sign at

Marston Hotels

has been taken down. Back in July the newspaper was reporting that

Dawnay Shore Hotels

was in advanced negotiations to buy Marston's 15 UK hotels. The talks came to naught, and more than 50 finance houses and hotel operators are said to have come and then gone as shareholders found none able to match the reported £175 million asking price. Shareholders are reported to be happy with the company as it is, and this means that Marston is free to press ahead with projects including the addition of bedrooms and leisure facilities to

Crewe Hall

in Cheshire,

Stratford Manor

in Warwickshire and the

Oxford Belfry

.
Travel group

TUI

first took a stake in

Magic Life International

in summer 2001. TUI's holding in the Austrian firm, which has a portfolio of 19 holiday clubs, is now 100%. As a result of the purchase, Magic Life's co-founder Dr

Cem Kinay

will be leaving the company – one report suggests that he might establish a new hotel brand.

Oguz Serim

, the other co-founder, will stay on as the head of Magic Life in partnership with TUI's Dr

Andreas Karsten

.
Bulgarian meat producer

Mekom

has helped itself to another slice of the hotel action in its native country by opening the 40-room, four-star

Drastar

hotel in the northern town of Silistra. Bulgarian entrepreneur

Vetko Arabadjiev

wants to go the whole hog, to judge from reports; he has plans to build five-star hotels in Sofia, Plovdiv, Pamporovo and Slănčev Brjag. Over in Croatia, businessman

Mato Skojo

is apparently more concerned with the trimmings. He is reported to have spent €8.5 million renovating his 140-room hotel in the northeastern town of Osijek to raise it to four-star status.
In November, there are sure to be hotel buyers longing to go on another acquisitive pilgrimage. They might well wend their way to Canterbury, in Kent, to seek out the four-star

County Hotel

. This Grade I listed 74-room property has an asking price of £8.5 million. The party of potential buyers might perhaps prefer to start their journey from Euston rather than Southwark; they could lie overnight at the 150-room, four-star

Hilton London Euston

, which has opened to become

Hilton

's fifteenth hotel in the capital. The property formerly known as the

London Euston Plaza Hotel

will have been fully refurbished by December. The Franklin's tale, as told by The Times, is the story of

David Naylor-Leyland

, who is said to have put the 47-room, five-star

Franklin Hotel

in Knightsbridge on the market and withdrawn from sale another of his five-star London properties, the 89-room

Dukes Hotel

.
Absolute Share Price Performance Over the Past Week 04/11/04-11/11/04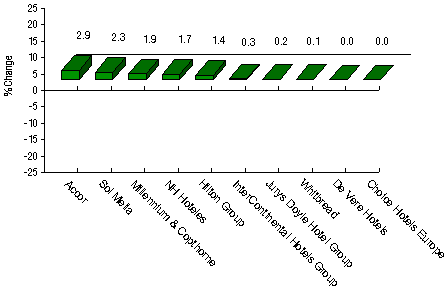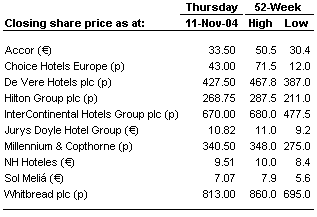 Sol Meliá - The company's nine-month figures came broadly into line with the expectations of UBS, which retained its 'Reduce 2' rating.
Millennium & Copthorne - City Developments, which holds a 52.6% stake in M&C, recorded a 27% rise in its third-quarter net profit, citing an improvement in global hotel business as one reason for the rise.
InterContinental Hotels Group - The company announced a refinancing of its debt, signing a £1.6 billion syndicated banking facility.