The

Marriott

hotels may have been top of the like-for-like sales growth league at 3 June 2004, yet their return of 6.0% growth over 13 weeks may not be enough it would seem to save some of the players from being transfer-listed. One report quoted

Whitbread

's Finance Director

David Richardson

as saying that come the autumn some assets in the Marriott portfolio might feature in a sale and leaseback deal worth between £150 million and £200 million. It is only a month since Whitbread announced that the UK's entire stock of 11

Courtyard by Marriott

hotels was on the market, a sale that the company notes has attracted a number of offers. That was not the only point of interest for shareholders assembling at this month's annual general meeting: the slide in the presentation illustrating Marriott's performance will have shown that

Travel Inn

was in second place in the sales growth rankings with a return of 5.9%, ahead of

David Lloyd Leisure

on 5.0%. The results have given Whitbread's board confidence that the company can make further good progress in the financial year ahead.
Genotel

knew from its birth two months ago what its purpose was, and now, notes a report in the Swiss press, that purpose can be fulfilled. Acting on behalf of

Accor

, the company is to invest a reported €23.5 million in the construction of an 86-unit

Suitehotel

and a 204-room

Etap

hotel in the Swiss city of Geneva. Accor's favourite Swiss builder

Losinger

should have the hotels open in September 2005. Accor has plans too for Romania, the press there reporting that the company wants to have more than 20

Ibis

and

Novotel

hotels open in the country by 2007. Reports suggest that the capital Bucharest will receive Romania's very first Novotel in March 2006: a 277-room hotel costing €33 million. Accor currently has one Ibis and one

Sofitel

in Bucharest.
The 99-room

Ramada Encore Swansea Bay

has had an exciting start to life in south Wales, welcoming new owners across the threshold almost as soon as it had opened.

Pearl Hotels

, which expects this hotel to be the first of three purchases it will make in the next two years, paid

BDL Hotel Group

an undisclosed sum for the property, which BDL will manage for at least the next six months through its

BDL Management

arm. The city of Swansea is bracing itself for further excitement at the start of next month when the

Grand Hotel

is set to reopen. Irish company

Moloney Properties

has spent a reported £2.3 million on restoring the 31-room, four-star property, thereby giving the hotel a chance to recapture its glory days of the 1930s.
US Franchise Systems

(USFS) announced last month that its

Hawthorn Suites

brand had sent down roots in the west African republic of Nigeria. This month the company has arrived in east Africa where its focus is on the neighbouring states of Kenya, Uganda and Tanzania.

Nyamajeje & Associates

, which is based in Tanzania, has signed a master franchise agreement on the Hawthorn Suites brand to cover all three countries, and Tanzania is to lead off. Work will begin in the town of Mwanza this July on the renovation of the

Pamba Hotel

; Dar es Salaam will receive a new-build property, and USFS has plans too for the town of Arusha. It was off the coast of Tanzania, on the island of Zanzibar, that

Bahrain Hotels Company

recently opened its five-star

Ocean Paradise Resort

. Flushed with that success, the company is reportedly poised to continue its international expansion programme by signing management agreements on hotels in Egypt, Oman and the Iranian city of Shiraz.
You find that the hotel room is gently spinning even before you have had a chance to raid the minibar: welcome to what is said to be the world's first rotating hotel, in Antalya in southern Turkey. The 20-suite property will perform its gyrations supported on a bed of compressed water, and will form part of a complex of more than 200 rooms that the

Marmara Group

expects to have open in March 2005. Those who prefer the same view from their window each morning can seek sanctuary elsewhere on the south coast: in Mersin, which has welcomed the 250-bed, four-star

Olbios Marina Resort Hotel

, or in Kemer, which has seen

Rixos Hotels

open its sixth property: the 368-room

Rixos Hotel Kemer

.
The

Lynch Hotel Group

is reported to have conducted a strategic review and concluded that its future lies in hotels in leisure destinations and populous areas. The

Lynch Haydens Gateway Hotel

does not fit the mould, and consequently the 48-room, three-star property in Ballinasloe, Co. Galway, is on the market and expected to sell for around €6 million. It is thanks to another strategic review, this time one conducted by the

White Hotel Group

, that

The Killeshin Hotel

in Portlaoise, Co. Laois, finds itself in the auctioneer's waiting room ahead of a sale later this month. The 50-room, three-star property is expected to fetch more than €4 million. A happy ending is to be found in Co. Carlow, where the town of Tullow will this August welcome the 140-room, four-star hotel that forms part of the €25 million

Mount Wolseley Country Resort

.
Savings bank

Bancaja

and construction company

Greco

are poised to start work on the redevelopment of the

La Lanera

building in the Spanish city of Valencia and turn it into a five-star hotel ready to open in early 2006. Reports in the Spanish press suggest that

Starwood Hotels & Resorts

will manage the 145-room hotel under its

Westin

brand.

Sol Meliá

, meanwhile, is away in Sardinia welcoming guests to what is its second hotel on the island. The 224-room, four-star

Meliá Olbia

forms part of the

Geovillage Resort

and overlooks the Gulf of Olbia.
BAA Lynton

,

BAA

's commercial property arm, has sold for £7.25 million its ground lease interest in the

Express by Holiday Inn

currently under development at Stansted Airport in Essex. The lease landed in the lap of the

Airport Hotels Partnership

(AHP) and consequently has not flown far from BAA, which established AHP in March 2000 as a limited partnership that would enable new investors to acquire stakes in some of BAA's hotel assets. The 255-room Express by Holiday Inn, which when it opens in February 2005 will be the first budget hotel at the airport, will be operated under franchise by

Kew Green Hotels

. Another airport making the news is the one in the Norwegian city of Bergen. State-owned airports operator

Avinor

has signed up

Choice Hotels Scandinavia

to manage a 200-room hotel that is due to open at the airport in 2006.
Radisson SAS Hotels

can tick off another new country on its itinerary after signing a contract to manage the

Radisson SAS Palace Hotel

in Macedonia; the €25 million 140-room property is due to open in Ohrid in March 2006. Novelty-seekers touring eastern Europe will find plenty to please them too in the Hungarian capital, which has welcomed the arrival for the first time of

Ramada International

(with the 182-room

Ramada Budapest

), and

Four Seasons Hotels and Resorts

, which is now taking bookings at the 179-room

Four Seasons Hotel Gresham Palace Budapest

.
The Edinburgh-based

Festival Group

has clinched its biggest acquisition deal to-date with the purchase, in a private transaction, of three Scottish properties from

Jarvis Hotels

. Festival paid an undisclosed sum for two hotels in Edinburgh – the 60-room

Ellersley House

and the 56-room

Learmonth

– and Jarvis's 98-room hotel in Aberdeen. These three hotels take Festival Group's portfolio to 12; it has set itself a target of 50.
Absolute Share Price Performance Over the Past Week 10/06/04-17/06/04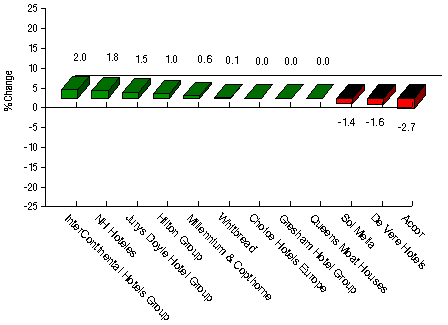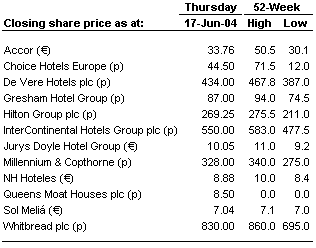 NH Hoteles - Dresdner Kleinwort Wasserstein raised its rating from 'Reduce' to 'Hold' in anticipation of a recovery in demand in Spain and Germany.
Hilton Group - Citigroup Smith Barney repeated its 'Buy' advice.
Accor - Accor's purchase last week of a 28.9% stake in Club Med caused some analysts concern. CDC Ixis lowered its rating from 'Buy' to 'Add', and UBS retained its 'Buy 2' rating.