Starwood Hotels & Resorts

and

Lehman Brothers Holdings

waited five days longer than most before announcing that they had pulled their Christmas cracker. The gift inside might seem unpromising – the duo have shouldered all of

Le Meridien

's outstanding senior debt of some US$1.3 billion – but that is more than compensated for by the hat inscribed 'manager' that Starwood is keen to try on for size. In the coming months as Lehman and Starwood set out to renegotiate Le Meridien's financing, the discussions are likely to turn to the possibility of Starwood's assuming managerial control of the portfolio of 126 luxury hotels worldwide. Any such deal would exclude the remaining 11 hotels: those in the UK and Ireland owned by the

Royal Bank of Scotland

. Indeed,

Hilton International

officially moved in this week as the manager of one of them, the former

Le Meridien Waldorf

in London. The 303-room property, which is nearing the end of refurbishment work costing £25 million, is now known as

The Waldorf Hilton

.
After recently undertaking an initial review of its portfolio,

De Vere Group

has decided to put four hotels in England up for sale. The quartet, which have a combined book value of some £40 million, are the 136-room

De Vere Bellhouse

in Beaconsfield, Buckinghamshire; the 115-room

De Vere Dormy

on the south coast near Bournemouth; the 60-room

Village Hotel & Leisure Club, Swindon

; and the 40-room

Village Hotel & Leisure Club, Prestwich

, near Manchester. Facing up to the builders' rather than the auctioneer's hammer is the Village Hotel & Leisure Club in Coventry, West Midlands. In work due to start there next month, the property will, for an outlay of a reported £2 million, take its room count to 146 with the addition of 48 new guest rooms.
Amid the latest speculation concerning its fate at the hands of

SAS

– will the Scandinavian airline sell or spin off its hotels? –

Rezidor SAS Hospitality

is carrying on regardless by continuing its expansion programme in France. The company has signed an agreement with

Mines de la Lucette

to build the

Radisson SAS Hotel, Porte St. Cloud

in the western suburbs of Paris. Work has already begun on the 170-room property, which is due to open in summer 2005. Elsewhere in France,

Société du Louvre

and casino operator

Groupe Partouche

have drawn breath together to resuscitate their 188-room

Le Palais de la Méditerranée

hotel, which has reopened in the southeastern city of Nice. The waters of the Mediterranean will play a leading role in an €8.4 million thalassotherapy complex that

Roussill'Hotel

is to build at Canet-en-Roussillon, near Perpignan. In its midst will be a 46-room, four-star hotel, which is due to open early next year.
A former shipyard in the Italian town of Donoratico is to be transformed into an ecologically friendly tourist complex at a reported cost of €12.5 million. A 52-room hotel and 120 apartments will feature as part of the development, which is to be managed by native tour operator

Bini Viaggi

. Away to the northeast, summertime in Trieste is set to bring forth the 64-bed, four-star

Miramare Hotel

, which has been built for a reported €6 million. The Genoese though are already celebrating a new hotel in their midst, after the opening shortly before Christmas of the €12.5 million 128-room, three-star

Hotel San Biagio

in Bolzaneto, near the city. Not wishing to be outdone, though having to be patient, the northern city of Bologna is reportedly set to welcome the €20 million 120-room

Novotel Villa Cicogna

in 2008.
A report in the Swiss press suggests that Egyptian businessman

Hesham Amin El Nasharty

is to restore a building in Geneva currently occupied by

Swissair

to its original use as a 155-room hotel. Mr El Nasharty's hotel group,

Nash

, will then have operational control over more than 360 rooms across Switzerland, a total that he would like to raise to at least 1,000. The report adds that the group is thus searching for buildings of at least 50 rooms that it can renovate. Over the border in Austria, meanwhile, come reports that native hotelier

Karl J. Reiter

is to purchase the

Bad Tatzmannsdorf

resort from investment company

Raiffeisen-Holding NÖ-Wien

. The resort includes the 171-room

Golf & Thermal Hotel

and the 167-room

Avance Hotel

, both currently operated by

Steigenberger Hotels & Resorts

.
The

Abdullatif Alissa Group

is due to begin work next year on the construction of a US$213.3 million tourist complex near the Saudi Arabian city of Jeddah. In the same city

Radisson SAS Hotels

is hard at work refurbishing its 292-room hotel there, one of three hotels in the country that the company opened a year ago. Refurbishment work on the

Radisson SAS Hotel, Yanbu

further along the Red Sea coast is already finished, but the paintbrushes are still in motion at the company's 317-room hotel in the capital Riyadh.
Ramada International

has sighted the coast of Ireland for the first time and has sent its chosen master franchisee

Crawford Investments

ashore on a five-year mission to seek out new or existing hotels of at least 80 bedrooms that wish to take a franchise on a Ramada brand. Also limbering up in Ireland is construction company

John F Supple

, which has received permission to build a 170-room hotel, to be joined if approval is granted by a golf course, on the site of a former convent at Castlemartyr, Co. Cork. Reports indicate that two leading hotel operators have already shown an interest in managing the €50 million development.
According to a report in The Guardian newspaper,

Danubius Hotels Group

is to reacquaint the UK with the idea of building thermal spa hotels after a reported absence of such an activity of more than 100 years. The Hungarian group will bring its expertise to the Derbyshire spa town of Buxton, where in 2007 it will open a £23 million 87-room hotel in the town's Grade I listed Crescent. Meanwhile in neighbouring Leicestershire, the privately owned 72-room

Hotel St James

is undergoing a £500,000 freshen-up to fit it for its new life as the

Days Inn Leicester Central

. The

Days Inn

brand will quickly become familiar to

Belinda Atkins

, whom

Cendant Hotel Group Europe

has taken from

Häagen-Dazs Cafés UK

to become its new Director of Operations responsible for managing Cendant's hotel franchises in the UK and Ireland. Down in London,

Great Portland Estates

has revealed that it has presented

Marriott International

with a 15-year lease on the basement and four floors (a total area of 55,000 ft²) of the

Barnard's Inn

building at 86 Fetter Lane.
The three partners in the

Grubarges Inversion Hotelera

joint venture –

Grucycsa

,

Barceló Corporación Empresarial

, and Spanish bank

BBVA

– are separating after five years together, a move that has prompted the hotels in the venture to be put up for sale. Six hotels in Spain and 18 in the USA (13 of the 18 operate under the

Four Points by Sheraton

brand) will be sold, with the proceeds being used to pay off Grubarges' debt. A report in the Spanish press last October stated that the asking price for the portfolio was €400 million. Once the sale is completed BBVA and Grucycsa will transfer their share in Grubarges to

Grupo Barceló

, a division of Barceló that will retain ownership of the joint venture's four hotels in Mexico.
Absolute Share Price Performance Over the Past Three Weeks 18/12/03-08/01/04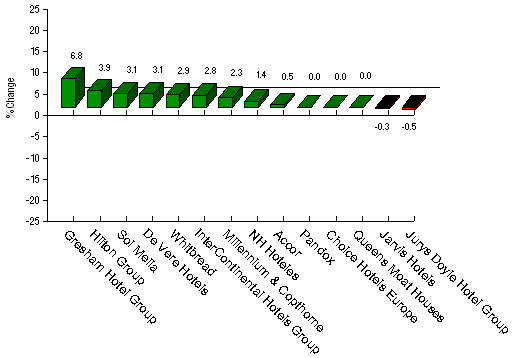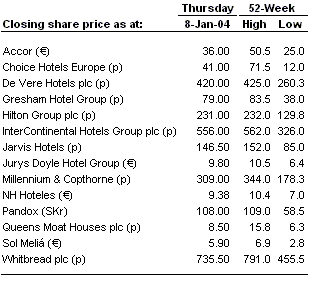 Gresham Hotel Group - The Irish takeover panel has ruled that the consortium with which Gresham has been talking must make a formal offer by 16 January.
Hilton Group - Investors will have been cheered by the optimistic forecasts for the betting industry made by William Hill.
De Vere Group - The share price was up on the latest market rumours concerning a possible bid by Whitbread.