Accor

has gathered the

Barrière Desseigne

family and private investment fund

Colony Capital

around the table to cut a deal that will create

Groupe Lucien Barrière

, a company that will hold a leading position in the European casino industry. The family will take the biggest stake – 51% – with Accor holding 34%. Colony takes the remaining shares and will also inject €100 million into the new company through its European fund

Colyzeo

. As if the operation of 37 casinos were not enough, then the newly formed group will also take charge of the 13 luxury hotels, a total of 2,000 rooms, in the

Barrière Group

and has the right to use the

Lucien Barrière

brand on all hotels and casinos within its realm.

Accor Casinos

might be about to roll across the Channel too; The Times reports that bar and nightclub operator

Luminar

is in talks to convert up to 30 of its UK nightclubs into gaming venues under a joint venture that could be formed in 2005.
Last summer,

Malmaison

founder

Ken McCulloch

finally settled on

Dakota

as the brand name for a chain of 'super budget' hotels that he wished to build in the UK. The first of these, a 92-room property at the

Sherwood Business Park

near Nottingham that is due to open this spring will now have a sister, over the border in Scotland. The

Evans Property Group

, which is one of Mr McCulloch's partners in the Dakota venture, will build the £10 million 132-room hotel at South Queensferry on the banks of the River Forth, near Edinburgh. Work will begin in April, and the property should be ready by next summer. Fellow Scottish cities Glasgow and Aberdeen have previously been cited as additional potential sites, along with Newcastle and Leeds. McCulloch's up-market

Columbus

brand is also set to welcome a second addition to its family later this month when work is scheduled to start on a 77-room property in Paris.
Park Enerji

, the mining subsidiary of Turkey's

Park Grubu

, will work wholly above ground on this occasion; it is reportedly set to build a 389-room, five-star hotel in Istanbul, at a cost of some US$45 million. On the opposite shores of the Aegean, Greek hotelier

Chandris Hotels & Resorts

has reportedly purchased a plot of land in Salonika for €8 million from construction firm

Themeliodomi

. To what use Chandris will put the 4,200 m² it has acquired is apparently not yet known. The company's compatriot, the tourism company

Topos

, though knows how it will be spending some of the €14.8 million it has at its disposal.

Topos Villages

will be a chain of small hotels that will be born at Simpatiki in the Peloponnese with the opening of a 45-bed property costing €1.7 million.
Safir International Hotel Management

and

Swiss Inn Hotels & Resorts

have recognised their common interest – hotels in the Middle East – by forming a strategic alliance. This agreement will allow the couple to explore hotel development and to acquire management contracts. Elsewhere in the region, though it may seem unlikely from a political viewpoint, nonetheless a publication in Yemen suggests that an unnamed group of Israeli investors is seeking to acquire a chain of hotels in the Yemeni capital San'a.
The towns and cities of Bulgaria are set to benefit from an idea that has germinated independently in the minds of two indigenous firms; namely, the establishment of chains of hotels throughout the country. The first competitor is

Planet Tour

, a subsidiary of

Planex Holding

; the second is an amalgam of

Aquatec

and

Express Garantion

, which wants its properties to wear the

Aqua

brand. Hoping that its own plan remains original is construction firm

Smaragd-Invest

, which is to spend a reported US$23.6 million on building a 300-bed, five-star hotel that is due to open in 2006 in the western Hungarian town of Keszthely.
Allerdale Borough Council

is hoping to find investors who would like to become involved in what could be the UK's largest brownfield development. Interested parties have until the end of the month to register their desire to help the council turn a 1,359-acre former

Ministry of Defence

arms depot in Broughton Moor, Cumbria, into a tourist complex that could include hotel accommodation. Pub owner

Tom Moran

is also thinking big, across the water in Ireland. He is seeking permission to build an €80 million 384-room hotel at Sandyford in Dublin's southern suburbs. Big is beautiful too in Feltham, southwest London, where

Thornfield Properties

' £90 million mixed-use development will include a 115-room

Travelodge

.
Those who have experienced

Bliss

in the Brompton area of London will be pleased to hear that the spa and beauty products company will soon be offering its services at

W

hotels.

Starwood Hotels & Resorts

has paid

LVMH Moët Hennessy-Louis Vuitton

a reported US$25 million for Bliss, which Starwood will operate as a subsidiary. Bliss spas will open later this year in six US properties initially. However, as Starwood Chairman and Chief Executive

Barry S. Sternlicht

said, the partnership will find true strength once the W hotels roll out worldwide, especially when they roll into resort and residential markets.
As part of its ongoing asset management strategy,

Sol Meliá

has sold the

Sol Aloha Playa

to an unnamed party for €11.5 million. The sale of the 172-room, three-star aparthotel, which stands in Benalmádena, to the west of the Spanish city of Málaga, gives Sol Meliá a capital gain of €8.9 million. Away in Scandinavia, meanwhile,

Choice Hotels Sweden

has signed a franchise agreement on the

Park Hotell

in the Swedish town of Södertälje. The 148-room property will henceforth be known as the

Quality Hotel Park

. Dropping 'Park' from its name is the former

Park Hotel Ridzene

in the Latvian capital Riga. The 95-room property is now the

Reval Hotel Ridzene

, and is at present the only five-star hotel in

Reval Hotels

' portfolio. If these name changes have given you a headache then you may like to cross to Belgium and seek refuge in the

Garden of Wellness

. This €13 million luxury holiday complex is the brainchild of an unnamed investment company from the Belgian town of Lommel that wants to build its dream in Eksel in the east of the country.
Cendant Hotel Group Europe

has opened the 73-room

Days Inn Leicester

and has announced that more hotels of the brand will follow later this year; it will open a

Days Inn

in Dublin on 1 February and has signed franchise agreements for Days Inn properties at Haverhill in Sussex and Nuneaton in Warwickshire. In addition,

Welcome Break

will live up to its title of the UK's largest franchisee of Days Inn by rebranding three

Welcome Lodge

properties by the end of March: those in Warwick, Sedgmoor, and Gretna Green in Scotland. Cendant is not neglecting its

Days Hotel

brand either: the 78-room

Days Hotel South Ruislip

has opened in London, and Dublin will join the feast on 1 February.
Absolute Share Price Performance Over the Past Week 15/01/04-22/01/04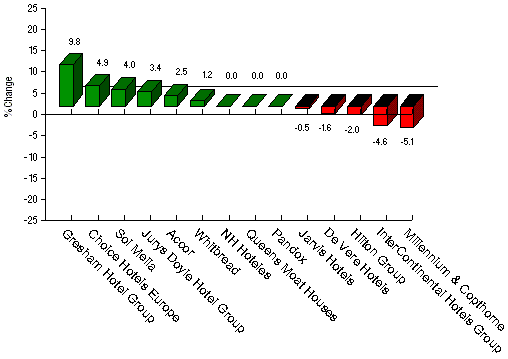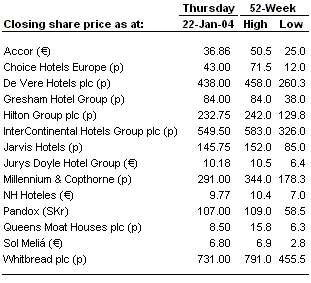 Gresham Hotel Group - The consortium previously interested in making an offer came forward with a revised approach, and the Gresham board will now enter into talks.
Sol Meliá - ING Barings recommended the company in its hotel report, and raised its rating to 'Buy' from 'Hold'.
Millennium & Copthorne - The impending board changes announced last week have raised fears of a dividend cut. Teather & Greenwood lowered its rating to 'Hold' from 'Buy'.