HVS International

is delighted to congratulate

Surinder Arora

and his team at

Arora Hotels

on their being selected to enter into exclusive negotiations to develop a 600-room, five-star flagship hotel to be linked to the new Terminal 5 (T5) at London's

Heathrow Airport

.

Russell Kett

, Managing Director of HVS International's London office, advised Arora throughout the bidding process, and felt that among the keys to Arora's successful bid were its focus on exceeding guests' expectations and its track record of delivering quality hotels on time and on budget. Arora's other hotels include three hugely successful aircrew-oriented hotels at Heathrow and Gatwick airports, and a new four-star hotel in Manchester city centre.

BAA Lynton

was advised by

CBRE Hotels

, and described the proposals for the new hotel as 'imaginative and creative'. The hotel, which is scheduled to open simultaneously with T5 in spring 2008, will operate as a

Sofitel

: the first franchise for

Accor

's luxury brand in Europe.
One year ago

Queens Moat Houses

(QMH) embarked on a strategic review in a bid to sort out its debt structure and secure the future of the business. One early proposal resulting from the review was the sale of QMH's hotels in the UK, the Netherlands and Germany. That idea began to fade with the arrival on QMH's doorstep at the end of May of

W2001 Britannia

, a consortium comprising the

Goldman Sachs Group

,

Whitehall Street Real Estate Fund

and

Westmont Hospitality Group

, which bought a 19.0% stake in QMH from investment company

Trefick

. The purchase took the consortium's total holding to 29.6% and thus emboldened it made a takeover offer the following month. Two months on, and QMH has now recommended that offer to its shareholders. If they accept the deal, then ordinary shareholders will receive one penny for each share they hold. Holders of junior convertible debt will see that debt converted into shares and they too will receive the same payout for each share, whereas holders of the junior term debt would receive a payout of 90p in the pound.
Miami-based property developer

Azur International

has acquired a 50% stake in five properties in the Waren region of eastern Germany through its wholly owned subsidiary

Azur Europe

. The company did not disclose an exact location for any of the five properties, which include among their number resort hotels and a property ripe for redevelopment as a waterfront boutique hotel and casino. Azur parted with US$18.5 million worth of its common stock to secure its prize, and with this deal the company signals its intention of making further inroads into the boutique-style hotel business.
To mark your entry into the UK with one luxury hotel in London may be regarded as good fortune; to mark it with two sounds exactly like

Kempinski Hotels & Resorts

' latest move.

The Bentley

on Harrington Gardens in Kensington has been open since October, but it was not until the start of August that Kempinski could unfurl its flag and rename the 64-suite property

The Bentley Kempinski

.

HVS International

's London office advised on the sale of the hotel to the

Sanger

family, who also own the second hotel in the Kempinski story. The 116-room

Courthouse Kempinski

, which is due to open in September, is the result of the transformation of a former magistrates' court in Soho. Meanwhile,

Firmdale Hotels

is to set foot on the London stage for a seventh time by redeveloping buildings owned by the

Crown Estate

on the Haymarket in the West End. The curtain is due to rise in April 2006 on a 58-room hotel.
The answer is

Millennium & Copthorne

(M&C), where the smiles returned to the faces as memories of last year's interim pre-tax loss of £6.3 million were erased by the company's posting a pre-tax profit of £20.6 million for the six months to 30 June 2004. Turnover rose 8.1%, to £262.7 million, and RevPAR rode to success on the back of an increase in marketwide occupancy of 8.4 percentage points, finishing 11.8% up on the previous year's comparable, at £41.48. M&C saw like-for-like RevPAR in London climb 13.7%, to £62.37, with the corresponding figure for continental Europe at £48.08, an increase of 3.4%. Perhaps the broadest smiles of all at M&C will be those worn by

Tony Potter

and

David Cashman

. Mr Potter, who upon the departure last March of

John Wilson

was appointed as an interim Chief Executive alongside

Wong Hong Ren

, will be able to call the CEO's office his own by the end of the year. Mr Cashman can now tighten the screws holding his nameplate to the door to the Chief Financial Officer's room; he has been confirmed with immediate effect in the role he took on after

David Thomas

's departure in March. And

HVS International

's London office is glad to see its old friend

Simon Allison

settling into his new role as M&C's President of Europe; HVS wishes him every success.
Le Meridien

is to breathe life into what was once one of Croatia's foremost luxury resort hotels by agreeing to manage the 381-room property in the coastal city of Split. The hotel is due to open in early 2006 upon the completion of redevelopment work that will ultimately see the hotel form part of a resort complex that will boast the most capacious conference facilities in the country. On the other side of the Adriatic, Italian property fund

Polis

has paid

Sifalberghi

€13.1 million for the

Hotel Ibis Firenze Nord Aeroporto

. The 220-room property in Sesto Fiorentino on the outskirts of the city of Florence has a 179-room

Novotel

nearby for company, and that hotel too is owned by Polis.
The resort of Al Aqah in the emirate of Fujairah is to receive another two luxury hotels. An agreement signed with representatives of the emirate's government will allow

Rotana Hotels

the opportunity to manage the 200-room

Fujairah Rotana Resort

, which is due to open in mid 2006. The second property, the

Royal Miramar

, will be owned by

Hotel Holdings (BVI)

and will cost a reported US$19 million to build. Across in North Africa, meanwhile,

Daewoo Engineering and Construction

is reportedly set to begin work later this year in Libya on the construction, on behalf of the government, of a US$100 million hotel in the capital Tripoli; the five-star property is expected to have between 300 and 400 rooms.
Scotland has taken a step closer to having its first 'six-star' hotel after the local council in Perthshire approved Hampshire-based developer

Hotel International

's plans for

Taymouth Castle

. The council's decision will need the approval of the Scottish Executive, and if that is secured then the transformation of the castle into a hotel can begin. The press has for more than a year now been linking

Four Seasons Hotels and Resorts

with the project. We shed a star as we venture south to

Glasgow Airport

, where

BAA Scotland

expects its long-cherished plans for a 160-room, five-star hotel to come to fruition soon.
The Turkish press reports that native tourism firm

Kayi Group

has paid an undisclosed sum for what is the company's seventh property in Turkey: the 198-room, five-star

Zena Hotel

in the southern resort of Kemer. Kayi's compatriot

Dedeman Hotels & Resorts International

has headed west to open the

Scala Beach Bodrum

resort, whereas its fellow countryman

Asist

is looking further afield for its fun. The company is reportedly keen to secure a US$12 million contract from

Turkmen Sea and River Services

of Turkmenistan that would allow the Turkish firm to build a hotel in Türkmenbaşy on the shores of the Caspian Sea.
The first

International Hotel Conference

last year was good and second time around it promises to be even better. Some 400 delegates are expected to pass through the doors of the

Le Meridien Beach Plaza

hotel in Monte Carlo over the three days from 17 October. And who could not fail to be drawn by a cast list of more than 100 high-profile speakers including

Roeland Vos

,

Starwood

's President for the EMEA region;

Michael Flaxman

,

Accor

's Managing Director for northern, central and eastern Europe; and two members of

HVS International

's London office: Managing Director

Russell Kett

and Director

Simon Hudspeth

. Further details are available on the website www.internationalhotelconference.com. click here
Absolute Share Price Performance Over the Past Week 29/07/04-05/08/04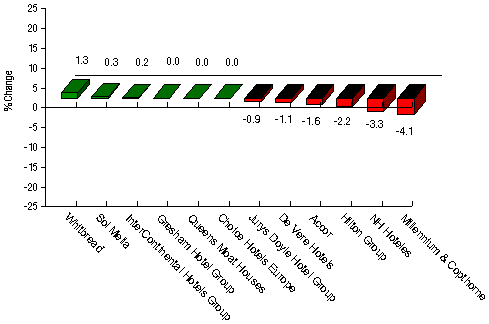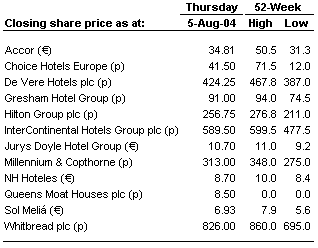 Whitbread - Merrill Lynch retained a 'Neutral' rating on the stock.
InterContinental Hotels Group - Morgan Stanley raised its target price to 600p on rumours that the company might dispose of £1 billion worth of UK hotel assets.
Millennium & Copthorne - Interim results were slightly below UBS's expectations; it kept a 'Neutral 2' rating. Merrill Lynch reiterated its 'Sell' rating.