Hilton Group

has announced that it has sold its 20.8% stake in Swedish hotel company

Pandox

for £43.25 million.

Eiendomsspar

and its joint venture partner

Sundt

were the purchasers; the twosome now have a total holding in Pandox of 57.0%. Eiendomsspar and Sundt took an initial 36.2% stake early last month and were consequently obliged to make an offer for the remainder of the shares. Pandox said that offer, of €11.7 a share, was too low. Thus stung, the predatory pair have now raised their offer to €11.9 a share, an unconditional offer at a premium of 11.9% on Pandox's share price as of 3 November 2003.

Lazard

, which Pandox appointed as its financial adviser late last month, deems the offer to be financially fair. Pandox has sought other potential buyers, but in their absence the company has concluded that at present the offer is the best there is.
Le Meridien

has appointed

Robert Riley

as its new Chief Executive. Mr Riley, formerly President and Chief Executive Officer at

ResidenSea

, succeeds

Stephen Alexander

, who after his nine-month interim stint returns to his former position as a Managing Director at

Terra Firma Capital Partners

. Saying farewell to Le Meridien at the end of the year will be

Juergen Bartels

and Chief Financial Officer

David Maloney

, who will be replaced by current Vice President of Finance

Iain Ferguson

.
The Ritz-Carlton Hotel Company

now operates four hotels in Europe, with the 177-room

Penha Longa Hotel & Golf Resort

in Portugal becoming the latest addition. The property will receive additional guest rooms, suites and a spa in a US$20 million programme of work that is set to start next year and finish in spring 2006. The new year will also bring Ritz-Carlton a fifth hotel in Europe;

The Ritz-Carlton, Berlin

opens on 12 January. Also choosing Portugal as the destination for its fourth European hotel is

Interstate Hotels & Resorts

, which has opened the five-star

Praia D'El Rey Marriott Golf & Beach Resort

in the town of Òbidos. The 179-room property is owned by

Hotel da Praia

. Elsewhere in Europe,

Macro Capital

has agreed to

Mandarin Oriental International

's purchasing an additional 46.3% stake in the

Mandarin Oriental Hotel du Rhône, Geneva

. The US$26.1 million purchase takes Mandarin's holding in the 392-room hotel to 92.6%. Over the border in Italy,

Jolly Hotels

is reported to be preparing to sell the 104-room

Jolly Hotel Salerno

and hopes to be laughing all the way to the bank with a capital gain of a reported €6.5 million. The Italian chain will continue to operate the property.
The Ascott Group

now has a foothold in the Middle East after signing a management contract with

EMAAR Properties

on two serviced residences in the emirate of Dubai. The 96-unit

Al Majarah Tower

is due to open at the end of 2004 as part of the

Dubai Marina

development, although the group will have to wait until the end of 2005 before it can get its hands on a 150-unit serviced residence at the

Burj Dubai

development. While it waits, Ascott could occupy the time admiring the 15 newly renovated suites at the emirate's

Al Maha Desert Resort

.
On clinching the £2.51 billion deal two months ago to buy

Scottish & Newcastle

's Managed Retail business, pub company

Spirit

was reported to be in no rush to sell the

Premier Lodge

hotel portion of its prize. Now it seems that Spirit may have had a change of heart, or so The Times reports. According to the newspaper, Spirit is thought to have appointed investment bank

Merrill Lynch

to knock on the door of interested bidders prepared to part with some £600 million for the 131 hotels and perhaps as many as 40 adjoining pub-restaurants. The Times adds that a formal auction could start early next year, with many analysts apparently expecting a private equity group to be in as the gavel falls.
Whitbread

has named

Alan Parker

as the successor to

David Thomas

in the role of Chief Executive. Mr Parker is currently the Managing Director of the

Whitbread Hotel Company

and he will take his new title after Whitbread's annual general meeting next June. Meanwhile,

Butch Kerzner

has only to wait until 1 January before he can enter the Chief Executive's office at

Kerzner International

. He steps up from his position as President to replace

Sol Kerzner

, who will remain as the company's Chairman.
An operating income of €100 million a year: that is the return that

Club Méditerranée

's Chairman

Henri Giscard d'Estaing

wants to see his company realising consistently in two to three years' time. The end of this financial year, though, finds the company faced with an operating loss of €6 million, compared to a loss the previous year of €3 million. Turnover emerged from a year blighted by war and the Sars virus 3.5% lower, at €1.6 billion. The company can however derive some comfort from seeing bookings for the past four weeks 5.2% ahead on the previous year's comparable and from knowing that its new financial model is almost in place.
Benny Andersson

, once one quarter of the pop group

Abba

, is now part of a trio that hopes to have a hit with what is reported to be Stockholm's first full service lifestyle hotel. Andersson and his business partners

Christer Sandahl

and

Christer Hägglund

have opened the 99-room, four-star

Hotel Rival

in the Södermalm district of the Swedish capital. Across the water in Denmark, the name of the game for the

Hilton Copenhagen Airport

was finding more meeting and conference facilities, and this it has accomplished with the assistance of the airport. After a freshen-up this month, the 14 new rooms of

Hilton Meetings, Terminal 3

will open their doors in early January to bring to 29 the number of meeting rooms the hotel can offer. And over the border in Germany,

Blackstone

has paid an undisclosed sum to a private Japanese investor for the

Munich Marriott Hotel

.

Marriott International

will continue to manage the 348-room property.
Von Essen Hotels

had stalked its target for several months before with one snap of its wallet it secured yet another hotel, this time in the Lake District in northwest England. The privately owned

Sharrow Bay Country House Hotel

on the shores of Lake Ullswater reportedly cost Von Essen more than £5 million. The company is on a mission to have at least 26 hotels by the end of next year; another hotel on Von Essen's shopping list is said to be

The Lanesborough

in London.
John Jarvis

has set out at the helm of

Kayterm

on a quest to capture

Jarvis Hotels

with an offer of 145p a share. Only a few days into the voyage and Kayterm has already sunk a counterbid. Jarvis Hotels announced that an unnamed third party had approached with a preliminary indication of interest but that this third party had broken off the engagement, saying it would make no offer at a premium to that proposed by Kayterm. Jarvis Hotels has also signalled that the London flagship the

Ramada Plaza Regents Park

would be sold within 12 months of the completion of the buyout. The company needs to receive at least £63 million for the 377-room property, and will spend the proceeds on reducing the £184 million debt funding. If Jarvis Hotels were unable to secure a sale within the 12-month time-frame then loan-note holders would be entitled to seek a buyer for the hotel at a minimum price of £60 million.
Newly formed hotel group

Nowell Hotels

has made its first purchases. It paid

Wade Hotels

an undisclosed sum for the 38-room

Wortley House Hotel

in Scunthorpe, North Lincolnshire, and the 47-room

Springfield Park Hotel

near Huddersfield, West Yorkshire. The two three-star hotels had a combined asking price of £3.5 million. On the opposite side of England, restaurateur

Paul Adams

has cooked up a plan that he hopes will result in the resort of Southport on Merseyside welcoming its first five-star lifestyle hotel. His £7 million recipe takes as its sole ingredient one cinema - his own Grade II listed

ABC

. If the county of Devon is more to your taste, then you should head for the village of Sampford Courtenay, where the grounds of the

Culverhayes

country house hotel are ripe to receive a 32-room hotel with conference and leisure facilities. Across in Ireland, meanwhile, the

Gaelic Athletic Association

(GAA) has cleared the hurdle of planning permission and can now set to work on building a 232-room hotel near

Croke Park

in Dublin. The GAA hopes to have the construction work finished by April 2005.
Reports indicate that Swedish hotel and leisure company

Capona

is to pay Norwegian real estate company

Home Invest

an undisclosed sum for 19 hotels (names and locations unspecified in reports), which have a total value of a reported €177 million. If the deal is approved next month, then Home Invest will receive as payment 6 million Capona shares, which translates into a stake of 24.3%.

Choice Hotels Sweden

is also a shareholder in Capona, and it has announced the appointment of

Katalin Paldeak

as its new Chief Executive Officer with effect from 12 January 2004.
Absolute Share Price Performance Over the Past Week 11/12/03-18/12/03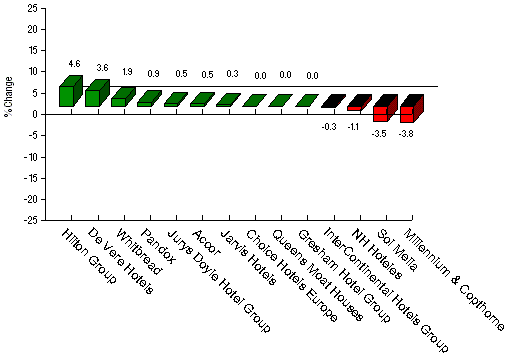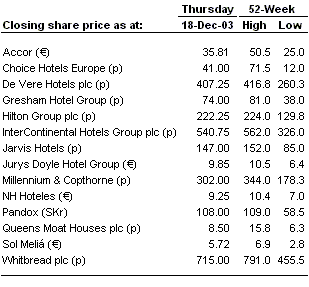 Hilton Group - Investors were cheered by the money Hilton raised from the sale of its Pandox stake.
Whitbread - Certain analysts were relieved that Whitbread had avoided potential uncertainty by appointing a new CEO.
Millennium & Copthorne - There were fears this week over a fresh outbreak of Sars in the Far East.