Featured in this Asia Pacific Hospitality Newsletter
HVS India announces the 7th annual Hotel Investment Conference - South Asia (HICSA) 2011 to be held on April 6-7, 2011 at the Grand Hyatt, Mumbai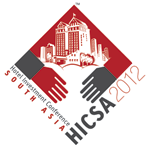 HICSA 2011 promises some of the most illustrious global influencers - with 15 of them already committing to their presence – Brett Butcher, Chief Executive Officer, Langham Hotels International, Christopher J Nassetta, President & CEO, Hilton Worldwide, Denis Hennequin, Chairman & CEO, Accor, Frits Van Paasschen, President & CEO, Starwood Hotels and Resorts, Hubert Joly, President & CEO, Carlson, Jean Gabriel Peres, President & CEO, Moevenpick Hotels & Resorts, Nakul Anand, Executive Director, ITC Ltd., Raymond Bickson, Managing Director & CEO, Taj Hotels Resorts and Palaces and Simon F Cooper, President & MD Asia Pacific, Marriott International.

HICSA audience typically comprises of hoteliers, investors, bankers, developers, architects and interior designers. HICSA 2011 yet again promises new business opportunities, amazing networking, trends for the future and global strategies that pledge to take hospitality in South Asia to a new qualitative and quantitative level.

View HICSA Website | REGISTER NOW! | Partners | Download Brochure
This week, Apple once again led the whole consumer electronics industry by releasing its revolutionary iPad2. What then makes Apple stand out against the competition and keep its throne as the most valuable brand? According to Steve Jobs, "It's in Apple's DNA that technology is not enough. Technology married with liberal arts, humanities, yields the result that makes our hearts sing." (Source: CNN)
The strategy used by Apple may also apply for other industries. But how can we find our own version of technology, liberal arts and humanities? For the hotel industry, management, design and operations are probably the best representatives of these. At the 7th edition of China Hotel Investment Conference (CHIC 2011), we have invited global leaders to share with you their insights and experiences on these three aspects of the industry.
In our CEO Panel, top executives from leading global hotel management companies will share their management strategies to take their brands and businesses to greater heights in China and globally. The panellists include Michael Issenberg, Chairman and Chief Operating Officer, Accor Asia Pacific; Keith Barr, Managing Director, Greater China, IHG; Simon Cooper, President and Managing Director, Asia Pacific, Marriott International; and Ken Greene, President and Managing Director, Asia Pacific, Wyndham Hotel Group.
Influential hotel designers from top design firms, namely Rockwell Group, Woods Bagot and ECADI, will present on hotel design trends in our Meet the Leading Hotel Designers panel. Presentations include case studies on how design helps deliver and enhance brand awareness – Defining and Designing Brands for the Hospitality Industry, Shifts in Design Focus, and Integrating Design to the Environment.
Also, in our operations-oriented panel, you will learn the best solutions and practices to maximise hotel operating revenues and profits and to ensure the stability and consistency of the brand. You will communicate on site with leaders in this field: Jerry Huang, Senior Vice President, Operations, IHG; Chris van der Baars, Chief Operating Officer, InterState China; and Robert Murray, Senior Vice President, Greater China, Accor.

Finally, you can look forward to learning more about hotel development from A to Z at the Master Seminar on Hotel Development Process.
Register now or visit www.chinahotelconference.com for more information.
Millennium and Copthorne Hotels PLC (M&C) has agreed to sell its 360-key Studio M Hotel Singapore to an affiliate of CDL Hospitality REIT for approximately US$124.9 million. This translates to about US$347,300 per key for the hotel, which is conveniently located in Singapore's entertainment precinct of Robertson Quay and also just minutes away from the Central Business District. The Studio M Hotel Singapore will continue to be managed by M&C, with CDL entering into an initial 20-year fixed term lease with M&C subsidiary Republic Iconic.
Bangkok-based Anantara Hotels, Resorts and Spas (Anantara) has made its foray into the urban hotel market with the opening of the 425-room Anantara Bangkok Sathorn. Conveniently located in the bustling area of Sathorn in the heart of the city, the hotel has great accessibility, being just opposite the Bus Rapid Transit station. The Anantara Bangkok Sathorn features three food and beverage outlets, including an Italian and a Thai/International restaurant. For meeting facilities, the hotel has four function rooms with a total of approximately 715 square metres of meeting space.
Hilton Hotels and Resorts (Hilton) has grown its presence in Seychelles with the opening of the Hilton Seychelles Labriz Resort and Spa. The property is located on Silhouette Island and is a 40-minute ferry ride away from the main island of Mahé. The 111-villa property features different categories of villas, such as garden villas and beachfront villas, to complement its private beach. In terms of food and beverage, the hotel has five restaurants offering a variety of cuisines to its guests. The Hilton Seychelles Labriz Resort and Spa joins Hilton's first property on the island, the Hilton Seychelles Northolme Resort and Spa.
2010 has been a great year for Australia's tourism industry, with record arrivals from South and Southeast Asia. One milestone was arrivals from Singapore, which reached 308,000 for 2010, an increase of 8% year-on-year and the first time the country registered more than 300,000 visitors from Singapore. Australia also saw strong growth from feeder markets such as Malaysia and Indonesia, with arrivals from both countries showing double-digit growth in 2010 as compared to 2009. Tourism Australia has stated that these strong figures are attributed to the strong support from partners in the travel industry and the competitive aviation environment across the region.
Absolute Share Price Performance, as at 4 March 2011
Closing Share Price as at
4 March 2011
25 February 2011
% Change
Australia Stock Exchange (ASX)
Amalgamated Holdings Limited
6.25
6.26
–
General Property Group
3.09
3.10
–
Mirvac Group
1.30
1.30
–
Ocean Capital Limited
0.20
0.20
–
Thakral Holdings Group
0.50
0.50
–
Living and Leisure Australia Group
0.033
0.029
14%
Bangkok Stock Exchange (THB)
Central Plaza Hotel Public Co Ltd
4.90
4.76
3%
Dusit Thani Public Co Ltd
39.25
39.50
-1%
The Erawan Group Public Co Ltd
2.20
2.18
1%
Grande Asset Hotels and Property Public Co Ltd
2.92
2.40
22%
Laguna Resorts & Hotel Public Co Ltd
63.75
63.75
–
Minor International Public Co Ltd
11.00
10.50
5%
China Shanghai Stock Exchange (RMB)
Shanghai Jinjiang International Hotels Development
21.36
21.53
-1%
Beijing Capital Tourism Co Ltd
24.86
24.20
3%
Jinling Hotel Corporation Ltd
9.70
9.36
4%
China Shenzhen Stock Exchange (RMB)
Hunan Huatian Great Hotel Co Ltd
9.97
10.00
–
Guangzhou Dong Fang Hotel Co Ltd
10.57
10.30
3%
Shenzhen Century Plaza Hotel Co Ltd
6.16
5.96
3%
NASDAQ (US$)
Home Inns & Hotels Management Inc
38.99
33.58
16%
Hong Kong Stock Exchange (HK$)
Miramar Hotel & Investment Co Ltd
9.55
9.40
2%
Regal Hotels International Holdings Ltd
3.17
3.11
2%
Sino Hotels Holdings Ltd
2.60
2.80
-7%
The Hong Kong & Shanghai Hotels Ltd
13.52
13.20
2%
Bombay Stock Exchange (INR)
IHCL (Taj Hotels, Resorts & Palaces)
82.60
79.25
4%
EIH (Oberoi Hotels & Resorts)
78.85
80.55
-2%
Hotel Leela Ventures
38.95
36.75
6%
Korea Exchange (KRW)
The Shilla
27,250
27,550
-1%
Singapore Stock Exchange (S$)
Amara Holdings Ltd
0.44
0.44
–
Ascott Residence Trust
1.18
1.19
-1%
Banyan Tree Holdings Limited
0.99
1.03
-4%
CDL HTrust
2.01
1.97
2%
Hotel Grand Central Ltd
0.81
0.82
-1%
Hotel Properties Ltd
2.46
2.40
3%
Mandarin Oriental International Ltd (US$)
2.07
2.02
2%
Pan Pacific Hotels Group Limited
1.60
1.61
-1%
Shangri-La Asia Limited (HK$)
19.32
17.60
10%
Stamford Land Corporation Ltd
0.62
0.62
–
Taiwan Stock Exchange (NT$)
Formosa International Hotels Corporation
492
492
–
The Ambassador Hotel, Ltd
43.25
42.00
3%
Tokyo Stock Exchange (JPY)
Nippon Hotel Fund Investment Corporation
271,000
267,500
1%
Japan Hotel and Resort Inc
250,800
256,800
-2%
Imperial Hotel, Ltd
2,297
2,338
-2%
Return to Headlines
Subscription Information:
You are currently subscribed as $subst('Recip.EmailAddr') to receive emails from our HVS list. You are receiving this email because you have contacted us through our website or through other means. To unsubscribe from future mailings to this list, please send a blank email to: $subst('Email.UnSub').

If you would like to change your preferred email format, change your subscribed email address, or have any comments or suggestions, please contact us at: hvs@hvs.com.

You can also contact us by phone or regular mail:

HVS
Joan Raffetto
369 Willis Avenue
Mineola, NY 11501
Tel: +1 (516) 248-8828 ext. 231
Disclaimer: Information provided above has been gathered from various market sources. HVS has not independently verified the accuracy of the information provided. Interested parties should not rely on the information as statement of facts and are advised to make their own independent checks to verify the information provided. For further information, please feel free to contact HVS Singapore.