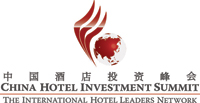 DATE: 18-20 APRIL 2007 VENUE: GRAND HYATT SHANGHAI

Join us at the most established hotel investment summit in China. Delegates to the China Hotel Investment Summit 2007 will have the opportunity to network with leading hospitality real estate owners, investors, financiers, management groups, academia, government bodies and others, as well as take part in engaging discussions on the hottest topics on China's hospitality real estate investments. Co-hosted by Beijing International Studies University and HVS International, 2007 will prove to be an exciting summit which focuses on 'Investment in China's Hospitality Real Estate'.
Catch the opportunity to hear from:
Prof. Dai Bin - President of Beijing Hospitality Institute and Director of Academic Research Office, Beijing International Studies University
A. Patrick Imbardelli - Chief Executive, Asia Pacific, InterContinental Hotels Group
Ho Kwon Ping - Executive Chairman, Banyan Tree Holdings Limited
Miguel Ko - President, Starwood Asia Pacific Hotels & Resorts
Steve Rushmore - President & Founder, HVS International
Tim Gao - Chairman, TEDA Hotels Management Limited
and many more...
*Speakers, agenda and other conference events are subject to change without notice
To register contact: chis@chisummit.com or visit: http://www.chisummit.com