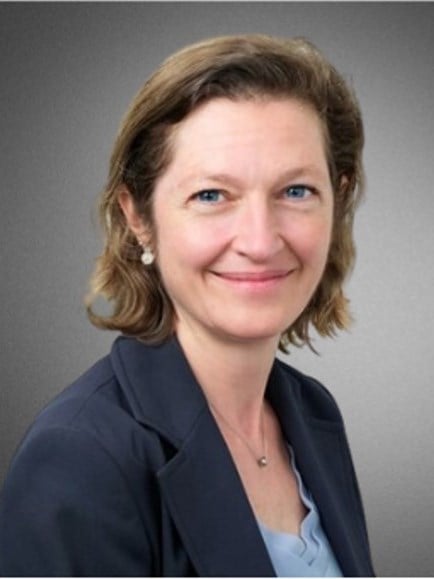 Amsterdam is in the province of North Holland, in the heart of the Randstad, Europe's sixth-largest metropolitan area. The city of Amsterdam is the capital and the largest city in the Netherlands, with a population of just over 850,000 recorded in 2018. While Amsterdam is known globally for its historic canals, art museums (Rijksmuseum, Van Gogh Museum), red-light district and 'coffee' shops, it is also a significant European financial centre. Approximately 2,000 foreign companies have established offices in the Amsterdam metropolitan area, and more than 200 of these companies have headquarters in the city. The Dutch capital is consistently ranked among the best cities in which to live and has become an increasingly popular gateway destination thanks to its excellent connectivity via Schiphol Airport, the port of Amsterdam and high-speed rail services such as Eurostar.


ECONOMIC INDICATORS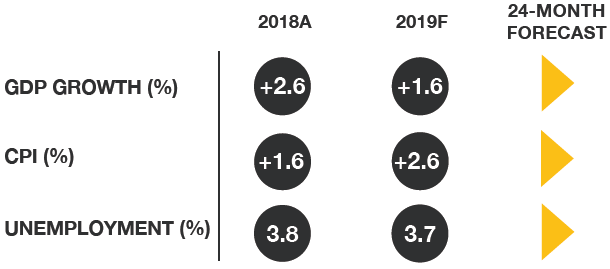 Sources: Economist Intelligence Unit; IMF
Tourism Demand
Overall visitation to Amsterdam has grown at a compound annual growth rate of 6.8% within the last 10 years, with an increase in arrivals recorded year-on-year from 2008 onwards. This growth in visitation has been experienced by both the domestic and international markets, with the UK being the main international feeder market, accounting for almost 1.3 million of the 7 million international visitors in 2018. Other major international source markets are the USA and Germany. Domestic visitation accounted for 19% of the total in 2018.
VISITATION – THE NETHERLANDS (000s)

Source: TourMIS, June 2019
Hotel Performance
Amsterdam's hotels have experienced robust growth within recent years, having surpassed the difficulties faced during the 2009 economic crisis. RevPAR has sustained an upwards trend for several years, mainly driven by the substantial uplift recorded in average daily rate year-on-year;
By pairing the ban on new hotel developments in Amsterdam's city centre (further explained later), which has suspended new supply, and the increase in demand and arrivals visible year-on-year, the existing establishments have enjoyed a favourable position, allowing hotels to increase average rates without sacrificing occupancy.
KEY METRICS – BRANDED HOTELS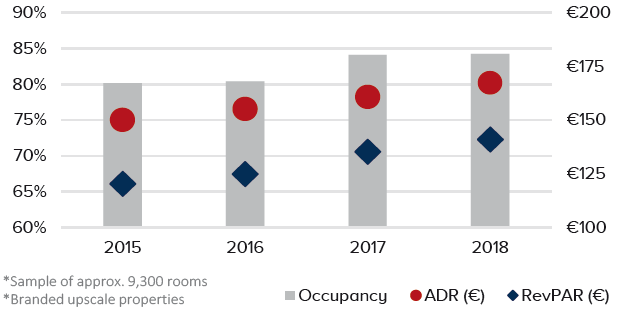 Source: HVS Research
Hotel Supply
In recent years, hotel supply in Amsterdam has seen strong growth in virtually all segments. Overall, hotel supply has increased at a compound annual rate of 4.2% since 2011, with 501 properties recorded in 2018, representing almost 35,000 rooms in all. Of these hotel rooms, only 11% are categorised as five-star, around 38% four-star and 33% three-star. Whilst two-star and independent properties account for half of all hotel properties in the city, they represent only 18% of rooms in the market.
The ban that was placed on new hotel developments in the Canal District in 2015 resulted in planned projects moving out to more fringe areas. However, at the end of 2016, the city of Amsterdam implemented further restrictions on new hotel construction in order to better manage tourism flow within the city. These restrictions essentially prohibit the development of hotels except in designated areas (such as Overhoeks, Buiksloterham and Indische Buurt) for which development applications can be submitted. This has had a substantial impact on the future hotel pipeline.
HOTEL PIPELINE – AMSTERDAM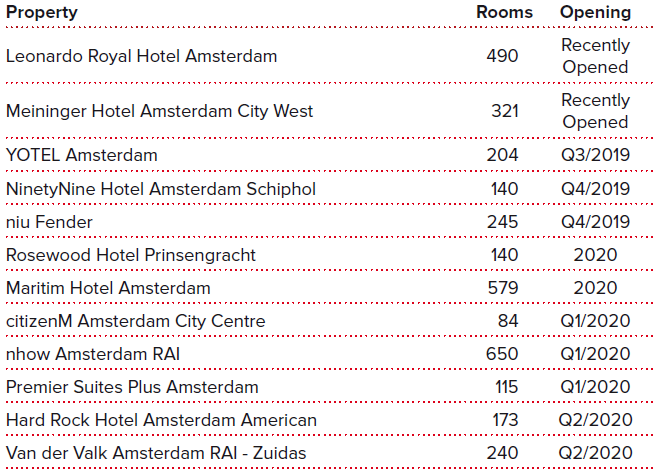 Source: HVS Research
Investment Market
Amsterdam's hotel investment market is one of the most liquid and attractive in Europe. Substantial movement was seen in 2018, with year-to-June 2019 transactions suggesting that investment is unlikely to slow down in the foreseeable future. Key sales in 2018 included the 148-room INK Hotel Amsterdam – MGallery by Principal Real Estate Europe to Amundi and L'Etoile Properties for €60 million (€405,000 per room). In addition, the 274-room Kimpton De Witt Hotel was sold to Global Holdings by York Capital and Cedar Capital Partners for €160 million (€600,000 per room), and the 407-room Sheraton Amsterdam Airport was acquired by InterGlobe Enterprises from Blackstone for €113 million (€280,000 per room). For the latest value trends, please refer to our European Hotel Valuation Index.
HOTEL TRANSACTIONS – AMSTERDAM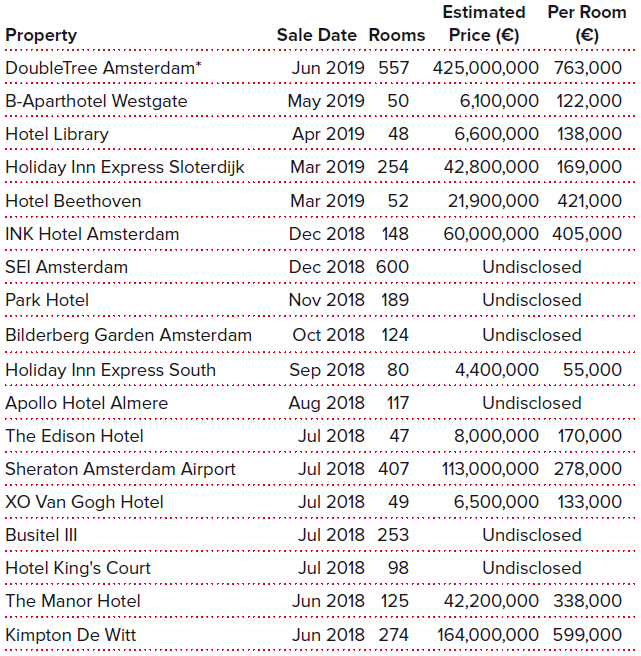 *Not yet completed
Source: HVS Research
Outlook
With continuing demand recorded year-on-year, Amsterdam has focused its efforts on efficiently managing tourism. There are plans to expand both Amsterdam Centraal station and Amsterdam South (Zuidas) station, as well as the reallocation of a number of international railway services to Amsterdam South from Amsterdam Centraal for the sake of dispersal. Most significantly, however, is the ban on new hotel developments in certain designated areas, resulting in higher barriers to entry for this market. These circumstances, together with Amsterdam's numerous demand generators, have enabled strong growth in RevPAR over recent years. As indicated in our European HVI, Amsterdam's hotel values have seen healthy growth and are amongst the highest in Europe. Owing to its robust fundamentals, the strong appeal of this market is likely to remain solidly in place for some time to come.
VALUE TRENDS

Source: HVS Research
Sophie Perret is a senior director at the HVS London office. She joined HVS in 2003, following ten years' operational experience in the hospitality industry in South America and Europe. Originally from Buenos Aires, Argentina, Sophie holds a degree in Hotel Management from Ateneo de Estudios Terciarios, and an MBA from IMHI (Essec Business School, France and Cornell University, USA). Since joining HVS, she has advised on hotel investment projects and related assignments throughout the EMEA region, and is responsible for the development of HVS's business in France and the French-speaking countries. Sophie completed an MSc in Real Estate Investment and Finance at Reading University in 2014. Sophie is also a certified surveyor and a member of the RICS. For further information, please contact: