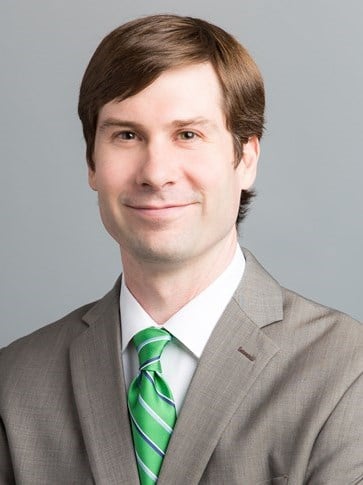 The greater Kansas City metropolitan area, which encompasses the two-state region of Missouri and Kansas, has shown significant economic and hotel growth over the last eight years, including steady RevPAR growth between 2010 and 2017. Supported by a diversified economy, with cornerstones in the manufacturing industry and the logistics, healthcare, and government sectors, this steady economic growth and healthy hotel performance has spurred an influx of new hotel development in recent years.
Market Overview
The area is home to seven Fortune 1000 company headquarters, five of which are located within the downtown core, including H&R Block, DST Systems, Great Plains Incorporated, and Kansas City Southern. Other major corporate entities in the market include Sprint Corporation, AT&T, BNSF Railway, Asurion, Cerner, Farmers Insurance Group, Hallmark Cards, General Motors, Honeywell, and Ford Motor Company. Of note, Ford Motor Company completed a $1.1-billion expansion at its Kansas City Assembly Plant in March 2015. In southern Kansas City, Cerner Corporation, a health information and technology firm, is constructing its massive $4.5-billion Innovation Campus; when the 16-phase, ten-year project is complete in 2025, the campus is expected to accommodate 16,000 employees in over 4.7 million square feet of office space.
The northern Kansas City metropolitan area is home to more than 1,000 companies engaged in manufacturing, warehousing, transportation, wholesale and retail trade, and business and personal services. In 2017, Amazon opened a new fulfillment center, which created approximately 1,000 new jobs. In 2017, city officials approved plans to move forward with a long-discussed redevelopment and modernization of the Kansas City International Airport; construction on the $1.3-billion project is anticipated to begin by early 2019 and continue through 2021.
The region benefits from a variety of tourism and leisure attractions in the area, including Country Club Plaza, American Jazz Museum, Crown Center, Sprint Center, Kaufman Stadium, Arrowhead Stadium, and Kansas Speedway. The Speedway is located within the Village West development, a $1.2-billion, 1,500-acre entertainment district that is one of the most popular tourist destinations in the state of Kansas. In addition to the Speedway, the district includes the Hollywood Casino, a Nebraska Furniture Mart, the Legends Outlets Kansas City, and Sporting Park, home to the Major League Soccer's Sporting KC. In 2017 and 2018, the Wyandotte Youth Soccer Complex and U.S. Soccer National Training and Coaching Development Center opened in the Village West district.
Hotel Supply Growth
The strong economic growth throughout the region has brought a wave of new hotel development along with it.
Kansas City Hotel Supply Growth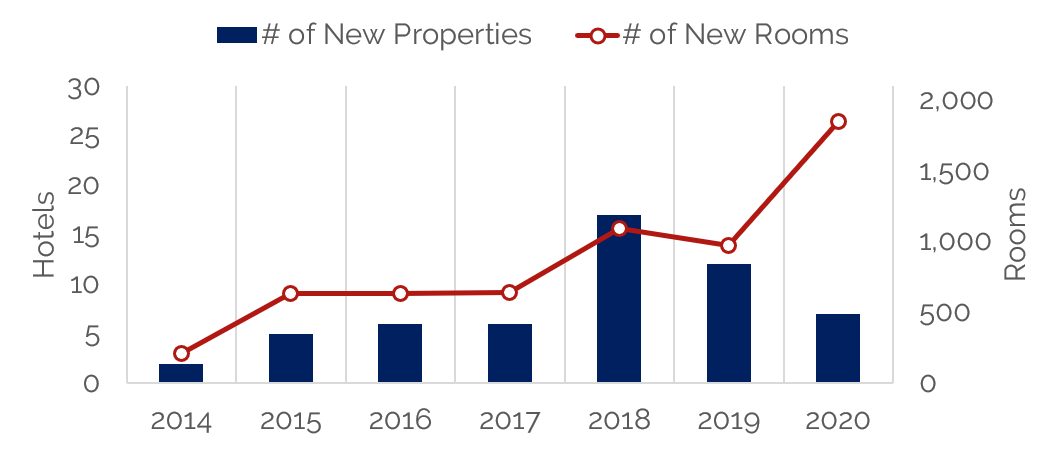 Source: HVS
The pace of new hotel development was relatively steady from 2015 through 2017; however, the number of projects and rooms entering the market has trended significantly upward in 2018. This strong pace is expected to continue in 2019 and then peak in 2020, concurrent with the opening of the 800-room Loews Convention Center Hotel that is currently under construction. At the outset of 2018, the market included a total of approximately 270 hotels (roughly 31,000 rooms). The anticipated supply growth from 2018 to 2020 represents an increase of approximately 13.5% in the number of hotels and 12.5% growth in the number of rooms.
Most of the projects being tracked by HVS have either already entered the market in 2018 or are under construction, with the remaining projects in some stage of planning and/or development. The following chart illustrates a breakdown of the development stages of the more than 5,000 rooms among the approximately 50 new hotel projects that we are tracking.
New Hotel Rooms by Development Stage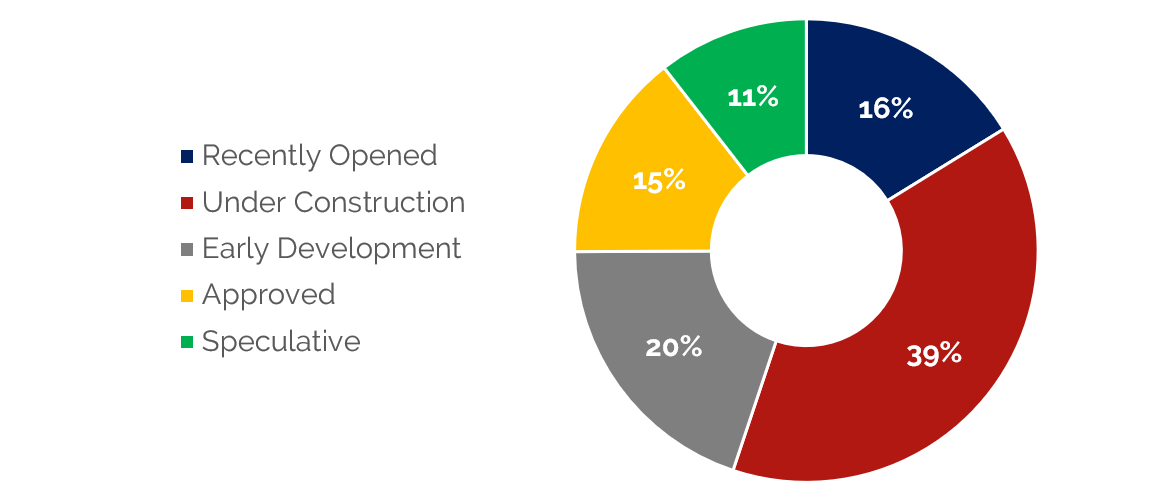 Source: HVS
Much of the development activity is taking place within the Downtown/Crossroads submarket, anchored by the new convention center hotel and supported by the area's burgeoning status as a regional destination for arts and culture. The Johnson County Kansas submarket is also experiencing a strong hotel development pipeline, as the area continues to be one of strongest growing counties in Kansas and an economic engine for the State. The follow graph illustrates a breakdown of the region's hotel development activity by submarket.
Hotel Development Activity by Submarket

Source: STR
The current wave of hotel developments in Kansas City runs the gamut of product type and chain scale; however, the largest emphasis has been on the development of extended-stay and upper-midscale properties. The following graphics illustrate a breakdown of the ongoing development activity by product type and chain scale.
Rooms In Development by Class

Rooms In Development by Scale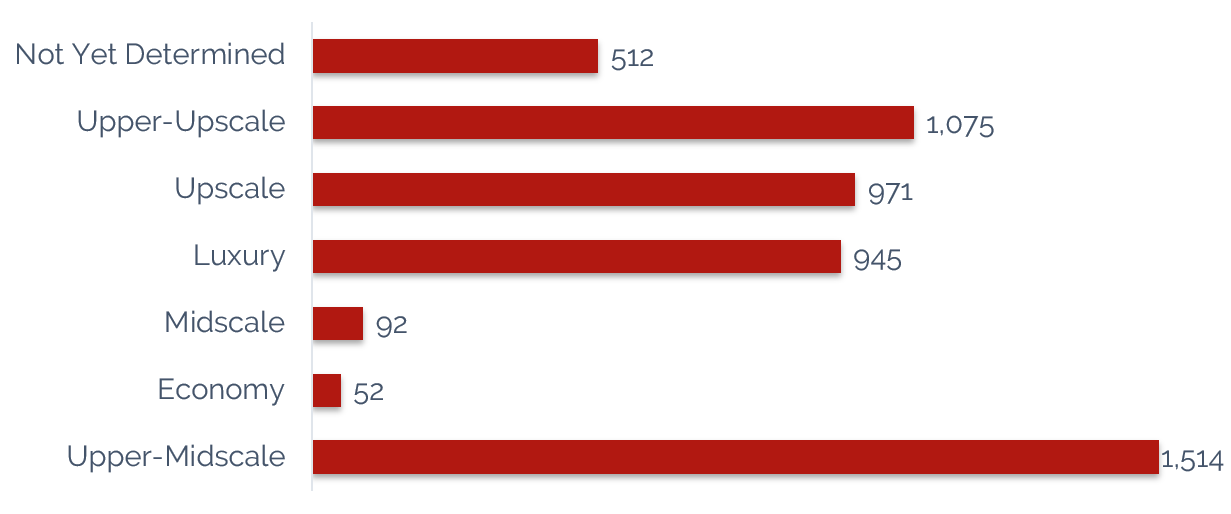 Source: HVS
Local officials and hotel developers have worked for several years to bring a new convention center hotel to the Downtown Kansas City market, particularly given the relocation or loss of several large conventions in recent years. In 2009, Walmart moved its annual managers' meeting away from Kansas City, which was the city's largest annual convention at the time, citing the limited hotel rooms in the downtown area as the primary reason. In 2014, SkillsUSA national competition ended a 21-year run in Kansas City, which brought in approximately 15,000 attendees annually, noting that the event had outgrown Kansas City's available hotel and convention space. More recently, the city was eliminated from consideration for the 2016 Republican National Convention after making it into the top four, with one of the deciding factors being the relative lack of high-quality hotels near the downtown Sprint Center. The 800-room Loews Convention Center Hotel, which broke ground in March 2018, is expected to open by 2020 and feature an additional 60,000 square feet of convention space, supporting and complementing the adjacent downtown convention center. Additionally, over 330 rooms have opened in the downtown area, just within the second half of 2018, with two additional hotels under construction as of November 2018.
While the Kansas City area is certainly experiencing a hotel boom, it is not significantly greater than recent and planned hotel growth in other similar metropolitan areas. Comparing metropolitan areas with roughly 2,000,000 residents, Kansas City's existing hotel supply and growth levels are about average, falling above midwestern cities such as Indianapolis and Cincinnati, but below the boom of the more active Nashville and Austin hotel markets.
Comparable City Hotel Supply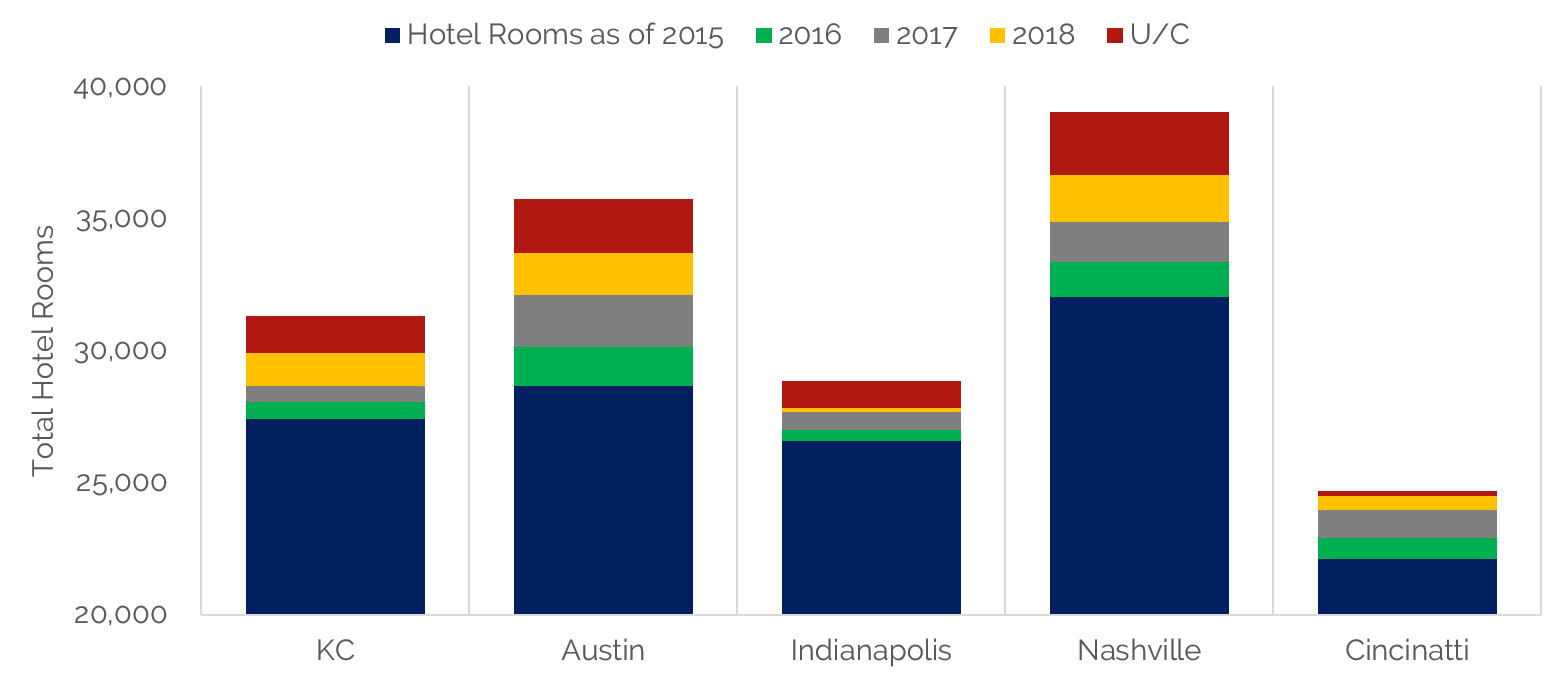 Source: STR, HVS
Conclusion
The continued expansion of the local economy, including several major economic development projects, as noted previously, should continue to bolster hotel demand. However, the sheer volume of new hotel rooms under development is expected to present some headwinds for the performance of the local hotel market. Existing hotel properties in select submarkets throughout the region have already begun to realize a softening of occupancy and revenue levels. Going forward, the relative struggle or success of individual hotel properties will be dependent on a variety of factors, including location, condition, brand, and product type. Although the overall market is anticipated to experience some fluctuation in performance levels in the near term, the expected increase in commercial, leisure, and convention demand over the next several years should help in the absorption of new supply.
HVS Omaha,
overseeing portfolios, major consulting assignments, valuations, market studies and feasibility studies for our valued clients. Sara earned her bachelor's degree in Hotel, Restaurant, and Tourism Management and a minor in Real Estate from the University of Denver. Her prior hospitality-related experience includes front-line work and sales-focused internships at full-service hotels in Colorado and Nebraska. Contact Sara at +1 (402) 690-0407 or
[email protected]
.
Sara Olson, MAI is a Director and oversees