The
Sacramento metropolitan area
includes seven counties in California:
Sacramento
,
Yolo
,
El Dorado
,
Placer
,
Sutter
,
Yuba
, and
Nevada
. The area is home to a wide variety of higher-education institutions, including two major public universities, many private and community colleges, and vocational schools. Healthcare is also an important component of the economy, with organizations including Kaiser Permanente, Sutter Health, Vision Service Plan, Catholic Healthcare West, and the Sacramento VA Medical Center. In addition, the UC Davis Medical Center, a world-renowned research hospital, is in Sacramento.

Sacramento is experiencing a period of economic expansion, concurrent with growth in the healthcare sector and local development projects. Unemployment in the greater market has continued to decline since the recession, closing out 2017 at 4.5%, down from 5.3% in 2016, and was slightly lower than the state average in the California. Meanwhile, airlift in the Sacramento area has also improved, with significant year-over-year increases in passenger traffic at the Sacramento International Airport (SMF). Major indicators for the second quarter of 2018 reflect a continuation of these trends, which bodes well for the market's lodging industry.
Commercial Developments
Downtown Commons (DoCo)
The Sacramento area has enjoyed strengthening and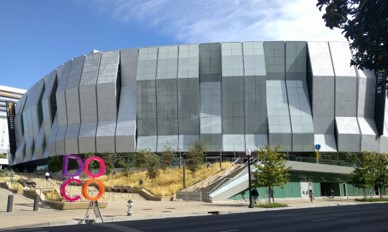 economic expansion in recent years, with new development centered on Downtown Sacramento. Downtown Commons (DoCo), formerly known as Sacramento Downtown Plaza, Westfield Downtown Plaza, and Downtown Plaza, is a 1.5-million-square-foot, mixed-use entertainment and shopping complex. Encompassing six square blocks, the complex is anchored by Macy's, 24-Hour-Fitness, Century Theatres, and the Golden 1 Center. Opened in September 2016, the Golden 1 Center is home of the NBA's Sacramento Kings. As the first new, LEED-Platinum-certified indoor arena in the United States, the venue has hosted numerous concerts, conventions, and other sporting and entertainment events.
Amazon Fulfillment Center
Amazon launched its new fulfillment center in October 2017. The 855,000-square-foot distribution site is located at Metro Air Park near the Sacramento International Airport. The company's eleventh fulfillment center in California is expected to eventually employ roughly 1,500 people when operating at full capacity. The distribution center also features robotic technology to assist in moving products.
Sacramento Railyards
The Sacramento Railyards is a major urban infill project that covers approximately 244 acres between Sacramento's downtown Central Business District and River District. Over the next 15 to 20 years, the master-planned development is expected to include up to 12,000 housing units, 2,900,000 square feet of office space, 1,900,000 square feet of retail space, a hotel, and other commercial uses, as well as 41 acres of parks and open space. In addition, the Railyards is also anticipated to feature a 1.3-million-square-foot Kaiser Permanente flagship medical center campus. Furthermore, the Sacramento City Council has approved plans for a $226-million, 25,000-seat stadium if Sacramento Republic FC secures a franchise with Major League Soccer (MLS).
Convention Center Expansion
The Sacramento Convention Center, located in the heart of Downtown Sacramento, was expanded in 1996. It is equivalent in size to the convention centers of other second- and third-tier cities, such as Long Beach and Santa Clara. The Sacramento Convention Center includes 134,000 square feet of contiguous exhibit space, 31 meeting rooms, an outdoor garden terrace adjacent to an elegant 24,000-square-foot ballroom, and two separate 10,000-square-foot registration/pre-function areas. The complex also includes the 3,849-seat Memorial Auditorium, the 2,422-seat Community Center Theater, and the 272-seat Jean Runyon Little Theater.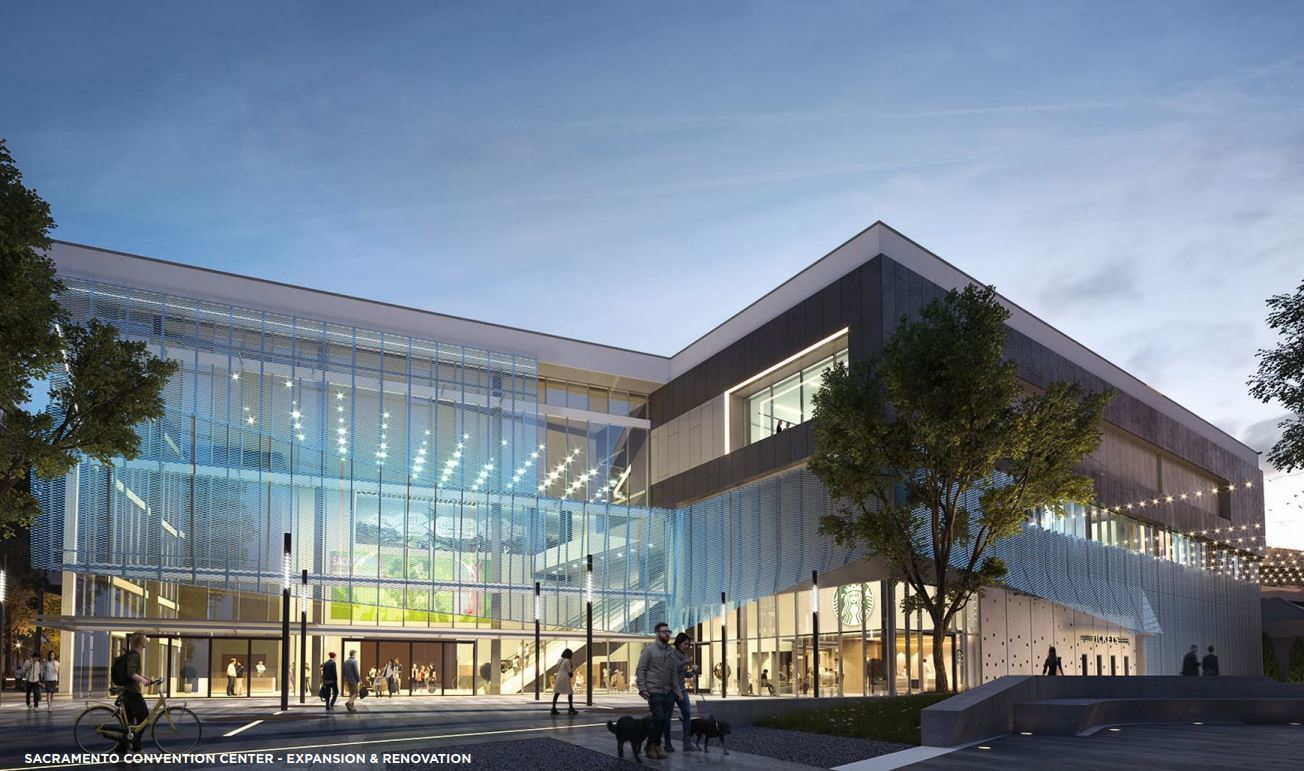 Source: City of Sacramento
In 2013, the Sacramento Convention and Visitors Bureau considered a $200-million expansion; however, despite business advocates pressing for a bigger renovation, plans were scaled down to a $125-million expansion to be completed in multiple phases. In May 2017, the Sacramento City Council approved plans to expand the convention center to 205,000 square feet, inclusive of new exhibit space, meeting rooms, lobbies, and kitchen facilities. A second phase could include a new, 40,000-square-foot ballroom, as well as a 300- to 400-room hotel adjacent to the expanded center. In June 2018, a report from the Sacramento City Council revealed that the price tag for the project had grown to between $220 and $234 million based on latest cost estimates. At the request of local hotel owners, the timeline for construction on the $40-million ballroom has been pushed to Phase I, with financing anticipated to be provided by area hotels through the establishment of an assessment district. In June 2018, the City of Sacramento approved a final environmental impact report (EIR), inclusive of preliminary architectural drawings. Construction is anticipated to begin in February 2019, with the convention center closed between July 2019 and November 2020; the completion is tentatively scheduled for March 2021.
Kaiser Permanente Downtown Facilities
In 2014, Kaiser Permanente purchased the six-story Sacramento Corporate Center, located across the street from DoCo, for approximately $40 million. The former 200,000-square-foot office building reopened in June 2018 as medical offices and an outpatient clinic.
University of California, Davis – Aggie Square
UC Davis Chancellor Gary May and Sacramento Mayor Darrell Steinberg announced a partnership in April 2018 to build a 25-acre campus along Stockton Boulevard, bordering Oak Park. A prospective extension of UC Davis, Aggie Square is envisioned to incorporate research labs, education facilities, retail space, and housing as part of a two-million-square-foot research campus and industry innovation center. While a timeline for construction has yet to be announced, the development is anticipated to span many years.
New Lodging Supply
According to Smith Travel Research (STR), the greater Sacramento County lodging market encompasses nearly 150 open and operating lodging facilities totaling roughly 15,000 guestrooms. These figures reflect a large inventory of smaller, economy-scale hotels; approximately 50% of these properties offer fewer than 100 rooms. Following the last recession, no hotels opened in the greater market between January 2010 and May 2015. Since then, the market's performance metrics have improved given the state budget surplus, increases in government per-diem rates, a lack of new competitive supply, and stronger overall hotel demand levels. As such, there has been a growing interest in new hotel development. Adaptive reuse of existing buildings into boutique hotels is the predominate lodging product proposed for development in Downtown Sacramento, while branded midscale, upscale, and extended-stay products have been proposed for the surrounding submarkets; these proposals mirror nationwide trends. Some notable projects recently opened or currently under construction include the following:
Kimpton's The Sawyer Hotel opened in October 2017. The hotel is part of a 17-story, mixed-use tower that also features branded residences. Facilities and amenities include two food and beverage outlets, an outdoor pool area, a fitness center, and approximately 22,000 square feet of meeting space. Located within the Downtown Commons mixed-use entertainment and shopping complex, this hotel benefits from its proximity to the new Golden 1 Center arena.
In February 2018, Jackson Properties opened a four-story, 116-room Hampton by Hilton off 65th Street in Sacramento. A 106-room Home2 Suites by Hilton and a 5,000-square-foot retail building are anticipated to be built adjacent to the new hotel.
The San Francisco-based Presidio Hotel Group has announced plans to develop a Hyatt Centric at the site of the former historic Hotel Marshall, located on the northwest corner of 7th and L Streets. The proposed full-service hotel is expected to preserve the historic façade of the Hotel Marshall and is anticipated to feature 159 guestrooms, a first-floor jazz club, and a rooftop restaurant and lounge. While Sacramento's Preservation Commission approved the hotel plans in 2015, the property is not anticipated to open until late 2020.
There has been significant developer interest in Downtown Sacramento, as year-end 2017 occupancy levels registered near the 80% mark. Proposed hospitality projects within this submarket include up to 1,100 hotel rooms at the Sacramento Railyards, the conversion of the California Fruit Building from office space into a 102-room boutique hotel, the redevelopment of the closed Clarion Hotel Mansion Inn, and a potential 300- to 400-room hotel in conjunction with the expansion of the Sacramento Convention Center.
In June 2015, a seven-year moratorium on new construction in Sacramento's Natomas community was lifted after a revised flood map was approved by the Federal Emergency Management Agency (FEMA). Since then, eight hospitality projects have been proposed, with one currently under construction. Most of these proposed hotels feature an extended-stay product and range between midscale and upscale in terms of product tier. Some notable brands proposed for development include the TownePlace Suites by Marriott, Element by Westin, WoodSpring Suites, Candlewood Suites, and Home2 Suites by Hilton.
Over 3,700 New Rooms Could Open in Sacramento through 2020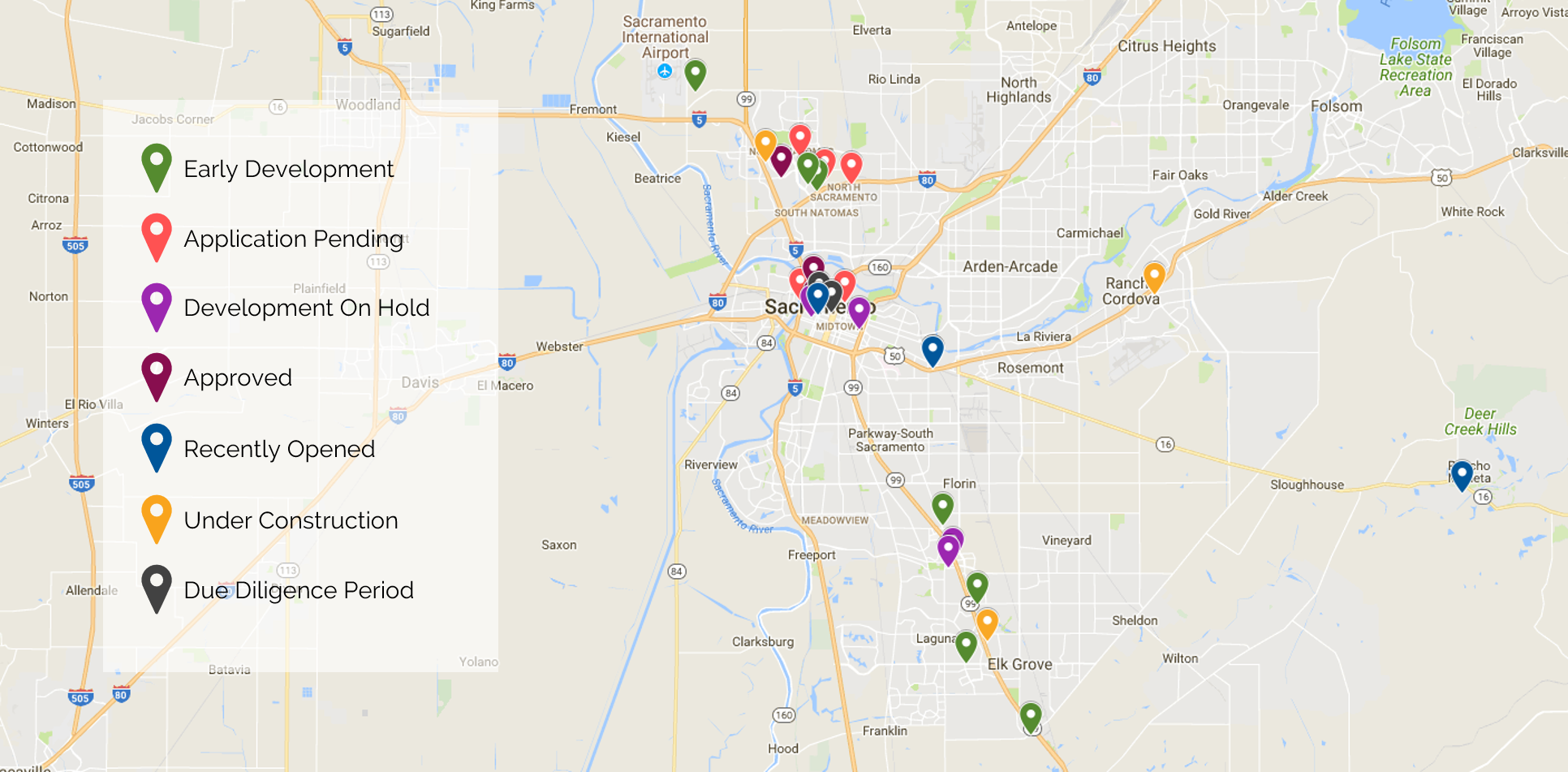 Conclusion
The Sacramento area is supported by a number of major employers and institutions that provide a solid foundation for the local economy. In addition, the recent opening of the Golden 1 Center is supporting renewed growth in the city's downtown core. Various planned projects, including the expansion of the Sacramento Convention Center, are also expected to bode well for the market; as such, the overall outlook is optimistic.