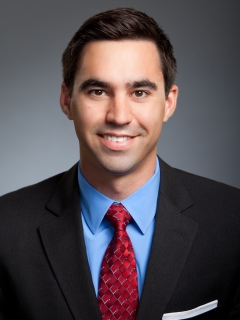 A weak energy sector has led to negative lodging fundamentals throughout much of the greater Houston region; however, one destination continues to illustrate its resilience. Galveston Island has realized year-over-year growth in total visitation in each of the past seven years following Hurricane Ike. While the rate of growth has slowed in recent years, no doubt somewhat affected by volatility in the energy sector, positive factors such as the recently completed expansion of the cruise terminal and the low gasoline prices have contributed to the growth in visitation numbers. This article will explore tourism trends on Galveston Island.
Galveston Island is a 64-square-mile barrier island located 50 miles southeast of Houston. With 32 miles of beaches, a variety of historic neighborhoods, ample leisure attractions, and a multitude of festivals, the tourism industry remains a mainstay of the local economy. The relative affordability of the island, and the proximity to and size of the Houston metropolitan area contribute to the strength of this industry.
Tourism Trends
In 2016, Galveston welcomed 6.5 million visitors, increasing for the seventh consecutive year. Tourism developments, such as new hotel supply and increased cruise-passenger capacity, have fueled this economic expansion. The following table illustrates total visitation for Galveston Island since 2008.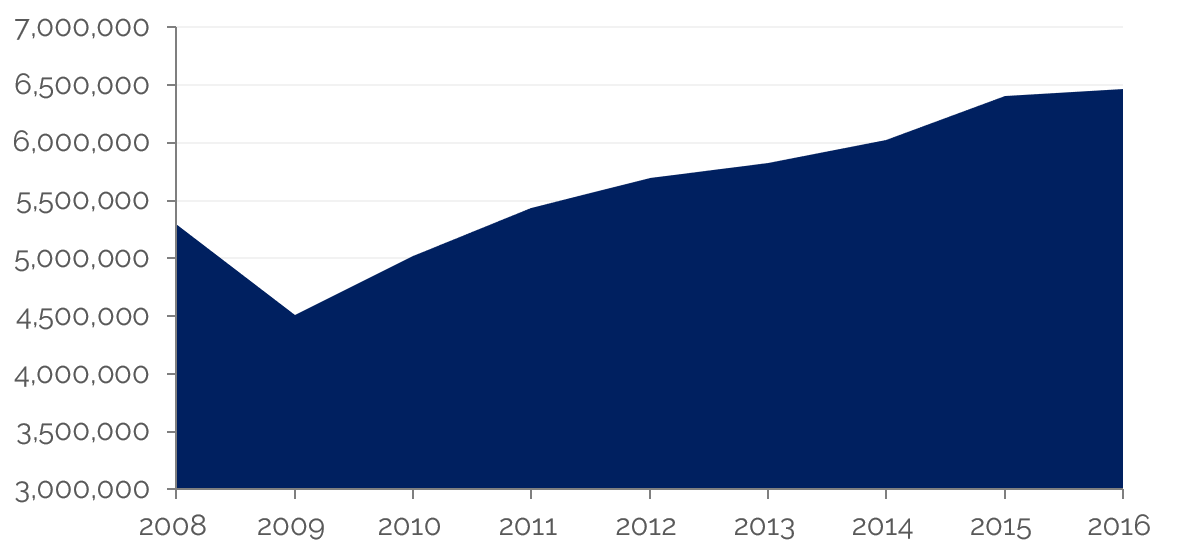 Source: Tourism Economics
Unemployment trends can provide additional perspective on the overall economic health of the city. As illustrated in the following table, after strengthening from 2012 through 2015, economic headwinds in the energy sector likely contributed to a slight uptick in unemployment in 2016. However, recent data illustrate a positive trend, with unemployment in July 2017 down 50 basis points from the prior year.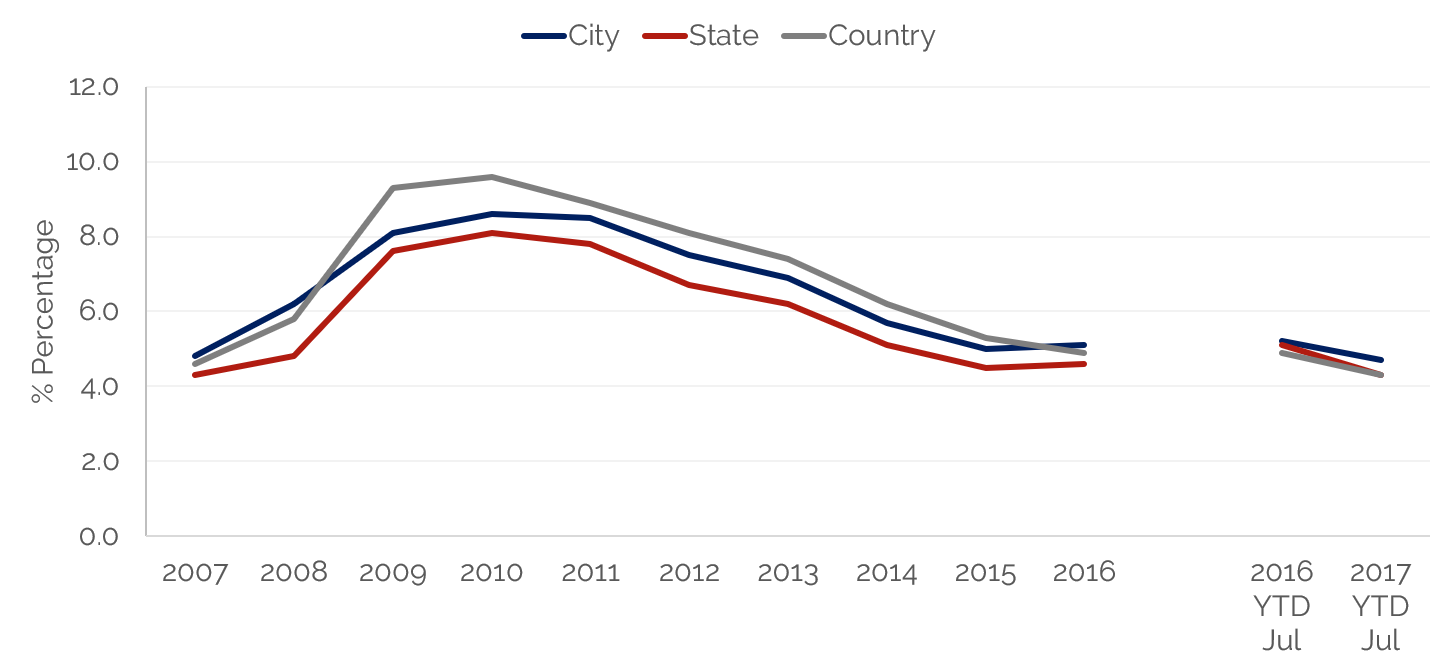 Source: U.S. Bureau of Labor Statistics
According to the Galveston Park Board of Trustees, the July 4th holiday weekend saw a material improvement over the prior year, with occupancy up almost 15% and average daily rate (ADR) up nearly $20. Good weather and special events were cited as contributing factors.
[1]
Other major factors that have contributed to the continued strengthening of the tourism industry include low gasoline prices (Galveston is primarily a drive-to market) and increased cruise-ship calls and passenger numbers.
The Port of Galveston ranks fourth among all U.S. cruise ports, according to the most recent study completed by Cruise Lines International Association.
[2]
Carnival Cruise Lines and Royal Caribbean International are the two primary cruise lines operating out of Galveston, both of which have increased their presence in recent years. The Port completed a $10-million, 60,000-square-foot expansion of Terminal No. 2 in 2016. The expansion was part of an agreement with Royal Caribbean International to accommodate larger cruise ships, such as Liberty of the Seas, which began sailing from Galveston in late 2015. Decreased competition from the nearby Port of Houston cruise terminal in Pasadena, which closed in 2016 after only opening in late 2013, has contributed to the strengthening passenger numbers at the Port of Galveston. The following table shows the cruise-ship calls and total passenger numbers for the Port of Galveston since 2007.
Source: Port of Galveston
The potential addition of a third terminal and an additional sailing by Carnival Cruise Line (scheduled to begin in September 2018) are expected to bolster visitation numbers and hotel performance in the coming years, as many cruise passengers typically spend the night prior to their departure and after their return in Galveston.
Hotel Developments
New hotel supply continues to open in Galveston, although the percentage increase in new supply remains low relative to the national average given Galveston's high barriers to entry. New hotel openings in 2016 included a 60-room Americas Best Value Inn and a 96-room Best Western Plus, while an 88-room Homewood Suites by Hilton opened in 2017. This new supply should be quickly absorbed given the strength of the leisure segment in Galveston, bolstered by a $48-million beach-nourishment project that was completed in 2016, as well as by recently completed expansion and renovation projects at major attractions such as Schlitterbahn Galveston Island and Moody Gardens.
Hurricane Harvey
In late August, Hurricane Harvey struck the Texas Coast and caused wide-spread damage from North Padre Island to Houston. Galveston was affected with flooding; however, the damage was considerably less than that caused by Hurricane Ike, specifically related to commercial property damage. No major closures of hotel properties were reported, and the beaches and tourism attractions were reopened in time for the Labor Day holiday. However, the Port of Galveston reports that five cruises were canceled due to the storm. While the long-term effect of the considerable damage suffered by residents of Houston, Galveston's main feeder market, is likely to have some affect on Galveston, the Island remains a popular, relatively low-cost option for discretionary income spending.
Conclusion
Despite the depressed energy sector, the lodging fundamentals on Galveston Island remain sound. A favorable supply pipeline, continued public and private development, and increased cruise-ship calls should bolster performance in the near term. Potential increased cruise competition from developments in South Texas and city regulations on hotel development along the seawall are possible issues of which developers and owners should remain watchful.
Galveston is a city and community that has weathered many storms in its long history, and it continues to emerge stronger and better. Given the continued investment in and advancement of the tourism industry, coupled with economic mainstays such as healthcare and education, the outlook for this resilient Texas town is positive. Proper due diligence should prepare hotel stakeholders to find niches in the market and maximize hotel profitability.
---
[1] Galveston Island Park Board of Trustees (2007, September 25). Galveston Park Board Update: July 27, 2017. Retrieved from http://www.galvestonparkboard.org/CivicAlerts.aspx?AID=22
[2] Cruise Lines International Association (2017, October). 2016 U.S. Economic Impact Analysis. Retrieved from http://cruising.org/docs/default-source/research/us_economicimpact-100217.pdf