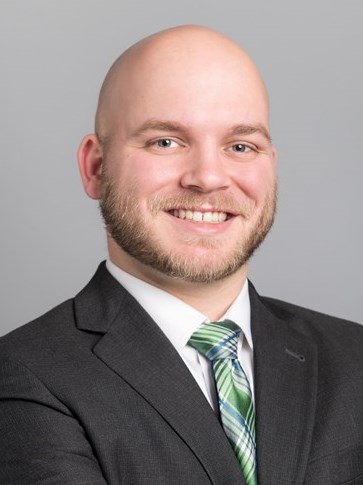 Tucson, like much of the Southwest, has undergone a prolonged recovery since the 2008/09 recession. Tucson's hotel market realized unprecedented growth in the years leading up to 2008. But the hotel supply pipeline has been muted in recent years, and hotel performance still falls short of the prior peak.
There are several factors that have affected historical hotel performance trends in Tucson, including a large amount of lower-rated government demand, which draws down the overall average rate in the market, and the relatively limited number of direct flights from Tucson International Airport. However, the extenuating circumstances behind the long-drawn recovery of Tucson's lodging market, in many ways, trace back to the performance of its resort segment.
Hotel Supply Dynamics in Tucson
Together, Economy and Midscale Assets Form Most of the Hotels in Tucson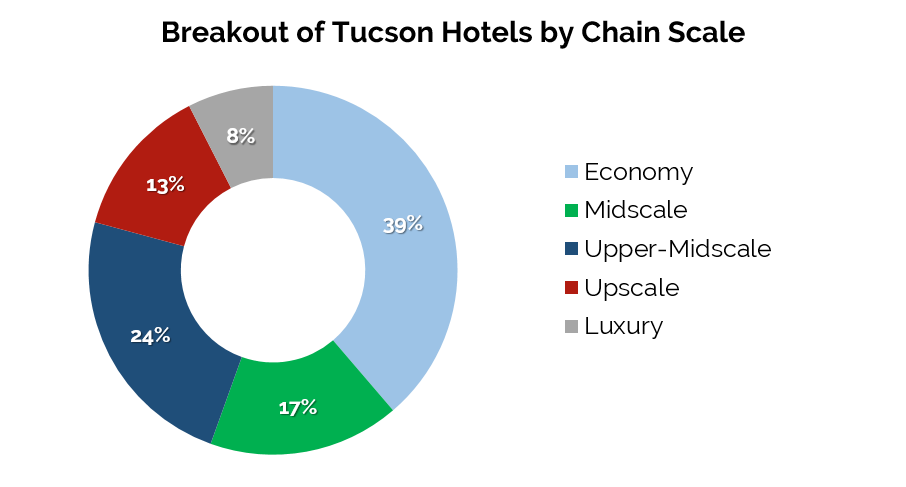 Source: STR Reporting List
Upper-Midscale Hotels Account for the Most Rooms among Hotel Classes in Tucson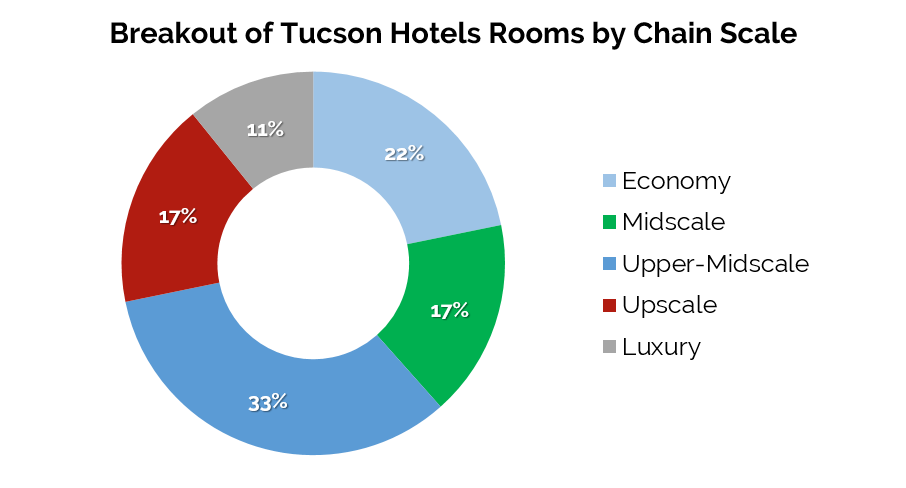 Source: STR Reporting List
Tucson offers a robust resort segment for a secondary destination market. In theory, the pricing power commanded by these top-tier hotels brings up average rates for hotels across the market. Since the recession, however, Tucson's resort segment has struggled to provide this lift and, in many cases, resorts have been forced to compete directly with non-resort properties for demand.
These full-service, meeting-and-group-focused resorts in Tucson depend on demand from sources throughout the nation, and the market's performance is inextricably tied to the health of Arizona's primary destination resort market: Phoenix/Scottsdale.
Overflow meeting and group demand from Phoenix/Scottsdale is typically needed to push Tucson resorts to the robust level necessary to command higher rates, which in turn boost overall rate for the Tucson market. The vast amount of resort supply between Phoenix/Scottsdale and Tucson requires very strong meeting and group demand nationally; however, the slow recovery of national meeting and group travel, coupled with the boycotts created by State Bill 1070, had previously suppressed demand within this segment in Tucson.
Overall Hotel Performance and Recent Transactions in Tucson
RevPAR Growth for Tucson Resorts and Market-Wide Hotels

Source: HVS
On the positive side, the pace of recovery for the Tucson hotel market appears to be quickening. Overall RevPAR for Tucson hotels continued to rise in 2016, as improved resort performance in recent years has given lift to the market. General improvements in the local, state, and national economy in the past two years have also supported hotel performance in Tucson.
Furthermore, developments such as American Airlines' new nonstop flight to/from New York City, the ongoing $400-million expansion of the Banner-University Medical Center, and Caterpillar's planned regional headquarters in Downtown Tucson have also boosted hotel demand. These cornerstone developments continue to create a more diverse and economically strong Tucson, which is expected to lead to an improved lodging market going forward.
Coinciding with this increased economic activity is the expectation for continued positive performance in the market's resort segment. Improvements in national meeting and group travel and the recent completion of extensive renovations to the Hilton El Conquistador Resort and Loews Ventana Canyon Resort should help boost the segment's performance in the near term, generating a trickle-down impact throughout the Tucson market.
Hotel Transactions and New Supply
Since April 2014, the 13 hotel transactions in the Tucson market have totaled nearly $170 million. The Ritz-Carlton Dove Mountain commanded the highest overall price and highest price per room. The Loews Ventana Canyon Resort ranked second in terms of overall sale price; however, at $84,068, the hotel's price per room fell well below the other top-tier hotel sales during this period.
Tucson Resorts and the Aloft Command Highest Prices Among Recent Hotel Sales

Source: Real Capital Analytics
Proposed Hotel Supply in Tucson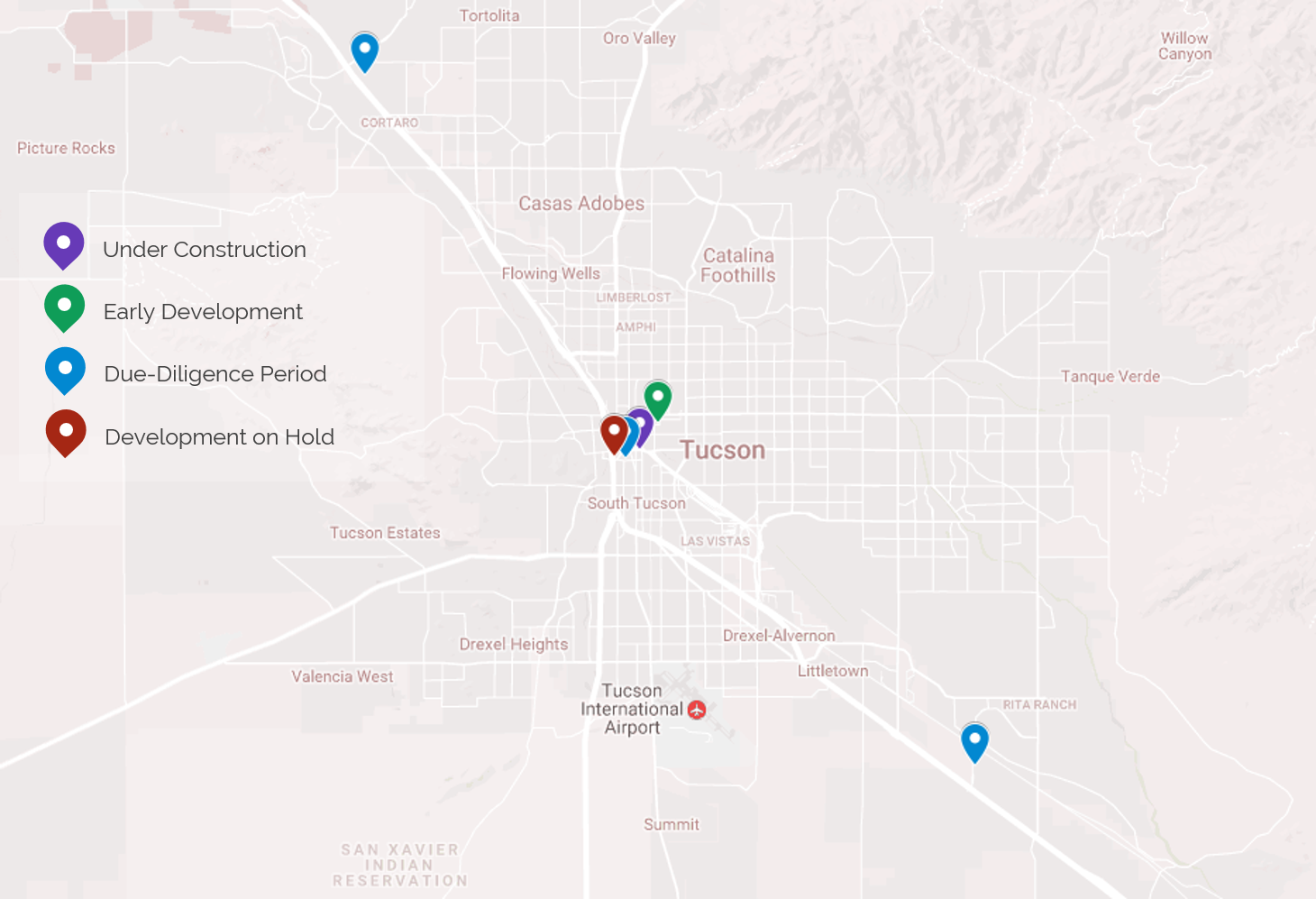 Source: HVS
Another sign that the market is gaining traction is the uptick in proposed hotels in Tucson for the first time since the recession. Currently under construction, the 137-room AC Hotel by Marriott will be Downtown Tucson's first lifestyle hotel when it opens in the summer of 2017. This development, much like the opening of the Sun Link light-rail system in 2014, is a direct result of a diligent, citywide rebranding campaign known as "Free Yourself." This promotion and its related efforts have helped position Tucson as an urban oasis that opens to a diversity of outdoor recreation. The City's efforts have been rewarded with unprecedented investment in its downtown core over the last few years, which will continue with the opening of the AC Hotel by Marriott this summer.
In addition to Downtown Tucson, other areas that are attracting development interest include the Main Gate area near the University of Arizona, as well as rapidly developing areas along Interstate 10 in north and south Metro Tucson. Many of these planned hotel projects are limited- and select-service in nature, which fits the current demand profile and price threshold in those submarkets.
Looking Forward
As this lodging cycle matures, Tucson's paced recovery may afford it a longer runway compared to many markets throughout the country. While Tucson still has work to do before returning to pre-recession operating peaks, current operating metrics for the market are encouraging, with major economic announcements in 2016 setting the stage for continued growth in 2017.
Michael Smithson, Vice President of our Phoenix office, melds a passion for hotels with a mind for all the intricacies of hotel development, financing, and valuation. Michael graduated magna cum laude with a BS in Hotel & Restaurant Management, with a concentration in Hotel Development and a minor in Finance, from the Conrad N. Hilton College at the University of Houston. Michael is also a Certified Hotel Industry Analyst (CHIA). Contact Michael at