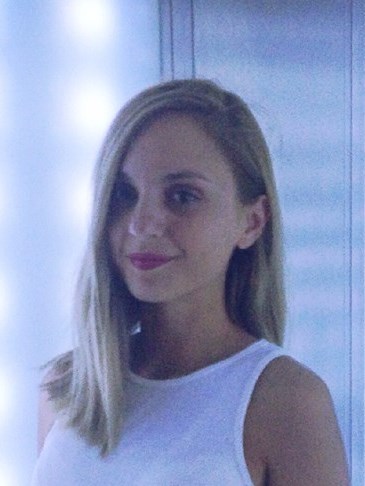 Introduction
The Prefecture of Halkidiki is located in the southeastern portion of Central Macedonia and consists of a large peninsula in the northwestern Aegean Sea resembling a hand with three "fingers" – Kassandra, Sithonia, and Agion Oros which contains Mount Athos and its monasteries. Kassandra has popular tourist resorts with organized beaches. The second peninsula, Sithonia, features less organized resorts and more secluded coves. The third peninsula, Mount Athos, is a secluded monastic community where entrance is allowed only to men and after special permission. The prefecture occupies 2,918 km² of land and features approximately 105,000 permanent inhabitants.
LOCATION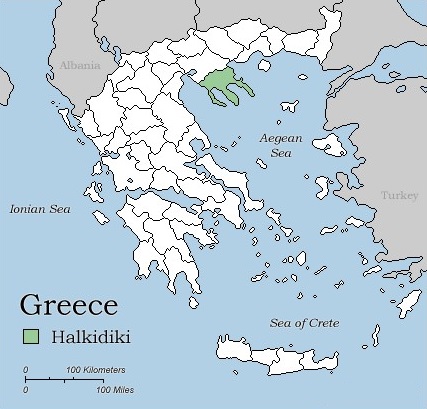 Tourism
Halkidiki has been a popular summer tourist destination since the late 1950s when people from Thessaloniki started spending their summer holidays in the coastal villages. With over 300 days of sunshine throughout the year and 54 EU Blue Flag awards for the clean waters of its beaches - more than any other Greek region – it is obviously a popular choice for a holiday destination. At the beginning tourists rented rooms in the houses of locals. By the 1960s, international tourists, especially from Austria and Germany started to visit Halkidiki more frequently. Since the start of the big tourist boom in the 1970s, the whole region has been captured by European tourists but also those originating from countries close to the northern borders of Greece that access the region by automobiles. Halkidiki is also a popular destination amongst Christian Orthodox populations (e.g. Serbians, Ukrainians, Russians, etc.) because of its proximity to the monastic community of Agion Oros and its monasteries that are considered to be some of the most significant places for the religion.
HALKIDIKI - TYPICAL LANDSCAPE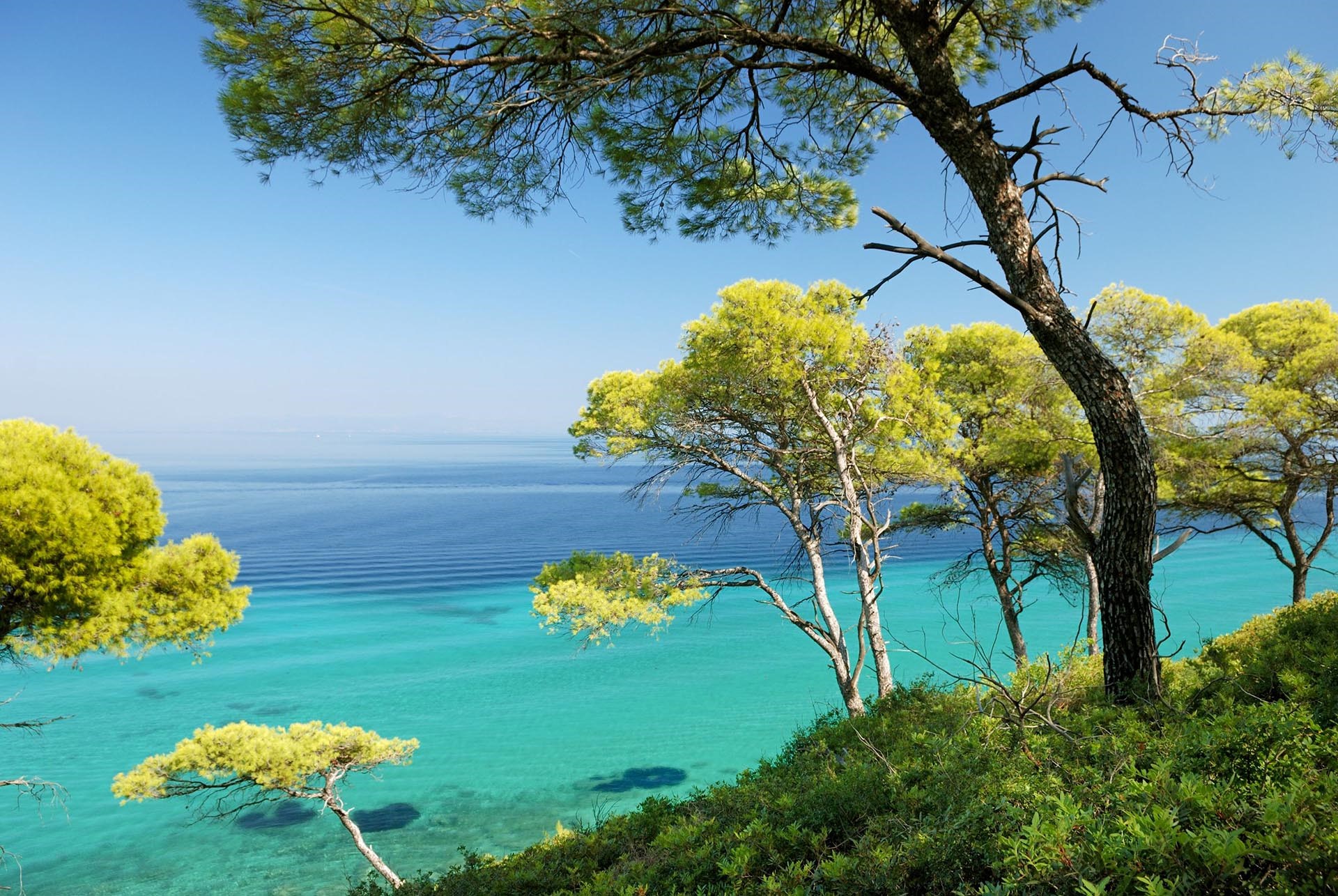 Accessibility
Halkidiki is easily accessible with every means of transport.
By Air
Primary air transportation to all areas of Halkidiki is provided through Thessaloniki International Airport that is the third largest airport in the country. Its presence is crucial for the unceasing development of tourism in the wider area. It opened in 1930 and is the second busiest airport in Greece in terms of flights served and the third busiest in terms of passengers movements served in 2016, with over five million passengers. It is the main airport of Northern Greece and serves the city of Thessaloniki, Halkidiki and the surrounding cities of the region of Central Macedonia. There are several airlines flying to Thessaloniki International Airport connecting other Greek or European cities to Thessaloniki with the most important (in terms of the number of connecting destinations) being: Aegean Airlines, Astra Airlines, Ellinair and Ryanair. However, most of these flights operate on a seasonal basis which inhibits the annual operation of tourism-related business. Air travelers can fly into Thessaloniki and get transportation from there to Halkidiki with most touristic places being within 60 and 120 minutes driving time from the airport.
ACCESSIBILITY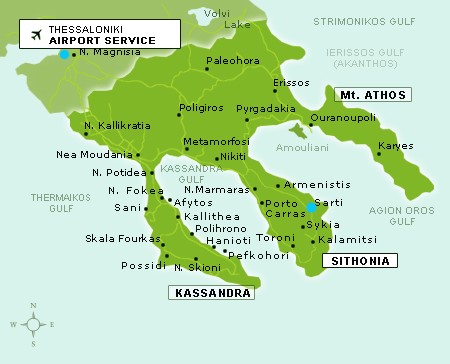 By Car
The significance of road arrivals for Greek tourism is extremely important since one in every three visitors enters the country by car. In fact, out of the 25.1 million international arrivals in 2016, approximately 8.5 million tourists arrived by car.
The Egnatia Motorway (Egnatia Odos), which crosses Greece from its westernmost edge to its easternmost borders with Turkey (Kipi, Evros), is a modern motorway of international standards, equipped with devices and safety systems that aim at protecting and helping the motorists. Egnatia Odos meets the Ring Road of Thessaloniki which leads to the road network towards Halkidiki. Roads are generally in a good state of repair throughout Halkidiki and the system is comprised of national, regional and provincial roads and motorways. A significant amount of domestic toursists traditionally reach Halkidiki by car and at the same time Halkidiki is located at a close driving distance to to all major Balkan cities which are major source markets of incoming tourism.
INDICATIVE DISTANCE MAP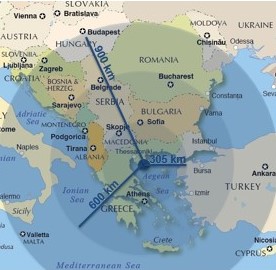 For travelers entering the country by car the main points of entry into Greece are the following:
Igoumenitsa (entering from Italy) that connects to the Egnatia Odos Motorway towards Thessaloniki and Halkidiki;
Kipi (entering from Turkey) that also connects to the Egnatia Odos Motorway towards Thessaloniki and Halkidiki;
Kakavia (entering from Albania) that leads to the National Road towards Ioannina until reaching Egnatia Odos towards Thessaloniki;
Evzoni (entering from F.Y.R.O.M.) that leads to the National Road towards Thessaloniki until reaching Egnatia Odos Motorway;
Promachonas (entering from Bulgaria) that connects to the National Road towards Thessaloniki until reaching Egnatia Odos Motorway.
By Sea
The port of Thessaloniki is easily reached from the city centre. Ferries from Thessaloniki leave regularly to the Sporades Islands (Skiathos, Skopelos, Alonissos, Skyros), to some of the Cyclades Islands (Tinos, Mykonos, Syros, Paros, Naxos, Santorini), to North Aegean (Limnos, Lesvos, Chios), to several Dodecanese islands (Rhodes, Kos, Kalymnos, Leros, Patmos) and to mainland ports at Pilion, Volos and Piraeus, Athens as well as to Heraklion in Crete. Additional access to some secluded and upscale properties in HalkIdiki is also be provided by
private marinas
located on site.
It is envisaged that the in the short-term future waterways will be added on to the country's ports in order to support seaplanes. That could be instrumental towards the extension of the tourism season and will promote new destinations while distributing the gains to local island communities and markets. After three years of bureaucratic procedures, the Greek state finalized the regulatory framework regarding the legislation and licensing of waterways and there has been a strong interest from investors to acquire rights on various waterways around the country but flights still remain to be inaugurated.
Demand Generators
Located in the first finger of the Halkidiki Peninsula, Sani is a village which ranks among the country's most popular sea resorts. Excellent beaches, lavish vegetation and unspoiled beauty are some of the reasons why this place has gained such popularity among travellers and investors who have chosen it to built some of the country's most luxurious properties;
Furka, another village located also in Kassandra prefecture, is known for its traditional houses , ancient churches, a thick pine forest and a parish church dating back to 1830. Visitors choose this place for its peace and serenity as well as to admire traditional Greek architecture;
Nea Skioni, Pevkochori, Polichrono, Nikiti, Neos Marmaras, Gerakini, Vurvuru are also some of the most popular villages in the wider area of Halkidiki with each one featuring different charactestics, history and natural beauty;
The Cave of Petrálona is located at 300 meters above sea-level on the western foot of Mount Katsika, one kilometer east of the eponymous village, about 35 kilometers southeast of Thessaloniki city on the Halkidiki peninsula. It is is considered to be one of the most impressive caves in Europe. People can also visit the nearby museum, where a large number of fossilised bones of different mammals are on display;
Ancient Olynthus is a well-preserved Greek city aging back to the Classical Period located in a fertile plain at the head of the Gulf of Torone;
Stágeira is lying on a picturesque plateau on the Chalcidice peninsula, and standing at the foot of the Argirolofos hill. It is the homeland of Aristotle who was born here in 384 B.C. The archaeological site includes an acropolis, fortifications, an ancient temple and Classical and Hellenistic homes;
Agio Oros (Mount Athos) is a unique monastic community and one of the most important sites for the Orthodox faith. Mount Athos has been inhabited since ancient times and is known for its nearly 1,800-year continuous Christian presence and its long historical monastic traditions, which date back to at least 800 A.D. and the Byzantine era. Today, over 2,000 monks from Greece and many other countries, including Eastern Orthodox countries such as Romania, Moldova, Georgia, Bulgaria, Serbia and Russia, live an ascetic life in Athos, isolated from the rest of the world. The Athonite monasteries feature a rich collection of well-preserved artifacts, rare books, ancient documents, and artworks of immense historical value, and Mount Athos has been listed as a World Heritage Site since 1988.
MONASTERY ON MOUNT ATHOS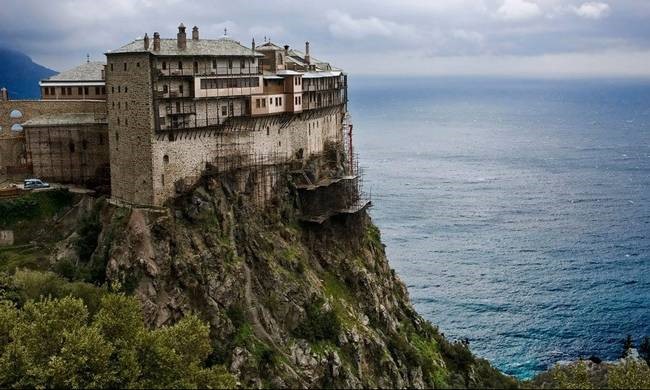 Besides, the region of Halkidiki offers plenty of other choices that attract tourists. During summer, a lot of remarkable artistic festivals take place in many parts of Halkidiki. Music provides the main focus, but the performing arts are also prominent, and every summer the region's open-air theatres play host to some major presentations. Lastly, many areas within the region are characterised as Natura 2000 which is the centerpiece of EU nature and biodiversity policy. Halkidiki features 12 protected areas of Natural Beauty and Biodiversity, by the Natura European Network within its boundaries.

The entire region boasts numerous kilometres of coastline and plenty of beaches while 54 of them are awarded with the "Blue Flag". Furthermore, the region hosts two of the largest marinas in Northern Greece that are parts of bigger integrated hotel resorts (namely the Porto Carras Grand Resort and the Sani Resort) and are also awarded with the "Blue Flag".
Economy
Primary sector
Halkidiki shows significant activity in the agricultural sector. There are 108.9 km2 of farmland and 276 km2 of pasture land 814 beekeepers and 152,385 beehives (9.7% of the national total), organic farming, fishing and aquaculture. A significant contribution to the local economy is also managed wood logging, forest fruits, game preys and aromatic herbs. Halkidiki one of the top producers in olive and citrus production in the country, while its subsoil is rich in coloured metals and minerals. Also various types of wine are produced with the most notable being proteceted under the quality assurance labels DOC/DOP.
VINEYARDS IN HALKIDIKI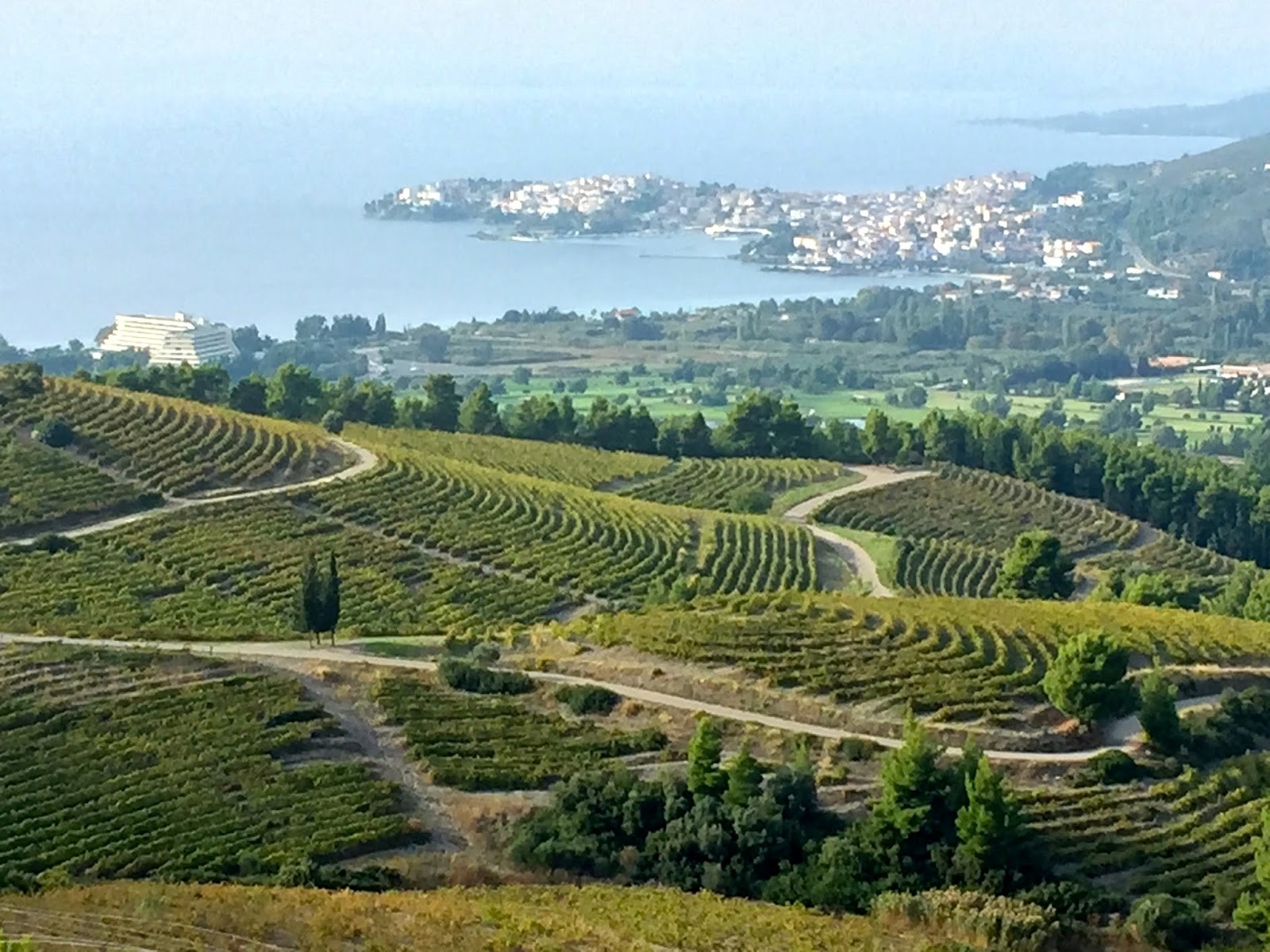 Secondary sector
Gold was mined in the region of Halkidiki during antiquity by Philip II of Macedon and the next rulers. As of 2013 a revival of mining for gold and other minerals is underway with a number of concessions having been granted to Eldorado Gold of Canada. However, critics claim that mining would adversely affect tourism and the environment.
Tertiary sector
Tourist development started in Halkidiki in the 1960s when the first tourist installations were established by the National Tourist Organisation (EOT): the Xenia hotels in Paliouri (Kassandra) and in Ouranoupolis (Ouranoupolis), near the border of Mountain Athos. However, the big boom took place during the period 1968-75 when big tourist complexes were built in Kassandra and Sithonia and the beauty of halkidiki was introduced to the tourist markets of Europe and America. Since then, tourism has continually increased and nowadays is the main source of income for most of the locals while its contribution to GDP of Halkidiki is vital.
Demand for Transient Accommodation
The historical volume of passenger arrivals at Thessaloniki International Airport is summarised in the following table.
Thessaloniki International Airport
FIGURE 1: DOMESTIC AND INTERNATIONAL ARRIVALS 2006-16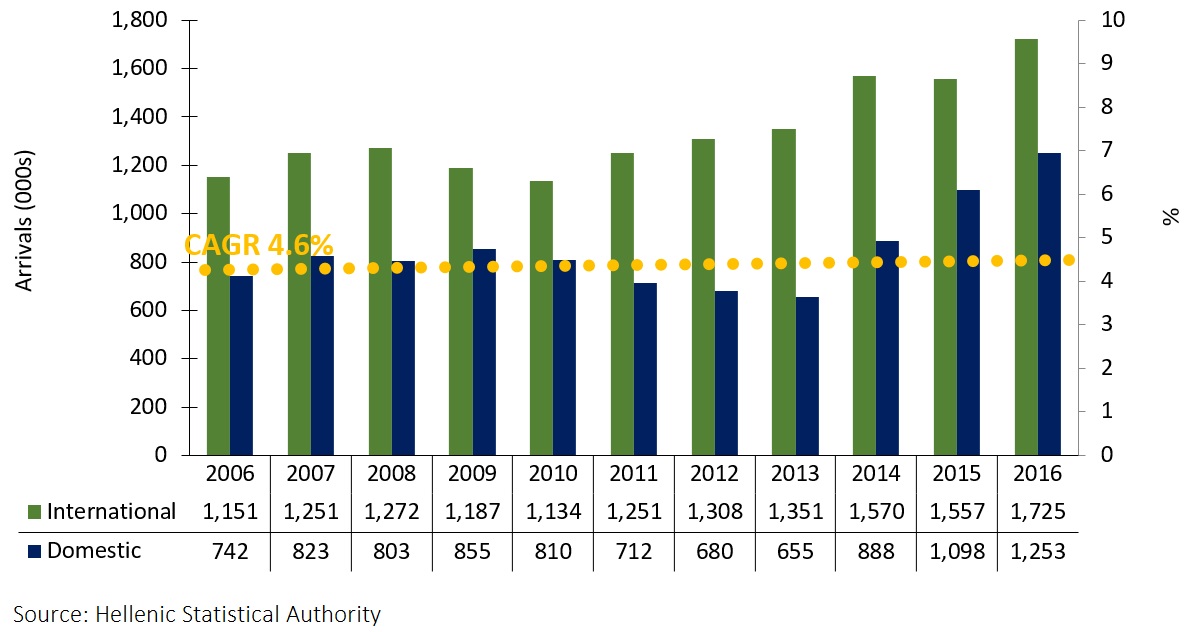 Total airport arrivals grew at a moderate Compound Annual Growth Rate (CAGR) of 4.6% during the past 11 years, attributed both to the increasing rate in passenger arrivals from overseas but also to the recovery of domestic tourism. Intra-period fluctuations varied from –4.8% in 2010 over 2009 to +9.6% in 2007 over 2006 while they reached a peak in 2014 when arrivals recorded an unprecedented growth of 22.5%. The continuous shrinkage of the available income within the national economy is noticeable when assessing domestic arrivals that have decreased by almost 20.0% during 2009-13 while afterwards they showed signs of noteworthy recovery reaching more than 1,2 million in 2016 and reducing the international share of arrivals in the region to 57.2%. It is evident that the opening of Ryanair route helped domestic traffic to record significant increase during the last few years.
The most promising sign for further tourism development in the short-term future is the recent concession of Thessaloniki International Airport by the German company Fraport which will soon pass under its management. The German airport operator will invest a total of 330 million euros in the upgrade and renovation of the 14 regional airports it now controls, according to its four-year action plan. The plans of Fraport envisage that by 2020 Thessaloniki will have one of the best airports in Southern Europe, with passenger traffic expected to increase by 48% by 2026, signalling a new era for tourism in the city and the wider region. The airport will be double in size, with the space of the terminal station rising from 25,000 m2 to 57,000 m2. Check-in stations will rise by 47%, baggage zones rising by 75%, the number of gates rising 50% and security zones in the airport to double in numbers. The project will also include a reorganization of parking slots, with the creation of power-in/push-back positions, new tarmac, a new fire station, all based on international standards. Finally, Fraport expressed its intention to cooperate with professionals and enterprises in Thessaloniki to ensure a steady and solid development of the region.
Basic Visitation Factors
The number of accommodated bednights in Halkidiki is shown in the following table.
FIGURE 2: ACCOMMODATED BEDNIGHTS IN HOTELS - HALKIDIKI (000s)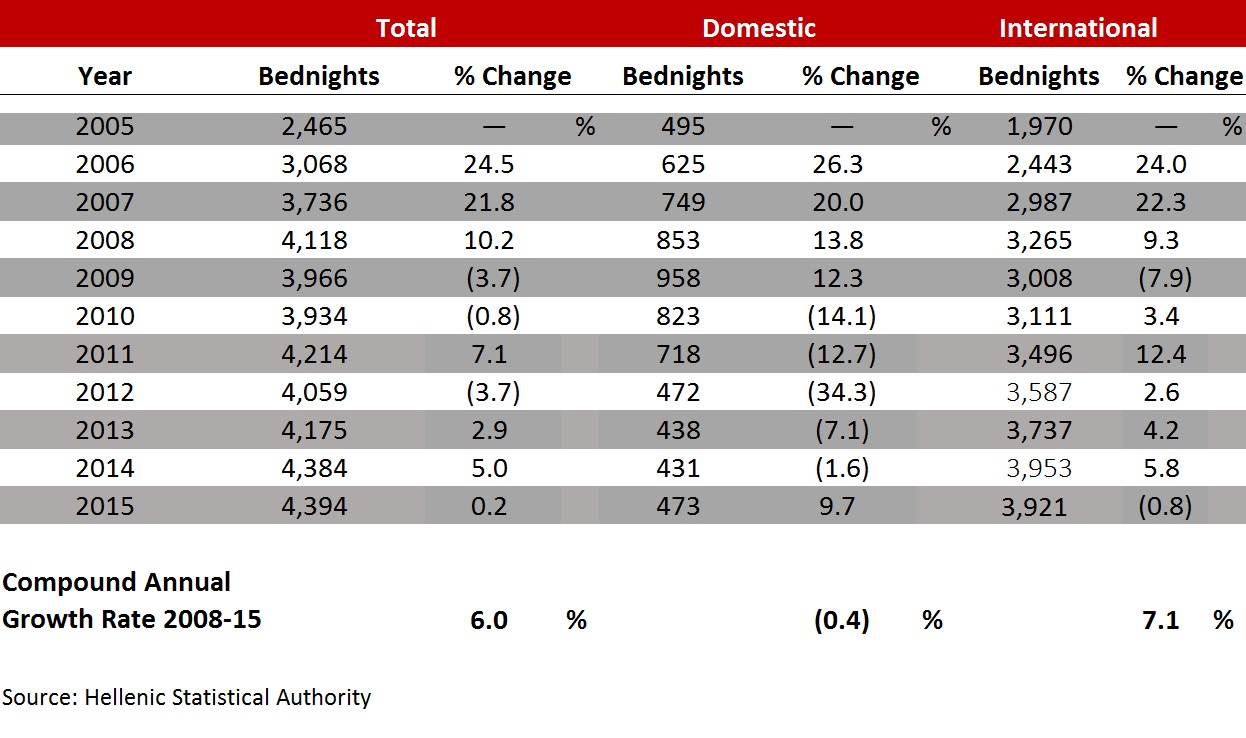 An average of about 80% of the total accommodated bednights in hotels in Halkidiki has been of international nature. Halkidiki has been traditionally a popular destination for tourists coming from countries bordering with Greece to the north. Domestic tourists that live in the northern parts of the country also find the region easily accessible by car whereas scheduled and/or charter flights are serviced from Thessaloniki International Airport during the summer period. During the period 2005-15 the number of total bednights has experienced vigorous growth of 78.2% driven by the momentous growth of international tourism by 99.0% while domestic tourism slightly decreased. The overseas tourist segment has shown a steadily increasing pattern over the last ten years, as it doubled its size while 2015 was the first year that international arrivals recorded a minor drop. Domestic tourism has also recorded significant increase until 2009 while form 2010 onwards the figure kept diminishing as domestic population's available income shrunk due to the national economic crisis. The resulting CAGR for total bednights of 6.0% originates primarily from the 7.1% average annual increase in bednights of international tourists. The recorded CAGR of hotel bednights in Halkidiki during 2005-15 is one of the highest in the country, amongst many other prominent destinations, revealing the dynamics of this specific market and its future potential.
Although there are still no official data published for 2016, according to an interview of the president of Halkidiki Hotel Association, an 8% decrease in international arrivals and a 10% drop in tourism receipts is expected as a result of the extensive bad publicity, from a touristic point of view, the country received due to the flow of migrants and the refugee crisis. The destination has managed to diversify its dependence on the Russian market and the Balkans by penetrating/developing various other markets such as Germany, the U.K., and the Netherlands.
FIGURE 3: SEASONALITY – PREFECTURE OF CENTRAL MACEDONIA 2011-15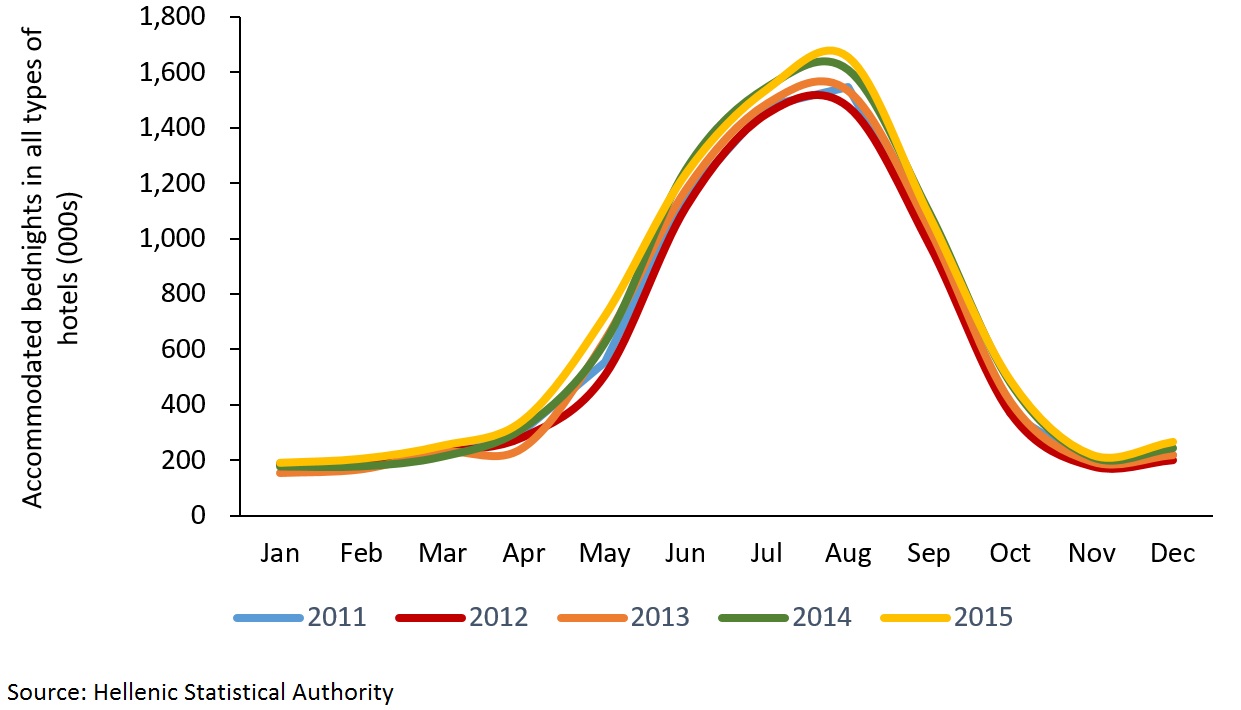 Seasonality
Figure 3 depicts the seasonality pattern of the Prefecture of Central Macedonia for the years 2011-15 based on the monthly accommodated bednights in the region. The most significant tourist destinations within the Prefecture which mainly affect the shape and trend of this pattern, are the city of Thessaloniki, Halkidiki and Katerini. While the city of Thessaloniki exhibits a smoother transition from winter to summer as it is an all-year destination with low but stable visitation mainly of domestic nature, Halkidiki's and Katerini's seasonal activity contribute to the sharp increase of bednights during summer months and to the steep downfall during winter season
One of the biggest issues Greek tourism industry, Halkidiki included, is facing is the seasonal nature of its visitation. Amongst others, the three main limiting factors that impede a change in this pattern are:
The lack of direct flights from major source countries during the winter months which greatly limits access. However, very lately, the Ministry of Tourism and/or local public authorities managed to attract several low-cost airlines (Easyjet, Ryanair, etc.) and link important Greek destinations, including Thessaloniki, with major European cities;
The lack of appropriate infrastructure throughout the region capable of attracting visitors during shoulder months;
The weak positioning of Greece in various niche markets (city-break, sea tourism, health tourism, etc.) in comparison with other competitive countries. According to various sector studies, the size of these tourism market segments is undoubtedly significant both in terms of number of trips and expenditure, since they encompass sophisticated travellers seeking for differentiated experiences.
Throughout the examined period Halkidiki has been demonstrating the same seasonality pattern with very high numbers of arrivals from May to September, when approximately 75% of the total visitors arrive, and very low numbers of tourist arrivals between October and April. This pattern is mainly attributed to the fact that until now the country has been lacking the basic tourist related infrastructure to attract winter and off-peak tourism such as golf courses, high level spas, large size conference centers, and organized holiday home establishments. The lack of a strategic plan towards that direction has not let Greek destinations to reveal their full potential in attracting tourism all year round in areas like Halkidiki, Peloponnese or Crete that combine all necessary basic characteristics and infrastructure in order to accept tourism even in winter months.
FIGURE 4: HOTEL SUPPLY IN HALKIDIKI 2009-16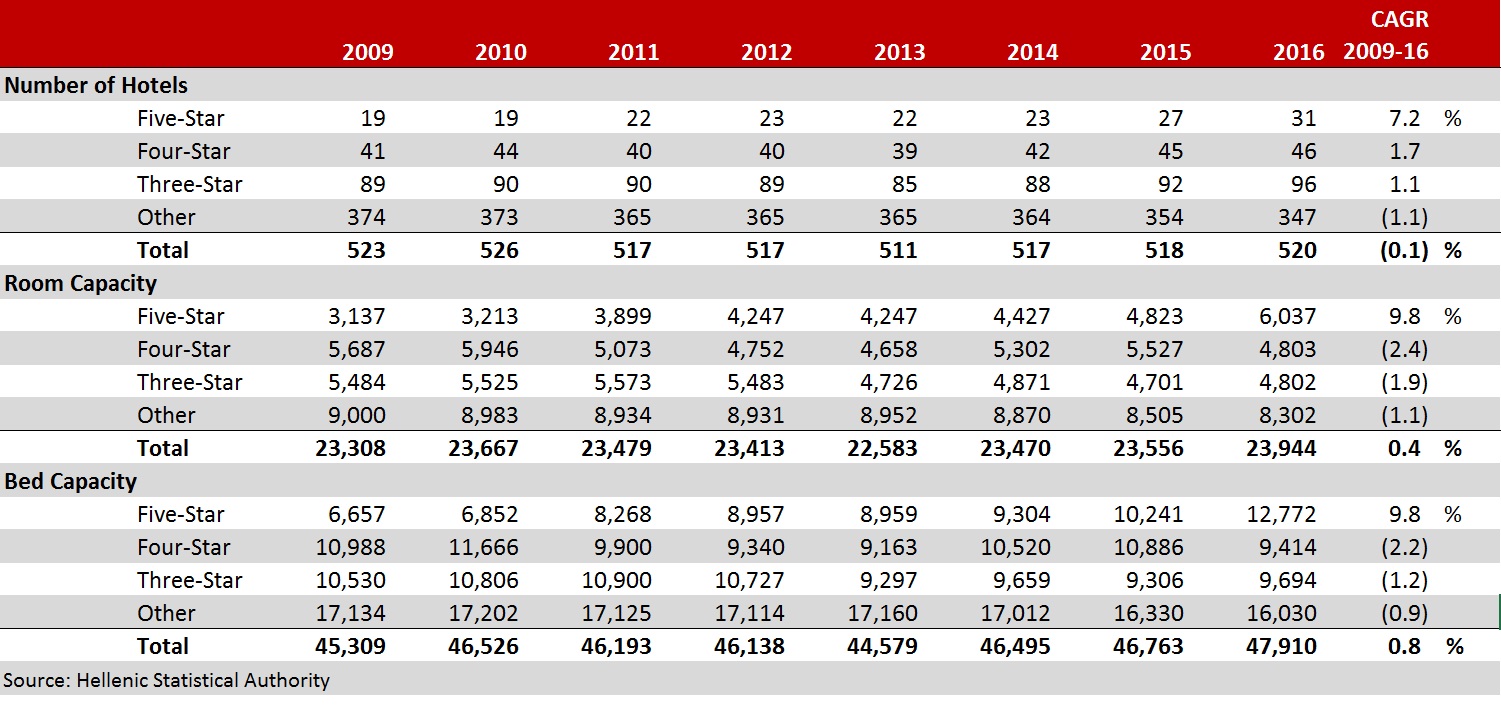 Hotel Supply
The majority of hotel units are of one-and two-star classification; however, five- and four-star hotel units together constitute the ones with a significantly considerable number of available rooms and beds. Figure 4 summarises hotel supply in Halkidiki from 2009-16.
Development of five-star units has witnessed significant growth since 2009 and especially during the period 2014-16 when approximately 1,500 new hotel rooms entered the market. In general, five-star hotel rooms and beds in Halkidiki have almost doubled in number during the period of 2009-15 revealing the intensive investment interest in the region by hoteliers and investors;
Average room number of a five-star hotel in 2016 is 195 while average bed number is 412. Both numbers are higher than the average hotel size in 2009 (165 and 350, respectively);
Throughout this period the presence of four-star properties in Halkidiki contracted by more than 800 rooms.
Branded Properties
Despite the fact that Halkidiki is one of the most popular destinations within the Greek territory, no international hotel brand has presence in the market. Even larger resorts, which could potentially be affiliated with a brand or a consortium, are currently operated by Greek companies using local brands that have presence in Halkidiki.
The most notable hotel chains in the region are the
G Hotels
and the
P.A.P. Corp. Hotels
. The former operates six units of various classifications in Greece, five of which are located in Halkidiki and one in Crete, and its total hotel room count is 1,609. The latter operates three upscale hotels in Halkidiki and a three-star hotel in the city of Thessaloniki with all four properties totaling 1,084 rooms. Other Greek hotel groups, with presence in Halkidiki are:
Macedonian Hotels
, operating the five-star, 164-room Eagles Palace Hotel in Ouranoupolis and additional two hotels in the city of Thessaloniki,
Aegean Star
that operates the five-star, 255-room Aegean Melathron Hotel in Kassandra and two additional hotels in Crete as well as
Grecotel Hotels & Resorts
managing the 205-room Pella Beach Hotel that is officially classified as a three-star property. The
Sani Resort
is an integrated resort comprising of four distinguished hotel units measuring in total 762 licensed rooms, a marina, and extended other facilities. Despite the fact that the hotel is operated by a local company and is not affiliated with any marketing consortium, it has achieved considerable international awareness and it is considered one of the most premium choices for accommodation in the region amongst other lodging facilities.
Porto Carras Grand Resort
is also a fully-integrated resort with a total capacity of 981 rooms spread among three properties all classified as five-star. The resort also features other extensive tourism-related facilities such as a congress centre, a marina, a golf-course, and numerous other amenities comprising one of the biggest resorts in Europe, let alone Greece.
Recent and Forthcoming Tourism Developments
MIRAGGIO THERMAL SPA RESORT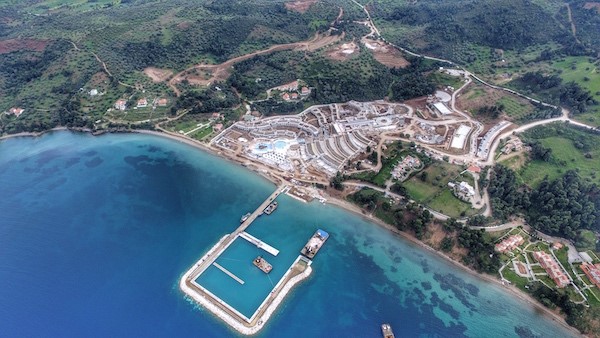 One of the most significant recent updates in Halkidiki's tourism industry concerns the Oaktree-Sani partnership which currently operate their properties under their recently developed Ikos brand. Former Gerakina Beach Hotel has been renamed to Ikos Olivia (295 rooms) and following extensive renovations it was re-launched in the market in 2015, while former Oceania Club has become Ikos Oceania (290 rooms). More specifically, in late 2015 Sani S.A. and Ikos S.A. companies announced that their merger into one Group has been completed. Sani and Ikos plan major investments in Greece with a five years' horizon aiming at opening various other resorts in Greek destination based on the successful premium all-inclusive business model they have established so far. Within this context of strengthening the two brands, extensions and upgrades are already being implemented in Sani Resort and the two Ikos properties while the group announced a €50 million investment project scheduled for the winter 2016/17 period that includes:

The creation of a new five-star seaside hotel Sani Dunes with a capacity of 136 rooms and suites, three restaurants, spa, closed pool and a large open pool within the Sani Resort. The property is scheduled to open in summer 2017.
The completion of the five-star Sani Club's renovation that will include new suites of one and two bedrooms with private pools, the renovation of the junior suites, the addition of a new restaurant, an outdoor and indoor pool and a new reception area. In total 21 new suites will be added to the supply of the hotel.
The completion of the final phase of the two-year project of the five-star Ikos Oceania, which will include the complete renovation of all 290 rooms, the addition of new suites of one and two-bedroom with private gardens and new beach access.One of the biggest recent additions to the hotel supply of Halkidiki was the opening of Miraggio Thermal Spa & Resort in 2016. The resort features 300 rooms and varous facilities including a thermal spring and a 81-berth marina.
In 2015, the Blue Lagoon Group introduced its new five-star property,
Blue Lagoon Princess
located on the beach of Kalives, on the Toronian Golf. The resort features 238 rooms and various on-site facilities.
In 2011,
Cronwell Hotels and Resorts
, the 19th largest Russian hotel chain, bought one of Halkidiki's oldest hotels, and is transforming it into a five-star luxury hotel. The ex-Philippion Hotel commenced operations in 1970s and was classified as a four-star property. The hotel which opened in 2016 has been renamed as Cronwell Resort Sermilia and features 102 rooms.
In May 2014, as part of the Hellenic Republic's privatization program, sought to attract investments in Greek public real estate properties, former
Xenia Paliouri
was sold to Greek-Russian investor Ivan Savvides for €14 million. The size of the property measures 210,742 m² while the building size is 3,658 m². Preliminary licensing procedures have initiated but construction works have not started yet. The new owners' intention is to develop an upscale mixed use development.
Pomegranate Park
is a five-star property with 172 rooms which was re-launched in the market in 2013 after its complete restoration, whereas the same owning company acquired the four-star, 240-room
Potidea Palace
and implemented a major refurbishment before relaunching the hotel in the market in 2016.
Eagles Palace
has also scheduled the construction of 40 extra villas that will open for reservation in summer 2017.
The following are some prominent projects that their implementation is still on hold:
Agios Ioannis, a beachfront land plot on the peninsula of Sithonia measuring 261,000 m², featuring a seafront of 2,000 meters and a usable area of 200,000 m² was sold to a renowned construction company of Northern Greece and an additional investment of approximately €50.0 million in tourism facilities development is expected. The project is currently on hold due to a combination of bureaucracy and lack of financing;
The company Pravita Development and Holdings S.A. intends to develop an area of ​​3,131 acres located in the area of Taksiarhis, near Polygyros, Halkidiki. The investment plan includes four golf courses, three five-star hotels, a residential component, a conference center, a health center, rehabilitation facilities, an athletic training center, and alternative tourism facilities. The total investment for the creation of Pravita Estate is estimated at approximately €726.4 million and in accordance with the investment schedule is intended to be completed gradually over a five-year period. The project is currently on hold.
Hotel Performance
Figure 5 summarises the important operating characteristics of primary hotels in the broader region of Halkidiki. The chart sets out the average occupancy, average room rate, and rooms revenue per available room (RevPAR) for a sample of 11 major upscale hotel properties representing in total 3,429 hotel rooms. It should also be noted that due to the seasonal operation of these hotels all occupancy percentages refer to 365 days of operation for consistency reasons.
FIGURE 5: HOTEL PERFORMANCE - HALKIDIKI 2014-16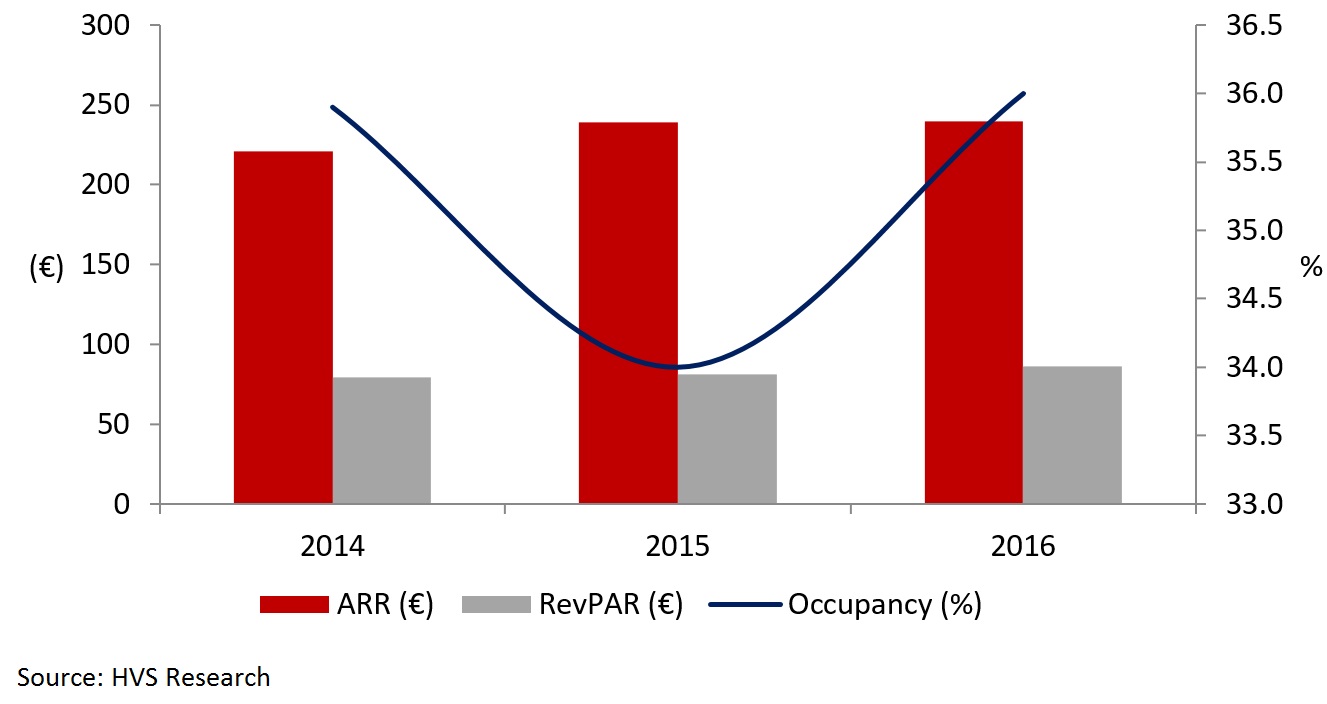 In 2015 the examined hotels experienced a decrease in occupancy while average rate increased sharply. This was a result of hotel operators focusing more on average rate rather than volume as a result of a very good performance of the tourism industry in 2014. Additional reason behind this noticable downfall was the intrduction of Ikos Olivia and Blue Lagoon Princess, totalling 533 rooms, in the market. In 2016, as opposed to the predictions of the representatives of Halkidiki Hotel Association that were referred to the broader spectrum of hotels in Halkidiki, the selected uplscale properties witnessed an increasing trend in occupancy while a stagnation in the average rate was recorded. As a result of the occupancy and average rate dynamics, RevPAR, increased by 2.7% and 5.9% in 2015 and 2016, respectively. It should be mentioned that ADR refers to rates including meal arrangments due to the nature of the business model followed by the hotels in the region. Despite the numerous recent additions to current supply, hotel market in Halkidiki demonstrates a constant improvement as a result of its increasing reputation as a cosmopolitan destination. Nonetheless, the region lacks a significant number of international hotel brands which could boost its upscale profile and recognition, thus leading to even higher levels of sales efficiency and operating performance.
Conclusion
Halkidiki is considered one of the most popular destinations in Greece and enjoys healthy growth rates of mainly regional (neighbouring countries and Russia) inbound tourism, an increased investment appetite and an abundance in qualified personnel who know in depth the particularities of the specific market. On the other hand, the area lacks significant characteristics that could provide further development and growth like 1) the establishment of a strategic plan that could extend the visitation season, 2) branded upscale properties that could absorb the increasing demand of high-spending tourists but, more importantly, provide higher international exposure and awareness to the destination and 3) promotional plan in other growing countries in order to limit the market's reliance on Russian market which undergoes intense year-by-year fluctuation. One of the most promising signs for the future of tourism in the area is the commencement of operations of Thessaloniki International Airport under the new management after its thorough renovation.