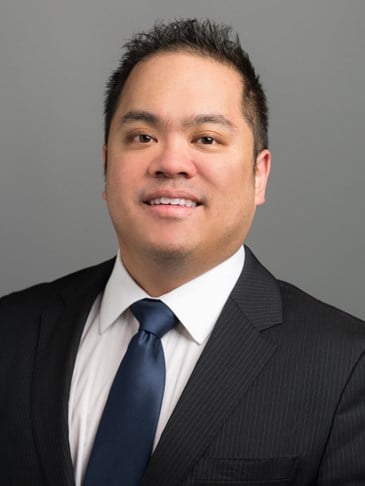 Similar to the city's famed Red Sox, Boston's hotel industry has proven its ability to bounce back from downturns in performance. Despite the impact from the 2008/09 recession, the greater Boston market has maintained occupancy levels in the mid-70s. As a result, hoteliers have been able to command significant increases in average rates, especially as corporations, educational institutions, and healthcare facilities generate higher levels of demand. Boston is also in the midst of a historic development boom, comprising 83 projects totaling more than $7 billion. The expansion is primarily taking the form of new residential towers, and most projects have multiple uses, with office and hotel components featuring prominently in many plans. A major redevelopment in the South Boston Waterfront District, now underway, places it among the fastest-growing commercial districts in the urban world; this neighborhood is also the focus of most of the city's new hotel development. Expansion efforts at the Boston Convention & Exhibition Center (BCEC), coupled with the introduction of casino gaming, should also contribute to future market growth.

Hotel Market Performance
Overview of Historical Occupancy and Rate Trends
The following charts illustrate trends related to Greater Boston's forecasted hotel supply, demand, occupancy, and average rate from 2015 through 2017.
Occupancy, Average Rate, and RevPAR Have Realized Growth since 2010; Occupancy is Expected to Stabilize
Boston's Occupancy Slightly Drops in 2016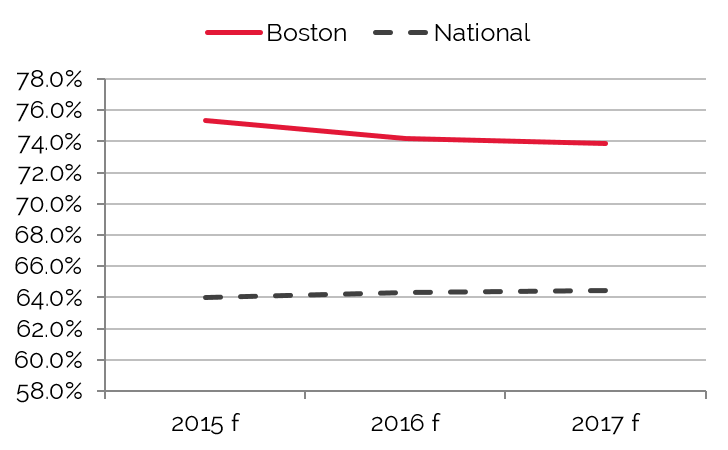 Nation Outpaced by Boston's ADR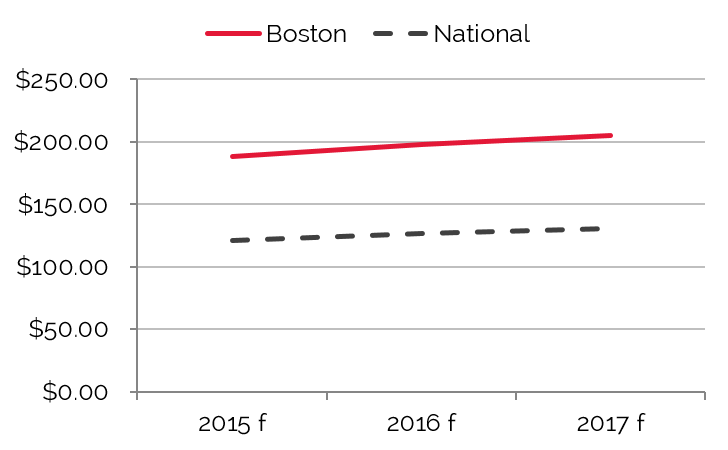 Boston's RevPAR Soars ahead of Nation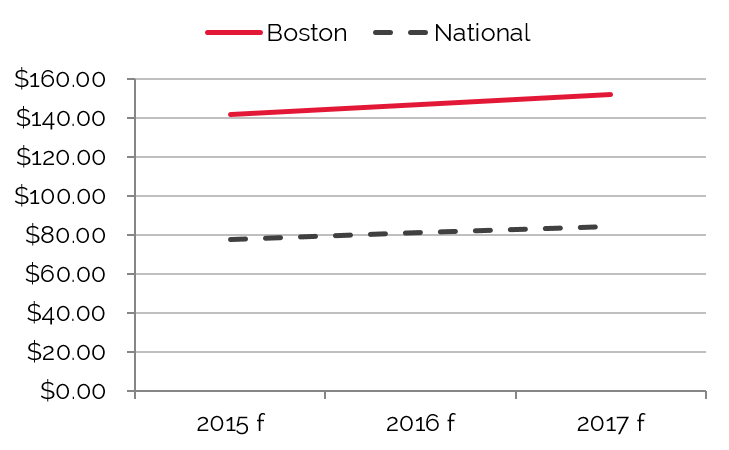 Source: HVS
Occupancy and average rate for the greater Boston market have grown substantially over the past decade, particularly in 2010 and 2014. Increased tourism, a banner year in citywide events, and a strengthening corporate base contributed to this growth. In 2014, the market reached historical peaks in average rate and RevPAR. HVS expects continued growth in average rate and RevPAR, with slight dips in occupancy in 2016 and 2017, largely attributed to the entrance of new supply. RevPAR increases should be tempered relative to recent increases given the unprecedented growth in the past five years.
Boston Supply and Demand to Reach Equilibrium in Late 2015

Source: HVS
Supply and demand growth rates are expected to align temporarily in late 2015, before an influx of new rooms enters the market 2016 and 2017. This new supply is expected to moderately outpace demand, though the new hotels should be readily absorbed.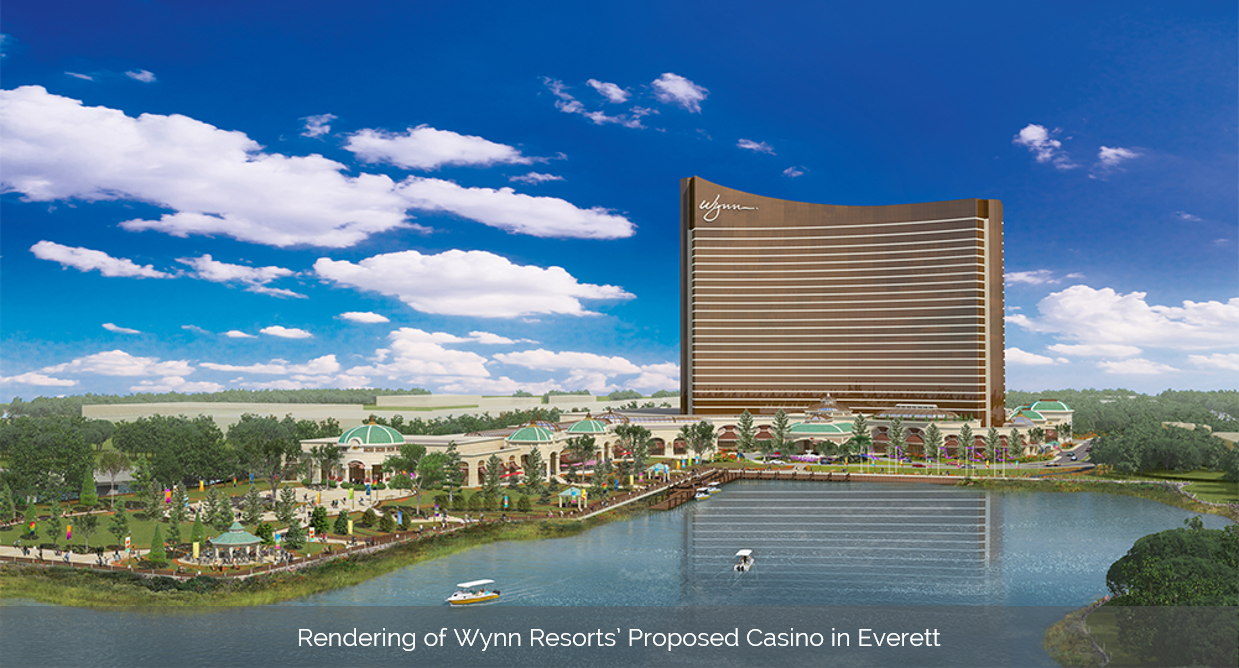 Significant room remains for new supply. Firstly, as a market, Boston continues to expand on many fronts, most notably in the South Boston Waterfront District, where most of the new hotels will be located. In addition, the Boston Convention & Exhibition Center (BCEC) is slated to undergo a $1-billion expansion in the indefinite future. Moreover, the planned Wynn Resort & Casino in Everett, the approved MGM Resort & Casino in West Springfield, and the recently opened harness-racing and slot machine gaming facility in Plainville are representative of Greater Boston's growth and appeal to the leisure segment.
These developments are expected to contribute to a stabilized occupancy level for the greater Boston lodging market well above the 68% ten-year average. Furthermore, significant unaccommodated demand exists in the market, particularly in the CBD submarket. The amount of room for new supply in Boston proper is indicative of the limited inventory and high regulatory barriers to entry that have helped to throttle supply growth despite substantial growth in demand.
Existing Supply Breakdown
The upper-upscale segment comprises the largest proportion of rooms in the greater Boston lodging market by a wide margin, with approximately 18,900 rooms, representing 36% of total inventory. This figure more than doubles the national average of 17%. Furthermore, while upper-upscale and upscale tiers make up nearly 35% of national inventory, these segments comprise over 58% of inventory in Greater Boston. On the whole, the guestroom inventory of the greater Boston market is oriented toward higher-end products, which is reflective of the high concentration of hotels in the more tourist- and corporate-centric CBD submarket. This orientation is further illustrated by the number of rooms in the market's luxury segment, which also exhibits a significant variance over the national averages. The luxury segment comprises 3,657rooms, or 7% of all rooms, while luxury hotels comprise 3% of rooms nationally. Market share for the upper-midscale, midscale, and economy tiers in the market remain well below those of the nation; the lack of lower-rated hotels speaks to the strength of average rate in the greater Boston market, which in turn owes largely to a well-established and diverse demand base.
Upper-Upscale Segment Represents the Largest Portion of Rooms in the Boston Market,
While the Upper-Midscale Class Leads the Nation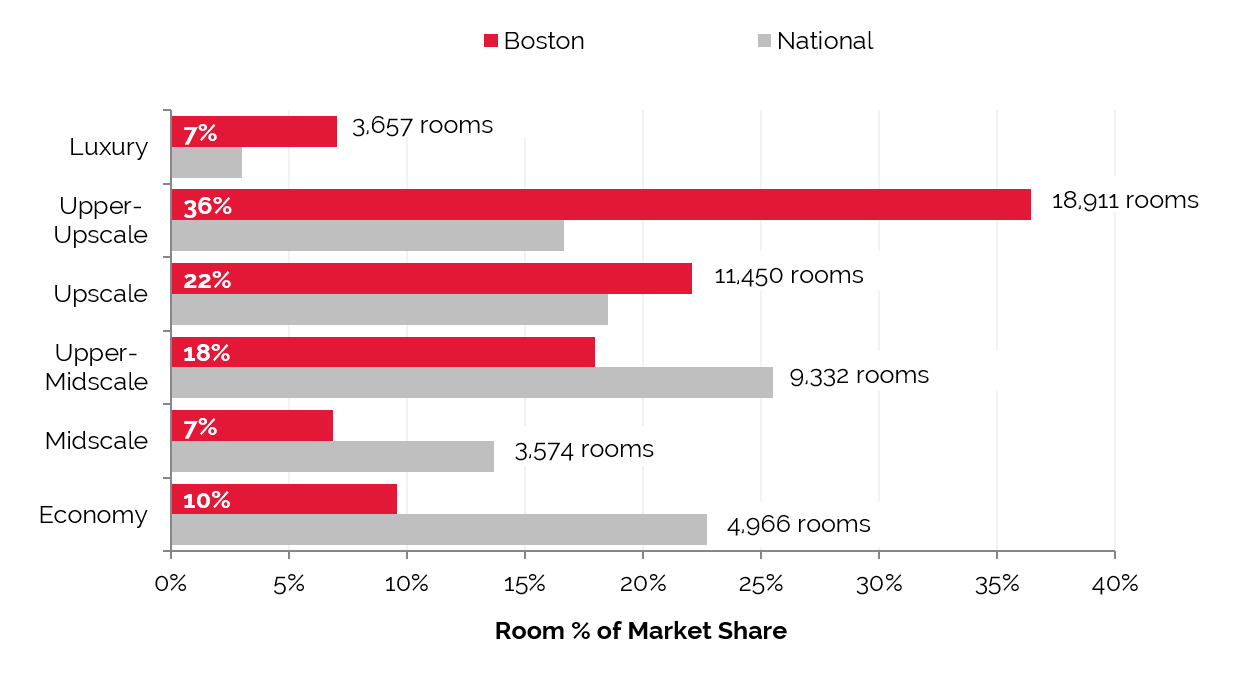 Source: HVS
New Supply Pipeline
Upscale hotels are anticipated to dominate new hotel development in the greater Boston area in the coming years, driven by the return of favorable financing, the evolution of new brands, and expanding commercial and leisure demand. This is especially apparent in Boston's CBD, an area that tends to attract higher-rated clientele. Developers are taking advantage of the higher rates these hotels command, particularly given the number of travelers to Boston with the means to pay for centrally situated, higher-class hotel rooms. In addition, several large hotel projects are occurring in conjunction with other major developments, such as the expansion of the Boston Convention & Exhibition Center and the construction of the Wynn Resort & Casino, as well as revitalization efforts in Boston's Brighton, Downtown Crossing, Fenway, and South Boston neighborhoods and upgrades to the Boston Logan International Airport.
The table below reflects an increase of approximately 6,600 rooms in addition to the existing supply of 51,890 rooms in the metro area, an increase of over 12%; the table also lists numerous planned projects in the city.
Majority of New Hotels are Expected in Boston's Back Bay, CBD, South Boston Waterfront,
and West End Neighborhoods, as well as Cambridge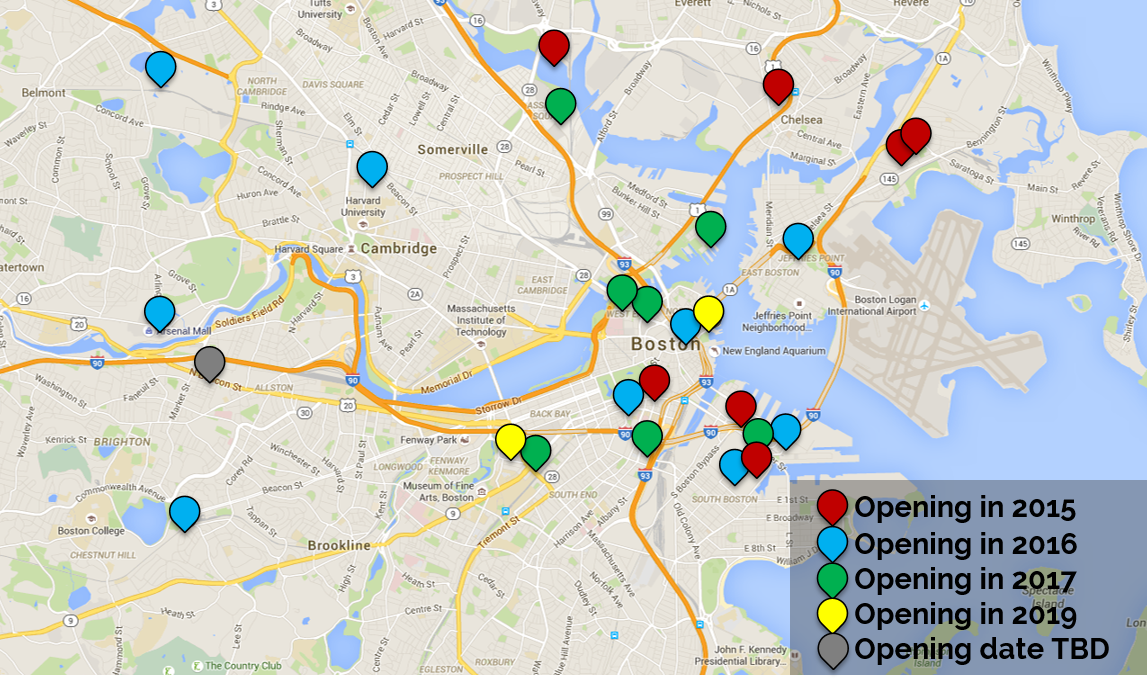 Source: HVS
The vast majority of hotel supply in the market is concentrated in Boston proper and the city of Cambridge. As such, these submarkets are expected to exhibit the greatest supply increases by a significant margin. Approximately 56% (3,726 rooms) of the proposed supply is planned for these submarkets, reflecting the continued popularity of Boston's primary demand generators.
Of the property classes and room counts that have been determined, the following chart illustrates the class breakdown of the new supply:
Boston MSA Midscale Hotel Inventory Set to Increase More Than 75%;
Economy Inventory to Stabilize*†

Source: HVS, STR and BuildCentral, Inc.
* Only includes properties with room counts and class designations
† Only the lowest value in the rooms range is considered
Lodging Room Supply Expected to Increase from 2015 to 2017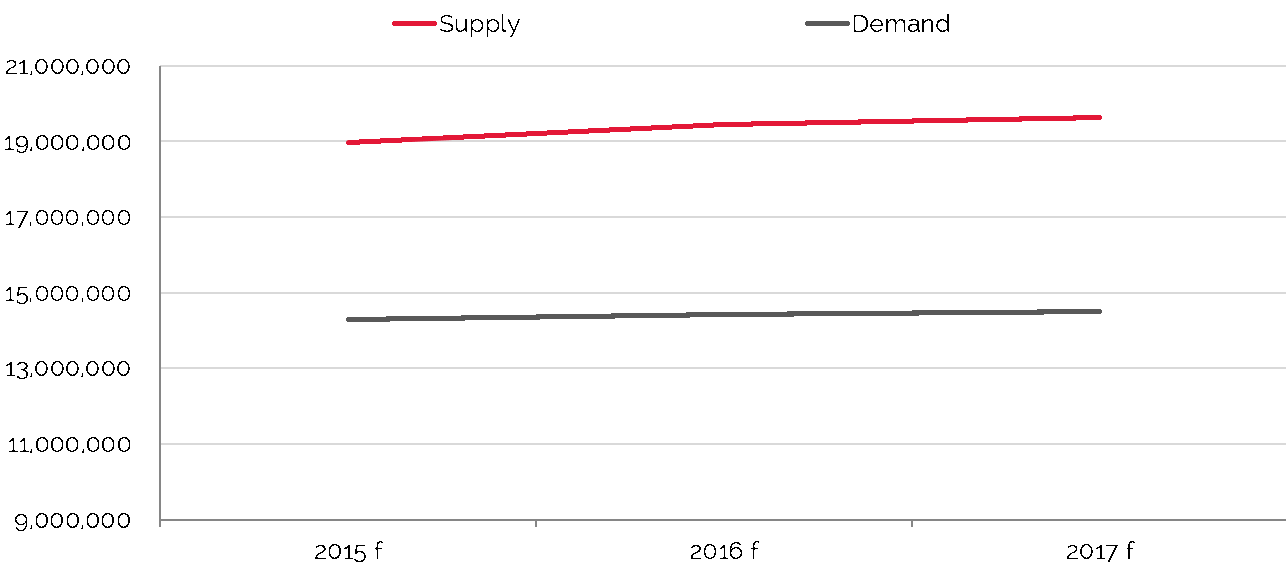 Source: HVS
Hotel Valuation Expectation
The annual Hotel Valuation Index (HVI) compiles data derived from over 4,500 hotel appraisal assignments each year, providing for analysis of performance and forecasts for hotel markets nationwide. Boston's hotel market achieved RevPAR growth of nearly 11% in 2014. At 75%, the market's occupancy in 2014 approached its historical peak of 76% (recorded in 2000, the last year of the tech bubble), even though demand levels have only moderately increased in recent years. With its extremely challenging environment for new hotel construction, supply tends to increase in only minor increments; thus, the market's occupancy rate can seem to be self-policed.
Nevertheless, Boston is currently in the midst of a historic development boom. As of the third quarter of 2015, five hotels containing 1,967 rooms were under construction or in the final planning stages in the South Boston Waterfront, home to the city's primary convention venue, the Boston Convention & Exhibition Center (BCEC).
Looking forward, there are substantial variables facing investors in Boston hotel real estate, in the form of efforts to expand the BCEC and a foray into gaming with a Las Vegas-style casino hotel in nearby Everett. These factors provide a basis for upside-heavy forecasts and help form the underwriting foundation for new hotel construction.
Thousands of new rooms have recently been approved by the Boston Redevelopment Authority, and thousands more are proposed and moving toward permitting. Although recent history suggests that the rooms that come to fruition will represent only modest increases, new supply risk is a relevant concern in the next five years. The extent to which proposed projects arrive will largely depend upon two factors: continued above-inflation gains in average rate and the variable appetites of the debt market.
The HVI also provides insight into hotel values. In 2014, Boston ranked fifth of 65 major U.S. markets in hotel value growth, with an 18% increase. This increase is due in large part to the significant amount of value growth experienced in recent years and reflects the current outlook for more moderate, sustainable growth. Values are expected to increase another 10% in 2015, with 21% growth projected between 2015 and 2018.
The following chart illustrates the trajectory of hotel values in Boston from 2006 through 2018.
Moderate Growth Tempered by the Entrance of New Supply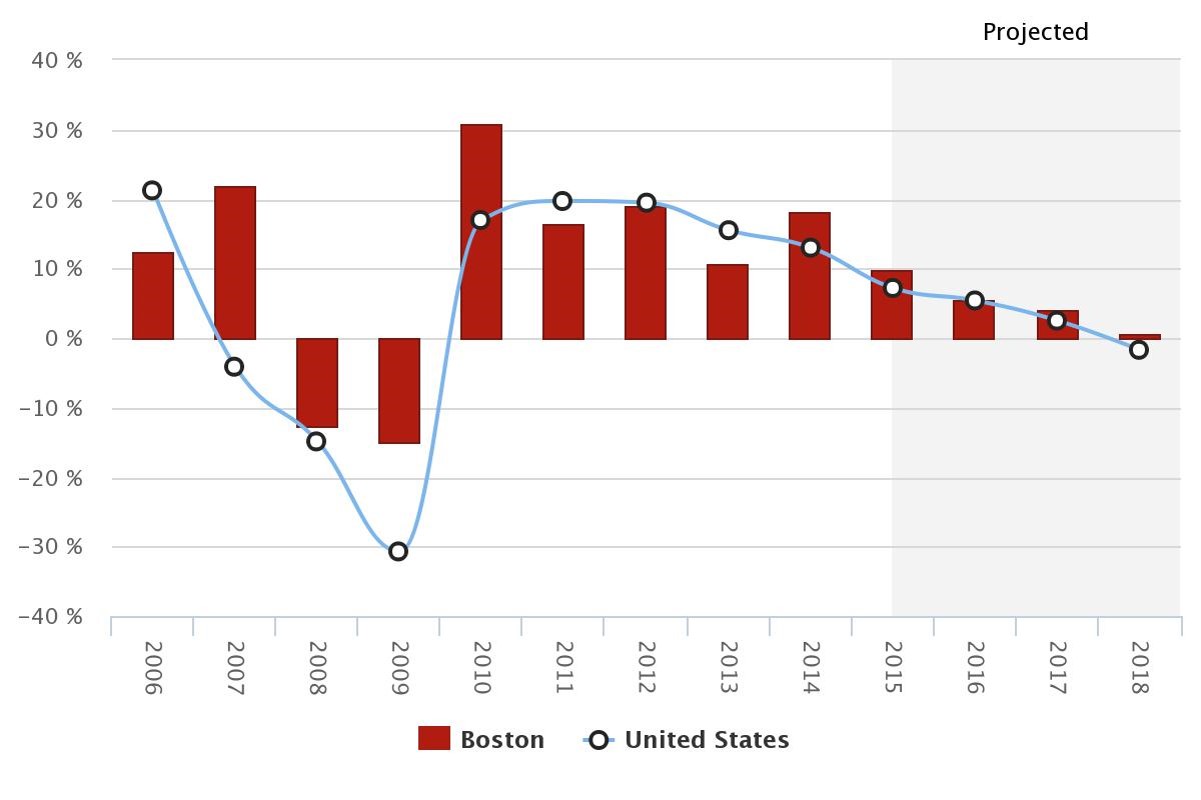 Source: HVS & STR
Strong Value Increases Anticipated in the Near Term

Ratings are comparable to 65 major U.S. cities evaluated in the HVS HVI.
Source: HVS & STR
Hotel Transactions
The following table details confirmed hotel transactions in the Boston MSA since 2012.
Boston has the Highest Average Asking Lease Rate and Number of Transactions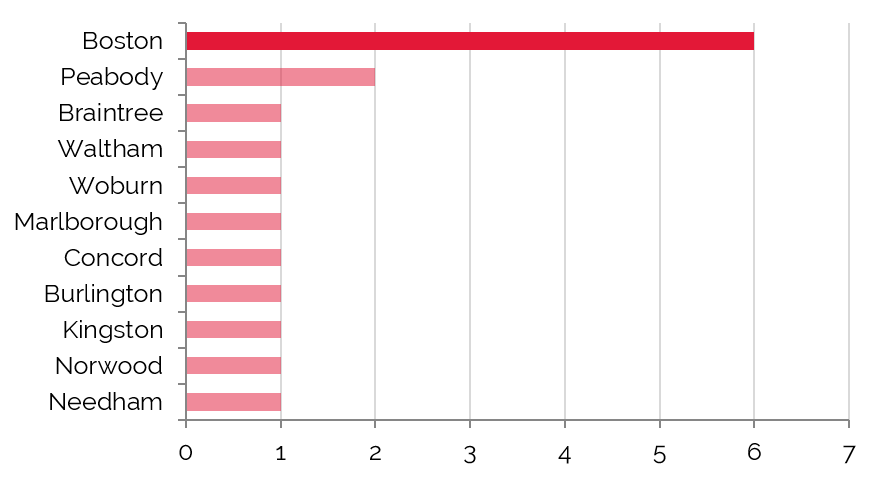 Average Price per Room
Source: HVS & RCA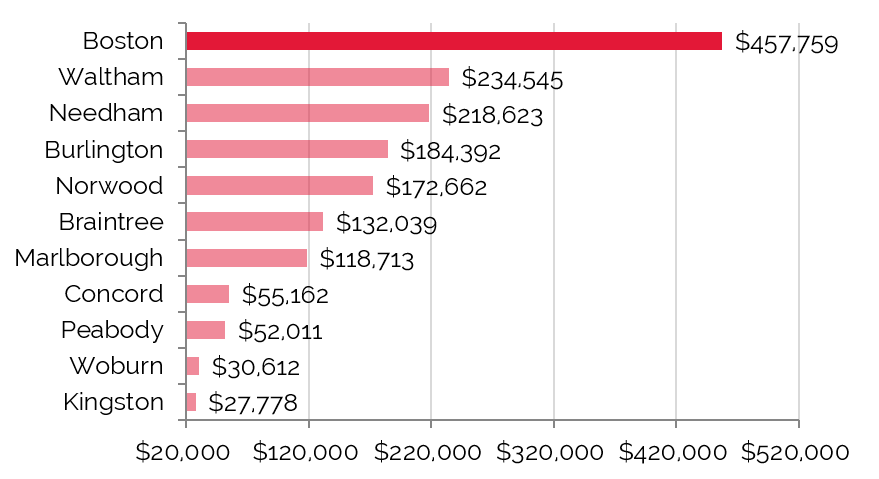 Number of Sales
Source: HVS & RCA
Confirmed transaction activity for the greater Boston market has declined somewhat since more than $427 million of volume changed hands in 2013. That year capped a period of institutionalization as investors nationwide sought to capitalize on sudden and substantial performance increases in Boston. By comparison, confirmed transaction volume for 2014 totaled approximately $304 million.
Thus far, in 2015, confirmed individual transactions totaled $78 million, which represents an increase over the same period last year, despite falling well short of the 2013 comparable period. Coupled with a decline in total transaction volume, pricing continues to decrease, with the average price per room of confirmed individual transactions thus far in 2015 at about $196,000 versus $209,000 in 2014 and $242,000 in 2013. This negative trend, however, is largely due to the transaction of trophy assets that artificially inflated total volume and average per room metrics in recent years. Despite this trend, investor interest remains high as buyers continue to compete heavily for the limited number of assets for sale, and sellers seek to monetize their investment gains. Furthermore, pricing is highly dependent on historical operations, location, product type, and if the property was under financial distress.
Interest among investors continues to put downward pressure on capitalization rates, particularly in high barrier-to-entry submarkets such as Boston's Back Bay, CBD, South Boston Waterfront, and West End neighborhoods, as well as nearby Cambridge. The high level of investor interest, Boston's thriving economy, and growing demand generated by the education and healthcare sectors, as well as a stable tourism industry and an expanding technology industry, support a positive outlook for the city's hotel industry overall, with values set to rise through 2018.
Across the nation, according to Real Capital Analytics (RCA), the lowest-priced confirmed hotel sale for the preceding three years was the Hotel Seagate in the Toledo, Ohio CBD at $2,830 per key. The next two lowest sales occurred in Chicago and Atlanta. The highest-priced confirmed sale, at $1.85 million per key, was the purchase of the Park Hyatt Hotel in the Manhattan Midtown West neighborhood. The next runner up was the Hollywood St. Louis in Missouri at $1.22 million.
Average Price per Key in the U.S. Swings Upward; Boston Falls in 2014 and 2015 YTD
Number of Major U.S. Sales ($10M and above)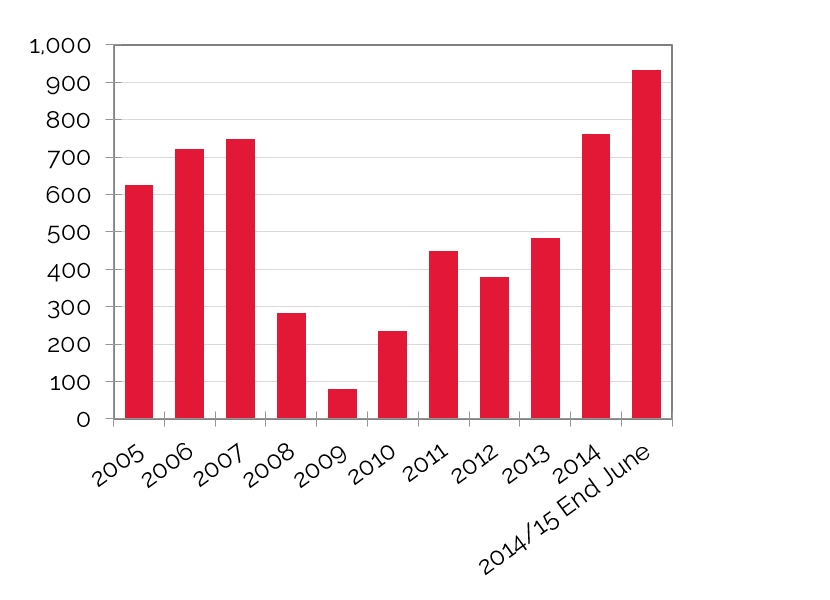 Average U.S. Key Price per Room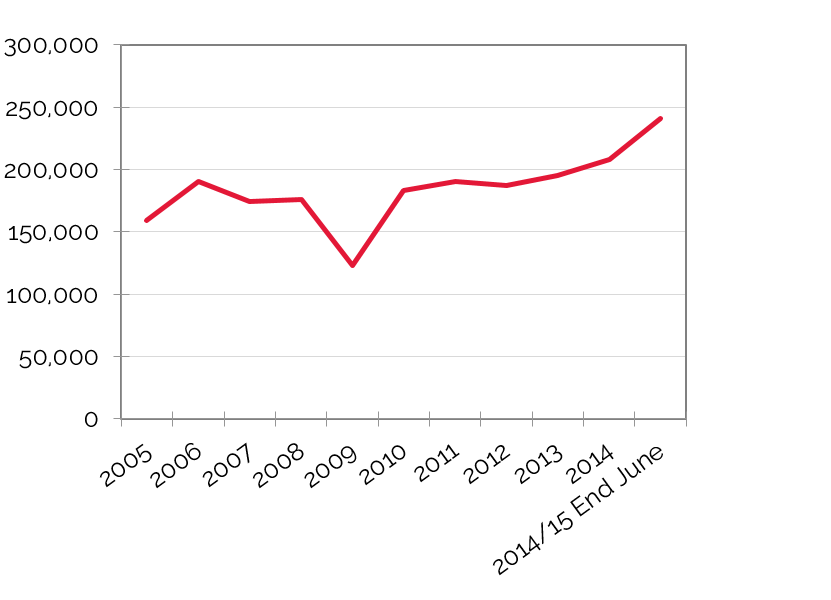 Source: RCA
Key Economic Indicators
Economic and Demographic Review
The U.S. population has grown at an average annual compounded rate of 0.9% from 2010 through 2014, and that rate is forecast to increase slightly to 1.0% from 2014 through 2020. For those same periods, the county, MSA, and state population growth lags behind the country with a compounded average annual growth rate of 0.6% from 2010 to 2014 and 0.6% from 2014 through 2020. The region is forecast to expand at nearly the national average through 2020.
Boston MSA average annual compounded growth rate of resident population has been 30% lower than that of the nation.


Average annual compounded growth rate of per-capita personal income for the MSA was about 5% higher than that of the nation in the 2010-2014 period.

"Greater Boston Lg" by Ovenlegged (talk) - I (User:Ovenlegged (talk)) created this work entirely by myself.. Licensed under Public Domain via Commons - https://commons.wikimedia.org/wiki/File:Greater_Boston_Lg.PNG#/media/File:Greater_Boston_Lg.PNG
The average annual compounded growth rate of per-capita personal income for Suffolk County between 2010 and 2014 of 0.7% lagged the national average of 1.0%. Anticipated growth into 2020 for the county is 1.1%, and 1.3% for the nation. Anticipated growth into 2020 for the Boston-Cambridge-Newton MSA is expected to outpace the nation slightly at 1.4%
The national wealth index for the country trended flat from 2000 to 2014. It is projected to remain flat into 2020, while Suffolk County is expected to experience a slight contraction of -0.2% over the next five years. Anticipated growth into 2020 for the Boston-Cambridge-Newton MSA is expected to outpace the nation slightly at 0.1%.
Food and beverage sales in the county grew at an annual compounded rate of 2.1%, with $2.485 billion in 2010 and $2.703 billion in 2014. Through 2020, the pace of growth is expected to moderate slightly to 1.3% for the county. The Boston-Cambridge-Newton MSA reflected more robust sales with $8.946 billion in 2010, $9.711 billion in 2014, and a predicted $10.585 billion in sales in 2020. This reflects average annual compounded growth rates of 2.1% from 2010 to 2014 and 1.4% from 2014 to 2020, which is 26% lower than the national anticipated growth rate of 1.9%.
The retail sales sector for the county grew at an annual compounded rate in line with the Boston-Cambridge-Newton MSA. The MSA demonstrated an average annual compounded growth rate of 2.4%, with $68.207 billion in 2010 and $75.034 billion in 2014. This sector is expected to remain strong, albeit 20% lower than the national average, into 2020 with a 1.6% growth rate.
Radial Demographic Indicators
The following table reflects radial demographic trends for the market area measured by three points of distance from the center of Downtown Boston.
Demographics by Radius from the Center of Downtown Boston
Population Growth to Decline within
Ten-Mile Radius 2015–2020

Source: The Nielsen Company
Household Growth Most Stable within Five-Mile Radius 2015–2020

Source: The Nielsen Company
Top Five Occupations – Estimated for 2015
Within One-Mile Radius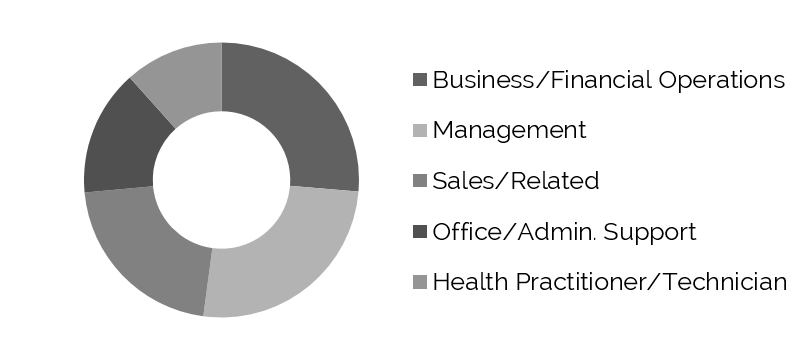 Within Five-Mile Radius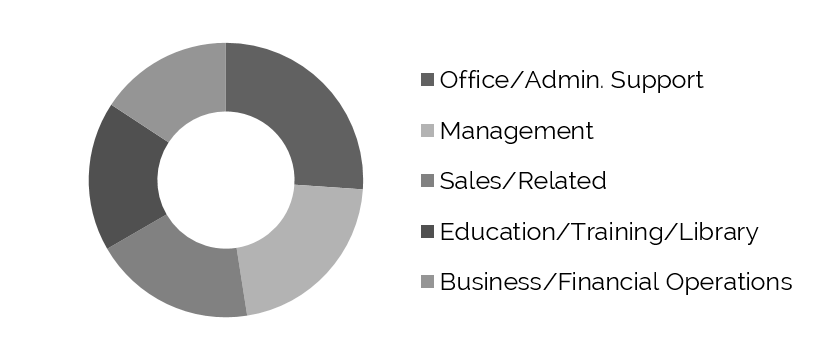 Within Ten-Mile Radius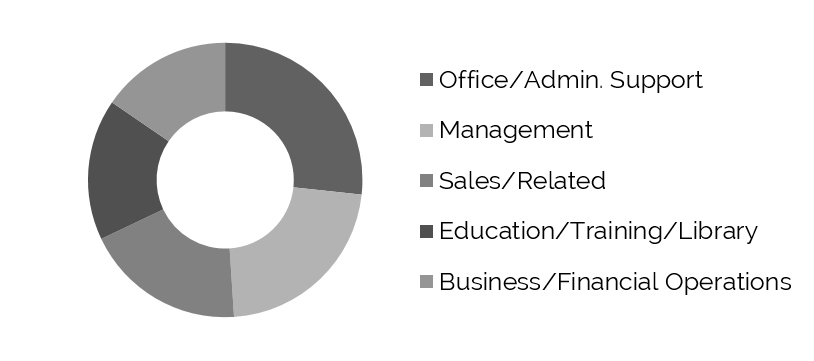 Source: The Nielson Company
Population growth within one mile of the center of Downtown was a significant 22.0% from 2000 to 2010, whereas the greater area experienced a far less pronounced yet still healthy growth rate of 3.5% during this same period. The overall growth rate increased to 5.1% from 2010 to 2015, and projected growth is anticipated to continue at about 4.6% per year into 2020. Households are expected to grow at a rate of 5.0% per year into 2020.
Boston's forecasted 2015 average and median household incomes are skewed low due to the area's large number of undergraduate and graduate students, despite the considerable presence of high-paying fields such as education, financial services, legal services, health care, and high-tech. Nevertheless, these income projections are strong in comparison with other Massachusetts cities, as well as the nation.
2015 Forecast of Average and Median Household Income

Source: The Nielsen Company
Workforce Characteristics
The characteristics of an area's workforce provide an indication of the type and amount of transient visitation likely to be generated by local businesses. Sectors such as finance, insurance, and real estate [FIRE]; wholesale trade; and services produce a considerable number of visitors who are not particularly rate-sensitive. The government sector often generates transient room nights, but per-diem reimbursement allowances often limit the accommodations selection to budget and mid-priced lodging facilities. Contributions from manufacturing, construction, transportation, communications, and public utilities [TCPU] employers can also be important, depending on the company type.
Employment Projections through 2020 Show Impressive Growth in Construction, Financial Services, Total Services, Real Estate, and Total Trade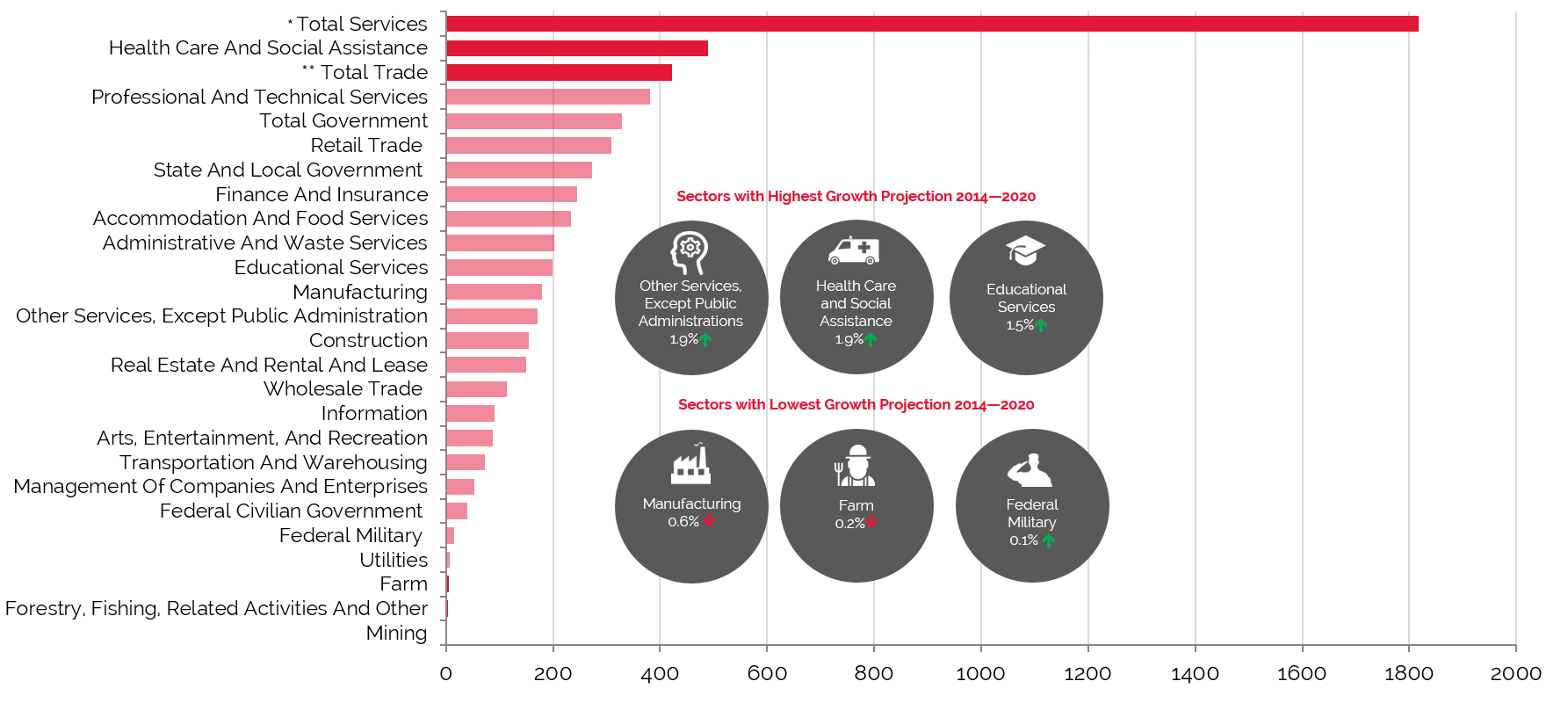 Source: Woods & Poole Economics, Inc.
* Total Services include: Professional and Technical Services; Management of Companies and Enterprises; Administrative and Waste Services; Educational Services;
Healthcare and Social Assistance; Arts, Entertainment, and Recreation; Accommodation and Food Services; and Other Services, except Public Administration
** Total Trade includes Wholesale Trade and Retail Trade
Woods & Poole Economics, Inc. reports that during the period from 2000 to 2010, total employment in the county contracted at an average annual rate of -0.2%. This trend was below the growth rate of 0.2% recorded by the MSA and also lagged the national average of 0.7%, reflecting the contracting nature of the local economy throughout most of the decade and into the recession. More recently, the pace of total employment growth in the county accelerated to 1.2% on an annual average from 2010 to 2014, reflecting the initial years of the recovery. Looking ahead to 2020, the MSA's pace of growth is predicted to rise slightly to 1.2%, slightly below the nation at 1.3%.
Health care is one of the fastest-growing sectors in the metro area, led by the strong growth and expansions of facilities such as Massachusetts General Hospital, Brigham and Women's Hospital, Beth Israel Deaconess Medical Center, Boston Medical Center, and Tufts Medical Center; the growth is also fueled by research and development from affiliated universities, including Harvard University, Boston University, and Tufts University. Finance, insurance, and real estate [FIRE]; wholesale trade; and services are employment sectors that drive upper-midscale through luxury room nights. Of the primary employment sectors, Total Services recorded the highest increase in number of employees during the period from 2010 to 2014, increasing by 109,189 people, or 1.7%, and rising from 50.2% to 51.1% of total employment. Of the various service sub-sectors, Health Care & Social Assistance and Professional & Technical Services were the largest employers. Total Trade was the second-largest industry, comprising 12.3% of total employment; these sectors are important drivers of demand to higher-rated hotels.
Considered an economy room-night driver, the growth rate of the Total Government sector has been sluggish, recording a contraction of -0.1% from 2000 to 2010, followed by modest growth of 0.2% from 2010 to 2014; this sector is anticipated to realize an increase of 0.5% into 2020, maintaining between 9% and 10% of total employment.
Employment
Boston is a major center of higher education in the U.S., with institutions such as Harvard University, M.I.T., Boston University, and Northeastern University. Health care, education, and research are paramount components of the regional economy; the medical schools of Harvard University, Boston University, and Tufts University are world renowned, as is Massachusetts General Hospital and Brigham and Women's Hospital. Boston is also considered one of the top places in which to do business in the United States. Major industries include education and health services, finance, government, information, leisure and hospitality, manufacturing, and professional and business services.
The following table illustrates historical and projected employment, population, and income data for the overall Boston market, as presented by REIS.
Historical & Projected Employment, Households, Population, and Household
Income Statistics for the Boston MSA

Source: REIS Report, 3rd Quarter 2015
Top Industries In Boston
The following table presents a list of the major employers in the market.
Boston's Top Employers Represent the City's Dominant Financial,
Health Services, and Education Sectors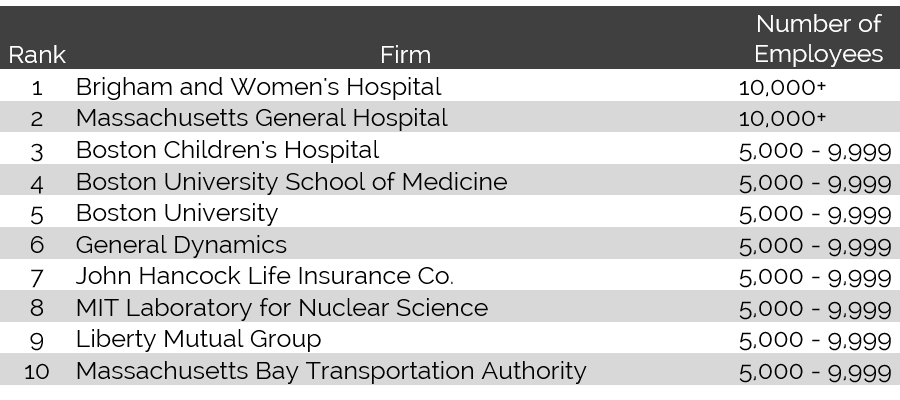 Source: MA Executive Office of Labor and Workforce Development 2015
Boston is anchored by a high concentration of medical and research facilities, including Massachusetts General Hospital, Brigham and Women's Hospital, Beth Israel Deaconess Medical Center, Tufts-New England Medical Center, and Boston Medical Center (BMC). Several of the city's medical facilities are also associated with universities. The Longwood Medical and Academic Area (LMA) and Massachusetts General Hospital contain well-known research medical centers affiliated with Harvard Medical School; Tufts Medical Center, located in the Chinatown neighborhood, is affiliated with Tufts University School of Medicine; and Boston Medical Center, located in the South End neighborhood, is the primary teaching facility for the Boston University School of Medicine. BMC was formed by the merger of Boston University Hospital and Boston City Hospital, which was the first municipal hospital in the United States; it is the largest trauma center in the Boston area.
Massachusetts General Hospital was ranked by U.S. News & World Report in July 2015 as one of the top five hospitals in the nation for the following departments: Cardiology & Heart Surgery; Diabetes & Endocrinology; Ear, Nose, & Throat, Gastroenterology & GI Surgery, Geriatrics, Gynecology, Neurology & Neurosurgery, Ophthalmology, Orthopedics, Psychiatry, and Pulmonology. Brigham and Women's Hospital broke ground on the 360,000-square-foot "Building for the Future" facility in May 2013. The facility is expected to accelerate breakthroughs in biomedical research upon completion in late 2016. In January 2015, the Dana-Farber Cancer Institute expanded its presence in the LMA by converting newly leased space into a 154,000-square-foot research facility.
Boston's colleges and universities have a major impact on the regional economy, with over 100 colleges and universities located in the metropolitan area. Boston University is the oldest institution in the city, located in the Back Bay, while Harvard University is located in nearby Cambridge. Other important institutions include Boston College, Emerson College, the Massachusetts Institute of Technology (MIT), Northeastern University, University of Massachusetts at Boston, and Suffolk University. This concentration of higher education, and the powerful economic impact of the quality workforce it provides, assisted in the market's recovery following the Great Recession. In recent years, the area's colleges and universities have launched major renovation and expansion projects, including Harvard University's $1-billion renovation of its academic, residential, and social spaces.
The financial services and insurance sectors are also important within Boston. Boston-based Fidelity Investments helped popularize the mutual fund in the 1980s, contributing to Boston's reputation as one of the top financial centers in the United States; in March 2013, Fidelity announced a partnership with BlackRock, a global investment firm based out of New York. The city is also home to the headquarters of State Street and numerous venture capital and insurance firms. While the financial services and insurance sectors remain integral components of the local economy, the biotechnology, life sciences, and pharmaceuticals fields have grown substantially in recent years. This shift has been driven specifically by the presence of renowned academic and healthcare entities, many offering advanced degrees in life sciences and ranked among the top-funded National Institutes of Health (NIH) hospitals and non-profits in the nation. Furthermore, venture capital investment throughout Massachusetts rose to a record $1.8 billion in 2014, providing much-needed financing for such emerging companies. Large employers include Genzyme, Biogen, PAREXEL International, Pfizer, and Novartis.
Unemployment
After showing year-over-year improvement, local unemployment began to rise in 2008, concurrent with the onset of the recession, and the 2009 unemployment rate increased further. In 2010, unemployment remained flat. Unemployment began to fall in 2011, and this trend continued through 2012. Unemployment levels remained generally stable in 2013 before declining in 2014. The most recent comparative period illustrates further improvement, as indicated by the latest available data for 2015, with the local and state unemployment rates below national levels.
Unemployment Fell Considerably in Boston in 2014, Stands Well Below National Average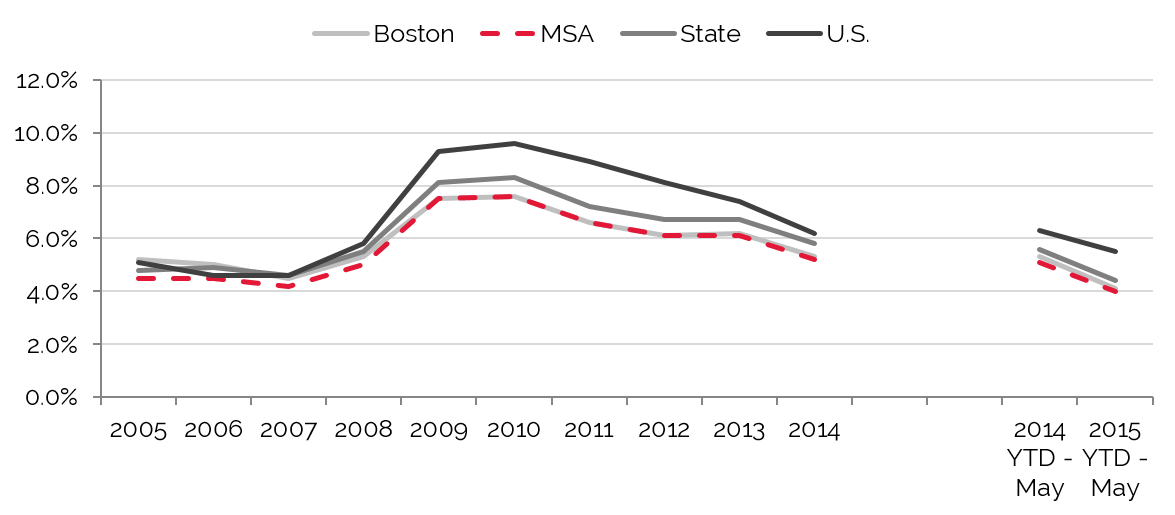 Source: U.S. Bureau of Labor Statistics
Local officials noted that employment remains strong in the education and healthcare sectors, as well as in the tourism and leisure industry; furthermore, construction-related jobs are reportedly on the rise. The strong fundamentals of Boston's economy, coupled with an educated workforce and diverse base of employers, should serve as catalysts for job creation as the economy continues to strengthen.
Office Space
Trends in occupied office space are typically among the most reliable indicators of lodging demand, as firms that occupy office space often exhibit a strong propensity to attract commercial visitors. Thus, trends that cause changes in vacancy rates or in the amount of occupied office space may have a proportional impact on commercial lodging demand and a less direct effect on meeting demand.
Very Strong Vacancy, Lease Rates for Prime Boston Submarkets; Suburban
Submarkets Set to Grow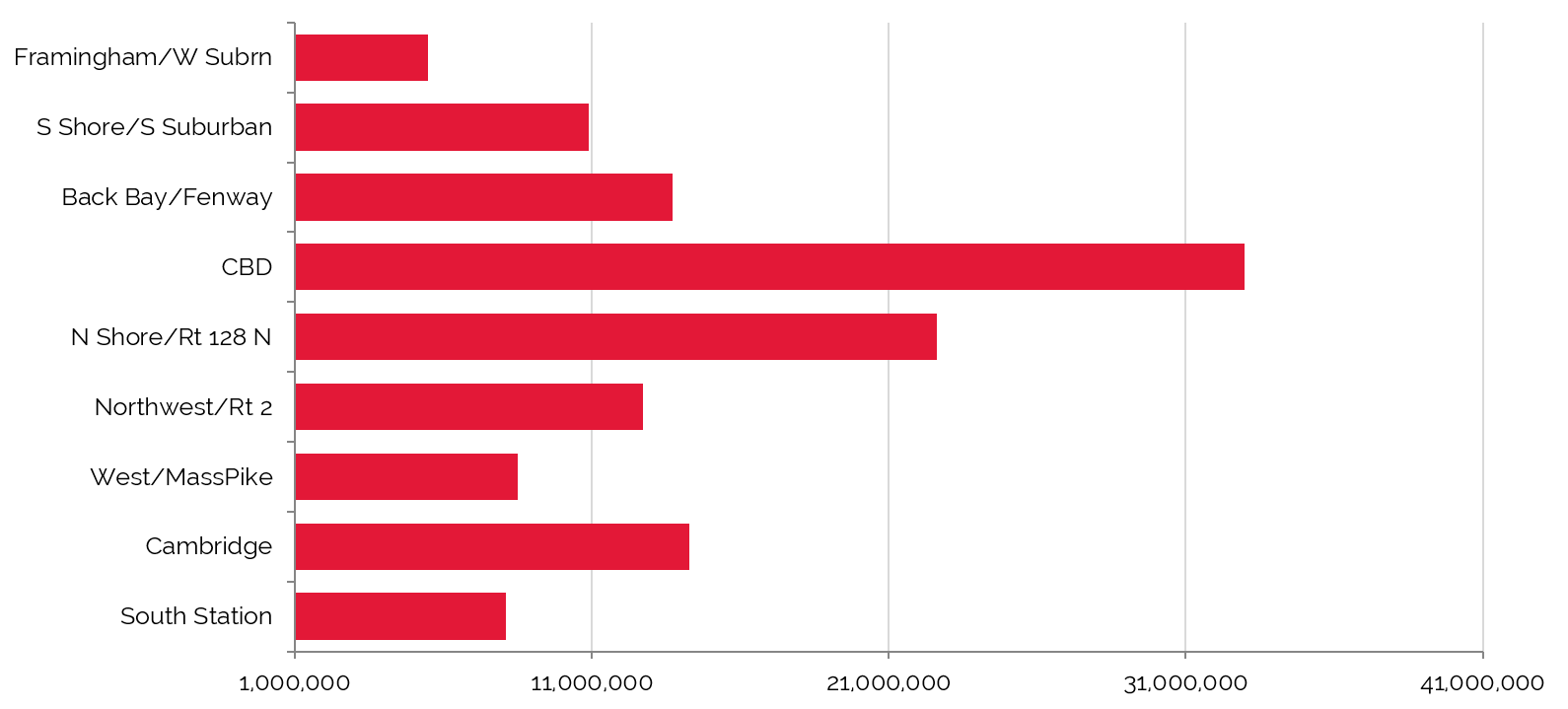 Source: REIS Report, 3rd Quarter, 2015
The greater Boston market comprises 129.1 million square feet of office space. For the third quarter of 2015, the market reported a vacancy rate of 13.4% and an average asking rent of $39.85. The inventory of office space in the Boston market increased at an average annual compounded rate of 0.3% from 2002 through 2014, while occupied office space expanded at an average annual rate of 0.8% over the same period. During the period of 2002 through 2008, occupied office space expanded at an average annual compounded rate of 1.0%. From 2008 through 2011, occupied office space remained stable, reflecting the impact of the recession. The onset of the recovery is evident in the 1.1% average annual change in occupied office space from 2011 to 2014. From 2014 to 2019, the inventory of occupied office space is forecast to increase at an average annual compounded rate of 1.5%, with available office space expected to increase 0.9%, thus resulting in an anticipated vacancy rate of 11.6% as of 2019.
While overall office vacancy levels in the Boston market did not commence a recovery until 2012, office vacancy levels for the Back Bay/Fenway, Cambridge, CBD, South Station, and West/Mass Pike submarkets illustrated a strong recovery in 2010, and these supply-constrained office submarkets have posted strong single-digit vacancy levels ever since. According to local officials, office tenants are expected to experience significant increases in average asking rents throughout the near term, largely due to limited new construction, strong pre-leasing activity for new construction, and continued growth within the high-tech sector. Furthermore, the limited supply of quality space will continue to push average asking rents upward. With the most rentable square feet among all of Boston's office submarkets, as well as a low vacancy rate and the highest rental rates in the market, the CBD has proven to be a major hub for much of the city's growth and demand. The tenant base within the CBD office submarket has shifted dramatically in recent years, with a mix of financial, legal services, healthcare, and high-tech tenants. Contrasting the vibrancy of Boston's core office submarkets in recent years, the market's suburban office parks remain underutilized. Given strong employment growth in local office-seeking sectors, along with a continued regional and national economic recovery, Boston's suburban office markets are primed for growth throughout the near term. As the market continues to tighten, the relative affordability and flexible floor plates of suburban office space will prove to be a source of value for tenants being priced out of Downtown Boston
Vacancy Rate for Most of the Region Remains Below 20%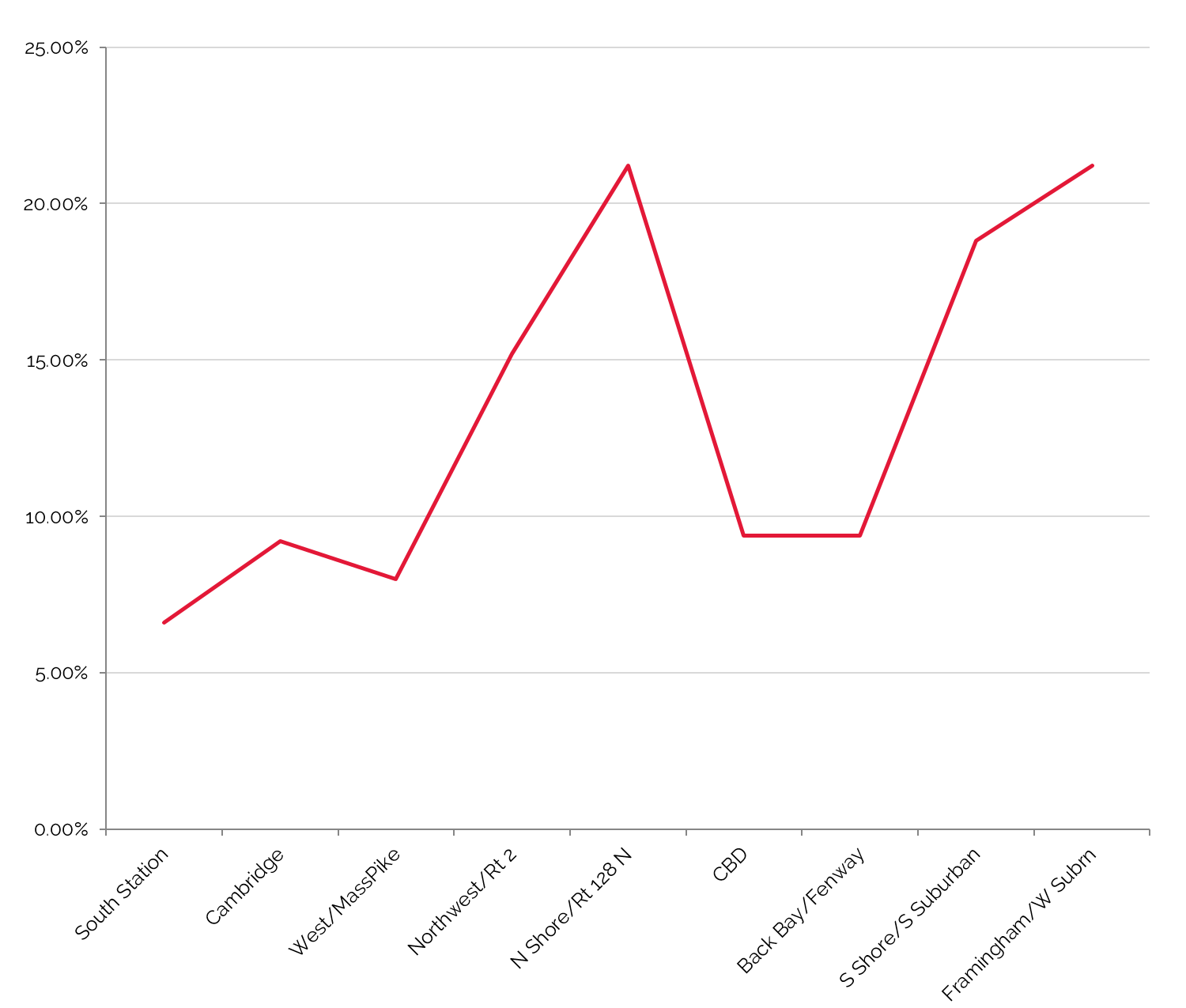 CBD Outperforms Overall Market in Average Asking Lease Rate
Source: REIS Report, 3rd Quarter, 2015
Available and Occupied Office Space will Gradually Grow until 2017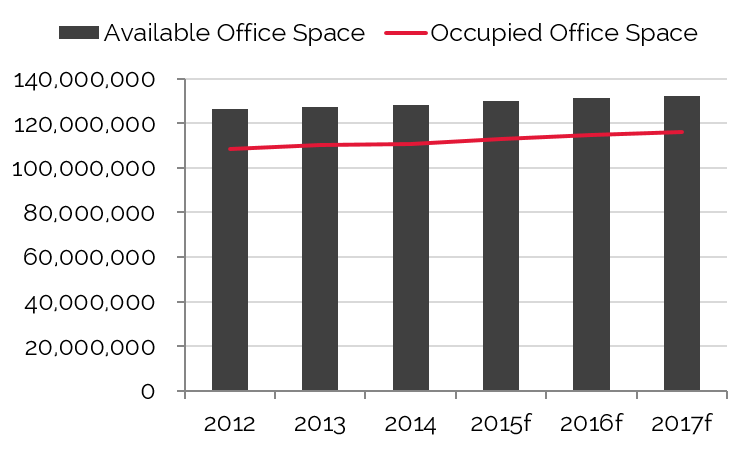 Vacancy Rate to Drastically Drop in Near Future

Source: REIS Report, 3rd Quarter, 2015
Convention Activity
Convention centers generate significant levels of demand for area hotels, particularly those within a radius of three miles. Convention headquarter hotels command premium rates and, in addition to capturing event-related demand, can also benefit from hosting related banquet events. Major conventions also push demand to peripheral hotels in the market.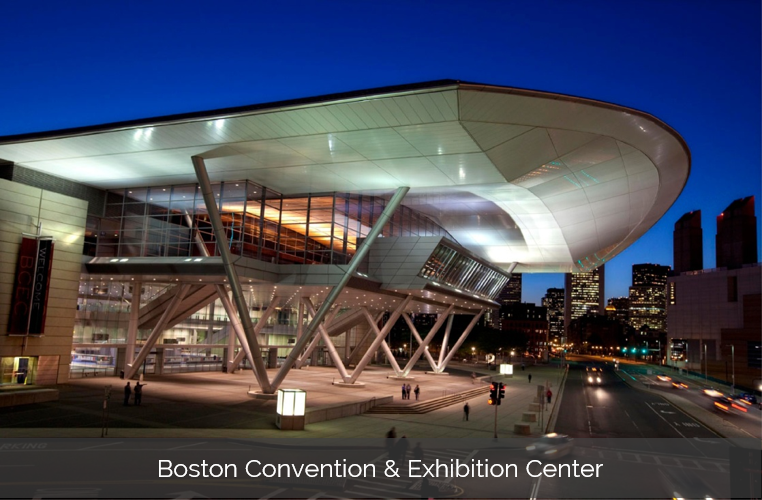 The City of Boston opened the Boston Convention & Exhibition Center (BCEC) in June 2004. The $800-million, 1.7-million-square-foot facility is located on 60 acres along Summer Street in the Seaport District of South Boston. The BCEC contains approximately 600,000 square feet of exhibition space and 193,000 square feet of meeting space, including a ballroom approximately 40,000 square feet in size. In 2014, former Governor Patrick signed legislation allowing for a 1.3-million-square-foot expansion of the convention center to include 335,000 square feet of new exhibit space, 100,000 square feet of new meeting space, and a new column-free, 75,000-square-foot ballroom. The expansion is expected to allow the Massachusetts Convention Center Authority (MCCA) to attract larger events and host multiple simultaneous events. In April 2015, Governor Baker placed the expansion project on hold, citing concerns that its economic impact had been overstated and its debt payments could negatively affect the state. The MCCA is expected to reconsider the original proposal and conduct an analysis to determine how these resources could best benefit the local economy; however, no deadline has been set for a decision. Postponing or aborting the expansion could negatively affect other development projects throughout the South Boston Waterfront.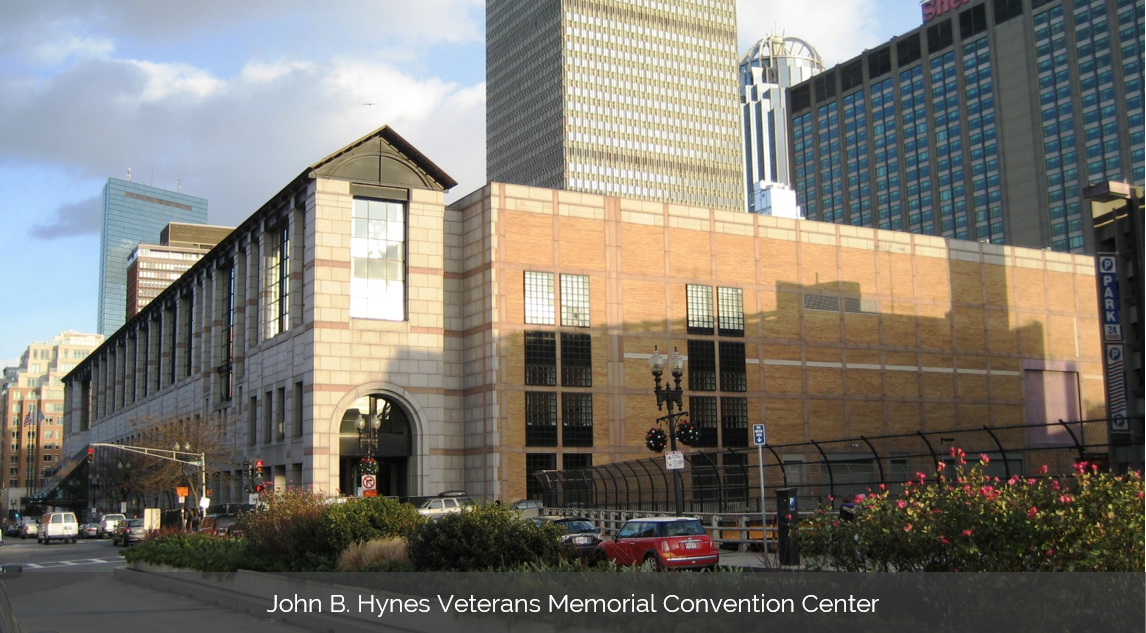 In addition to the BCEC convention submarket, Downtown convention demand has been historically accommodated by the John B. Hynes Veterans Memorial Convention Center in the Back Bay area of Boston. The facility, located adjacent to the Prudential Center, contains 193,000 square feet of exhibition space, a 25,000-square-foot ballroom, and 37 smaller meeting rooms. Both the BCEC and the John B. Hynes Veterans Memorial Convention Center facilities are operated by the MCCA.
Following the opening of the BCEC in 2004, convention-related demand grew rapidly through 2008. Although total convention and meeting events decreased moderately in 2007 and 2008, the number of delegates increased, boosting the number of room nights to over 600,000. With the onset of the national recession, the number of both events and attendees decreased in 2009. However, Boston's convention activity fared better than most markets in the nation, as the healthcare and life science sectors, which account for approximately one-third of the convention business in the city, remained relatively strong.
Convention trends improved considerably in 2010 as the local and national economies began to strengthen. Although the number of convention and meeting events came to a standstill in 2011, a modest upward trend resumed in 2012 and continued through 2013. Delegate attendance declined in 2011 and 2012, but rebounded in 2013. Officials from the MCCA indicated that the total number of citywide conventions booked for both the Hynes Convention Center and the BCEC increased significantly in 2014. Furthermore, the MCCA has enacted a marketing initiative known as T5, which is aimed at improving Boston's share in the world's convention and meeting industry.
BCEC and John B Hynes Veterans Memorial Convention Center Delegate Count Rises Substantially in 2013 and 2014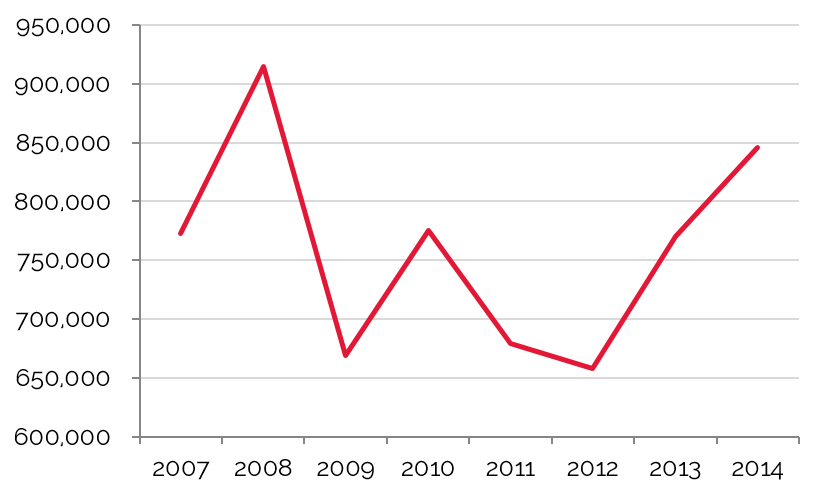 Source: Boston Convention & Exhibition Center and Hynes Convention Center
Airport Traffic
Airport passenger counts are important indicators of lodging demand. Depending on the type of service provided by a particular airfield, a sizable percentage of arriving passengers may require hotel accommodations. Trends showing changes in passenger counts also reflect local business activity and the overall economic health of the area.
Boston Logan International Airport is the largest in New England; the airport boundary encompasses approximately 2,400 acres in East Boston. Many major commercial airlines service the airport. In 2014, a new, $310-million consolidated rental-car facility opened. This 120,000-square-foot customer service center and four-story garage houses all rental-car agencies operating under agreements with Massport and features a unified shuttle bus system operated by Massport with a reconfigured bus, limo, and taxi pool. Additional improvements included the reconfiguration of bus, taxi, and passenger pick-up areas, as well as new signage at each terminal. Following its merger with Continental Airlines, United Airlines completed a $170-million Terminal B project that consolidated operations previously split between Terminals A and C. JetBlue Airways expanded to take over all 24 gates in Terminal C in 2014. Furthermore, in 2014, construction began on a $100-million expansion of Terminal E to assist in servicing the five new international airlines added since 2012. The project includes the construction of a new post-security connector between Terminal C and E, Customs and Border Protection processing kiosks, and the renovation of gates to accommodate the Airbus-380 aircraft.
Strong Rises in Passenger Traffic Since 2010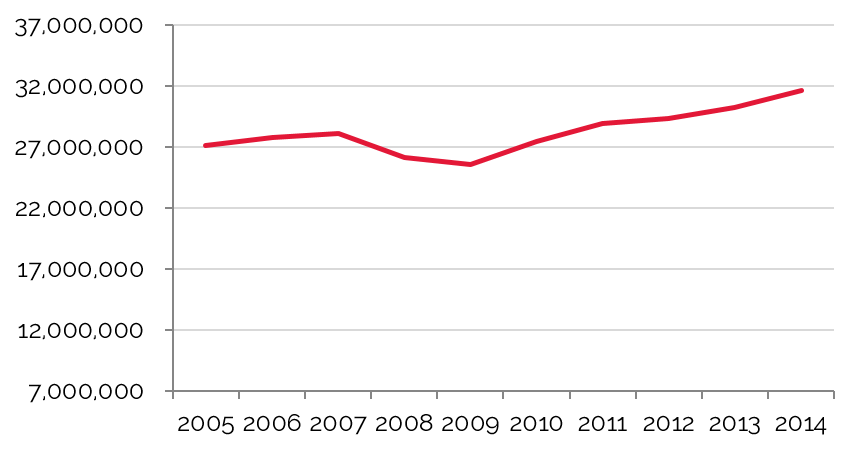 Source: Boston Logan International Airport
The continual uptick in passenger traffic is the result of increased service by major air carriers in response to stronger economic conditions and a rise in demand. International service growth continues to outpace domestic service and is expected to increase further with additional flights to and from Mexico City via Aeroméxico, Hong Kong via Cathay Pacific Air Lines, Shanghai via Hainan Airlines, and Tel Aviv via El Al. Growing passenger traffic means more visitation, and these figures speak indirectly to the strength of Boston's education and health services, finance, government, information, leisure and hospitality, manufacturing, and professional and business services.
Tourist Attractions
Historical venues pertaining to the Revolutionary War, as well as many waterfront attractions tied to the city's coastal location, draw the majority of tourist traffic to the Boston area. The peak season for tourism is from March to October, with the months of September and October particularly popular due to New England's foliage season.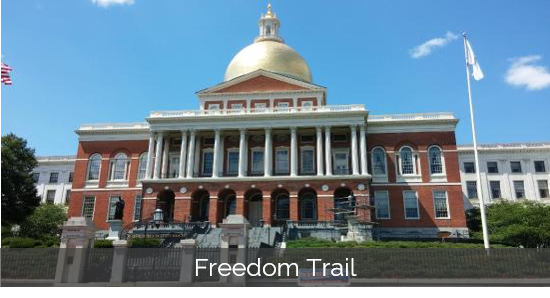 Freedom Trail
, a 2.5-mile walking tour, provides walking access to 16 historical sites in the course of two or three hours, covering nearly three centuries of American history. Key Boston landmarks and historical venues include the Old South Church, Faneuil Hall, Quincy Market, the Boston Massacre Site, the Old State House, and the Old South Meeting House.
Boston is known for its professional sports teams, many of which have held world championship titles in recent years. The NFL New England Patriots play at the Gillette Stadium in Foxboro, while the NHL's Boston Bruins and the NBA's Boston Celtics hold home games at the TD Banknorth Garden. Major League Baseball's Boston Red Sox play home games at Fenway Park.
The New England Aquarium, located on the Central Wharf, features the Sea Theater, the Harbor Terrace, the Discovery Center, and educational exhibits of more than 2,000 aquatic creatures. The aquarium is equipped with a four-story glass tank (the largest of its kind) that houses a coral reef display inhabited by sharks and sea turtles. In July 2013, the New England Aquarium completed a $15-million project to refurbish its exhibits and increase the quantity and variety of live specimens. The New England Aquarium is a global leader in ocean exploration and marine conservation, as well as a major public education resource and one of the premier attractions in Boston, with over 1.3 million visitors per year.
The Boston Museum of Science is visited by more than 1.5 million people annually and features a revolving schedule of IMAX films, temporary exhibitions, and planetarium shows. The Museum of Fine Arts offers approximately 200 galleries featuring Asian and Egyptian art, European paintings, photography, decorative arts, and sculptures, as well as traveling exhibits by top artists of the past and present.
Closing Remarks
Boston's hotel market has been thriving in terms of performance, in turn driving strong increases in hotel values. More than $7 billion in new construction is currently underway across the city. New mass-transit projects should contribute to the market's continued strength and expansion. Furthermore, the city's strong convention market is buoyed by two world-class event venues: Hynes Convention Center and the Boston Convention & Exhibition Center. The breadth of employers and companies in the Boston metropolitan area, as well as the city's reputation as a top-tier convention destination, should bolster the area's economy in the future, bringing in additional demand for rooms.
Recent trends in hotel performance, along with proposed developments and transactions, demonstrate the strength and resilience of Boston's lodging industry. The region's future growth is largely dependent on demand generated by employers in the fields of education, finance, government, health care, the military, manufacturing, technology, tourism and leisure, and trade and transportation, all of which have assisted in helping New England markets recover following the recent recession. As hoteliers concentrate on raising average rates while maintaining occupancy, overall RevPAR levels and values for Boston hotels are expected to make gains through 2018. The greater Boston lodging market offers sound opportunities for investors seeking stabilized assets, as well as selective opportunities for repositioning existing assets and new development. Overall, the outlook for the market remains optimistic in the near term.