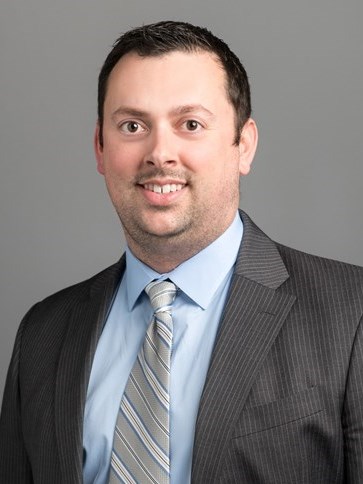 Strong group demand in recent years, along with rising levels of corporate and transient leisure demand, has secured occupancy and average rate growth in the greater Philadelphia market. Philadelphia has historically been among one of the top travel destinations in the country, and visitation across the government, meeting and group, commercial, and leisure sectors remains one of the city's most important economic drivers. Efforts to improve the greater area's infrastructure, including the redevelopment of numerous buildings throughout the Philadelphia CBD, the revitalization of the Philadelphia International Airport, and the relatively recent expansion of the Pennsylvania Convention Center, are expected to bring additional demand to the market, allowing for improvements in hotel performance even as new supply arrives.

Hotel Market Performance
Overview of Historical Occupancy and Rate Trends
The following charts illustrate trends in forecasted supply, demand, occupancy, and average rate for Philadelphia hotels from 2015 to 2017.
Occupancy, Rate and RevPAR Expected to Continue Upward Trend
Philadelphia's Occupancy Expected to Stabilize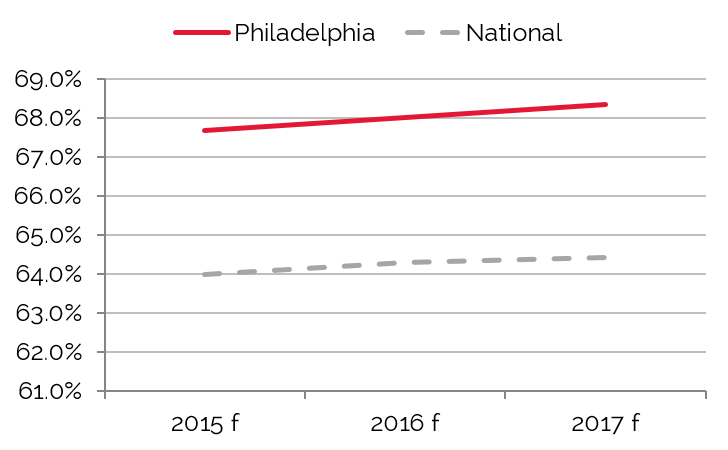 Philadelphia Average Rate Growth Outpaces Nation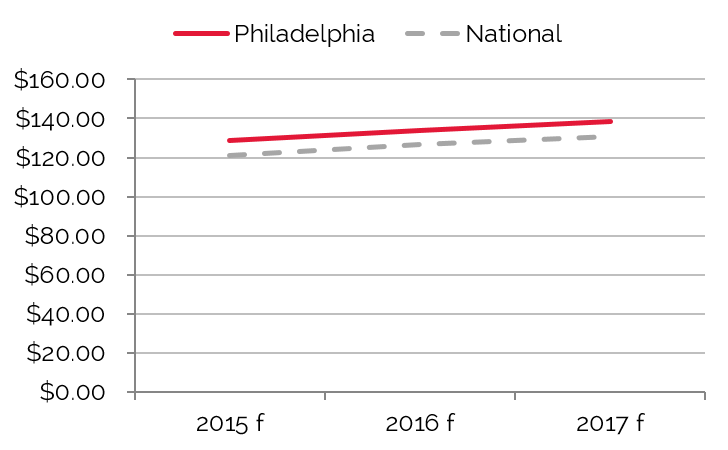 Philadelphia's RevPAR Soars ahead of Nation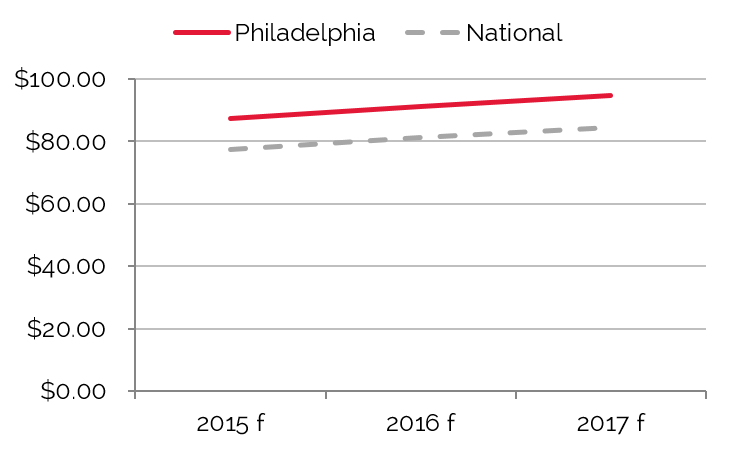 Source: HVS
Occupancy and average rate for the greater Philadelphia market have grown substantially since the onset of the national recession in 2008/09. Increased tourism, banner years for visitation to citywide events, and a strengthening corporate base contributed to this growth. RevPAR for the market attained a new peak in 2014, reaching a level slightly above the prior peak in 2007. We expect continued growth in RevPAR, particularly resulting from forecasted increases in average rate. Occupancy increases will be less pronounced, as the market continues to absorb new supply from 2016 to 2018.
Greater Philadelphia Supply Outpaces Demand through 2017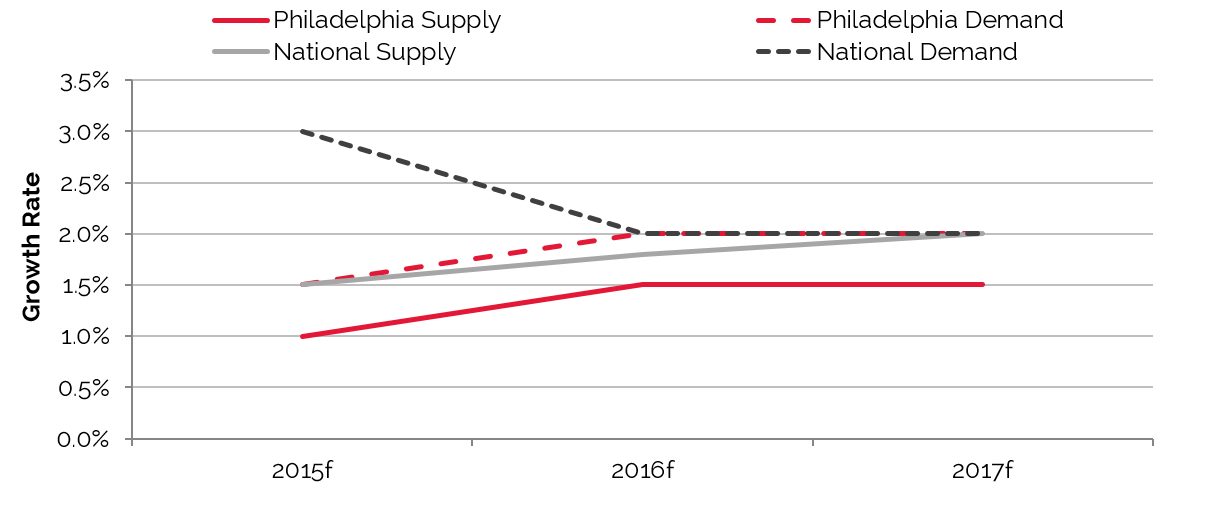 Source: HVS
As the above chart illustrates, annual growth in both supply and demand is expected to continue, resulting in market equilibrium in 2017. Near-term demand growth should further strengthen occupancy levels. The makeup of demand in the market is diverse, with a wide variety of sources generating demand, and occupancy levels are expected to remain strong in the coming years, supported by ongoing expansion and revitalization efforts. Furthermore, significant unaccommodated demand exists in the market, particularly in the CBD submarket during the peak tourism seasons, as well as during major citywide events that sell out the market, creating compression and overflow to other nearby markets. The capacity to absorb new supply in the greater Philadelphia market is indicative of the limited inventory and high regulatory barriers to entry that have helped to throttle supply growth despite substantial demand growth in recent years.
Existing Supply Breakdown by Brand and Scale
The upscale segment comprises the largest proportion of rooms in the Philadelphia lodging market by a wide margin, with approximately 12,600 rooms, representing 27% of total inventory. This figure outpaces the national average of 19% for this class of hotels. Furthermore, while upper-upscale and upscale tiers make up approximately 35% of national inventory, these segments comprise nearly 50% of inventory in Philadelphia.
On the whole, greater Philadelphia's guestroom inventory is oriented toward higher-end products, which is reflective of the high concentration of hotels in the more tourist- and corporate-centric CBD submarket. The market's luxury segment comprises 1,874 rooms, or 4% of all rooms in Philadelphia, while luxury hotels comprise 3% of rooms nationally. Market share levels for the upper-midscale, midscale, and economy tiers in the Philadelphia market remain well below those of the nation; the relative lack of lower-rated hotels speaks to the strength of average rate in the Philadelphia market, which in turn owes largely to a well-established and diversified demand base.
Upscale Properties Represent Largest Portion in Philadelphia, while Upper-Midscale
Hotels Lead the Nation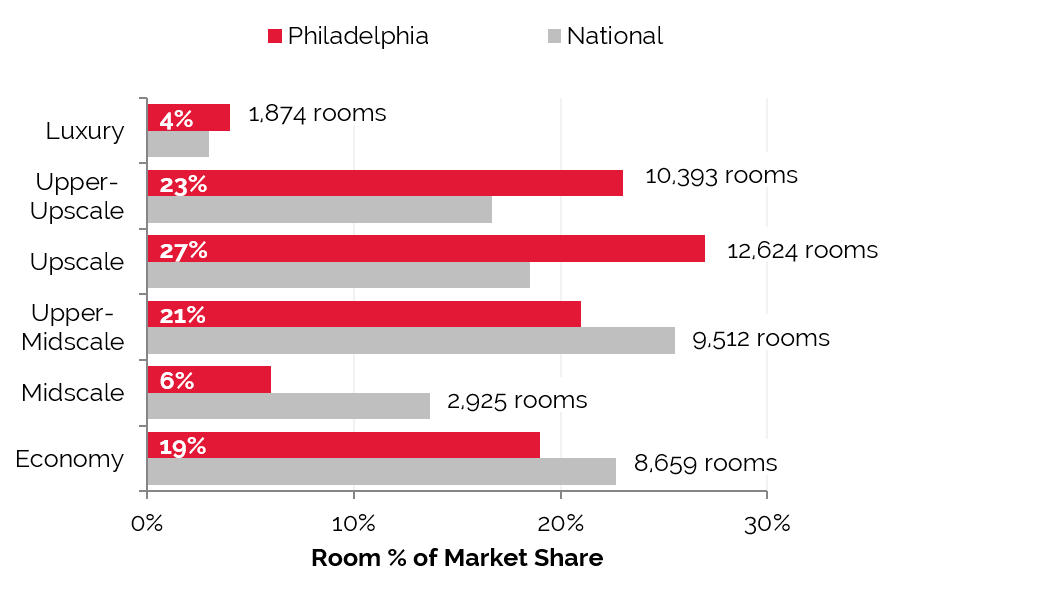 Source: STR
New Supply Pipeline
Within the CBD, hotels belonging to the upper-upscale and luxury classes are expected to dominate the new supply pipeline from 2016 to 2018, driven by the needs of existing and expanding commercial and leisure demand generators in Philadelphia. This is especially apparent in the city's downtown core, which tends to generate a wealth of higher-rated clientele. Developers are taking advantage of the higher rates these hotels command, given the number of travelers to Philadelphia with the means to pay for centrally situated, higher-class hotel rooms.
The table below reflects an increase of approximately 2,700 rooms for the Philadelphia market, in addition to the existing supply of 45,987 rooms in the city, as well as numerous planned projects. This represents an approximate supply increase of 5.9%.
Some 2,700 Hotel Rooms Could Come to Philadelphia in the Next Five Years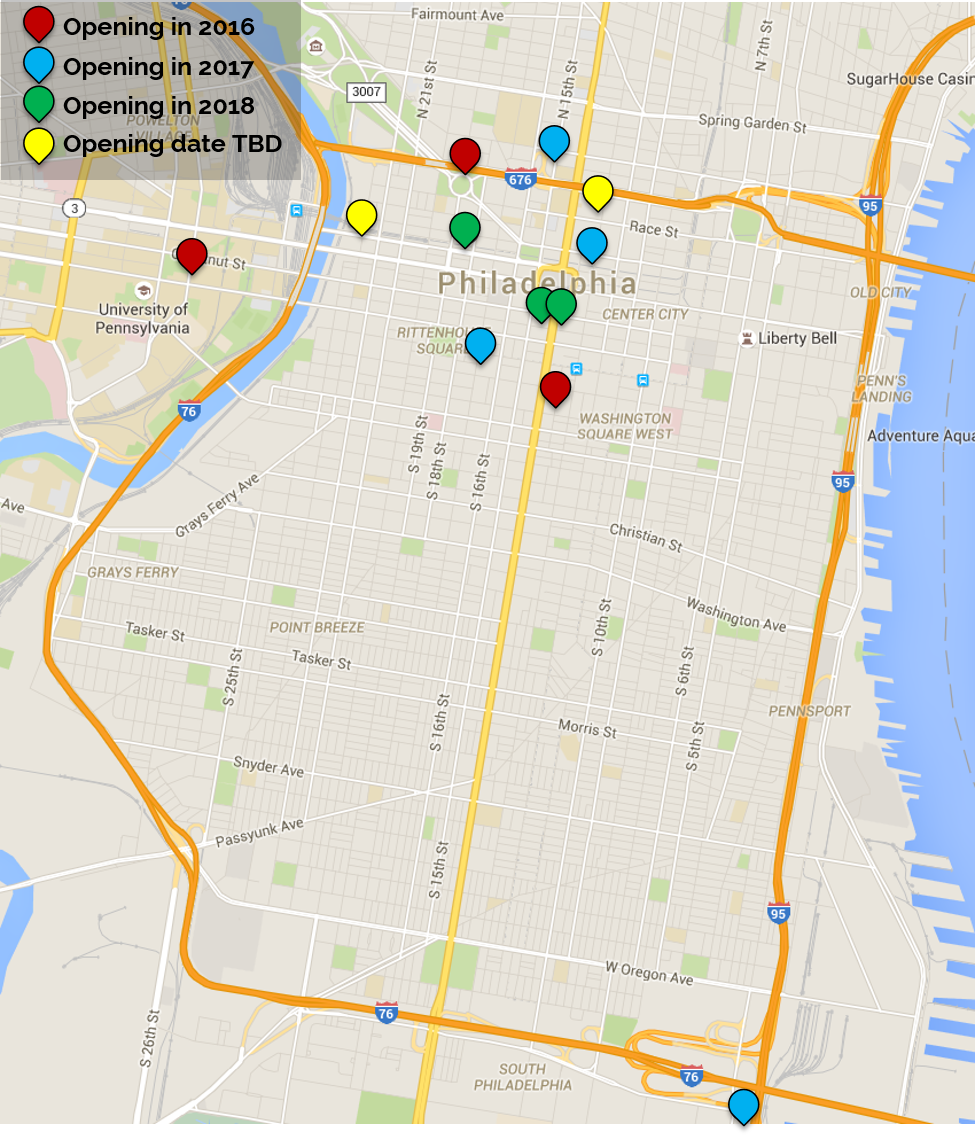 Source: HVS and BuildCentral, Inc.
Several new hotels are expected to enter the Downtown submarket over the next several years. Larger projects include a 700-room W and Element Hotel by Westin, a 150-room SLS Hotel, a 222-room Four Seasons (built atop Comcast Tower), and a 200-room Kimpton Hotel. Many existing hotels have completed or are undergoing significant renovations, which should help support RevPAR growth in the coming years. The forecasted increase in new supply should help trigger larger group functions, making the area more desirable as brands continue to emerge within the Downtown submarket.
Of the property classes and room counts that have been determined, the following chart illustrates the class breakdown of the new supply.
Philadelphia's Luxury Hotel Room Inventory Set to Increase More Than 34%; Economy and Upper-Midscale Inventory to Stabilize

Source: HVS, STR and BuildCentral, Inc.
Lodging Room Supply Expected to Increase 2015–2017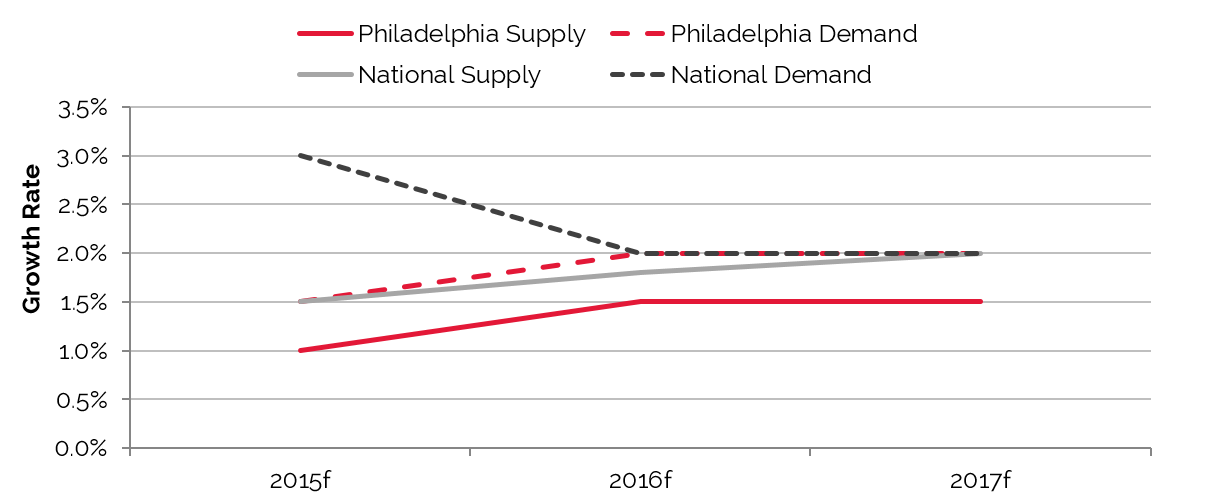 Hotel Valuation Trends
The annual Hotel Valuation Index (HVI) compiles data derived from over 4,500 hotel appraisal assignments each year, providing for analysis of performance and forecasts for hotel markets nationwide. Like hotel markets in most of the nation's first-tier cities, hotel performance in Philadelphia remained ascendant through 2014, with RevPAR growth of nearly 5%. At roughly 67%, the market's 2014 occupancy approached its historical peak of 69% in 2006. With the CBD's somewhat challenging environment for new hotel construction, supply tends to increase in only minor increments, helping to sustain occupancy in the submarket. Philadelphia is, however, in the midst of a historic development boom, triggered by revitalization efforts throughout the city, expansions at local healthcare and educational institutions, and increases in tourism and the number of citywide conventions and future convention bookings.
The HVI also provides insight into hotel values. In 2014, Philadelphia ranked 59 of 65 major U.S. markets in hotel value growth, with a 5% increase. Values are expected to increase another 3% in 2015, with 6% growth forecast between 2015 and 2018.
The following chart illustrates the trajectory of hotel values in Philadelphia from 2006 through 2018.
Moderate Growth in Hotel Values Tempered by the Entrance of New Supply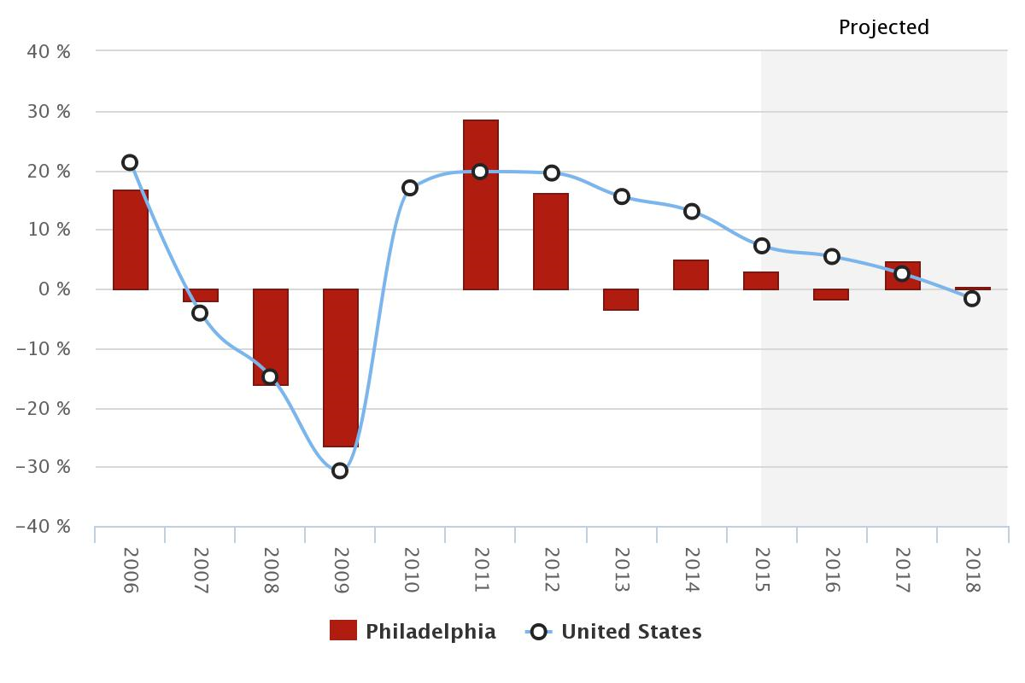 Source: HVS & STR
Hotel Value Projections Show Growth through 2018

Ratings are comparable to 65 major U.S. cities evaluated in the HVS HVI.
Source: HVS & STR
Recent Hotel Transactions
The following table details confirmed hotel transactions in greater Philadelphia since 2013.
Philadelphia Leads Both Average Price per Room and Number of Sales in Greater Philadelphia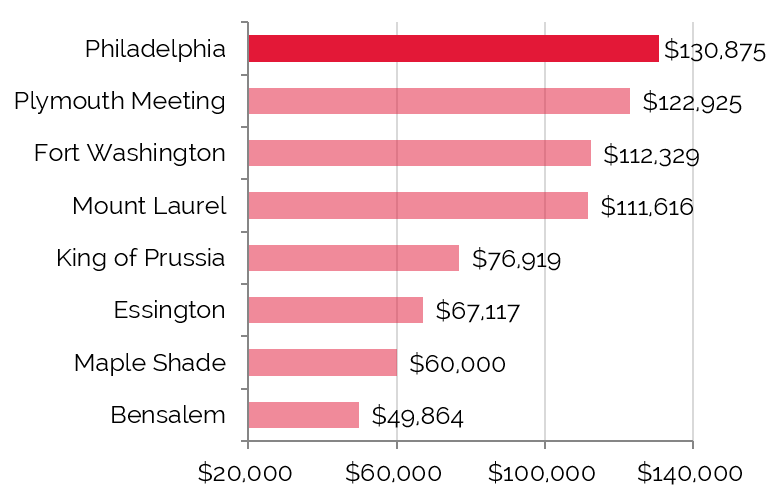 Average Price per Room
Source: HVS & RCA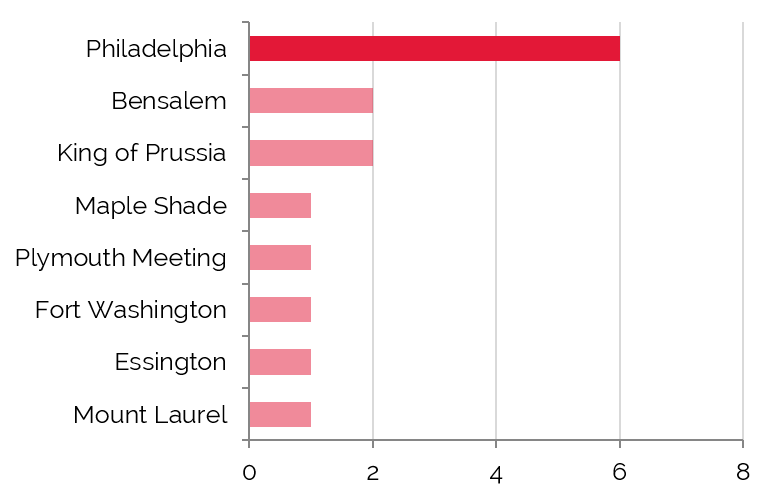 Number of Sales
Source: HVS & RCA
The number of transactions for the market has declined somewhat since 2013, a year in which investors nationwide sought to take advantage of the notable RevPAR gains in 2011 and 2012. Since 2014,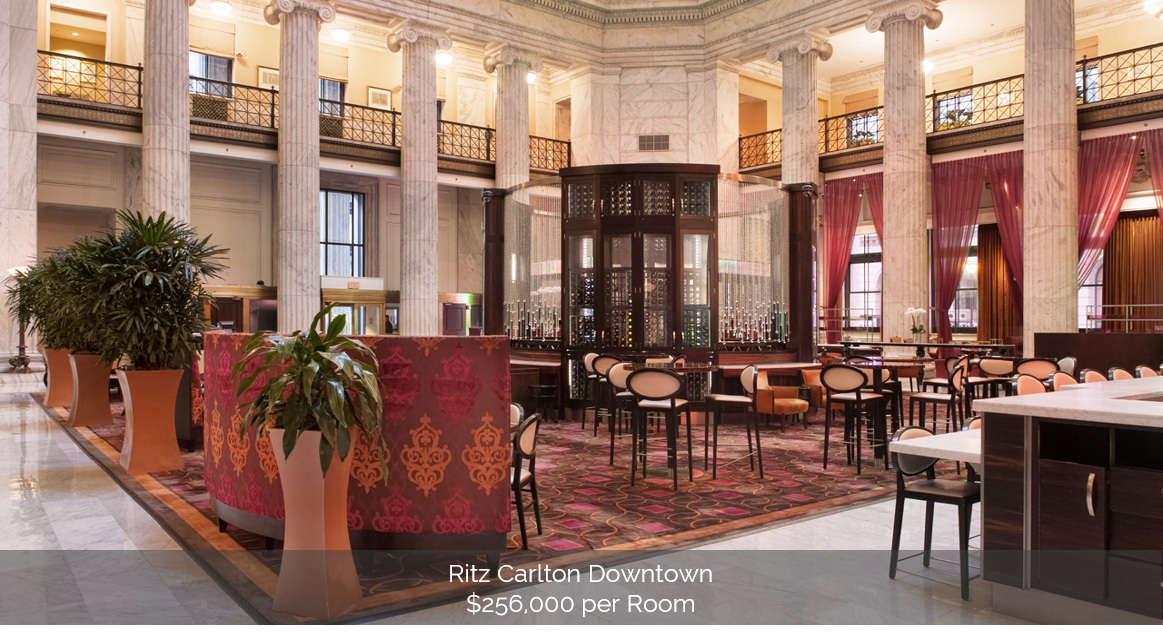 confirmed individual transactions in Greater Philadelphia have totaled approximately $450 million. Despite a decline in total transaction volume for the 2015 period, pricing continues to increase, particularly with the recent sale of the Ritz-Carlton Downtown, which sold for roughly $256,000 per room in May 2015.
Across the nation, according to Real Capital Analytics, the lowest-priced confirmed hotel sale for the preceding three years was the Hotel Seagate in the Toledo, Ohio CBD at $2,830 per key. The next two lowest sales occurred in Chicago and Atlanta. The highest-priced confirmed sale, at $1.85 million per key, was the purchase of the Park Hyatt Hotel in the Manhattan Midtown West neighborhood. The next runner up was the Hollywood St. Louis in Missouri at $1.22 million.
Average Price per Key in the U.S. Has Risen since 2012
Number of Major U.S. Sales
($10M and above)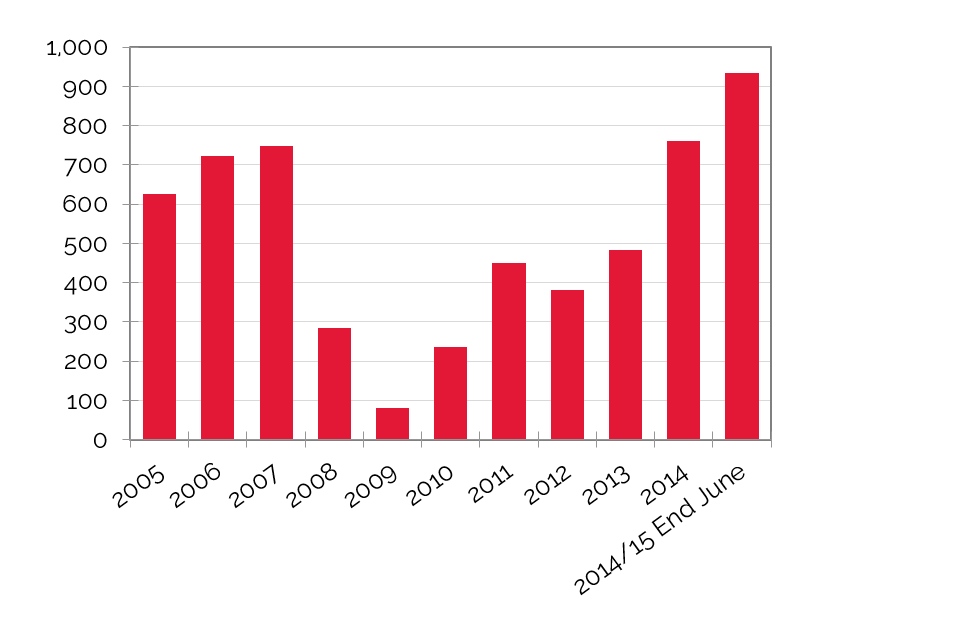 Average U.S. Key Price per Room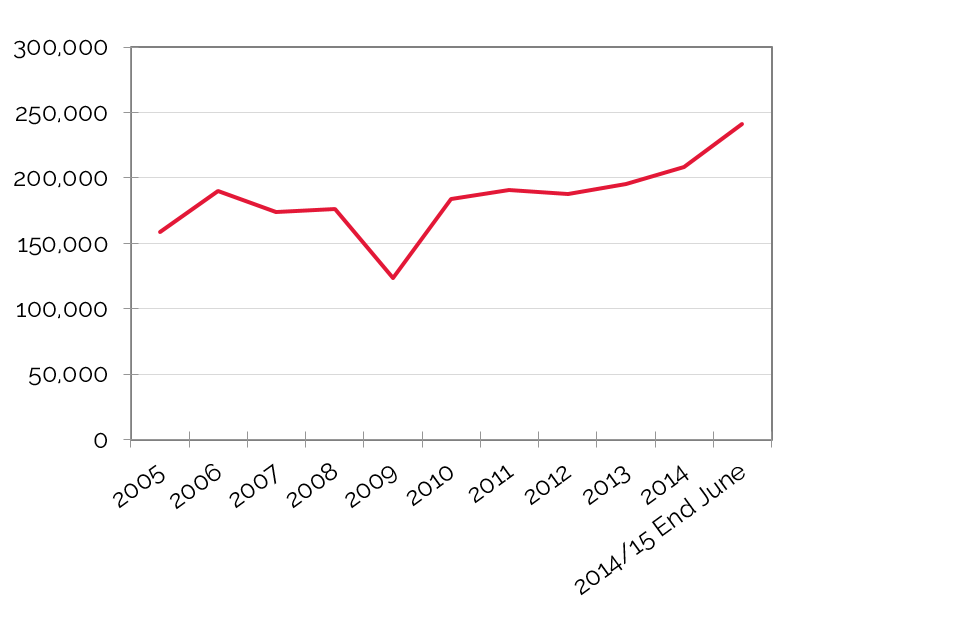 Source: RCA
Key Economic Indicators
Economic and Demographic Review
The U. S. population grew at an average annual compounded rate of 0.9% from 2010 through 2014, and that rate is forecast to increase to 1.0% into 2020. For those same periods, Philadelphia County's population growth is shown to lag behind the country at 0.1%, but the Philadelphia MSA exceeds the county and state with a compounded average annual growth rate of 0.5% from 2010 to 2014 and 0.5% into 2020. This growth rate is being spurred, in part, by strong job growth in the Philadelphia metro area.
Philadelphia's MSA average annual compounded growth rate of resident population has been 50% lower than that of the nation.

Average annual compounded growth rate of per-capita personal income for the MSA was 4% higher than that of the nation in the 2010-2014 period.

The average annual compounded growth rate of per-capita personal income for the county between 2010 and 2014 of 1.8% was higher than the national average of 1.2%. Anticipated growth into 2020 for the county is 2.2%, versus 1.3% for the nation. Anticipated growth into 2020 for the Philadelphia MSA is forecast at 1.6%.
The national wealth index trended flat from 2000 to 2014 and is anticipated to remain flat into 2020, while Philadelphia County is expected to realize an increase of 0.5% and 0.8% for the two periods, respectively.
Food and beverage sales in the county grew at an annual compounded rate of 1.7%, with $2.249 billion in 2010 and $2.402 billion in 2014. Through 2020, the pace of growth is expected to moderate slightly to 0.8% for the county. The Philadelphia MSA reflected more robust sales with $8.337 billion in 2010, $8.941 billion in 2014, and a projected $9.618 billion in sales in 2020. This reflects average annual compounded growth rates of 1.8% from 2010 to 2014 and 1.2% from 2014 to 2020, which is lower than the national anticipated growth rate of 1.9%.
The retail sales sector for the county was again significantly outpaced by the Philadelphia MSA. The MSA demonstrated an average annual compounded growth rate of 2.3% with $87.647 billion in 2010 and $95.866 billion in 2014. This sector is expected to remain strong into 2020, with a 1.5% growth rate.
Radial Demographic Indicators
The following table reflects radial demographic trends for the Philadelphia market area measured by three points of distance from the center of Downtown Philadelphia.
Demographics by Radius from the Center of Town
Population Growth to Grow within One-Mile Radius 2015–2020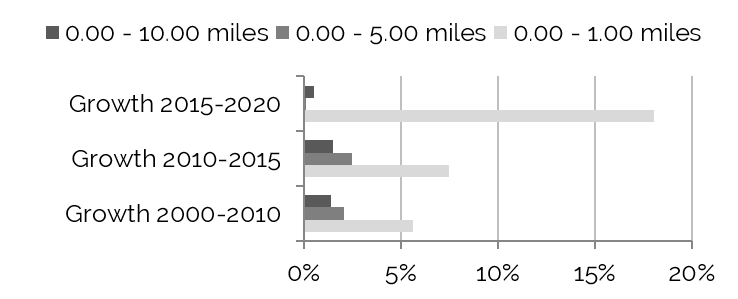 Source: The Nielsen Company
Household Growth Most Stable within Five-Mile Radius 2010–2015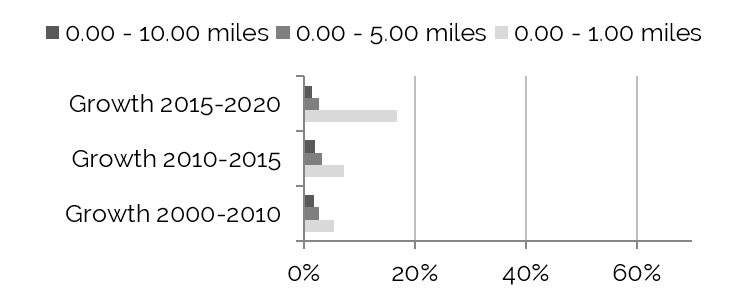 Source: The Nielsen Company
Top Five Occupations – Estimated for 2015
Within One-Mile Radius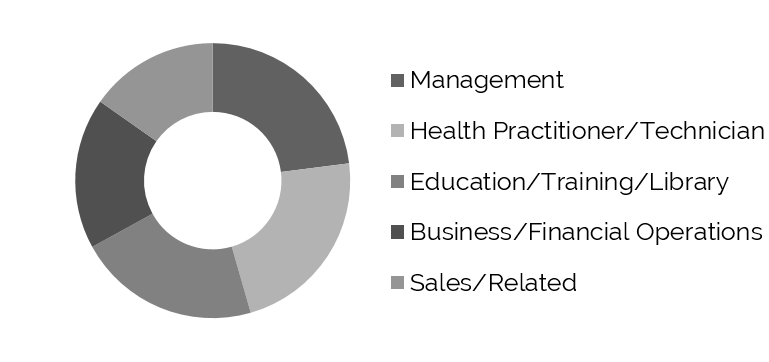 Within Five-Mile Radius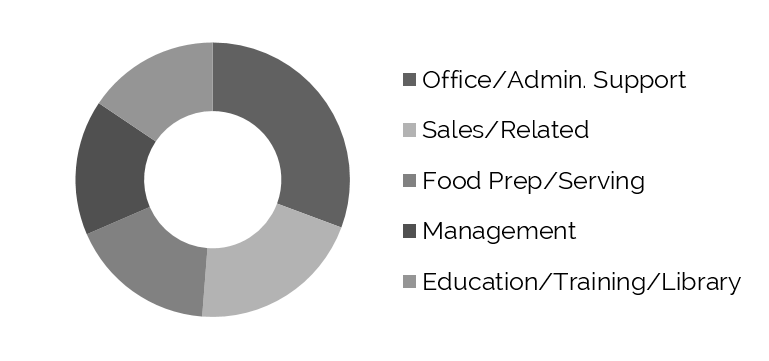 Within Ten-Mile Radius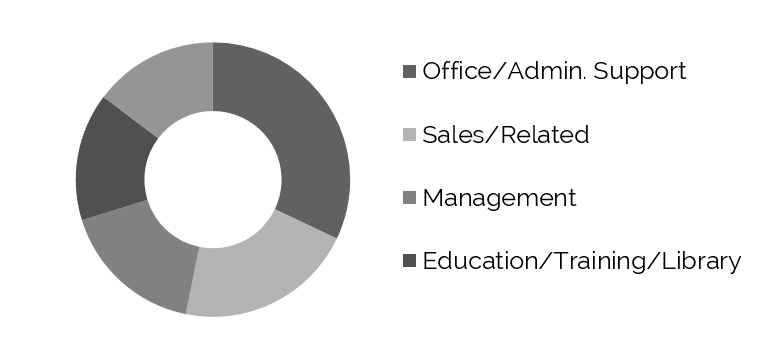 Source: The Nielsen Company
Population growth within one mile of the center of Downtown was a significant 18.1% from 2000 through 2010, whereas the greater area experienced a far less pronounced growth rate of 0.5% during this same period. Although the overall growth rate slowed to 7.5% from 2010 to 2015, projected growth is anticipated to continue at about 5.6% per year into 2020. Households are expected to grow at a rate of 5.5% per year into 2020.
2015 Forecast - Average and Median Household Income
Source: The Nielson Company
Workforce Characteristics
The characteristics of an area's workforce provide an indication of the type and amount of transient visitation likely to be generated by local businesses. Sectors such as finance, insurance, and real estate [FIRE]; wholesale trade; and services produce a considerable number of visitors who are not particularly rate-sensitive. The government sector often generates transient room nights, but per-diem reimbursement allowances often limit the accommodations selection to budget and mid-priced lodging facilities. Contributions from manufacturing, construction, transportation, communications, and public utilities [TCPU] employers can also be important, depending on the company type.
From 2000 to 2010, total employment in the MSA grew at an average annual rate of 0.5%. This rate was below the growth rate recorded by the nation. The pace of employment growth in the MSA increased to 1.1% on an annual average from 2010 to 2014. Woods & Poole Economics, Inc. anticipates total employment in the MSA to change by 1.3% on average annually through 2020. The MSA trend is on par with the forecasted rate of change for the U.S. as a whole.
The finance, insurance, and real estate [FIRE]; wholesale trade; and services employment sectors represented 64.8% of total employment in the Philadelphia MSA in 2014; these sectors are important drivers of demand to higher-rated hotels. Total Government, the third-largest primary employment sector in 2014, tends to generate demand for economy properties, as per-diem rates limit travelers to lower-priced hotels.
The largest primary sector was Total Services, which recorded the highest rise (1.9%) in number of employees during the period from 2010 to 2014. Of the various sub-sectors included in Total Services, Health Care and Social Assistance and Professional and Technical Services were the largest employers.
Employment Projections through 2020 Show Impressive Growth in Total Services and FIRE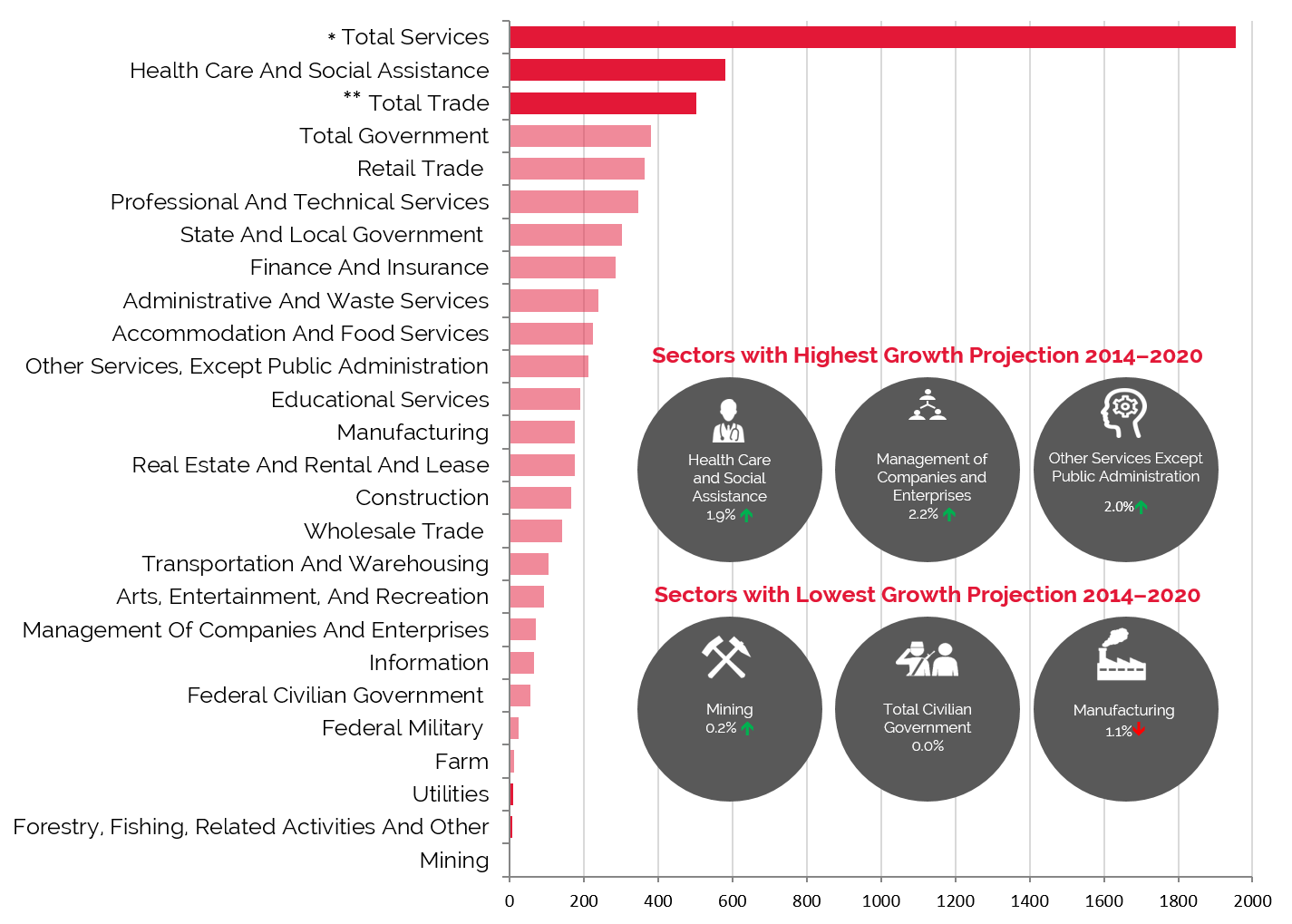 Source: Woods & Poole Economics, Inc.
* Total Services include: Professional and Technical Services; Management of Companies and Enterprises; Administrative and Waste Services; Educational Services; Healthcare and Social Assistance; Arts, Entertainment, and Recreation; Accommodation and Food Services; and Other Services, except Public Administration
** Total Trade includes Wholesale Trade and Retail Trade
Employment
Philadelphia's collection of businesses, government agencies, entertainment venues, historical attractions, and numerous healthcare and educational institutions serve as a platform for the city's diverse workforce. Philadelphia is reportedly the second-largest educational hub on the east coast, which has assisted in supplying the local labor pool with young, well-educated talent.
The following table illustrates historical and projected employment, population, and income data for the overall Philadelphia market as presented by REIS.
Historical & Projected Employment, Households, Population, and
Household Income Statistics for the Philadelphia MSA

Source: REIS Report, 3rd Quarter, 2015
Top Industries In Philadelphia
Government, Education, Health Care Entities Constitute
Philadelphia's Top Employers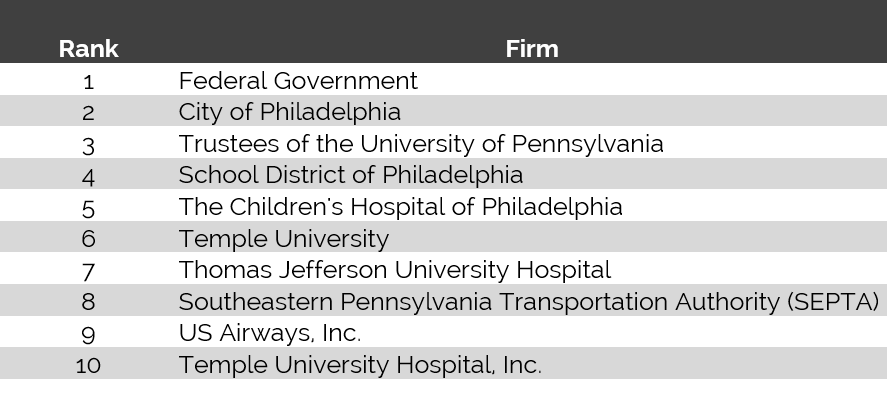 Source: Center for Workforce Information & Analysis, 2014
The University of Pennsylvania (Penn) is home to a diverse full-time undergraduate student body of nearly 10,500, hailing from every state in the union and all around the globe. Admissions are among the most selective in the country, and Penn consistently ranks among the top ten universities in the annual U.S. News & World Report survey. Another 11,000 full-time students are enrolled in Penn's twelve graduate and professional schools, which are national leaders in their fields.
In the fall of 2014, the University of Pennsylvania announced plans to expand its South Bank campus, now known as Pennovation Works, with the hub of the development being the Pennovation Center. The facility, which will open in phases from late 2015 through the summer of 2016, will consist of 58,000 square feet of redeveloped industrial space and serve as a hub to facilitate and accelerate entrepreneurial activities, collaborations, and research discoveries at Penn. Other higher-education institutions in Philadelphia include Temple University and Thomas Jefferson University, which both launched capital investment projects in 2014.
The healthcare sector is important to the area and also serves as a major demand generator. Jefferson Health System, once known as the largest health system in southeastern Pennsylvania, included Thomas Jefferson University Hospitals, Main Line Health System, and Magee Rehabilitation Hospital. However, in March 2014, the health system restructured to allow each entity to manage its own financial decisions, dissolving the Jefferson Health System name. Hahnemann University Hospital, which is affiliated with Drexel University College of Medicine and St. Christopher's Hospital for Children, also plays a vital role in the area's healthcare sector. With Hahnemann University Hospital and each facility of the disbanded Jefferson Health System maintaining significant workforces, the healthcare sector should continue to be a driving force for the local economy.
Philadelphia's breadth of employers continues to help the city's economy expand, particularly on the stable foundation of the region's healthcare and education sectors. Ongoing revitalization efforts throughout the city, along with airport traffic, tourism, and conventions, should provide additional strength to Philadelphia's economy over the long term.
Unemployment
After showing year-over-year improvement, unemployment rates rose in 2008, as the region entered an economic slowdown, and this trend continued through 2010. Unemployment remained elevated but relatively stable in 2011 and 2012. However, unemployment declined in 2013 as the economy rebounded, a trend that continued in 2014. The most recent comparative period illustrates improvement, indicated by the lower unemployment rate in the latest available data for 2015. Reportedly, local employment has remained strong within the healthcare sector and the educational institutions throughout the region. Nonetheless, it should be noted that the most recent comparative period reflects a moderately higher unemployment level than the national average.
Unemployment High for the County, MSA in Line with the Nation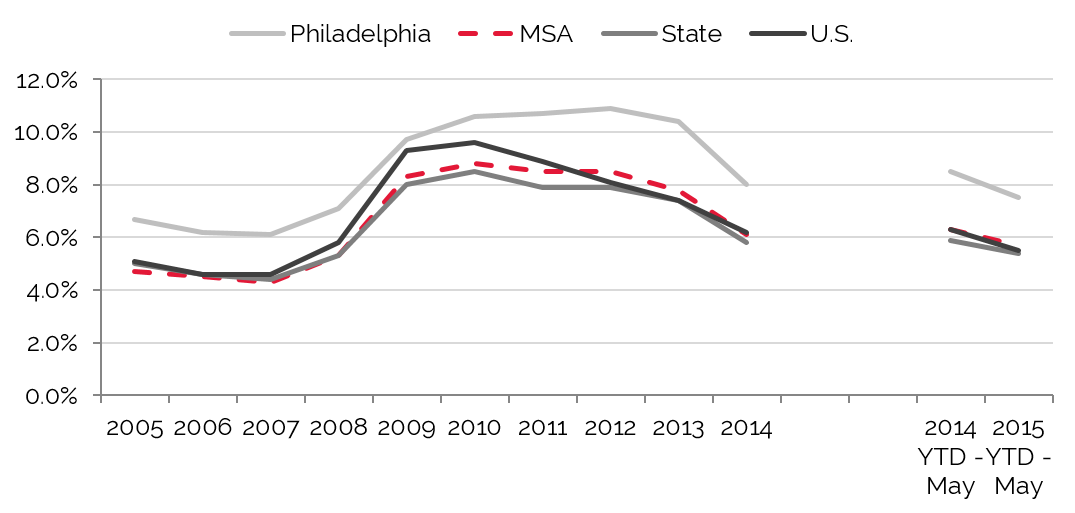 Source: U.S. Bureau of Labor Statistics
Office Space
Trends in occupied office space are typically among the most reliable indicators of lodging demand, as firms that occupy office space often exhibit a strong propensity to attract commercial visitors. Thus, trends that cause changes in vacancy rates or in the amount of occupied office space may have a proportional impact on commercial lodging demand and a less direct effect on meeting demand.
According to REIS, the Center City submarket recorded the second-lowest vacancy rate among all Philadelphia submarkets, at 4.2%, behind West Philadelphia. The Business Journal reports that Center City continues to grow, with over $6.7 billion of development completed last year or in the pipeline. The 1.28-million-square-foot Comcast Innovation and Technology Center, which is under construction, will increase office supply in this submarket. Comcast leased the remaining available office space during the first quarter of 2015, totaling 1.3 million square feet.
Center City Accounts for Nearly 35% of All Regional Office Space Inventory
Source: REIS Report, 3rd Quarter, 2015
According to market participants, a recent trend in the area is reported to be removing Center City Class B/C space from the inventory for conversion to housing in order to keep up with the growing population of Millennials within the city.
Center City Offers the Second-Lowest
Vacancy Rate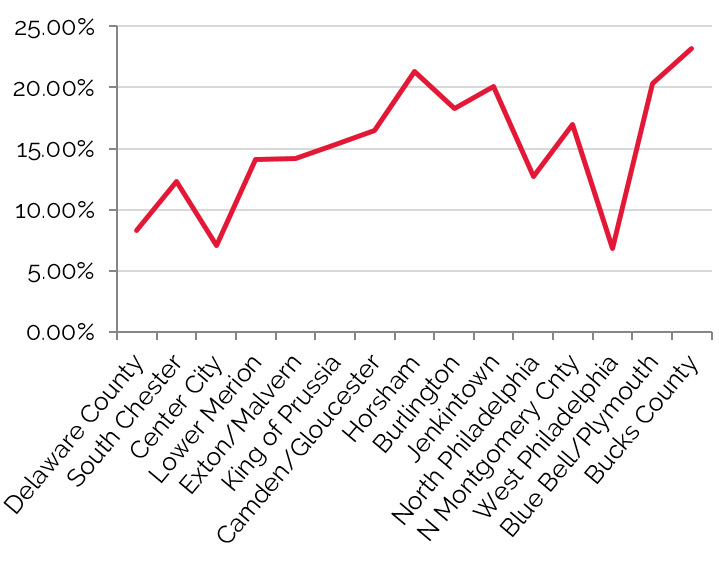 Merion Leads with Highest Average
Asking Lease Rate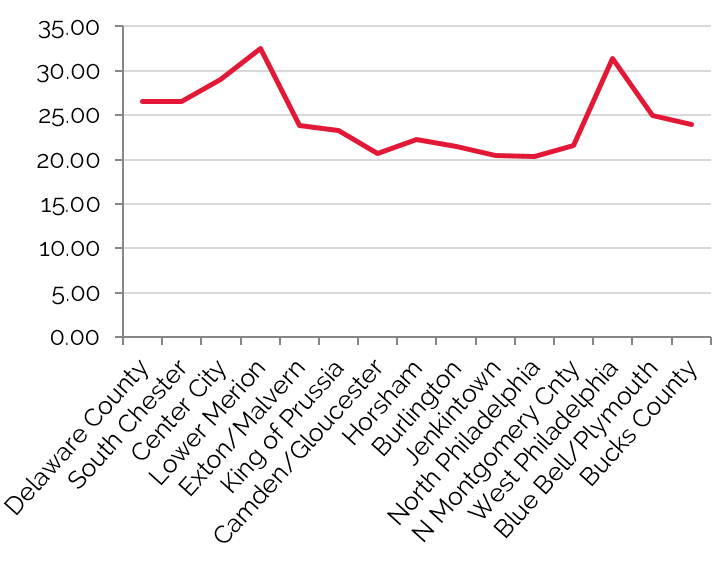 Source: REIS Report, 3rd Quarter, 2015
Office Occupancy Experiences
Gradual Growth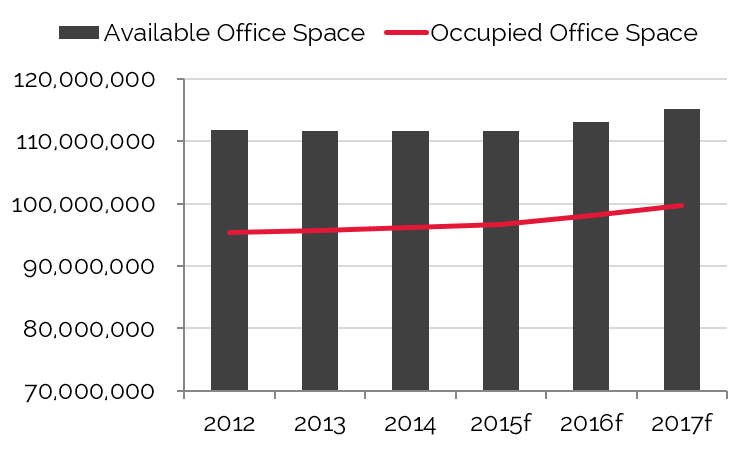 Asking Lease Rate Increases as Vacancy
Rate Drops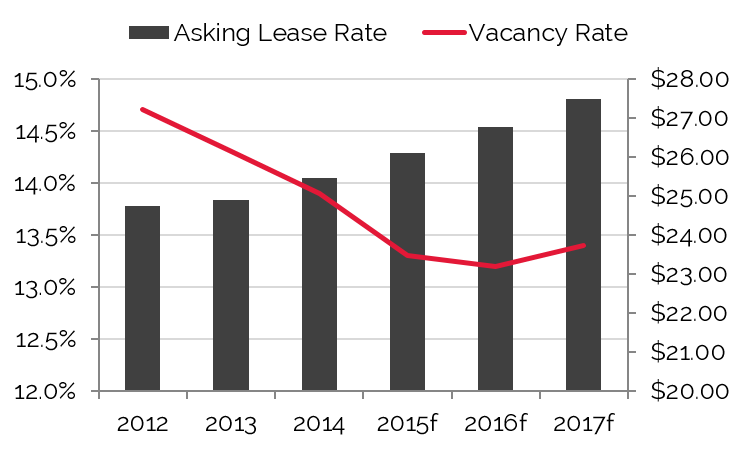 Source: REIS Report, 3rd Quarter, 2015
Available office space is projected to continue to rise throughout the illustrated period. As previously mentioned, the Comcast Innovation and Technology Center is currently under construction, which is expected to trigger a large portion of the office space growth over the next two years. Overall vacancy levels are anticipated to remain relatively stable, according to REIS, achieving a level only slightly below 2014 levels by 2019. Furthermore, average asking lease rates are forecast to increase at an average annual compounded rate of 2.8% from 2014 to 2019.
Convention Activity
Convention centers generate significant levels of demand for area hotels, particularly those within a radius of three miles. Convention's headquarter hotels command premium rates and, in addition to capturing event-related demand, can also benefit from hosting related banquet events.
Major conventions also push demand to peripheral hotels in the market.

Located within a four-hour drive of 40% of the U.S. population, the Pennsylvania Convention Center (PCC) in Downtown Philadelphia is the premier location for conventions and meetings in the Northeast Corridor. The $787-million expansion of the convention center was completed in March 2011, making it the largest exhibit space and ballroom in the Northeast with one million square feet of space, 541,000 square feet of contiguous exhibit space, and a 60,000-square-foot ballroom. The expansion increased the size of the building by 62%, allowing the center to hold two conventions simultaneously. The Pennsylvania Convention Center is located near the Pennsylvania Academy of Fine Arts, which features an open-air pavilion known as Lenfest Plaza, as well as many famous cultural institutions and arts venues along Benjamin Franklin Parkway.
The Pennsylvania Convention Center (PCC) experienced a significant decline in the number of conventions held in 2010, as well as a decrease in delegate activity, which was generally due to the weakening of the local and national economies and a drop in bookings during the onset of the national recession in 2008/09. The number of both events and delegates increased significantly in 2011, and this trend continued in 2012, largely attributed to the expansion of the convention center and an overall recovery of the national economy. Growth slowed in 2013, with stability reflected for the number of citywide conventions followed by a minor uptick in delegate activity.
Data from 2014 show a decline in the number of both conventions and delegates, reflective of a lack of rebooked yearly events and some cancelations due to poor experiences reported by customers in prior years. However, the outlook for the convention center is optimistic given the hiring of a new management company, SMG, in December 2013, as well as renewed agreements between PCC and local unions in the spring of 2014.
Decline in Event Bookings in 2014 Offset by Year-to-Date Growth in 2015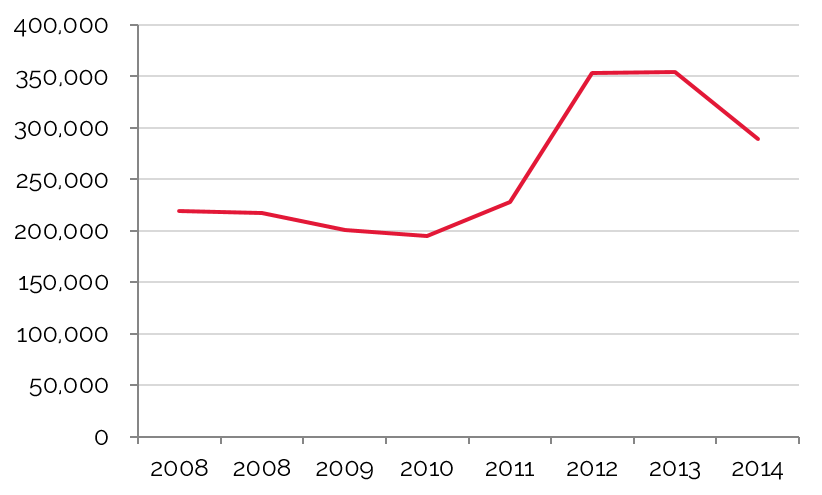 Source: Philadelphia Convention & Visitors Bureau

The convention center plays a vital role in the area's growth; its success is supported by the city's convenient location with respect to both New York and Washington, D.C., as well as the facility's layout and capacity. According to market participants, the bookings pace for 2015 is on target with successful prior years, and more opportunity exists for the Philadelphia Convention Center during 2016 and 2017; while fewer events have been confirmed for 2018, the long-term prospects for the convention center are optimistic.
Airport Traffic
Airport passenger counts are important indicators of lodging demand. Depending on the type of service provided by a particular airfield, a sizable percentage of arriving passengers may require hotel accommodations. Trends showing changes in passenger counts also reflect local business activity and the overall economic health of the area.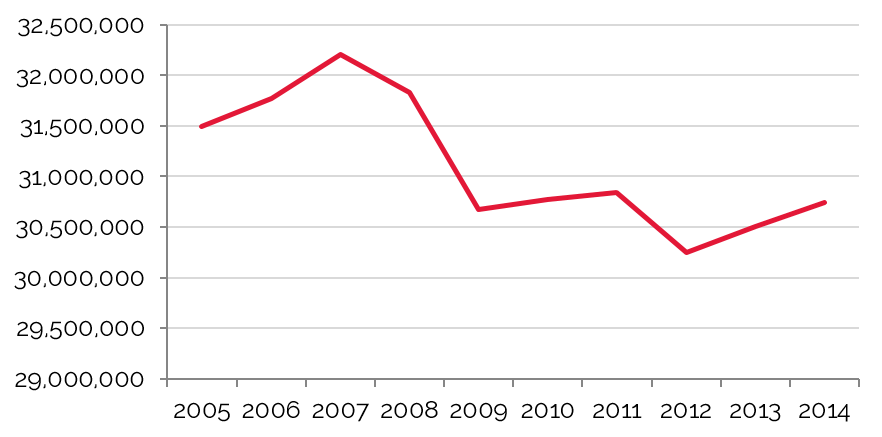 Source: Philadelphia International Airport
Philadelphia International Airport (PHL) serves one of the largest metropolitan areas in the United States, drawing traffic from across Pennsylvania, Delaware, and New Jersey. Owned by the City of Philadelphia, the Philadelphia Airport System is operated by the Department of Commerce's Division of Aviation. The Airport System is one of the region's largest economic engines, generating $14 billion annually into the local economy. PHL has undergone more than $1 billion in capital improvements since January 2000.
Passenger Traffic Inches Upward in 2013, 2014, and 2015 YTD
Completed projects include the opening of two new terminals, including a facility comprising 38 gates within 185,000 square feet and an 800,000-square-foot, four-level International Arrivals Hall consisting of international boarding gates and ticketing areas. Terminal F is undergoing a $117-million expansion project, slated for completion in April 2016, which will include a new baggage-claim facility, additional space for concessions, and an expanded security area. Furthermore, renovations in Terminal D through F are ongoing; a new checked-baggage-inspection system, the connection of Terminals E and F, and ticket lobby renovations will reportedly be completed by August 2016.
The airport's passenger traffic has remained generally stable during the illustrated period, achieving levels above 30 million since 2005. Despite the decline in 2009, a result of the recent recession, passenger activity has generally increased with the exception of a dip in 2012. Year-to-date passenger traffic remains strong, with major airlines such as American Airlines, Southwest, United, and Delta continuing to drive business to the airport.
Tourist Attractions
Philadelphia's historic attraction as the nation's original capital and the city's popular sporting events help drive tourism and leisure demand to the market year-round. Weekend demand comprises travelers passing through en route to other destinations, people visiting friends or relatives, and visitors to historical markers, buildings, and monuments in the area. The following details some of Philadelphia's primary attractions.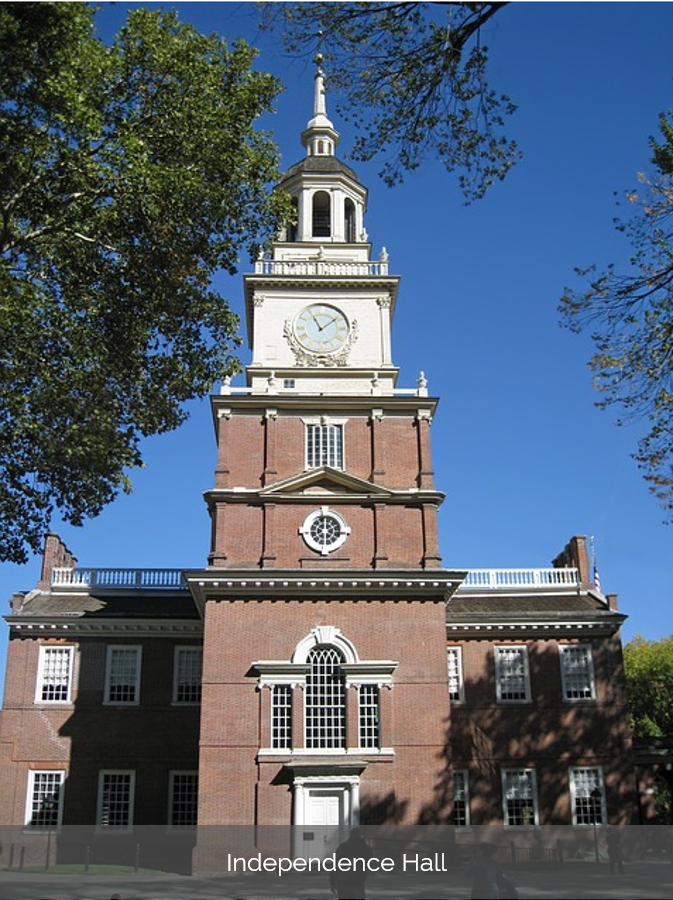 Independence Hall
and the buildings that comprise Independence Park are icons in the history of Philadelphia and the nation. On July 4, 1776, delegates to the Second Continental Congress issued the Declaration of Independence from this historic site. Independence Hall is also a major attraction for international visitors.
The Philadelphia Museum of Art features over 225,000 works of art and welcomes nearly one million visitors per year. The museum also offers a variety of exhibits and educational programs for the public. The museum was founded over 125 years ago and is owned by the City of Philadelphia, which also owns the Rodin Museum building, the Ruth and Raymond G. Perelman building, and the Mount Pleasant and Cedar Grove homes, all of which are famous attractions in Philadelphia.
Citizens Bank Park, Lincoln Financial Field, and the Wells Fargo Center are located at the corners of Broad Street and Pattison Avenue, which has become one of the most famous addresses in Philadelphia. These sports arenas are home to the Philadelphia Eagles (professional football), the Philadelphia Phillies (professional baseball), and the Philadelphia 76ers (professional basketball), the Philadelphia Flyers (professional hockey), as well as a variety of minor league sports teams and the annual Wing Bowl.
The stretch of South Street in between Front Street and Seventh Street is known for its "bohemian" atmosphere and its wide variety of shops, restaurants, and bars. South Street is one of Philadelphia's largest tourist attractions, visited by people from all over the world.
Closing Remarks
Philadelphia is a gateway city, and its vast variety of industries, tourist attractions, and other hotel demand drivers has kept the area's lodging industry healthy over the past several years. Multibillion-dollar revitalization projects in and around Philadelphia will contribute to the market's continued strength and expansion and should bring further increases in room night demand, particularly in the CBD. HVS expects year-over-year RevPAR increases for the greater Philadelphia market through at least 2017, driven largely by rising average rates. Furthermore, while the market is on the verge of a large amount of new supply, demand is expected to keep pace, allowing the greater lodging market to sustain recent levels of growth in both hotel performance and value into the near term.