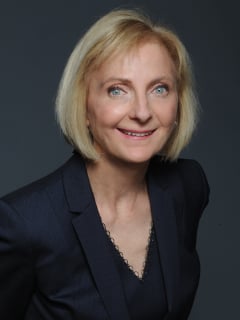 San Francisco is a major hub for employment in the high-tech and financial sectors, and is revered both as a tourist destination and as a gateway to the Asia Pacific region. In addition, San Francisco is home to the Moscone Center, which is currently undergoing a $500-million renovation and expansion. As such, the city draws a balanced mix of commercial, meeting and group, and leisure guests.

San Francisco's hotel stock is primarily clustered in five loosely defined districts near demand generators: Union Square and the Financial District, which although different submarkets, primarily play host to full-service hotels and conversions to lifestyle boutique hotels; South of Market (SoMa), which is home to the city's convention center and has realized the most new development over the past two decades; the tourist beacon of Fisherman's Wharf, which contains primarily branded hotels, of which a select few are undergoing major renovation and conversion; and, finally, the Lombard Street/Van Ness Corridor, which features mostly limited-service hotels and value-oriented motels.
Market Drivers
A still-booming tech industry, a popular convention center, and strong year-round tourism are driving near-record demand in San Francisco. Although the city is not completely reliant on high-tech businesses and startups, they continued to be the talk of the town in 2016. A whopping 56 startups in the Bay Area are valued at $1 billion or more. Dubbed "unicorns" (or "decacorns"—companies with valuations of $10 billion or greater), these companies are heavily oriented toward cloud-based technology, mobile apps, data analytics, and business software, as well as biotech and healthcare. Furthermore, most major tech companies, including Google, Salesforce, Twitter, Dropbox, Adobe, Uber, and Airbnb, are either headquartered or have a significant base of operations in or near the city. San Francisco also has one of the lowest unemployment rates of the major cities in the nation, at 3.4% in October 2016.1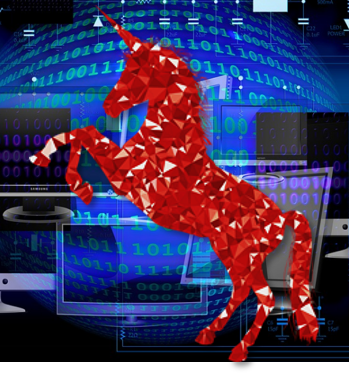 Commensurate with the surge of tech money, real estate values in the city are skyrocketing. San Francisco rents have increased 130% from their low point in 2010.
2
Five office building projects were recently completed in SoMa; all of which have been leased to tech companies. No fewer than eleven office towers, nine of which are in SoMa/Mission Bay/South Beach, are under construction, and most have a high percentage of the space already pre-leased. The technology sector has also picked up a significant amount of office space as it has become vacated by banking and legal tenants, making the city's Financial District much less financial in nature.
According to San Francisco Travel, the city's convention and visitors bureau, San Francisco welcomed 24.6 million domestic and international visitors in 2015, which represents a year-over-year increase of 2.7%. The prior peak was 17.3 million in 2000. In total for 2015, visitors directly spent $8.5 billion in the city, an increase of 3.4% over 2014. Roughly 15.3 million guests (or 62%) stayed in San Francisco. Their fiscal impact on the city is significant, especially in regard to tax revenues—$738 million (up 12.8% from 2014).3
For the fifth year in a row, San Francisco International Airport (SFO) set a record for passenger traffic with over 50 million passengers in 2015, exceeding the previous record of 47.2 million by over 6%. In the year-to-date period through November 2016, traffic was up 6.2% over 2015 with 48,766,700 passengers. Carriers that expanded service include Virgin, United, China Eastern, Delta, and Singapore Airlines. In May 2013, airport officials unveiled a ten-year, $4.1-billion capital improvement plan to upgrade the airport's facilities, creating more than 36,000 jobs over the next ten years. A new air-traffic-control tower, which replaced a control tower located atop Terminal 2, was completed in January 2014. A complete renovation of Boarding Area B in Terminal 1, which is currently underway, and a new luxury hotel are part of the project. In November 2015, the airport unveiled a 53,000-square-foot expansion of its Terminal 3 East Concourse, which connects boarding areas E and F; this project also included three new boarding gates, a new United Club location, and a larger central security checkpoint.
Tourism Developments
The San Francisco Museum of Modern Art (SFMOMA) started construction in May 2013 on its $305-million, 235,000-square-foot expansion designed by architecture firm Snøhetta. The museum reopened in May 2016.
The Transbay Transit Center is a transportation and housing project meant to create the "Grand Central Station of the West." The $4-billion project is intended to replace the Transbay Terminal (now demolished) with a modern regional transit hub connecting the eight Bay Area counties. The Transit Center is currently on track for a late-2017 completion, at which point it is estimated that 20 million people will come through each year. When complete, the Transit Center will connect eight Bay Area counties and accommodate eleven transit systems, including Caltrain and the future intercity rail.
Bay Area Sports Teams
: Levi's Stadium, which opened in Santa Clara in 2014, is the home stadium of the San Francisco 49ers and hosted Super Bowl 50 in February 2016. All three Oakland professional sports teams (Oakland A's, Warriors, and Raiders) have publicly stated their interest in moving locations in the coming years. However, the Warriors were the first team to make an official announcement in May 2012 of plans to move to an 18,000-seat venue to be constructed in Mission Bay. The twelve-acre site for the Warriors arena was purchased from Salesforce in 2014; the venue is slated for completion by the 2019 season. The Warriors' planned arena is part of the redevelopment area and growing biotech hub. In October 2016, Nevada governor Brian Sandoval signed into law a proposal to allocate $750 million in public money toward a $1.9-billion, 65,000-seat football stadium in Las Vegas. The Oakland Raiders' ownership has expressed interest in relocating to Las Vegas, but will still need approval from NFL ownership before the move is official. Assuming they receive this approval, the Raiders will likely not relocate to Las Vegas until the 2020 season.
The Central Subway project is a 1.7‐mile extension of Muni's T Third line, with new stops at South of Market), Yerba Buena, Union Square, and Chinatown. This project is meant to improve transit options and access to the premier commercial district and tourist attractions. The project is scheduled for completion in 2019.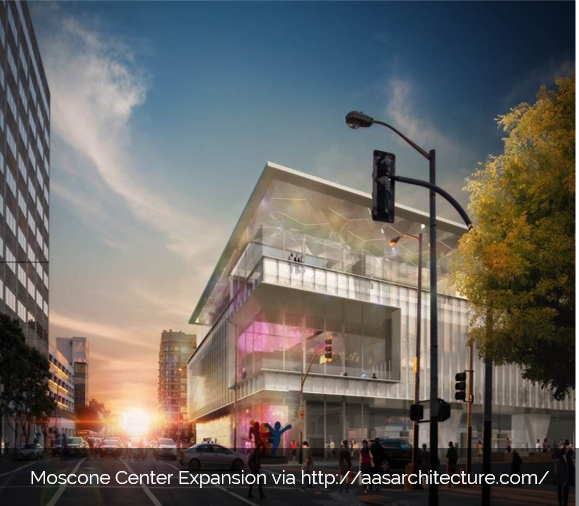 The
Moscone Center
is undergoing a $500-million expansion that will add over 305,000 square feet to the convention center and create over 3,400 long-term jobs. Economic benefits are projected to include an increase of $20 million in hotel tax revenue and over $734 million through fiscal 2026. The biggest construction impact of the expansion will be experienced in 2017 and the first three quarters of 2018; thus, several citywide events have been canceled for 2017, and citywide bookings for 2017 and 2018 are down significantly. The booking pace is strong for 2019, however, and the displaced meetings are expected to return to the renovated and reconfigured Moscone Center, which is scheduled for completion in the fall of 2018.
Moscone Center Statistics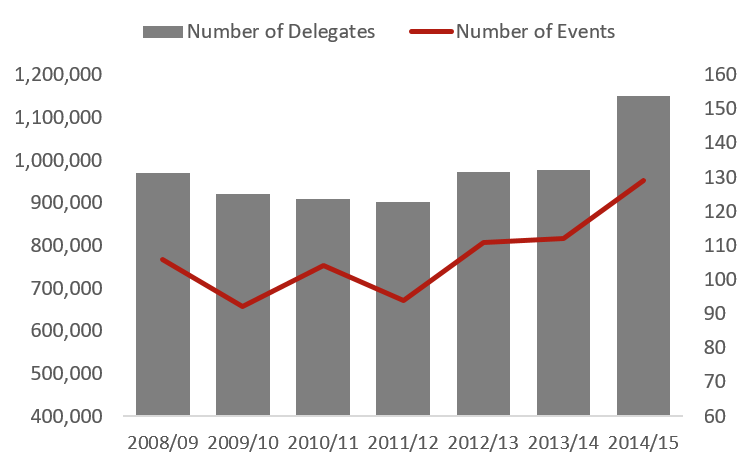 Source: Moscone Center
Hotel Supply and Demand
The San Francisco lodging supply currently includes approximately 220 properties with over 34,000 guestrooms. The overall room count has been generally flat for the past ten years. Compared to other cities of similar size and stature, very few new hotels have been built from the ground up in San Francisco because of the city's high barriers to entry (high development costs, fierce competition for developable land, lengthy city approval process, and labor issues) and relative scarcity in construction financing.
We note that two hotels, a new ground-up, 174-room Hampton by Hilton San Francisco Downtown Convention Center and a 166-room Courtyard by Marriott San Francisco Union Square (formerly known as the Vantaggio Suites Cosmo) opened in 2015. There were no new major additions to supply in 2016.
New development is pushing out from the traditionally established lodging areas of the city (Union Square and Financial District), providing opportunities for new hotels in such urban infill neighborhoods as SoMa and Mission Bay. Current and proposed new hotel construction in these neighborhoods consists of primarily independent boutique-style or limited-service properties; only one proposed hotel is full-service.
San Francisco New Hotel Development Summary
Of the 36 proposed hotels shown in the map above, only five (with a combined 921 rooms) are actively under construction. The Hotel VIA, a boutique property under construction on a site across the street from AT&T Park, is scheduled to open in the spring of 2017. The Proper San Francisco and Yotel San Francisco, two full-service hotels that are under construction in San Francisco's Mid-Market neighborhood, are scheduled to open mid-year 2017; formerly known as the Renoir Hotel, the Proper San Francisco will become a luxury 135-room boutique hotel property with a rooftop lounge and will be affiliated with the Kor Group. The Proposed Hotel by G&M and Proposed Hyatt Place are both in the early stages of construction and are expected to open in late 2017/early 2018. We note that many of these construction projects are in the SoMa or Mid-Market neighborhoods of San Francisco. Most of the new hotel development projects shown above are in early planning stages or speculative at this point, with construction still years away.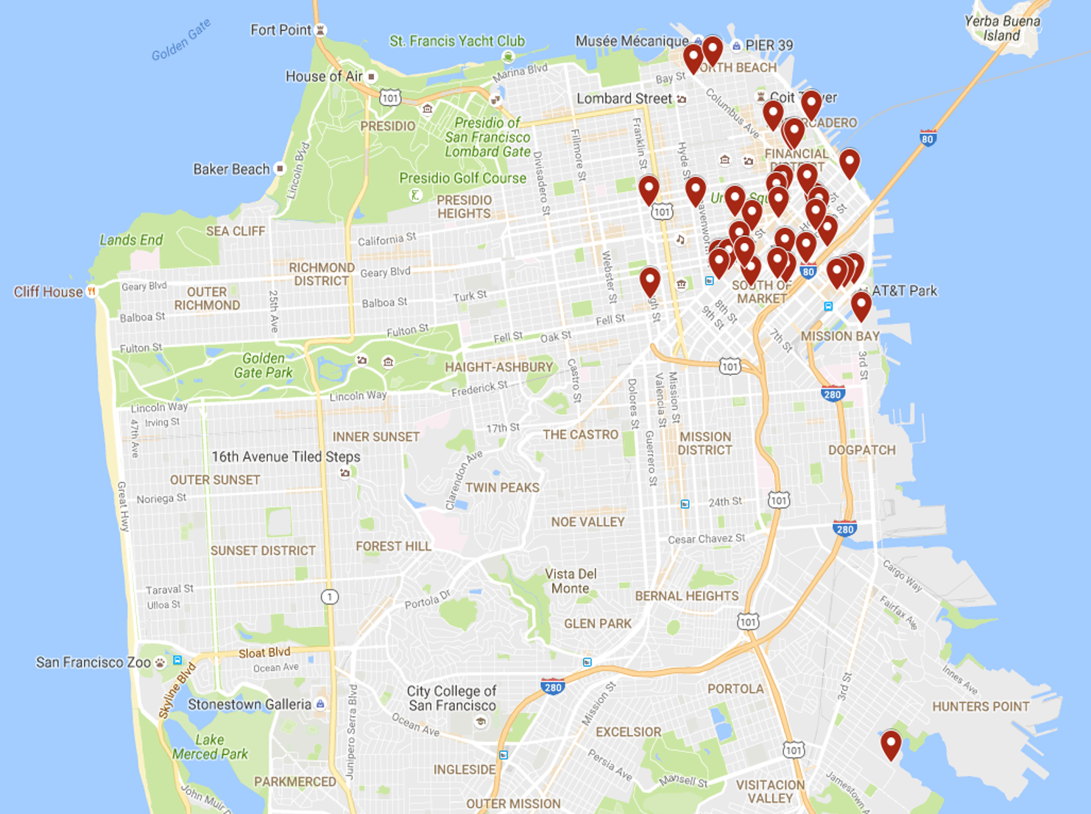 Source: HVS
The city's lodging supply of late has come to be defined by its high proportion of conversions and extensive renovations. San Francisco, one of the nation's early leaders in the establishment of boutique hotels (e.g., Kimpton and Joie de Vivre), is experiencing a trend of hoteliers raising the quality of these products through major renovations in an effort to reposition the hotels. The transformations of the former Hilton Fisherman's Wharf, Radisson Fisherman's Wharf, and Marriott Renaissance Stanford Court Hotel in Nob Hill are three notable recent examples of hotels shedding their flags and reinventing themselves as independent boutique-style properties. Realizing that there are a significant number of travelers choosing to forego a formulaic hotel experience, investors consider this market strong enough for an asset to be converted from a branded to an independent boutique or a soft-branded asset (to be marketed as boutique). Larger companies such as Marriott and Preferred Hotels are behind the soft brands of certain properties like the Adagio Hotel and Pier 2620 Hotel; these companies are testing out new designs and concepts while placing a high value on the uniqueness and differentiation of a property.
Also of note, significant redevelopment efforts have taken place or are occurring in the six-block-long Mid-Market Street area between Van Ness and 5th Street; at roughly 40 projects total, recent or current changes include several mixed-use developments and the establishment of corporate headquarters for Zendesk, Twitter, Dolby, and Uber. As mentioned previously, the Proper San Francisco and Yotel San Francisco hotels are currently under construction in this neighborhood.
While this project is not technically located in the city proper, representatives of San Francisco International Airport (SFO) and Hyatt Hotels Corporation have announced the development of a 350-room Grand Hyatt Hotel on the site of the former Hilton Hotel that was razed in the mid-1990s. Construction on the new hotel is expected to start later this year and is planned to be finished by mid-year 2019. The hotel will be financed and owned by SFO and will be managed by Hyatt Hotels Corporation.
A property-wide renovation of The Alise, formerly known as Hotel Grace and the Hotel California, was completed in the fall of 2016. The hotel was operating as Hotel Grace during construction, but property ownership recently changed its name to The Alise to avoid potential conflicts with an international hotel group pursuing plans to open hotels in the U.S. under a similar name.
Fillmore Hospitality converted the former Hilton San Francisco Fisherman's Wharf to the 234-room Pier 2620 Hotel, part of Preferred Hotels' Connect collection soft brand. The $17-million, property-wide renovation of the hotel was completed in early 2016.
Host Hotels & Resorts completed a $22-million renovation of the Axiom Hotel, formerly known as the Powell Hotel; the property closed for renovations in December 2014 and reopened in early 2016.
A multimillion-dollar, property-wide renovation of The Buchanan Hotel, a Kimpton-affiliated property, was completed in early 2016. The property was formerly known as the Hotel Tomo, a Joie de Vivre property, and was acquired by KHP Capital Partners in 2014.
Hotel Market Performance
San Francisco's lodging market continues its strong performance and remains one of the top markets in the United States. The San Francisco lodging market has realized occupancies over 80% year-over-year since 2012 and double-digit average annual compound growth for both average daily rate (ADR) and RevPAR since 2010. Occupancy in 2015—the third highest in the nation behind Manhattan and Oahu—was 84.4%, an increase of 0.4 percentage points from the year prior. ADR in 2015 was up 7.3% year-over-year at $222.90. This market, which statistically includes San Francisco and San Mateo, achieved 7.6% RevPAR growth in 2015 with an overall RevPAR of $188.13. In the year-to-date period through November 2016, occupancy started to soften, declining by 0.1 percentage point compared to the same period in 2015, given the commencement of renovations at the Moscone Center and at many hotels throughout the market. ADR in the same period was up 3.8% at $234.40. The market achieved 3.6% RevPAR growth, to $199.71, in the year-to-date November 2016 period.4
The city's RevPAR growth is driven by high year-round occupancies, generated by the strong appeal of the city across various demand segments. As the city has not experienced any significant new additions to supply in the past decade, capacity constraints have led to market compression. We expect ADR for San Francisco's hotels to continue to grow, albeit at a slower pace, through 2017 and 2018, while occupancy is projected to decline in 2017 and 2018 because of the Moscone Center renovation and anticipated entrance of new supply; a strong recovery is expected in 2019 when Moscone bookings post-expansion are strong.
Transaction Environment
Transaction volume in 2016 slowed in comparison to that of 2015, with only four confirmed sales. San Francisco hotel transactions were significant in 2015, with ten properties changing hands, including the trophy property Fairmont San Francisco. In addition, the Loews Regency San Francisco, formerly known as the Mandarin Oriental San Francisco, sold for approximately $150 million, or roughly $947,000 per room, representing the highest per-key transaction on record. With their ready access to capital and desire to acquire quality hotels in strong markets with high barriers to entry like San Francisco, private equity firms and foreign investors will continue to be active buyers. Given that new development in this market generally has such a lengthy timeline and high costs, buying, renovating, and repositioning a property is a much more common practice than building from the ground up. Financing can also be easier to obtain for stabilized assets that are performing well in San Francisco.
San Francisco Hotel Transactions 2015-2016

Source: HVS, Real Capital Analytics
Conclusion
The San Francisco hotel market experienced strong momentum in 2016, matching the city's vigorous economy. The city's acclaimed restaurants and culture, unique tourist attractions, and expanding convention center are expected to continue to attract record numbers of visitors. Limited new supply additions, coupled with the expansion and renovation of the Moscone Center, in a compressed market that is driving robust ADRs may affect demand somewhat within certain market segments, such as meeting and group, in the near term. Private equity firms and foreign investors will likely continue to be the most active buyers. Renovating and positioning lodging properties as high-end, independent boutique hotels will remain a trend. Although the development pipeline is anticipated to continue to expand, the construction and opening of new hotels should continue at a modest pace.