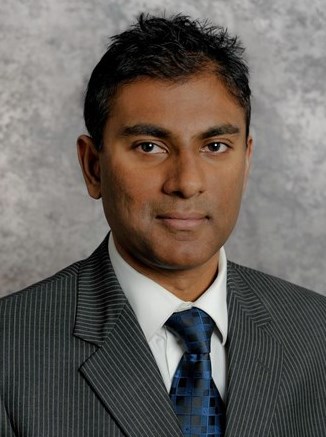 What is a Hostel?
Hostels offer low-priced accommodations with a unique social component. Guests rent a bed rather than a room, sharing the space with up to five other guests. Some hostels include private bathrooms and kitchens in every room, though most hostels have a common bathroom area with no kitchen facilities.
More than 4,500 hostels are spread throughout Europe, with the highest concentration in the densely populated destination cities. The first hostel originated in 1912 in Germany, and that country boasts the highest number of hostels today.
Success in the European Market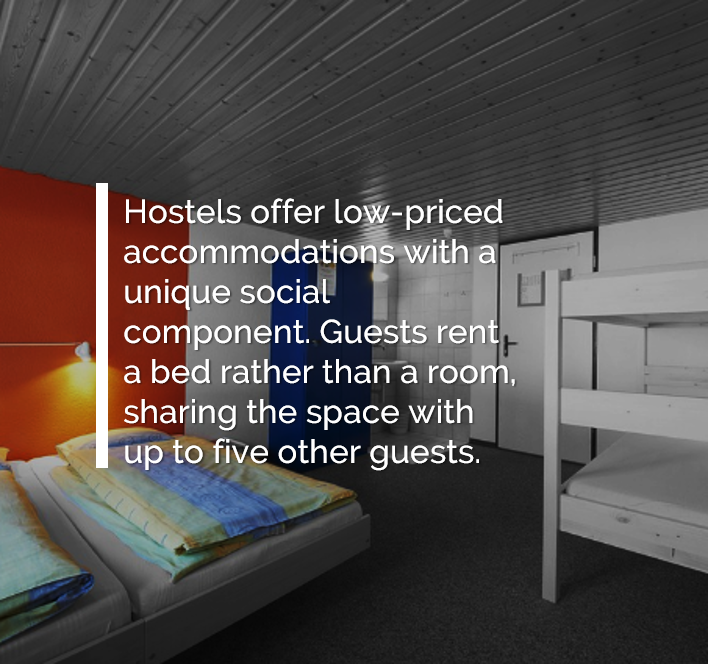 Historically, the European hostel market consisted of small owner-operated assets, with backpacking leisure travelers forming the bulk of demand. Over the past two decades, the flow of private capital coupled with the operational experience of larger lodging companies has improved the quality and service levels of hostels throughout Europe.
The corporate-run hostels are referred to as "upscale" or "boutique" hostels. These properties are managed and operated by large companies that bring in operational structures, brand standards, and efficiencies akin to those of a major hotel brand. Some of the "upscale hostels" comprise more than 500 beds—much larger than the standard 75 to 150 beds at a traditional hostel.
The move to more upscale hostel accommodations has expanded the sources of demand from backpackers to corporate travelers who seek extensive food and beverage outlets and a social atmosphere not available in the limited- and select-service hotel space.
Since the mid-1990s, brand-managed hostels have been successfully developed in London, Paris, Barcelona, Berlin, Amsterdam, Rome, Prague, and Venice. Development of these properties has grown exponentially over the last two decades, with future development expected to come at an even faster pace.
Hostel Metrics
Hostel performance metrics for occupancy and average rate are expressed "per bed," versus "per room" for traditional hotels. Hence, operators and analysts look at RevPAB (Revenue per Available Bed) versus the industry standard RevPAR. Hostel appraisals also consider market value estimates based on a "per bed" metric, which is comparable to the "per room" metric for hotels.

Hostel occupancy levels generally mirror those for limited-service hotels, though occupancy decreases at hostels as the average number of beds per room increases. However, average room rate (which equals the average rate per bed multiplied by the average number of beds per room) for a hostel is higher than the average room rate for a hotel. Therefore, RevPAB will exceed the comparable RevPAR when considering a single room/unit. This results in a greater revenue stream for hostel assets versus hotel assets, which is a key factor in their development and popularity with developers and investors.
International Hostel Brands
A majority of the well-known hostel brands are headquartered in Germany and England. The accompanying chart presents hostel brands with presence in multiple countries (the Hip Hop brand, which does not have a presence outside of Paris, is not represented).
Nearly all of the major cities in Germany feature hostels, but the hostel market is underserved in virtually every other European country, where hostels exist in only one or two major cities.
Major Hostel Brands in Europe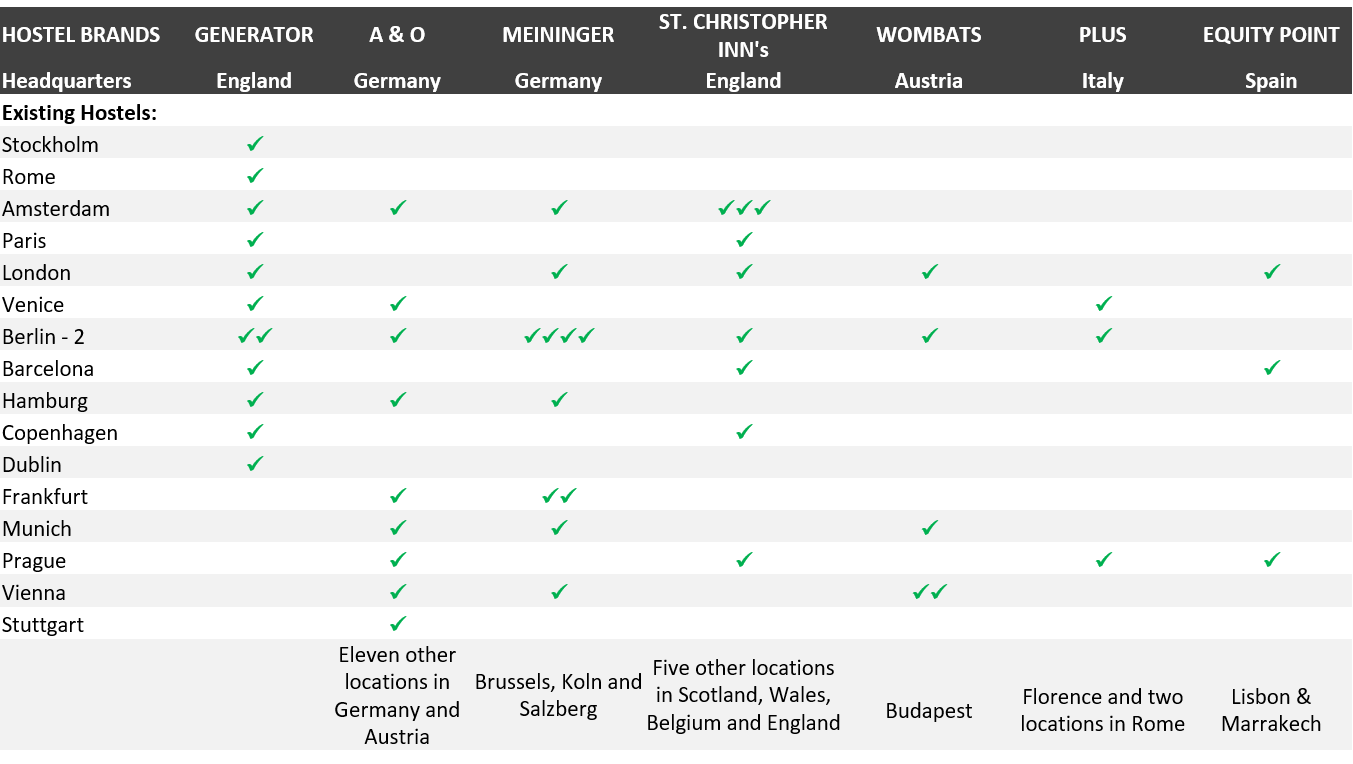 Note: Tick marks indicate the number of hostels in each city
Proposed Hostels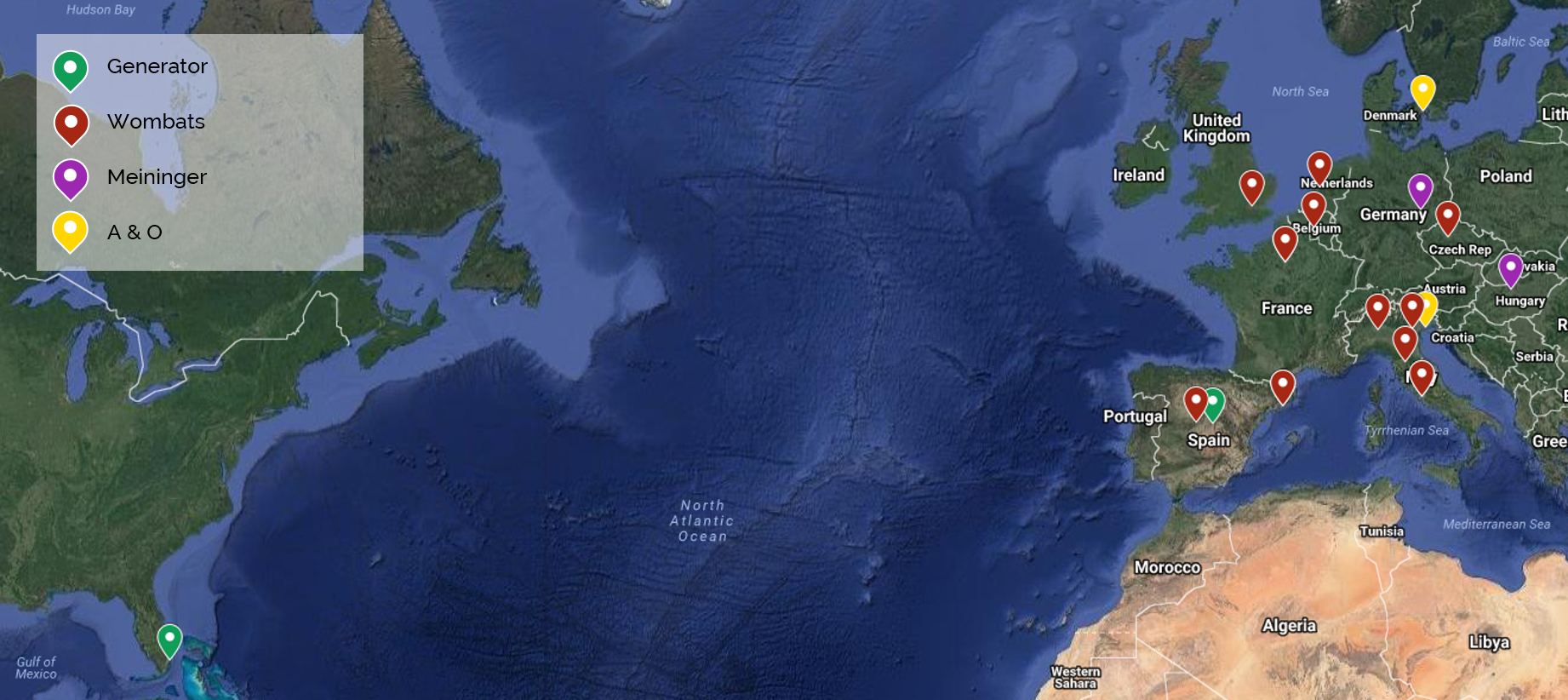 This illustration, which shows a relative lack of hostel operations in major markets across Europe, illustrates the potential for the hostel market, with development expected to expand over the next decade.
Hostel Booking
Online travel agencies (OTAs) represent the majority of all hostel bookings. The OTA Hostelworld, which currently has the highest market share for hostel bookings, has drawn fury from smaller owner-operated hostels for raising commission rates for bookings. Until hostel brands gain worldwide market recognition, however, OTAs hold the cards and will remain the chief source of bookings. Other OTAs include Hostelbookers, HostelsClub, and Booking.com, as well as HI Hostels, which is a global network of hostels.
Europe's Famous Hostels is an association of individually owned independent hostels. Similar to Preferred Hotels & Resorts and Leading Hotels of the World, Famous Hostels represents high-rated assets that feature prominent locations in major European cities. The association was founded in 1995 with five hostels and its portfolio has expanded to more than 50.
Hostelz works similarly to Kayak, displaying results from Hostelbookers, Hostelworld, and some other booking sites, and directing the user to the hostel with the cheapest rates. Hostelz currently has a database of nearly 44,000 hostels in the U.S. and Europe.
Ingredients of a Successful Hostel
A successful hostel development must include the following elements to entice demand: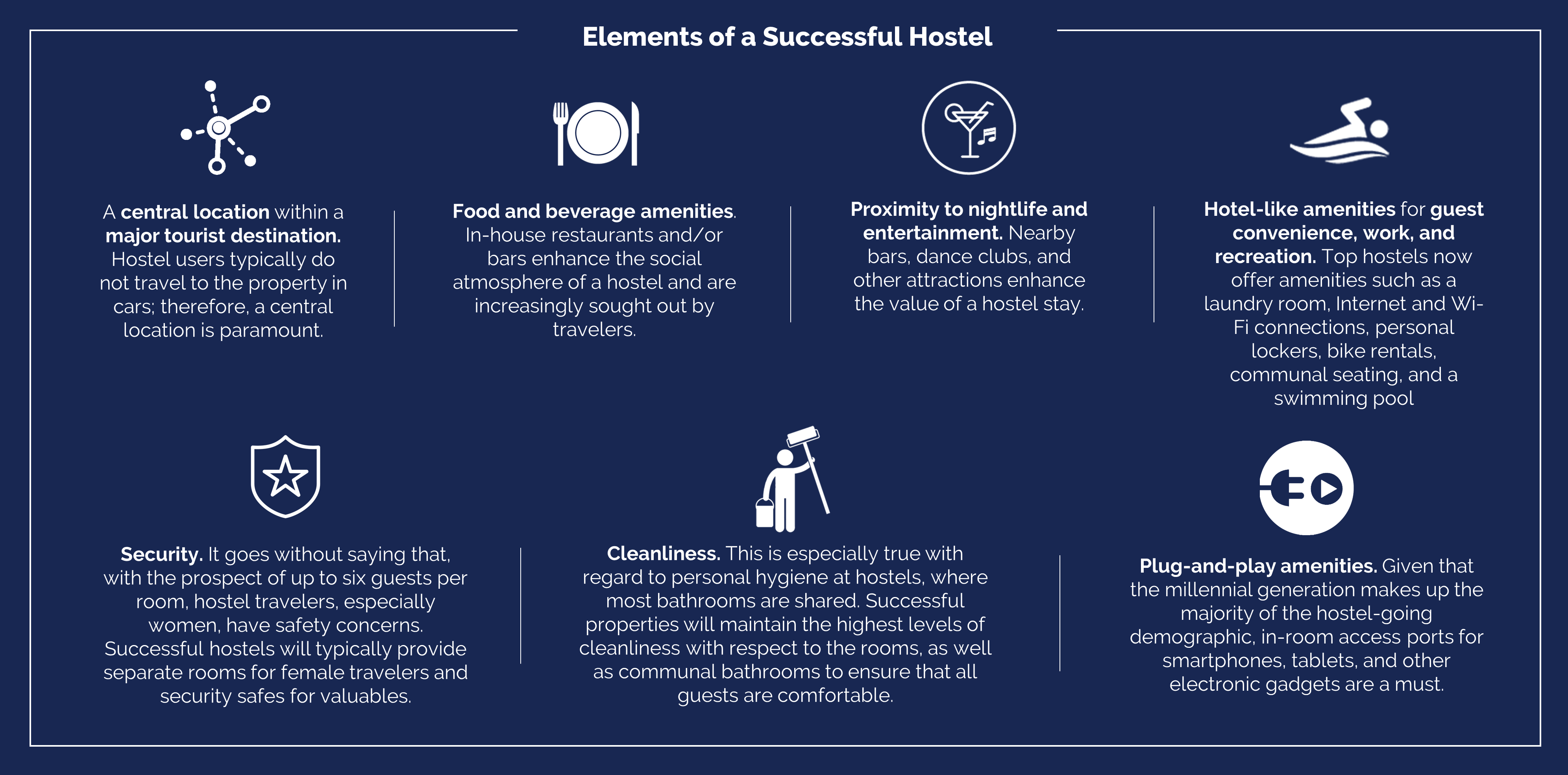 In addition to the above, most boutique hostels provide flexible room types, including (1) separate rooms for male and female travelers, (2) dorm rooms that can accommodate up to six beds per room, (3) private rooms for up to three travelers, (4) single rooms, (5) en-suite rooms, which include a private bathroom, (6) twin rooms, which offer one bunk bed, and (7) double rooms, which offer one double bed.
This product flexibility is critical to the success of a hostel operation. Hostel guests may travel individually, as couples, or in groups of six or more. The availability of everything from en-suite individual rooms to larger dorm rooms provides guests with plenty of options based on their requirements.
An American Brand of Hostel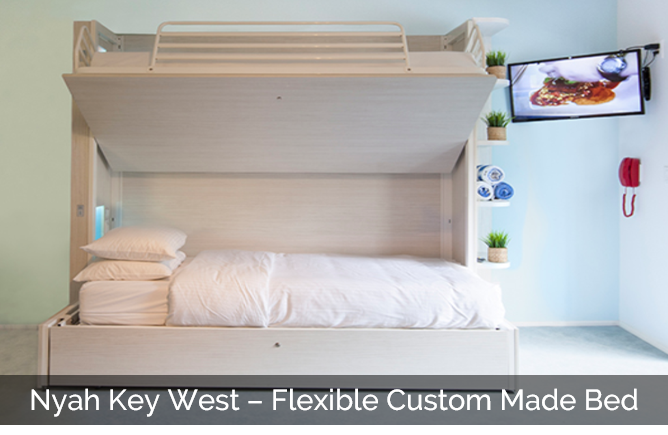 The NYAH (Not Your Average Hotel), located in Key West, Florida, and managed by SMS Lodging, is a hybrid product between a hotel and a hostel. The owners of this asset and the NYAH brand, Mr. Jesper Arnoldsson, CEO and Mr. Gustaf Arnoldsson, CFO, created the model to appeal to group travelers who were looking to pay less per person without sacrificing the experience of staying in a traditional hotel. The NYAH features custom beds, designed and manufactured in Europe, which can be converted into bunk beds, couches, or single kings. NYAH also features characteristics akin to boutique hostels, including group-friendly accommodations, communal spaces, a pool, and beverage services.
Current Hostel Market in America
The current hostel market in America is limited to owner-operated properties, youth hostels, and not-for-profit hostels. Traditionally, the youth hostel represented an inexpensive, basic accommodation provided to enable people less than 18 years of age to travel in groups to rural or countryside destinations. Youth hostels and owner-operated hostels comprise dormitory rooms with between four and six beds and do not include private rooms or twin/double rooms.
While American travelers may readily stay in hostels in Europe, the default option when traveling within America is to stay at a motel or a budget hotel. Mr. Jesper Arnoldsson recognizes that meeting, socializing, and sharing experiences with new people propels the hostel culture in Europe. This culture, he says, has to be fostered by hostel developments in the U.S. that include communal spaces and provide a vibrant social atmosphere for guests. Currently, there are no high-end boutique hostels in America (with the exception of Freehand, featured below) and the lower-end U.S. hostels do not have such socially charged communal spaces.
Some elements of the European model, however, simply aren't replicated in America. The long distances between major U.S. cities and the lack of efficient, inexpensive public transportation options (such as the Euro Rail) create a scarcity in the backpacking demographic—a cornerstone of hostel demand.
Hostel Development Potential in America

Issues of geography and transportation infrastructure aside, there is considerable pent-up demand for hostels in many major U.S. cities. Mr. Paul Harries, CFO of Generator Hostels, claims a boutique hostel development would be a game changer in certain cities in America. These include New York, Boston, San Francisco, Los Angeles, the District of Columbia, Miami Beach, San Diego, and Austin, and to a lesser extent in New Orleans, Seattle, and Portland, Oregon. Mr. Harries also indicated that the American customer has to be imbued with a sense of the benefits and experiences of hostels and their distinction from traditional hotels.
One considerable obstacle to the hostel market's growth in New York City is a law that prohibits more than three unrelated people sharing purchased accommodations. This law was enacted during the mid-20th century to prevent overcrowding and irresponsible landlord behavior, as well as to encourage the conversion of boarding houses to family homes.
The law, which forms an impediment to new hostel development, can be amended only by the local city council. However, sentiment seems to be moving in this direction. Hostels in New York City, home to the nation's highest rents and a population of more than 8 million—many of them millennials—would benefit.
Corporate/branded hostel development could also be profitable in major markets of Canada, where the hostel landscape is dominated by currently smaller owner-operated properties.
Europe presents continued opportunities for growth, especially with an increased focus on density and economies of scale within and near the existing footprint of hostels. Meanwhile, the U.S. represents a vast market with virtually no competition in the shared accommodation space, though with some infrastructural and legal hurdles possibly impeding growth.
Freehand and Generator Hostels: Heating Up Miami Beach
The success of the Sydell Group's Freehand Miami property, which Condé Nast Traveler referred to as the "upscale hostel," demonstrates the expanding demand and potential in the U.S. hostel market. Occupancy at the Freehand Miami averages over 80%, with average rate per bed commensurate with that of Europe's top boutique hostels.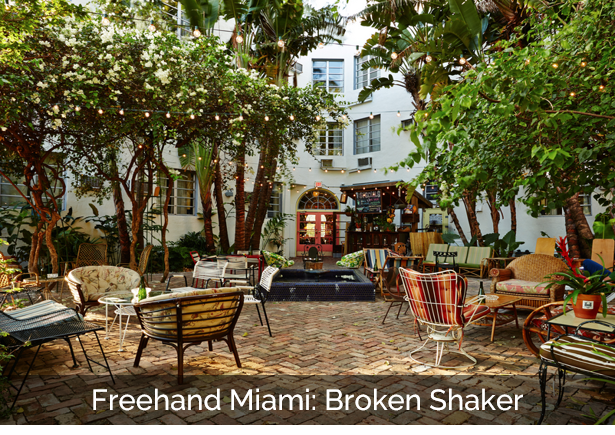 The hostel opened in December 2012 and was designed by Roman & Williams, the team behind New York's trendy Ace Hotel. In line with the elements of a successful hostel outlined above, the Freehand Miami offers food and beverage options, a swimming pool, a variety of shared rooms, and space for social gatherings, all at an affordable price in the heart of Miami Beach.
Freehand Miami's popular Broken Shaker has ranked among the world's best bars since 2014. The Broken Shaker has also been referred to as the "Best American Hotel Bar" and was twice a semifinalist for the James Beard award. This level of recognition, which might be expected of the world's top five-star hotel properties, is remarkable for a relatively inexpensive hostel accommodation.
After the success of the Freehand Miami, the Sydell Group opened the Freehand Chicago in June 2015, with the Freehand Los Angeles slated to open in December this year. Freehand is the only true boutique hostel company in America that has followed the operating model of some of the corporate-owned hostels in Europe.
London-based Generator Hostels, which operates a portfolio of luxury-boutique hostels in Europe, is in the process of converting a condominium building to a 406-bed hostel on Collins Avenue in Miami Beach. Generator opened its first hostel in London in 1995/96 and currently operates 12 hostel properties, including a 550-bed hostel in Madrid. The Generator Miami will be the company's first hostel in North America.
The Generator Miami will be positioned as an upscale boutique hostel on par with the Freehand Miami, representing the upper end of the hostel segment in the U.S. The Generator Miami is expected to achieve an occupancy rate of 75% and command an average bed rate in excess of $50.
According to Mr. Paul Harries, CFO of Generator Hostels, Miami Beach was chosen as the initial destination in North America due to its widely famed leisure, nightlife, and entertainment attractions; its popularity with European travelers; and high hotel average room rates, which can exceed $200 for limited-service hotels during the peak winter season. The hotel is expected to offer an average of four beds per room, with an inventory made up of 30% private rooms and 70% dormitory rooms. The property's private rooms are aimed at American travelers, who tend to travel in groups versus their European counterparts, who more frequently travel alone.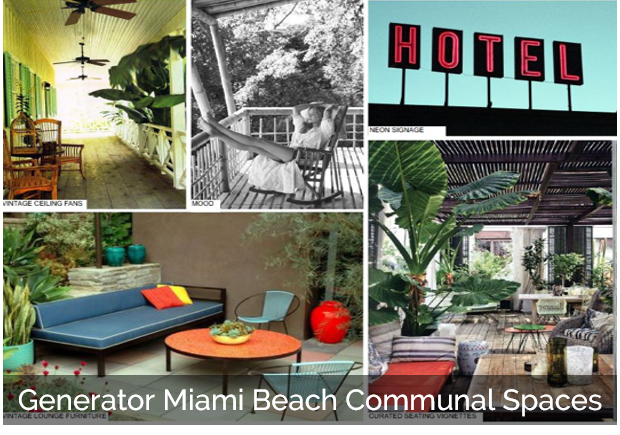 Notably, while the Generator Hostels brand does not target the corporate traveler, the Generator Miami is anticipated to cater to some corporate tastes with its private room options and upscale amenities. Families with two children normally require two standard hotel rooms, whereas a private hostel room with two bunk beds should be sufficient to accommodate a family and also cost considerably less.
Currently, Miami Beach has seven traditional hostels totaling 1,140 beds, resulting in an average bed count of 163. However, these hostels do not approach the quality level of the upscale boutique hostel brands; they also lack the depth of amenities available in the Freehand Miami and the proposed Generator Miami, giving these properties an advantage with more upscale segments of demand.
Financial Benchmarks of Hostels versus Budget Hotels
Upscale boutique hostels offer accommodations on a level superior to most budget and midscale limited-service hotels and will compete heavily for the leisure segment of demand. The Freehand and St. Christopher Inn brands derive approximately 50% of their revenues from food and beverage sales. As profit margins are high with beverages, a greater proportion of total revenues flow to the bottom line.
The higher number of guests capable of occupying a hostel versus a traditional budget or midscale hotel brings potential food and beverage revenue even higher and increases other ancillary revenue streams. Hence, hostels can produce higher revenues and net income streams versus traditional budget or midscale hotels constructed on a similar footprint.
Conclusion
Upscale hostels bridge a gap between traditional hostels and lifestyle hotels. For one, the upscale hostel provides relatively inexpensive accommodations along with amenities expected at branded lifestyle hotels, including Wi-Fi access, swimming pools, and trendy décor. Secondly, first-rate hostels like the Freehand Miami offer a variety of room accommodations and communal spaces aimed at drawing demand from solo millennials, families, and corporate travelers alike.
Because of their increased profile in U.S. travel markets such as Miami Beach and Chicago, private investors, including Patron Capital, have taken notice of hostel developments and formed partnerships with international hostel brands. Factors such as the attractiveness of upscale hostel assets like the Generator Miami and the lack of competitive supply are likely to lure more investors looking to obtain attractive returns.
hostels, condominiums, condominium-hotels, time share developments, restaurants, fractional interest developments, private residence clubs and mixed-use developments
worldwide. His background includes assignments for independently owned hostels and hostel brands in North America and internationally. Shiv earned a Master of Business Administration with a concentration in Financial Services from the University of Florida. He is a CFA Charterholder and member of the CFA Institute. Contact Shiv at +1 (786) 897 8094 or
[email protected]
Based in Miami, HVS Vice President Shiv Ariyakula, CFA, has worked for over a decade on appraisal and consulting assignments for hotels,