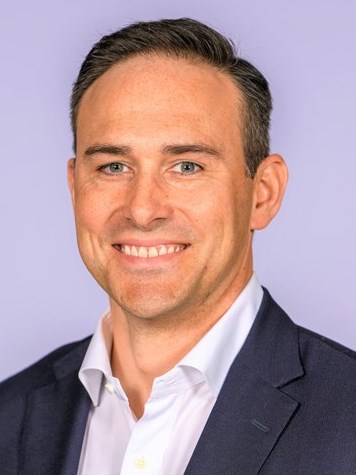 Since 2010, New Orleans has once again solidified its place as one of the world's preeminent travel destinations. The stability of meeting and group demand in New Orleans, in addition to an upward trend in transient leisure demand, has brought about strong increases in both occupancy and average rate over the past several years. Efforts to improve the market's room package and infrastructure, including the redevelopment of the vacant World Trade Center, the construction of a new airport terminal, and the Phase V expansion of the Ernest N. Morial New Orleans Convention Center, are expected to influence demand through the city's tercentennial celebration in 2018.
Hotel Market Performance
Overview of Historical Occupancy and Rate Trends
The following charts illustrate trends in forecasted hotel occupancy, average rate, and RevPAR for New Orleans hotels from 2016 through 2018.
Occupancy, Average Rate, and RevPAR to Drive Growth in the Near Term

Source: HVS
Occupancy and average rate in the New Orleans market have grown substantially over the past decade, particularly in 2010 and 2012. A government-mandated advertising campaign following the Deepwater Horizon oil spill helped boost tourism, and an unprecedented run of major sporting events also drove growth. In 2015, the New Orleans market reached historical peaks in occupancy, average rate, and RevPAR. While HVS expects occupancy to decline slightly in 2017 as new supply peaks in the market, we forecast modest overall growth in all metrics going forward.
New Orleans Supply and Demand to Reach Equilibrium in Late 2016

Source: HVS
The trajectories of growth in hotel supply and demand in New Orleans are expected to align in late 2016, resulting in market equilibrium. This effect is anticipated to be temporary, as more than 1,800 new rooms are scheduled to arrive in 2017. Much fewer new rooms and continued demand growth should allow demand to again outpace supply in 2018. The market remains poised to absorb the influx of new supply, though two factors are important to consider. First, the makeup of demand in New Orleans has shifted substantially over the past decade, and this trend is expected to result in a stabilized occupancy level well above the ten-year average. Second, significant unaccommodated demand exists in the market, particularly in the CBD submarket. The amount of room for new supply in the New Orleans market is indicative of the limited inventory and high regulatory barriers to entry that have helped to throttle supply growth despite substantial growth in demand.
Existing Supply Breakdown by Brand and Scale
The upper-upscale segment comprises the largest proportion of rooms in the Greater New Orleans lodging market by a wide margin, with 10,967 rooms or 29% of total inventory. This figure far exceeds the national average of just over 15%. Conversely, while the midscale and upper-midscale segments comprise nearly 40% of national inventory, these segments account for only about 26% of inventory in Greater New Orleans. On the whole, the guestroom inventory of the Greater New Orleans market is oriented toward higher-end products, which reflects the high concentration of hotels in the more tourist-centric CBD and French Quarter submarkets. This orientation is illustrated by the large number of rooms in the market's luxury segment, which exhibits the greatest variance with national averages. The luxury segment in Greater New Orleans comprises 4,982 rooms, or 13% of all rooms, while luxury hotels comprise less than 5% of rooms nationally.
Source: STR, HVS
New Supply Pipeline
Upscale hotels, particularly those that are lifestyle-oriented, are expected to dominate the new supply pipeline in the CBD and French Quarter submarkets over the next five years. Given the high saturation of hotel products within these relatively small submarkets and the overall market's unique character and large tourist volume, New Orleans has become a proving ground for new lifestyle brands. The first AC Hotel by Marriott in North America entered the market in late 2014, and relatively new brands such as Moxy by Marriott and Virgin will enter the market in the near term.
The following table reflects an increase of approximately 5,814 rooms across four submarket groupings, in addition to the existing supply of 38,239 rooms in the market. This represents an approximate supply increase of 15.2%.
More Than 5,400 Hotel Rooms Could Come to Greater New Orleans in the Next Five Years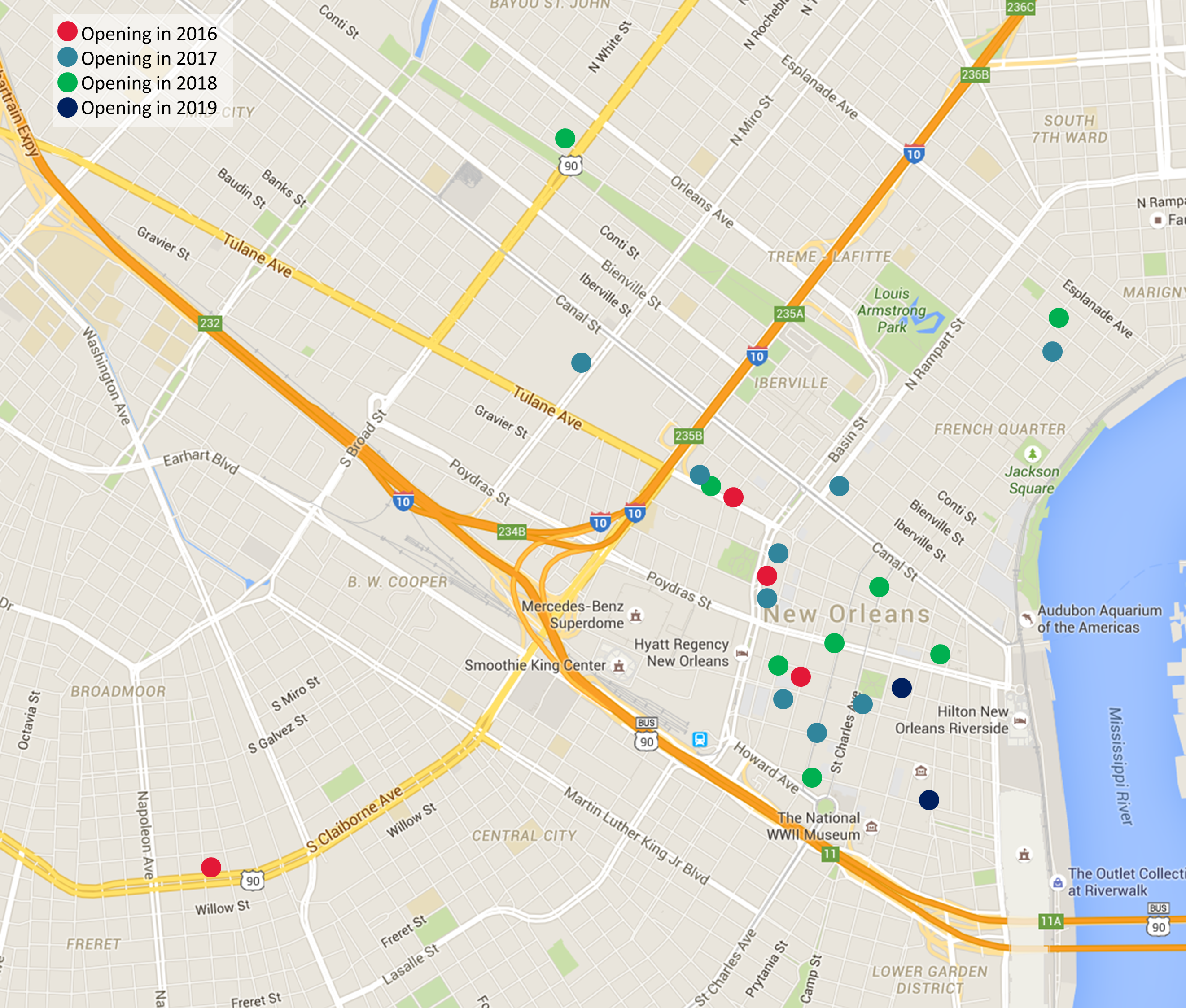 Source: HVS
The CBD and French Quarter submarkets house the vast majority of supply in Greater New Orleans, and these submarkets are expected to receive the greatest supply (4,621 rooms) of all proposed supply is planned for the city center, reflecting the continued popularity of New Orleans' leisure attractions with high-rated travelers.
Of the property classes and room counts that have been determined, the following chart illustrates the class breakdown of the new supply:
New Orleans' Upscale Hotel Room Inventory set to Increase More Than 11%, While Economy, Midscale, and Upper-Midscale Inventory Stabilize*†

Source: HVS & STR
* Only includes properties with room counts and class designations
† Only the lowest value in the rooms range is considered
Room Supply Expected to Continue Increase from 2016 to 2018
Source: HVS
Hotel Value Trends – New Orleans, Louisiana
The annual Hotel Valuation Index (HVI) compiles data derived from over 4,500 hotel appraisal assignments each year, providing for analysis of performance and forecasts for hotel markets nationwide.
Since 2010, New Orleans has benefitted from continued private- and public-sector investment and a string of high-profile events that have reintroduced the city as a major global destination. The market, which is anchored by the Central Business District (CBD), was largely unaffected by the Deepwater Horizon oil spill in 2010. Yet as the Gulf Coast's largest city, New Orleans was the primary beneficiary of the BP-funded tourism advertising campaign resulting from the spill; this dovetailed with a tide of improving public perception as major news outlets spotlighted the city's recovery from Hurricane Katrina during the New Orleans Saints' 2009/10 Super Bowl run. Since that time, New Orleans has hosted the BCS National Championship (2012), Super Bowl XLVII (2013), the NBA All-Star Game (2014), and Wrestlemania XXX (2014). While these events have been important in the city's recent RevPAR surge, a steady rise in tourism and increasing attendance at the city's annual festivals and events have been equally critical.
Rising RevPAR has kept transaction activity vibrant in the market, though new developments have come to center stage. Recent openings include an AC Hotel by Marriott, the first in North America, in late 2014, as well as the city's first Aloft in the spring of 2015. A spate of additional planned projects will introduce high-quality supply and new brands to the New Orleans market, including Moxy by Marriott and Ace. Furthermore, in March 2015, a team affiliated with the Four Seasons brand won the rights to redevelop the long-vacant World Trade Center. Still, barriers to entry remain higher than in most markets, and projects such as a dual-branded Marriott hotel at the corner of Tchoupitoulas and Canal Streets often struggle to gain approval from local planning agencies. These high barriers, coupled with increasing demand and developments such as the BioDistrict, a $546-million airport terminal, and a proposed expansion of the Ernest N. Morial Convention Center, support a positive outlook for hotel value growth through New Orleans' tercentennial celebration in 2018.
New Orleans ranked 48 out of 71 major U.S. markets in hotel value growth in 2015, with a 7% increase. This modest increase is due in large part to the significant amount of value growth experienced by the market in recent years and reflects the current outlook for more moderate, sustainable growth. New Orleans hotel values are anticipated to rise by another 5% in 2016. However, the New Orleans market is expected to be outpaced by the nation as a whole through 2018, because of the impact of new supply in 2017, values are anticipated to increase by 9%.
The following chart illustrates the trajectory of hotel values in New Orleans from 2006 through 2018.
Supply-Related Decline in 2017 Followed by Strong Recovery in 2018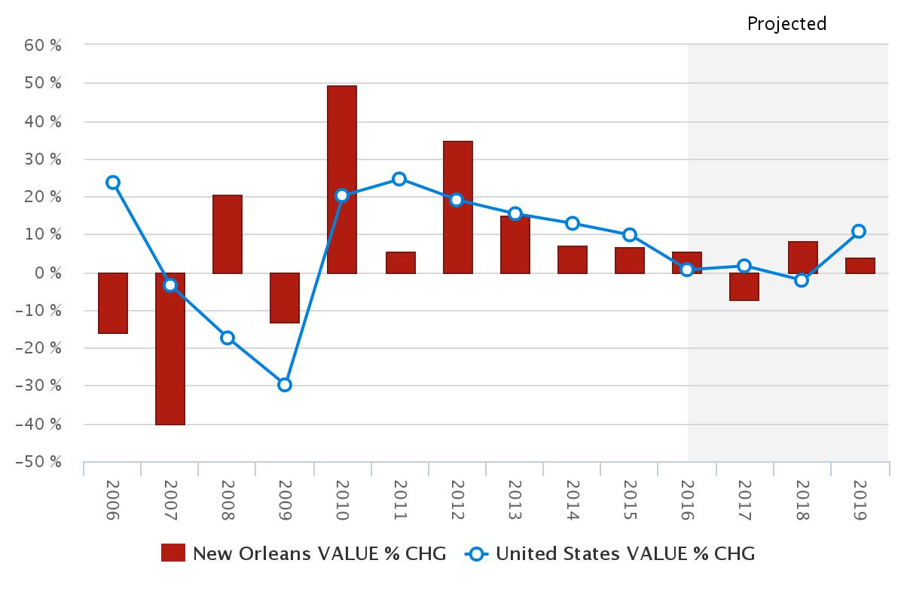 Source: HVS, STR
Steady Near-Term Growth Expected to Bring Strong Long-Term Increases in Hotel Values

Ratings are comparable to 65 major U.S. cities evaluated in the HVS HVI
Source: HVS & STR
Recent Hotel Transactions
The following table details confirmed hotel transactions in Greater New Orleans since 2013.
New Orleans Leads Number of Transactions and Per-Key Sales
Number of Sales Average Price per Room

Source: HVS, RCA
Transaction activity in the Greater New Orleans market has declined since more than $700 million in volume changed hands in 2013. Investors throughout the nation descended on opportunities in New Orleans in 2013, following a period of sudden and substantial performance growth. By comparison, confirmed transaction volume for 2014 totaled just under $100 million.
In 2015, confirmed individual transactions have totaled approximately $173 million, which represents a substantial increase over 2014 year-end numbers. Furthermore, the 2015 total does not include the January sale of a portfolio of three Hampton Inns to Blackstone for roughly $75 million, or the September 2015 sale of the recently opened AC Hotel New Orleans/Bourbon French Quarter to Pacific Hospitality Group, for which a sale price could not be confirmed.
Despite a decline in total transaction volume, pricing continues to increase. The average price per room of confirmed individual transactions thus in 2015 registers at approximately $160,000, compared with $170,000 in 2013. Two full-service assets, the Le Pavillon Hotel and the DoubleTree by Hilton, sold this year for greater than $200,000 per room. Values are set to increase further in 2016.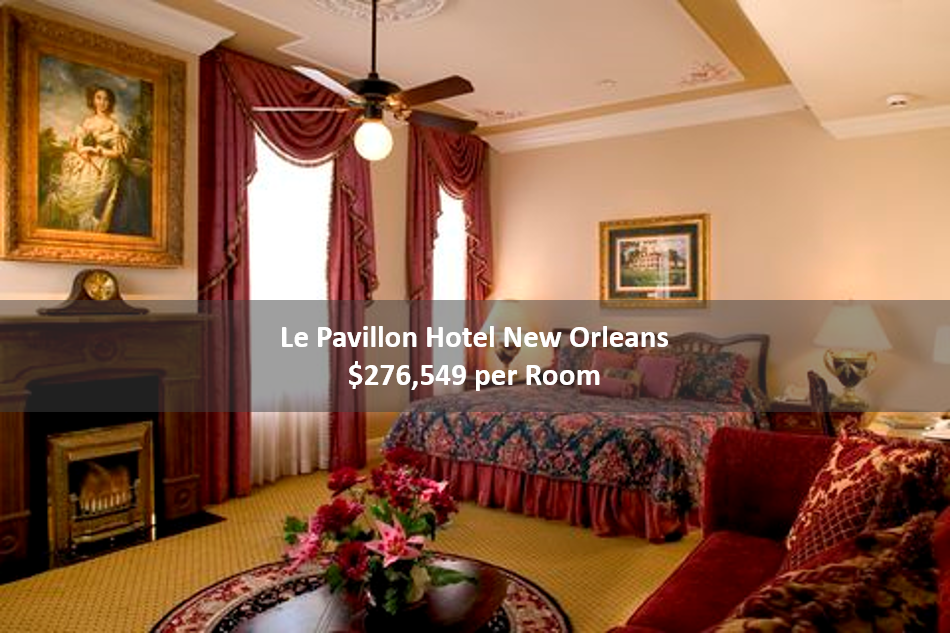 Across the nation, according to Real Capital Analytics (RCA), the confirmed hotel sale with the lowest price per key in the preceding three years was the Hotel Seagate in the Toledo, Ohio CBD at $2,830 per key. The next two bottom-tier sales occurred in Chicago and Atlanta. The highest confirmed sale, at $1.85 million per key, was that of the Park Hyatt Hotel in the Manhattan Midtown West neighborhood. The next runner up was the Hollywood Saint Louis in Missouri at $1.22 million per key.
Average Price per Key in the U.S. Echoes Hotel Pricing Strength in New Orleans
Number of Major U.S. Sales ($10M and above) Average U.S. Key Price Per Room

Source: RCA
Key Economic Indicators
ECONOMIC AND DEMOGRAPHIC REVIEW
The U.S. population has grown at an average annual compounded rate of 0.9% from 2010 through 2015, and that rate is forecast to increase slightly to 1.0% into 2020. From 2010 through 2015, the Orleans Parish and New Orleans-Metairie MSA population growth lags behind the country both at 0.8%. Through 2020, Orleans Parish is forecast to experience a small decrease in population, while the New Orleans-Metairie MSA population is expected to continue to increase, albeit at a lesser rate than that of the state and the nation. The New Orleans-Metairie MSA matched the state growth rates from 2010 through 2015; going forward, Louisiana's population growth is set to outpace the MSA at 0.9%. While Hurricane Katrina caused a decrease in population in 2005 and the following years as the city struggled to rebuild, a slight recovery occurred from 2010 through 2015. Future population growth is forecast to take precedent outside the Parish and the MSA, as development shifts to other cities and parishes in Louisiana.
Nation Population Growth Outpaces New Orleans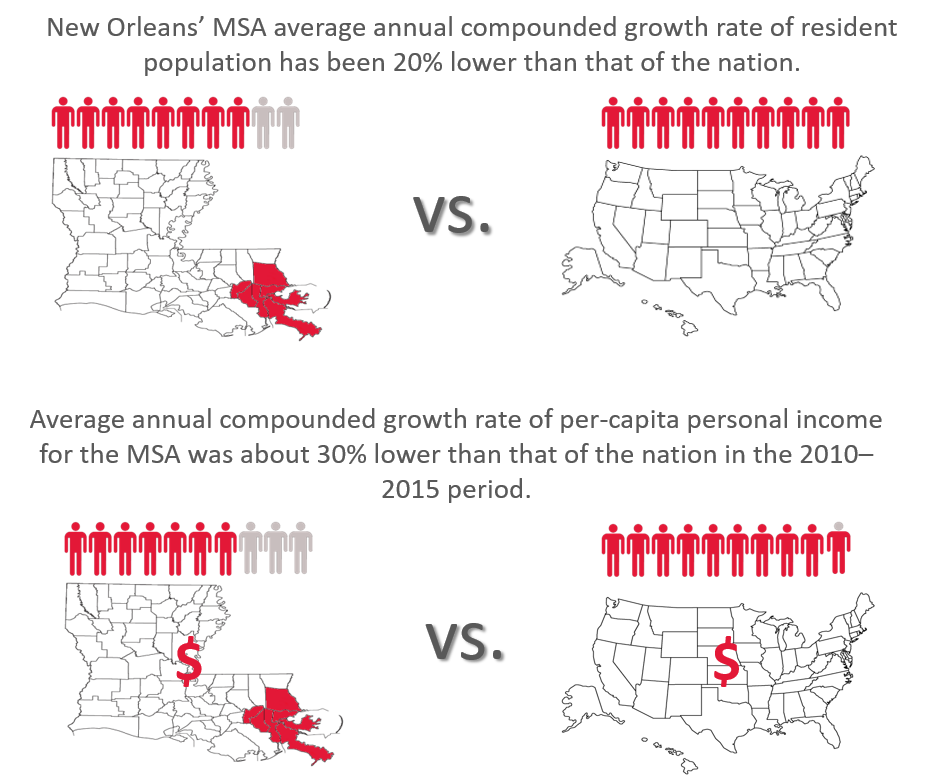 "New Orleans-Metairie-Bogalusa CSA" by User: Nyttend - Modified from this United States Census Bureau file, based on the following Census definitions lists: Metropolitan Statistical Areas Micropolitan Statistical Areas Combined Statistical Areas. Licensed under Public Domain via Commons
The average annual compounded growth rate of per-capita personal income for the parish between 2010 and 2015 was 0.8%, lagging the MSA, the state, and the national averages of 0.9%, 1.0%, and 1.2% respectively. Anticipated growth into 2020 for Orleans Parish is 1.6%, which outpaces the state, MSA and national average of 1.3%.
The national wealth index for the nation, which trended flat from 2000 to 2014, is anticipated to remain flat into 2020. The New Orleans-Metairie MSA and the state experienced slight contractions of -0.3% and -0.1% from 2010 through 2015; the state wealth index is expected to contract slightly at -0.1%. Orleans Parish increased at the highest rate from 2000 through 2010, at 2.3%, decreasing at -0.5% from 2010 through 2015; however, the parish wealth index is expected to recover slightly at 0.2% over the next five years.
Food and beverage sales in the parish remained relatively stable from 2000 through 2010, and then grew at an annual compounded rate of 2.0% from $1.077 billion in 2010 to $1.169 billion in 2015. Through 2020, the pace of growth is expected to increase to 0.4% for the parish. The New Orleans-Metairie MSA reflected more robust sales with $2.504 billion in 2010, $2.760 billion in 2015, and a predicted $2.941 billion in sales in 2020. This reflects average annual compounded growth rates of 2.0% from 2010 to 2015 and 1.3% from 2014 to 2020, which is slightly lower than the state and national anticipated growth rates of 1.8% and 1.9%, respectively.
The retail sales sector grew slightly in the New Orleans-Metairie MSA, the state, and the nation from 2000 through 2010; however, the Orleans Parish retail sales sector contracted -1.3% from 2000 through 2010. Retail sales in the parish, which peaked in 2000 at $4.895 million, are forecast to recover to $4.840 million by 2020. The retail sales sector has increased continuously across the MSA, state, and nation since 2000; this trend is expected to continue through 2020.
RADIAL DEMOGRAPHIC INDICATORS
The following table reflects radial demographic trends for the New Orleans market area measured by three points of distance from the center of the New Orleans CBD.
New Orleans Demographics by Radius (from the Intersection of I-10 and Canal Street)
Population Growth to Decline within One-Mile Radius 2015–2020
Household Growth Most Stable within Five-Mile Radius 2015–2020
Source: The Nielsen Company
Top Five Occupations – Estimated for 2015
Within One-Mile Radius
Within Five-Mile Radius
Within Ten-Mile Radius
Source: The Nielsen Company
Population growth within one mile of the center of Downtown New Orleans generally increases at a greater rate than that of the surrounding areas. In the aftermath of Hurricane Katrina, population decreased in the New Orleans area, down -19% within a ten-mile radius and down -28.3% within a mile of downtown. Double-digit growth followed from 2010 through 2015; growth is forecast at a lesser rate through 2020. A stronger recovery in the number of New Orleans households is forecast by 2020; within a one-mile radius, the number of households had fallen below 7,500 in 2010. However, it is expected to increase above the 2000 peak to 9,920 in 2020. Within a five- to ten-mile radius, the number of households is anticipated to approach 2000 levels by 2020.
The forecasted 2016 average and median household incomes for New Orleans are lower than national averages.
2016 Forecast - Average and Median Household Income

Source: The Nielsen Company
WORKFORCE CHARACTERISTICS
The characteristics of an area's workforce provide an indication of the type and amount of transient visitation likely to be generated by local businesses. Sectors such as finance, insurance, and real estate [FIRE]; wholesale trade; and services produce a considerable number of visitors who are not particularly rate-sensitive. The government sector often generates transient room nights, but per-diem reimbursement allowances often limit the accommodations selection to budget and mid-priced lodging facilities. Contributions from manufacturing, construction, transportation, communications, and public utilities [TCPU] employers can also be important, depending on the company type.
Employment Projections through 2020 Show Growth in Total Services and Real Estate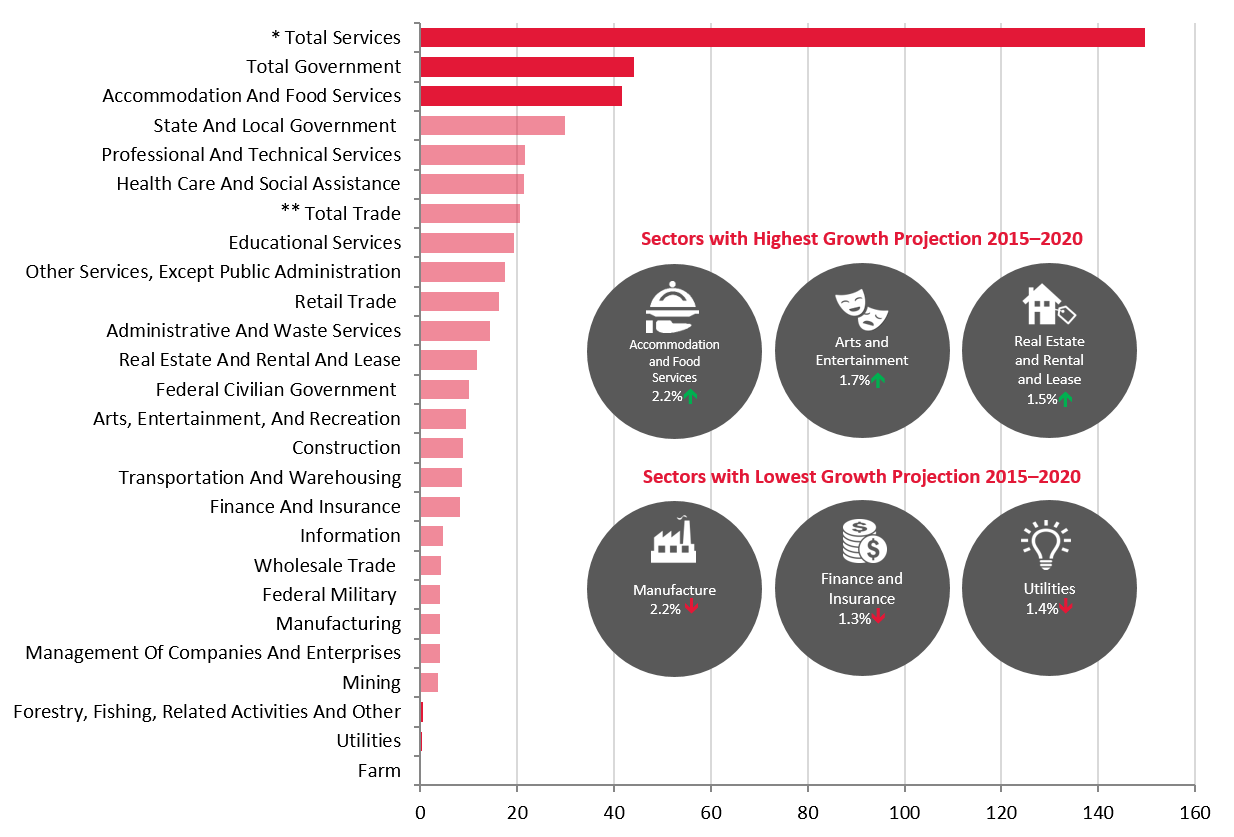 Source: Woods & Poole Economics, Inc.
* Total Services include: Professional and Technical Services; Management of Companies and Enterprises; Administrative and Waste Services; Educational Services; Healthcare and Social Assistance; Arts, Entertainment, and Recreation; Accommodation and Food Services; and Other Services, except Public Administration
** Total Trade includes Wholesale Trade and Retail Trade
From 2000 to 2010, total employment in the MSA decreased at an average annual rate of -0.5%; this rate was below the growth rate recorded by the national average. The pace of employment growth in the MSA recovered with a 1.0% increase on an annual average from 2010 to 2015. Woods & Poole Economics, Inc. anticipates total employment in the parish to continue this trend, with a 1.0% average growth rate annually through 2020, lagging slightly behind the forecasted rate of change of 1.3% for the U.S. as a whole.
The finance, insurance, and real estate [FIRE]; wholesale trade; and services employment sectors represented 70.7% of total employment in total employment in the MSA increased at an average annual rate of 1.4% from 2010 to 2015; as stated above, these sectors are important drivers of demand to higher-rated hotels. Total Government, the second-largest primary employment sector in 2014, tends to generate demand for economy properties, as per-diem rates limit travelers to lower-priced hotels.
The largest primary sector was Total Services, which recorded the highest growth (10,809) in number of employees during the period from 2010 to 2015. Of the various sub-sectors included in Total Services, Health Care and Social Assistance and Accommodation and Food Services were the largest employers.
Woods & Poole Economics, Inc. reports that during the period from 2000 to 2010, total employment in the MSA contracted at an average annual rate of -0.5%; storm damage from Hurricane Katrina in 2005 caused this decline in employment while nationwide employment grew 0.7% during the same period, despite the impact of the Great Recession. Employment in the New Orleans-Metairie MSA recovered by 2015, with a growth rate of 1.0%, trailing the national increase of 1.3%. Employment across the parish and nation is forecast to increase above that of the MSA, at 1.3%, through 2020.
Job growth in the Total Services Sector includes many positions associated with tourism in New Orleans, driving upper-midscale through luxury room nights. These sectors combined represent 55.3% of total employment in 2015 (up from 53.3% in 2010), with an average annual compounded growth rate expected to be approximately 1.0% into 2020. A notable shift in this segment will come from the growth of Accommodation and Food Services and Arts, Entertainment and Recreation.
Employment levels in the Total Government sector, a room driver to economy hotels, declined -3.2% for the decade preceding 2010, followed by -0.6% from 2010 to 2015; employment in Total Government is expected to contract by 0.1% into 2020. The sector will have gone from 17.2% of total employment in 2000 to 16.7% of total employment in 2020.
EMPLOYMENT
Primarily known as a tourist destination, the New Orleans economy has diversified in recent years to incorporate a growing healthcare sector and the film industry. Since 2005, major investments have been made to rehabilitate or upgrade several event venues; expansions at the airport and convention center are set to occur for the city's 300-year anniversary in 2018, supporting more jobs in the hospitality industry. In addition, the presence of major healthcare provider Ochsner Health System has led to the construction of the New Orleans BioDistrict; the 2015 opening of the University Medical Center and the 2016 projected opening of the new VA Hospital point to an increase in health services employment. During the 2015 legislative sessions, caps were imposed on tax credits for the film industry; the full impact of this ruling may not fully affect the industry for several years. While employment levels have not reached pre-Katrina levels, steady job growth is forecast for the city. The following table illustrates historical and projected employment, population, and income data for the overall New Orleans market as presented by REIS.
Historical & Projected Employment, Households, Population, and Household Income Statistics for New Orleans MSA

Source: REIS Report, 3rd Quarter, 2015
TOP INDUSTRIES IN NEW ORLEANS
The following table presents a list of the major employers in the market:
Major Employers in New Orleans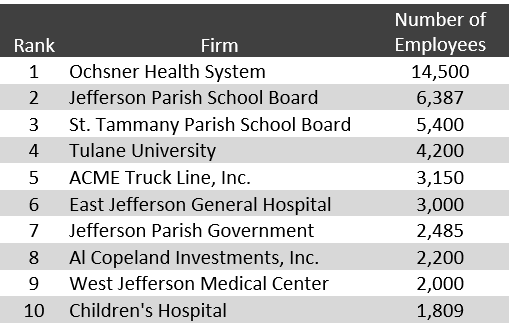 Source: GNO, JEDCO & St. Tammany Eco. Dev. Foundation, 2015
Tourism accounts for the vast majority of jobs in the New Orleans area. According to the Convention & Visitors Bureau (CVB), New Orleans' tourism industry employed more than 80,000 people in 2014 and had an economic impact of over $6.8 billion, generating more tax revenues for the city than any other business sector. The city now has more restaurants than prior to Hurricane Katrina and nearly the same number of hotel rooms; total visitation and hotel occupancy reached levels in 2011 not reported since before the storm. Even having contended over the past seven years with the national recession, restrictions in corporate business travel, and the Deepwater Horizon oil spill, the city's tourism industry continues to strengthen.
Recent events hosted by New Orleans' upgraded venues include two NBA All-Star games, the NCAA Final Four, WWE's Wrestlemania XXX, and Super Bowl XLVII; the football event alone produced an estimated economic impact of more than $480 million in February 2013. On April 1, 2014, a majority of the city's hotels adopted the Tourism Support Assessment, an additional 1.75% hotel sales tax that will fund national marketing initiatives by the CVB and the New Orleans Tourism Marketing Corporation, as well as infrastructure improvements in the French Quarter.
New Orleans is also a primary cruise port for the Gulf Coast. In February 2015, Viking River Cruises announced that New Orleans would become the homeport for the company's first North American itineraries, offering Mississippi River cruises to destinations as far north as Minnesota beginning in 2017. Furthermore, in March 2015, Carnival Cruise Lines announced that it would increase its capacity in New Orleans in 2016 by relocating the Carnival Triumph from Galveston to replace the smaller Carnival Elation.
The largest single employer for the market is Ochsner Health System, a national leader in medical research and one of the largest non-university-based physician training centers in the nation. Ochsner Medical Center was ranked among the top 50 "Best Hospitals in America" in eight specialties by U.S. News & World Report in its 2013/14 list. Additionally, Ochsner Medical Center recently joined the Louisiana Cancer Research Consortium (LCRC), a group comprising leading medical research institutions that coordinate cancer research development through a $100-million research facility. In 2011, Ochsner announced the lease of 80,000 square feet of the Benson Tower in New Orleans' Central Business District. The space could reportedly accommodate a future expansion of up to 1,000 employees.
In recent years, New Orleans has become known as "Hollywood South," due largely to a combination of the city's picturesque setting and the Motion Picture Tax Credit program implemented by the State of Louisiana to provide an incentive for filming in the region. Many large-budget and critically acclaimed feature films and television series have been made in and around New Orleans, including 12 Years a Slave, Django Unchained, Dallas Buyers' Club, JFK, the Pelican Brief, Interview with the Vampire, Monster's Ball, The Curious Case of Benjamin Button, Jurassic World, Terminator Genisys, and HBO's Treme and True Detective. According to the Mayor's Office of Cultural Economy, 60 tax-credit projects were filmed in the city in 2014, resulting in $509 million in direct spending. Furthermore, the nonprofit organization FilmLA reported in its 2013 Feature Film Production Study that Louisiana had overtaken California in film production for the first time, with the state serving as the primary filming site for 18 of 108 major studio films surveyed. Louisiana placed second to Canada in total production employment, with 13,690 jobs. In June 2015, the Louisiana state legislature approved reforms to the state's film tax-credit program, including a $180-million annual cap on incentives for three years. State tourism officials have expressed concern that the reforms will severely limit film production in Louisiana; however, the full effect of the legislation is uncertain.
UNEMPLOYMENT
Major hurricane recovery efforts amidst a displaced population drove unemployment levels down in the MSA from 2006 to 2007. In 2008, unemployment rates began to climb, a trend that continued into 2009 and 2010 as the recession deepened and the BP oil spill caused a temporary moratorium on offshore oil activity. Unemployment rates stabilized in 2011 and decreased from 2012 through 2015. Employment in New Orleans remains strong in the tourism industry, and new development in the healthcare sector, including ongoing construction projects in BioDistrict New Orleans, is expected to add a number of jobs to the New Orleans area over the next few years. Furthermore, employment should be bolstered by the ramp-up in staffing and operations of the University Medical Center, which opened in August 2015.
Tourism, Health Care Employers Bolster Jobs in New Orleans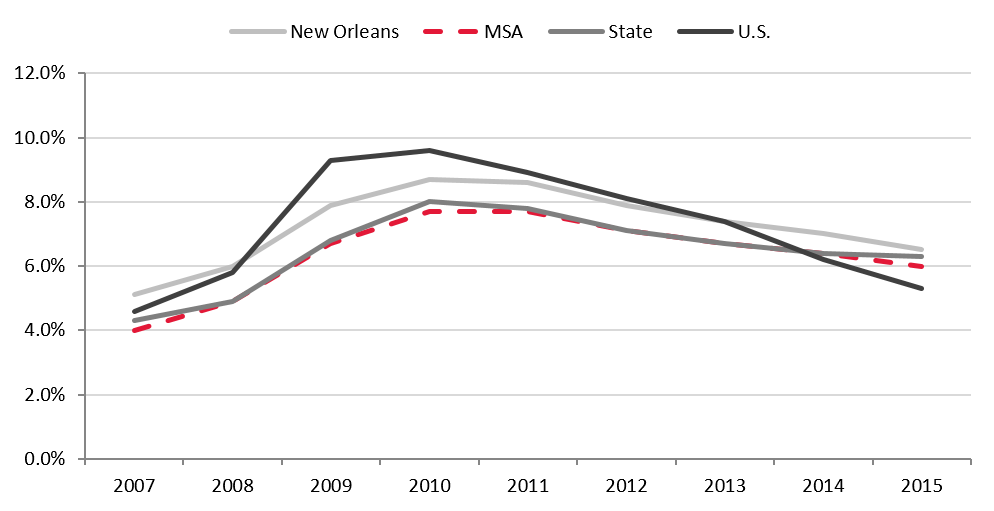 Source: U.S. Bureau of Labor Statistics
OFFICE SPACE
Trends in occupied office space are typically among the most reliable indicators of lodging demand, as firms that occupy office space often exhibit a strong propensity to attract commercial visitors. Thus, trends that cause changes in vacancy rates or in the amount of occupied office space may have a proportional impact on commercial lodging demand and a less direct effect on meeting demand.
The amount of office space in Central New Orleans has remained stagnant since the 2005 loss of 1.646 million square feet of available space during Hurricane Katrina. Demand continued to decline in 2006 and 2007 for downtown office space; however, given the effects of the storm, vacancy rates were actually highest in 2008, and demand did not begin to grow until 2009. Asking rates remained stable in 2009 after two years of strong growth, and another strong year of rate growth occurred in 2010. While vacancy rates in Central New Orleans increased from 2011 through 2013, there was a small recovery in 2014; year-end data for 2015 and REIS forecasts through 2018 show minor increases in Central New Orleans occupancy.
Central New Orleans Office Submarket Hosts Most Space in Square Feet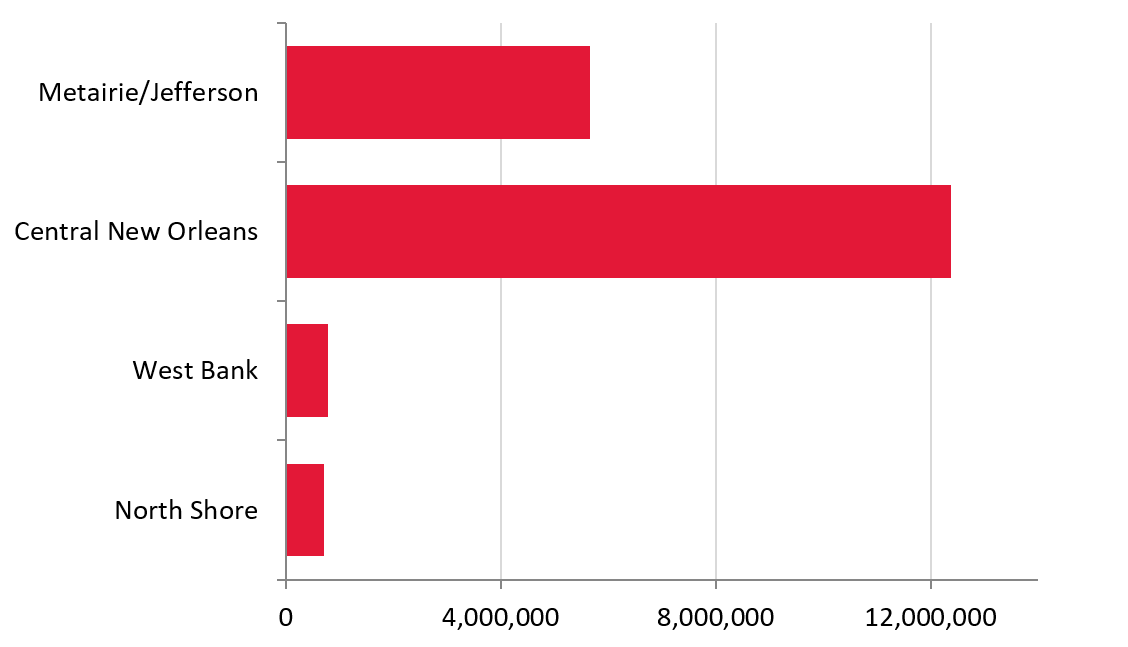 Source: REIS Report, 3rd Quarter, 2015
Much of the space vacant since the storm is set for redevelopment and conversion. The buildings at 210 and 225 Baronne Street were renovated in 2014 and now offer apartments and the Aloft hotel. Another apartment conversion started in 2014 at 1111 Tulane. Construction began in 2014 to convert the historic building at 234 Loyola to The Pythian, a mixed-use building with residential and commercial space. The former office space at 1250 Poydras will reopen as the Hyatt House New Orleans Downtown in November 2015. The former Texaco office space at 1501 Canal Street was converted to senior living facilities. The standout project in the CBD is the former World Trade Center at 2 Canal Street, which will undergo $360 million in renovations to reopen as a Four Seasons with 350 hotel rooms and 76 private condos by 2018.
Since 2012, demand has gravitated to the Metairie/Jefferson submarket, where occupied office space has increased each year since 2012, and asking lease rates rose more than 2% in 2013. This submarket has historically registered lower vacancy rates and higher lease rates than Central New Orleans; the amount of supply in this suburban market is forecast to remain stable through 2019. The Metairie/Jefferson submarket benefits from proximity to more residential developments, restaurants, and retail space; the already limited parking in the New Orleans CBD adds an expense for employees commuting to the city. Along with minor increases in demand, asking lease rates are forecast to increase steadily, from 0.9% in 2015 to 2.8% in 2018.
Central New Orleans has Lowest Lease Rates
Vacancy Lowest in the North Shore
Source: REIS Report, 3rd Quarter, 2015
Available and Occupied Office Space Remains Stable in New Orleans Vacancy Rate is Anticipated to Decline in the Near Term
Source: REIS Report, 3rd Quarter, 2015
CONVENTION ACTIVITY
Convention centers generate significant levels of demand for area hotels, particularly those within a radius of three miles. Convention headquarters hotels command premium rates and, in addition to capturing event-related demand, can also benefit from hosting related banquet events. Major conventions also push demand to peripheral hotels in the market.
Constructed in conjunction with the 1984 World's Fair, the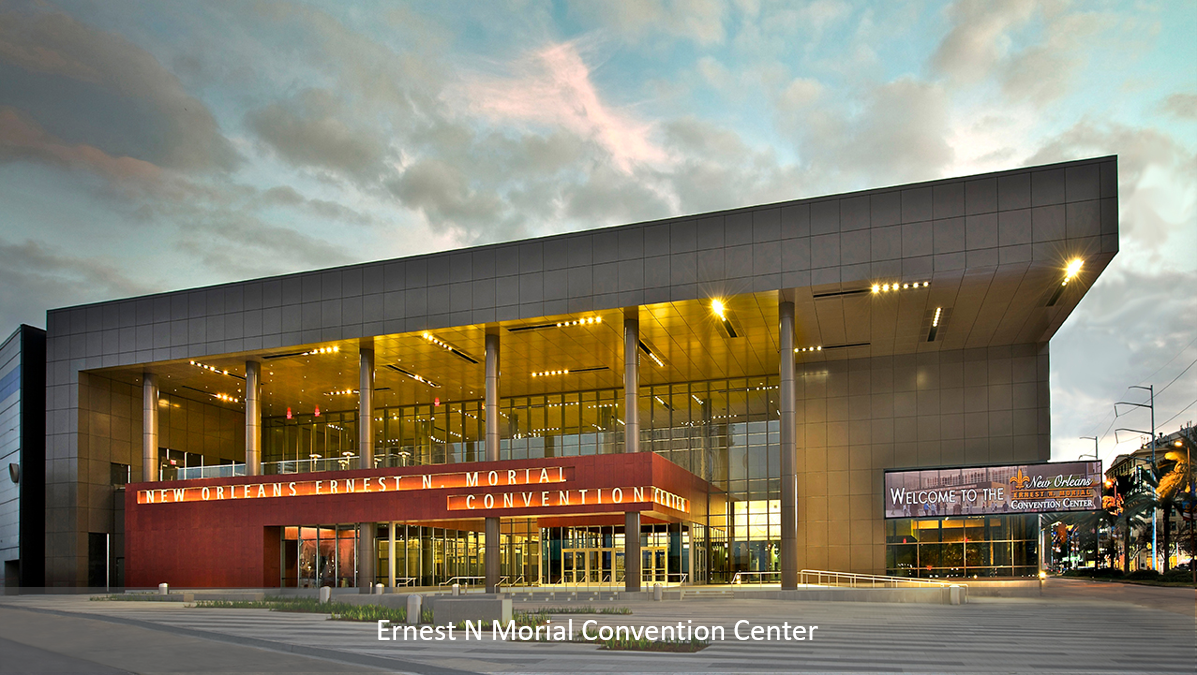 New Orleans Ernest N. Morial Convention Center offers 1.1 million square feet of contiguous space and is the sixth-largest convention facility of its kind in the U.S. The center also houses a 4,000-seat theater, divisible into four parts—a feature that no other convention center in the country currently offers. The size of the center allows it to host citywide conventions back to back by minimizing downtime between events. A $50-million renovation officially opened prior to Super Bowl XLVII in January 2013. The project included reconfiguring the existing Hall A into a new "Great Hall"; the updated space contains a 60,000-square-foot ballroom, a 4,660-square-foot junior ballroom with a rooftop terrace, and a 4,700-square-foot executive lounge. In June 2014, the Louisiana State Legislature approved and Governor Bobby Jindal signed a bill that enables the convention center to issue up to $142 million in bond offerings for its Phase V expansion. Plans for the expansion project include a five-acre riverfront park, retail space, condominiums, a people mover, a convention headquarters hotel, and the redevelopment of Convention Center Boulevard to include a linear park. The project is planned for completion in time for the city's tercentennial celebration in 2018.
Hurricane Katrina severely affected event and delegate numbers for 2006 and 2007. With many larger events having relocated to other cities, the convention center began to rely on more flexible, smaller groups, a strategy that succeeded in 2008. In 2009, the national economic downturn reduced corporate and consumer spending on group travel to New Orleans, and many tentative and booked conventions canceled or drastically reduced attendance. Meeting and group activity driven by the convention center was reportedly strong in 2010. In 2011, the number of delegates declined significantly despite an increase in events; however, in 2012, the number of events and delegates both realized double-digit increases.
Major citywide conventions in 2013 included the Healthcare Information & Management Systems Society (HIMSS) Annual Conference & Exhibition in March and Microsoft's TechEd in June. Tourism officials and local operators report that the 2014 convention schedule was somewhat weaker than in recent years despite the American Academy of Orthopedic Surgeons convention in March; however, long-term bookings remain strong. Other conventions totaling more than 7,500 peak room nights in 2014 included the Water Environment Federation's WEFTEC (September) and the National Association of Realtors' Realtors Conference & Expo (November), both of which helped bolster group demand in the third and fourth quarters.
Convention Numbers Bounce Back Following Katrina and the 2008/09 Recession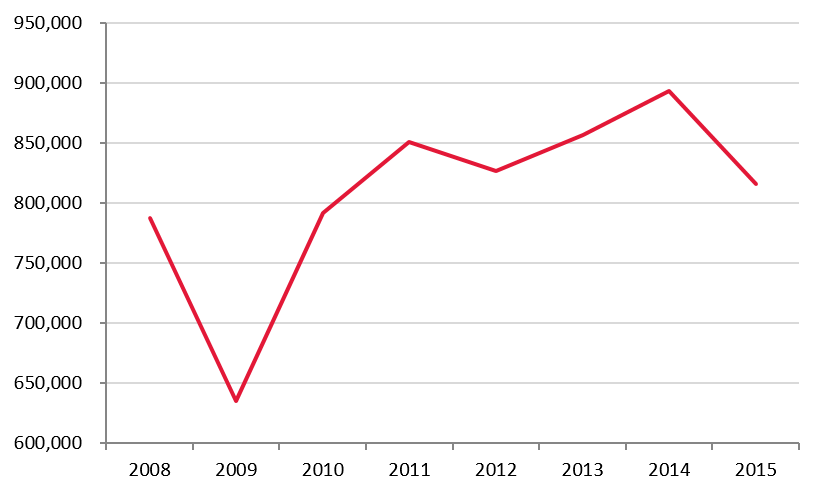 Source: Ernest N Morial Convention Center
AIRPORT TRAFFIC
Airport passenger counts are important indicators of lodging demand. Depending on the type of service provided by a particular airfield, a sizable percentage of arriving passengers may require hotel accommodations. Trends showing changes in passenger counts also reflect local business activity and the overall economic health of the area.
The Louis Armstrong New Orleans International Airport (MSY), located approximately twelve miles west of Downtown New Orleans, houses four concourses, nearly forty gates, and three runways. The airport was closed to commercial air-traffic on August 28, 2005, shortly before Hurricane Katrina struck New Orleans, and reopened to commercial flights on September 13, 2005. A $74-million consolidated rental car facility (CONRAC) and a number of cosmetic upgrades were completed in February 2013, in conjunction with preparations for Super Bowl XLVII
Traffic through MSY Has Risen Annually Since 2010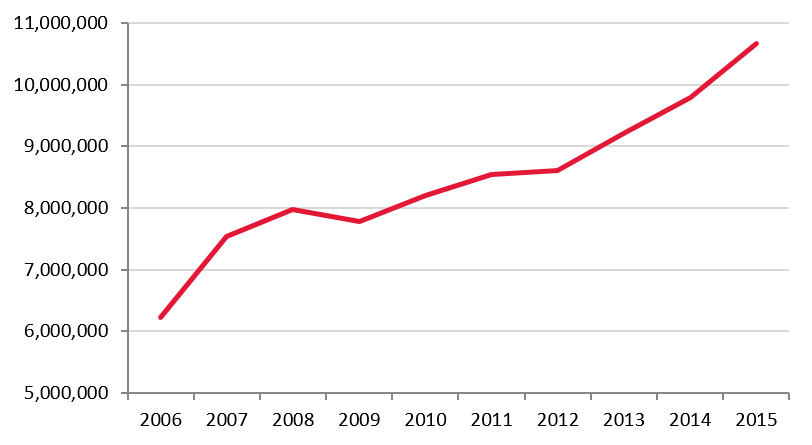 Source: Louis Armstrong New Orleans International Airport
In April 2013, Mayor Mitch Landrieu and the New Orleans Aviation Board announced plans for an $826-million redevelopment of MSY that would include a new, $546.5-million, 30-gate terminal with two concourses and a parking garage, as well as a $17-million hotel. Designs for the new, world-class terminal complex were unveiled in January 2014; construction on the project began in 2015, with completion expected by the city's tercentennial celebration in 2018.
With record visitation in 2014, tourism accounts for the substantial rise in passenger traffic so far this year.
An increase in nonstop destinations offered by Southwest Airlines has further bolstered traffic volume. The airline began daily nonstop service from New Orleans to San Antonio in April 2015. In November 2014, tour operator Vacation Express announced that it would add nonstop flights to Punta Cana, Dominican Republic; previous years' international service from MSY only included flights to Cancun, Mexico, from May through August. In addition, Allegiant Air began nonstop service to Cincinnati, Columbus, Indianapolis, and Orlando in February 2015. In June 2015, Silver Airways began twice-daily service to Birmingham, Alabama, and once-daily service to Pensacola, Florida, while Copa Airlines began offering nonstop service between New Orleans and Panama City, Panama. In September 2015, GLO, a public charter airline, announced daily nonstop flights to Shreveport, Little Rock, and Memphis, Tennessee. These additions bring MSY to a total offering of 15 airlines serving 49 nonstop destinations, a new record for the airport.
TOURIST ATTRACTIONS
Greater New Orleans' culture, architecture, and cuisine have a history of nearly three centuries. Numerous festivals and events draw millions of visitors to the city each year. Additionally, New Orleans is home to four professional sports franchises and is considered a prime venue for world-renowned sporting events.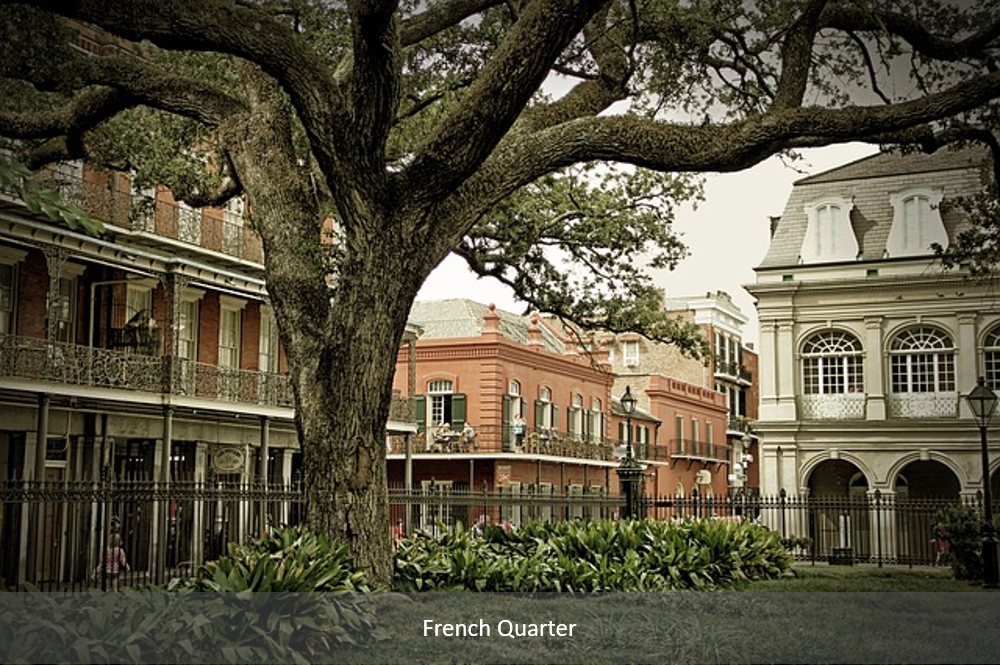 Dating back to the founding of New Orleans in 1718, the French Quarter, or "Vieux Carré," is the city's oldest neighborhood and a National Historic Landmark. The French Quarter comprises 85 square blocks of hotels, bars, restaurants, and museums, as well as the outdoor French Market, Bourbon Street, Jackson Square, and the St. Louis Cathedral. The district is famous for its distinct architectural style, which was influenced by the city's French and Spanish colonial rulers.
New Orleans' annual Mardi Gras celebration is one of the most famous and visited carnival celebrations in the world. Citywide Mardi Gras festivities, attended by over one million people, generate nearly one-half billion dollars for the local economy. Additionally, New Orleans attracts hundreds of thousands of visitors with a number of music and cultural festivals throughout the year, including the New Orleans Jazz & Heritage Festival, the Essence Music Festival, and the French Quarter Festival.
The Mercedes-Benz Superdome (previously known as the Louisiana Superdome), a multipurpose sports and exhibition facility, is located in the heart of the New Orleans Central Business District. The Superdome is home to the NFL's New Orleans Saints and has housed numerous major sporting events, including six Super Bowls and four NCAA Basketball Final Four tournaments. Annual events include the Essence Music Festival, the Mardi Gras Marathon, and the New Orleans Auto Show. The Superdome underwent a three-phase, $336-million renovation that was completed in June 2011; upgrades included new exterior siding, seating, and concourses, as well as two new club lounges, party suites, and a party deck. The Superdome is the site of the annual Allstate Sugar Bowl, which is part of the two-year rotation for the NCAA's College Football Playoff National Semifinal Games. The stadium hosted the 2012 NCAA Men's Final Four and Super Bowl XLVII in February 2013.
The National World War II Museum opened in New Orleans in 2000 to honor more than one million Americans who served in the war. Currently, the museum is undergoing a $340-million expansion campaign titled The Road to Victory: A Vision for Future Generations. As part of this expansion, construction was completed on the 4-D Solomon Victory Theater, the Stage Door Canteen entertainment hall, and the American Sector restaurant in 2009. In 2011, the museum unveiled the John E. Kushner Restoration Pavilion, a state-of-the-art research facility allowing visitors a behind-the-scenes look at the restoration of various artifacts from World War II. In December 2014, the first phase of the Campaigns of Courage Pavilion opened to the public. The Road to Berlin: European Theater Galleries is a 32,000-square-foot exhibit detailing the various countries through which Allied troops marched in the European Theater; the pavilion's second phase, the Road to Tokyo, will open in December 2015. Once complete in 2016, the Road to Victory project will have quadrupled the size of the original museum.
Closing Remarks
The recovery of several major industries in New Orleans has positively affected the performance of the city's hotels. Hospitality employment has increased along with tourism. Planned expansions at the Louis Armstrong New Orleans International Airport and the New Orleans Ernest N. Morial Convention Center will help accommodate the increased leisure travel forecast through the city's 300th anniversary in 2018. New Orleans has also proved a popular testing ground for new hotel brands, with new upscale lifestyle flags such as AC by Marriott, Moxy, and Virgin Hotels having recently arrived or on their way. The redevelopment of buildings and spaces left vacant since Hurricane Katrina also continues, and the New Orleans BioDistrict will spur new employment and generate demand as a destination for medical treatment and research. Other economic indicators support a strong outlook for the New Orleans market, as both employment levels and per-capita personal income are forecast to increase by 2020.
Over 5,400 new hotel rooms are planned for New Orleans over the next five years, though the completion of the convention center development and airport expansion should help generate demand to absorb the new supply. The major influx will arrive in 2017, with demand again outpacing the arrival of new supply the following year. Hotel values in New Orleans grew 7% in 2015; the addition of more upscale, higher-rated hotels should bring a value increase of 22% by 2018. This forecast puts the New Orleans hotel industry on a path of growth through to the city's highly anticipated tercentennial celebration.