Located along north Florida's Atlantic coast, Daytona Beach offers over 23 miles of beaches and a climate that calls to millions of tourists year-round, according to the Daytona Beach Area Convention and Visitors Bureau (DBACVB); the area has been a world-renowned vacation destination for over a century. Daytona Beach hosts seasonal NASCAR races and Bike Week, a motorcycle event that brings in approximately 500,000 people every March. The city is also home to the annual (Ladies Professional Golf Association) LPGA International and features two 18-hole courses and the LPGA headquarters. In addition to tourism, health care, retail, manufacturing, and education support the Daytona Beach economy.
The following HVS Market Pulse report lays out the foundations of Daytona Beach's demand generators and a looks into the future of the local hotel market.
Key Industries and Business Development
Tourism
Greater Daytona Beach thrives on the tourism trade, which brings in an estimated economic impact of $5 billion annually. Tourist attractions and related support services employ thousands of local residents, generating an annual payroll of roughly $430 million. Hotels, restaurants, retail shops, boating companies, and the Ocean Walk Village all subsist on tourism, which generates strong demand in the spring and summer months.
Apart from beach-related leisure travel, stock car racing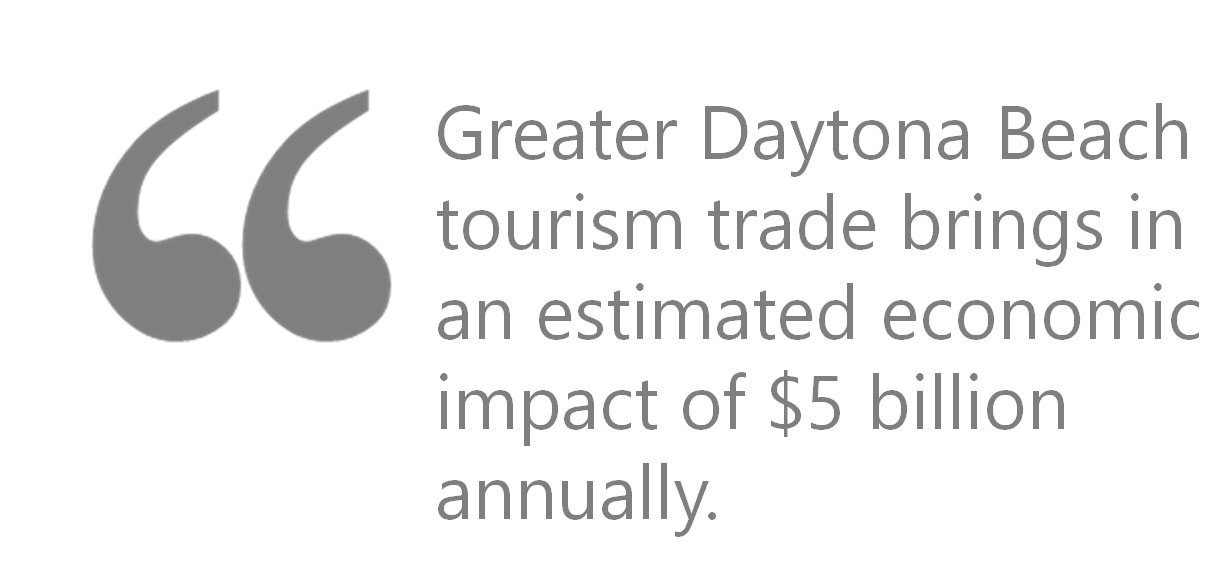 draws tourists to Daytona Beach's inland venues. The National Association for Stock Car Auto Racing (NASCAR) is headquartered in Daytona Beach, as is the International Speedway Corporation (ISC). The latter sits adjacent to the Daytona International Speedway, which recently completed a $400-million expansion and renovation known as "Daytona Rising." The project, which broke ground in July 2013, opened in time for the annual Rolex 24 race at the Daytona International Speedway in January 2016.
The second phase of the mixed-use development project, "One Daytona," is under construction across the street from the speedway and is slated for completion in 2017. The 181-acre site will feature a major entertainment complex with Bass Pro Shops and Cobb Theaters as anchors; it will include 1.1 million square feet of shopping, dining, hotel, theater, condominium, and office components. The complex, once complete, will reportedly create more than 4,000 jobs.
Manufacturing
Given Daytona Beach's vibrant public face of tourism, it may come as some surprise that Volusia County is home to more than 400 manufacturing firms. Major employers include Covidien, Boston Whaler, and Sparton, and new companies have entered and expanded within Volusia County in recent years. After investing significant capital to upgrade its existing facilities in 2009, AO Precision Manufacturing, a partner to the world's leading aerospace and defense companies, expanded its operations on an adjacent site in 2011. Teledyne Oil & Gas opened a $4.5-million, 52,000-square-foot global research and development center adjacent to its existing headquarters in October 2013. In July 2015, World Class Distribution Inc. opened a 600,000-square-foot distribution center for the Trader Joe's grocery chain. The $56.5-million project hired 400 employees right out of the gate, with plans to employ some 1,000 workers in the near future.
Health Care
Like manufacturing, health care represents a vital economic vein for the Daytona Beach economy. The 119-bed Florida Hospital Oceanside houses Volusia County's only licensed inpatient rehabilitation center, the Peninsula Rehabilitation Center. The Florida Hospital Memorial Medical Center and Comprehensive Cancer Center, which opened in 2010, serves as the area's most comprehensive oncology provider. Florida Hospital's Centra Care facility opened in June 2014.

In addition to the expansive Florida Hospital network, Halifax Health operates many divisions in Volusia County. In June 2009, Halifax Health Medical Center opened a ten-story, 510,000-square-foot patient tower, which includes an expanded emergency department and 180 private patient rooms. Halifax also offers the area's only pediatric emergency unit and a new rooftop helipad.
Meeting and Conventions
Daytona Beach's main convention venue, Ocean Center, sits across from the beachfront Hilton Daytona Beach Ocean Walk Village. A $76-million renovation and expansion was completed in early 2009, and Ocean Center now offers approximately 164,000 square feet of indoor and 100,000 square feet of outdoor exhibit space. The center also contains a 9,600-seat arena, 37 meeting rooms totaling 32,000 square feet, and a 12,000-square-foot banquet hall.
Source: Ocean Center
The annual number of events and attendees at Ocean Center declined from 2006/07 through 2008/09, in large part because of the renovation and expansion of the convention and exhibition facilities during that period. Event and delegate numbers grew significantly between fiscal 2009/10 and 2011/12. Growth slowed in fiscal 2012/13; however, according to the Daytona Beach Convention and Visitors Bureau, statistics for fiscal 2013/14 and 2014/15 illustrate lower attendance despite growth in total events. Several events, including the World Trampoline and Tumbling Championships, which ran for 17 days, were hosted at Ocean Center in 2014.
Looking forward, Shriners International has selected Ocean Center to host its annual convention, the Imperial Session, in 2017 and 2018, marking the first time in over 60 years that the organization will hold the event in the same location for two consecutive years. The five-day event is expected to draw approximately 20,000 attendees and have an estimated economic impact of $8 million each year.
Annual Events at Ocean Center on the Rise, while Attendance Declines in Recent Years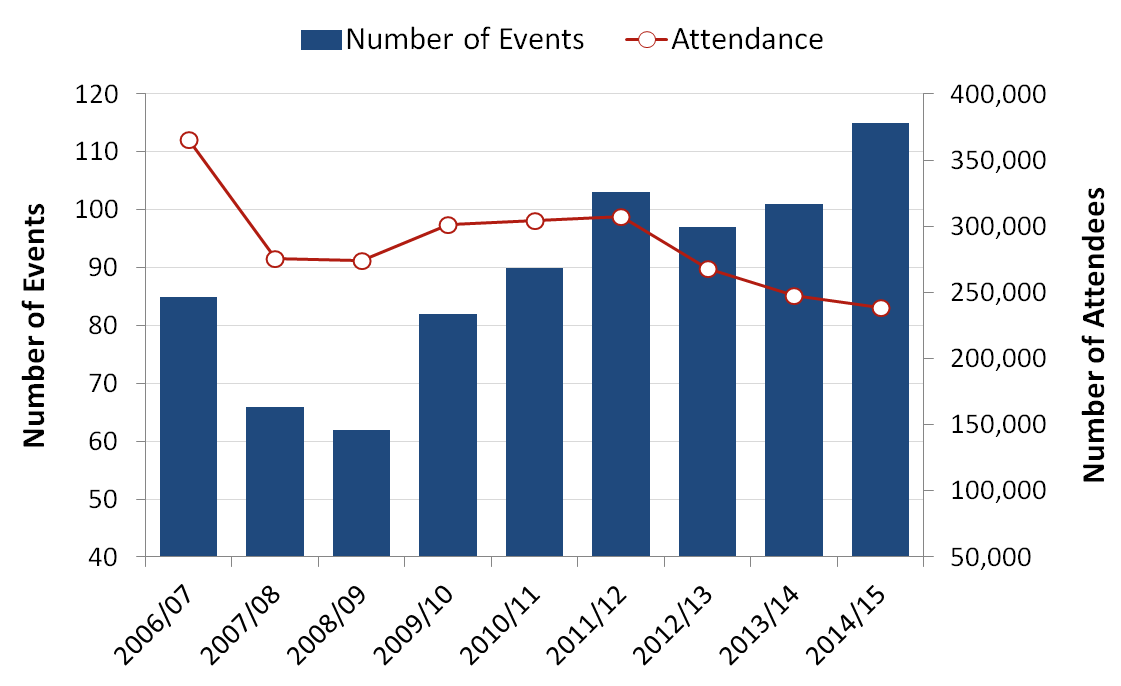 Source: Ocean Center
Hotel Inventory
Of the 7,423 hotel rooms in the Daytona Beach market, approximately 47% belong to branded properties, with the remaining 53% operated independently. Of the 3,513 branded rooms, Hilton Worldwide hotels represent 37% of the market, while InterContinental Hotels Group (IHG) and Wyndham Worldwide each hold 15% of the market share. Best Western International, La Quinta, and Marriott International each represent a notable portion of the branded rooms in the market, ranging between 6% and 8% market share.
Market Share for Branded Hotels in Daytona Beach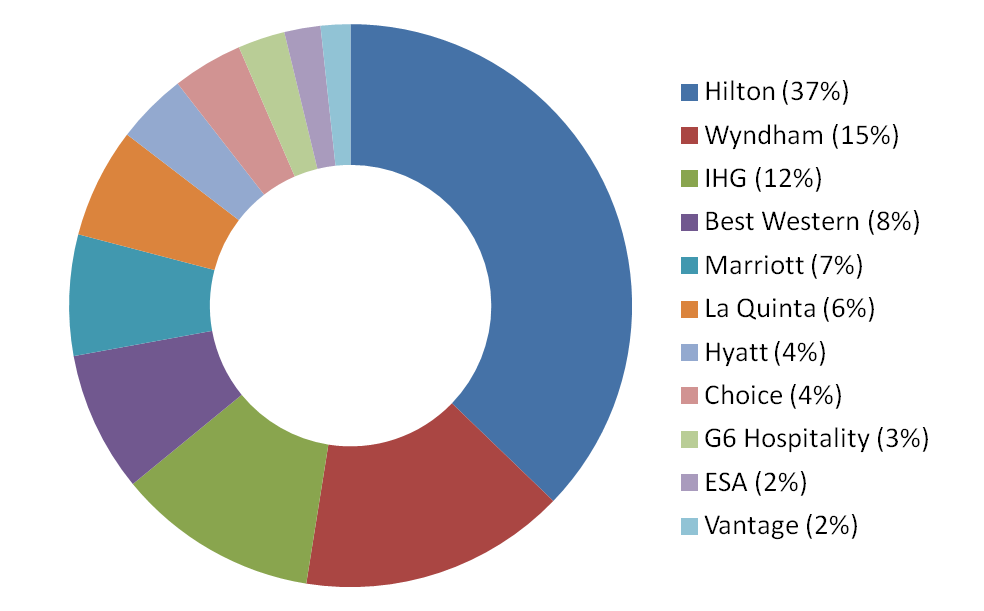 Source: STR
Brand Market Share by Rooms in Daytona Beach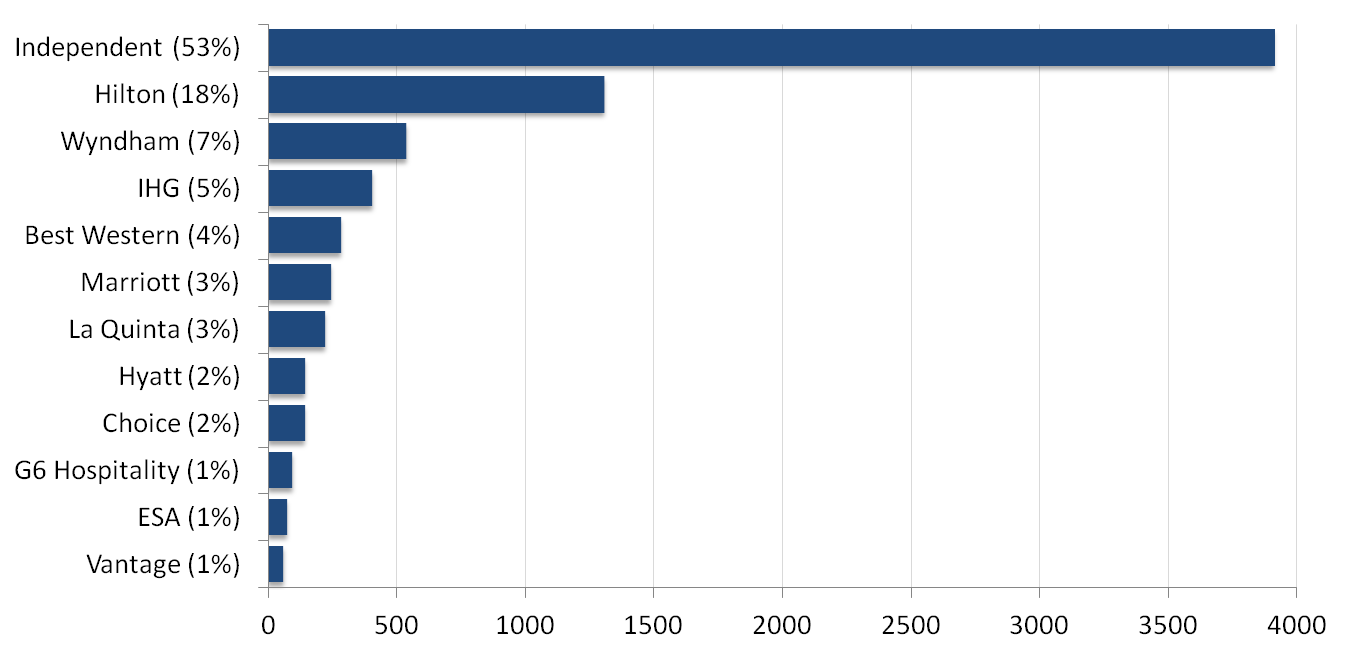 Source: STR
Hotel Market Segments
Leisure demand in Daytona Beach has rebounded in recent years, with the Daytona 500, Bike Week, and Spring Break attracting millions to the area each year. A new concert event, the Country 500, will be held at the Daytona International Speedway over Memorial Day weekend in 2016, generating additional tourism. Spring Break vacationers remain a cornerstone of leisure demand in Daytona, though the bulk of this subset of demand is geared toward economy and budget hotels.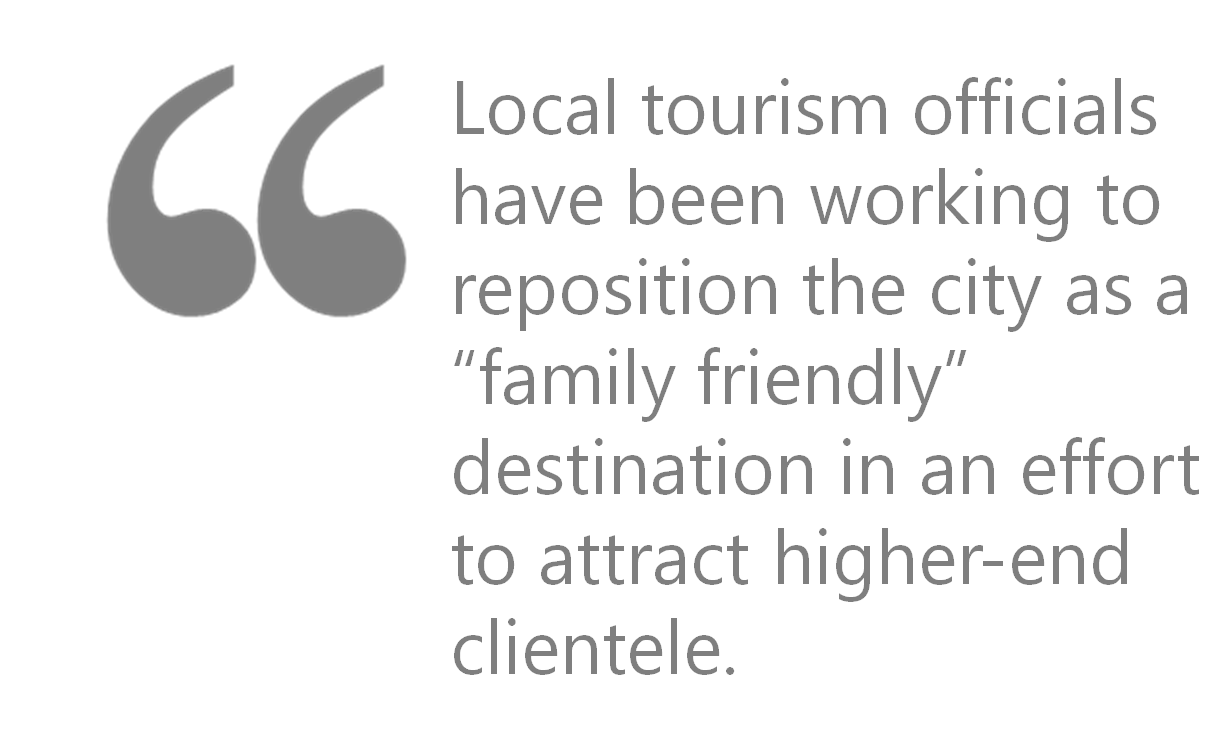 Local tourism officials have been working to reposition the city as a "family friendly" destination in aneffort to attract higher-end clientele. According to the DBACVB, travelers seeking an upper-upscale hotel option have previously gone away unaccommodated, and the market has lost these visitors to nearby destinations such as Orlando. With the addition of several upper-upscale hotels, the market should be able to capture some of this demand from nearby markets. We expect the leisure segment to illustrate moderate gains as discretionary spending increases and the quality of hotels in the market improves.
Meeting and group demand is primarily generated by Ocean Center, which booked $16 million in revenues in 2014 with the addition of several events. According to our market interviews, this positive trend continued in 2015 with the booking of some major athletic events. Daytona Beach will be the smallest city ever to host a Shriners convention, which typically draws between 15,000 and 20,000 Shriners and their families for a five-day program; as noted above, the Shriners have booked Ocean Center for back-to-back conventions in 2017 and 2018. Furthermore, the increase in hotel supply surrounding Ocean Center should support additional gains in this demand segment.
The area's expansive manufacturing and healthcare facilities drive commercial demand in Daytona Beach. The recent expansions of Florida Hospital and the Daytona International Speedway have been major sources of commercial demand for the hotels in the surrounding area because of the increased number of visiting practitioners and construction workers. Additionally, a Florida Department of Transportation project on the Interstate 95 corridor has brought additional commercial demand to the market. Ongoing highway construction should support modest increases in commercial demand in the near term; however, upon the project's completion in 2018, this demand is expected to decline slightly.
New Hotel Supply
Most of the current hotel development in the city is concentrated around the "One Daytona" project at the Daytona International Speedway. These hotels are scheduled to open in 2017, just as the "One Daytona" project concludes.
Seven Hotels Proposed for Development in Daytona Beach

Hotel development on the beachfront comprises the Hard Rock Daytona Beach hotel, the Daytona Beach Convention Hotel & Condos, and the Westin Daytona Beach hotel. The Hard Rock hotel and the Daytona Beach Convention Hotel & Condos are in the planning phases, while the Westin has broken ground.
Outlook
Daytona Beach's treasure trove of year-round tourism has historically underwritten the area's overall economic strength. Tourism subsided during the recent recession, and numbers were further depressed by Hurricane Charley and local government's efforts to reposition the market away from its infamous Spring Break image. The past two years have brought a revival, and the market continues to enjoy economic recovery that extends to commercial and meeting and group hotel demand.
Furthermore, the renovation and expansion of the Daytona International Speedway, the development of the adjacent entertainment complex, and the improving competitive standard of the area's hotel inventory should further boost tourism to Daytona Beach, supporting an optimistic outlook on the local economy and hotel industry in the near term.