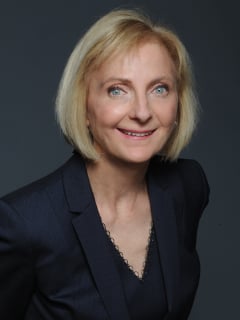 California's Napa Valley draws thousands of national and international tourists each year. With demand on the rise and occupancy reaching new heights, the local hotel market is on the verge of an upswing in supply. Strong average rates attract developers and investors to this highly desirable market.

As the "Food and Wine Capital" of the U.S., northern California's Napa Valley is world-renowned as a winemaking region of remarkable natural beauty. The artisan culture and Mediterranean climate supply Napa County with very strong levels of tourism, and developers have put more than a dozen proposed hotel projects into the pipeline to meet the demand.

Established in 1850, Napa County contains five incorporated cities: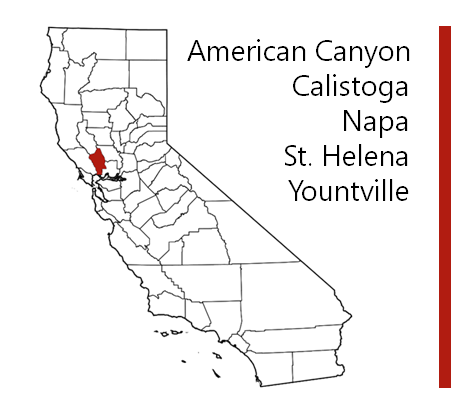 American Canyon, Calistoga, Napa, St. Helena, and Yountville. Within and around these urban centers, winemaking operations and vineyards dominate the region. Napa Valley, a 35-mile-long, 5-mile-wide American Viticultural Area (AVA), is one of the most prominent and well-regarded winemaking regions in the world. Napa Valley's history in commercial agricultural production and winemaking dates back two centuries, but its reputation for world-class viticulture—and the commercial and tourism opportunities associated with it—was not realized until the mid-1960s. Ever since, Napa Valley's economy has capitalized on the draw of the region's winemaking and culinary arts, making it one of the busiest tourism centers in California. Natural features such as two surrounding mountain ranges and Lake Berryessa also make Napa Valley a major recreational destination for the entire Bay Area.
On August 24, 2014, Napa Valley was struck by a 6.0-magnitude earthquake, the strongest to hit the San Francisco Bay Area in nearly 25 years. The earthquake and aftershocks resulted in injuries to dozens of people, damage to historic buildings in Downtown Napa, gas leaks, and downed power lines. Downtown hotels, including the Andaz Napa, the Marriott Napa Valley Hotel & Spa, and the Westin Verasa Napa suffered damages and were temporarily closed. Hotels experienced last-minute changes and cancelations in the following weeks, which negatively affected occupancy for the local hotel market in 2014.
The negative effects on tourism were, however, short-lived, and hotel demand in Napa Valley remains strong.1 In 2014, Napa Valley welcomed 3.3 million visitors, up from 2.94 million in 2012. Two-thirds of these (2.2 million) were day-trip visitors.2 The top domestic feeder market was the San Francisco – Oakland – San Jose MSA, which accounted for 45.3% of all domestic Napa visitors.3
Nearly 83% of Napa Valley visitors in 2014 reported leisure (vacation, weekend getaway, or other personal travel) as their primary reason for traveling to the area. Napa and St. Helena had the most visitors, followed by Calistoga and Yountville. Nearly all travelers to Napa Valley (94.1%) arrive by car and visit an average of three wineries per trip.4
Visitor Spending Trends
An estimated 11,766 jobs are supported by visitor spending in Napa Valley; of these, 4,567 are in restaurants and 3,383 are in hotels.5 Visitors to Napa Valley helped generate $1.63 billion in direct Napa County spending in 2014, up from $1.4 billion in 2012. Per day in 2014, the average visitor spent $482.71, with overnight guests spending $807.18 and day trippers spending $341.53.6 Per day in 2012, the average visitor spent $458.87 ($708.47 for overnighters and $349.78 for day trippers).7

Napa Valley currently has approximately 70 hotels, inns, resorts, and bed & breakfast establishments, totaling just over 4,800 rooms. Between 2001 and 2005, supply rose by almost 15%, followed by a nearly 40% increase from 2006 through 2010. Since 2011, the pace of new supply entering the market has slowed considerably; no new properties opened between 2011 and 2015, and just one hotel, the Hampton Inn & Suites Napa, has opened so far in 2016.
The chart below illustrates trends in hotel supply in Napa Valley since 2001.
Historical Supply Growth (Number of Rooms)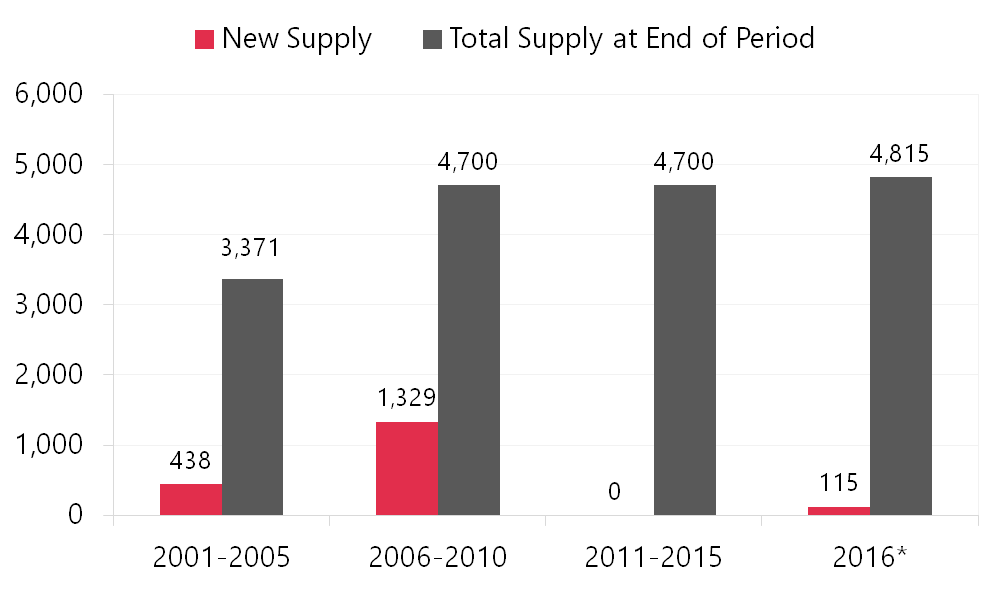 *Through March 2016
Source: HVS with data from STR
It is important to note that Napa has a perennial list of new supply, but new hotels often open in a trickle, staggered over time, given the challenges of project approvals and financing. This has been favorable, allowing Napa to slowly absorb new supply over time.
Of the 4,815 rooms in inventory as of March 2016, roughly 51% were affiliated with a brand, with the remaining 49% operating as independent hotels. Wyndham Worldwide operates approximately 25% of the 2,443 branded rooms in inventory, the largest share of any major brand in the market; Hilton Worldwide, Marriott International, and Best Western Hotels & Resorts each have market shares between 10% and 22%. As noted in the following chart, other brands such as Choice Hotels, InterContinental Hotels Group (IHG), and Motel 6 hold a combined market share of roughly 11%. However, it should be noted that of the 70 hotels currently in the market, only 19 are brand-affiliated properties, while the remaining 51 hotels are independent. The branded hotels tend to have a larger room count than the independent hotels, which allows them to make up slightly more than half of the market's room supply.
Market Share by Brand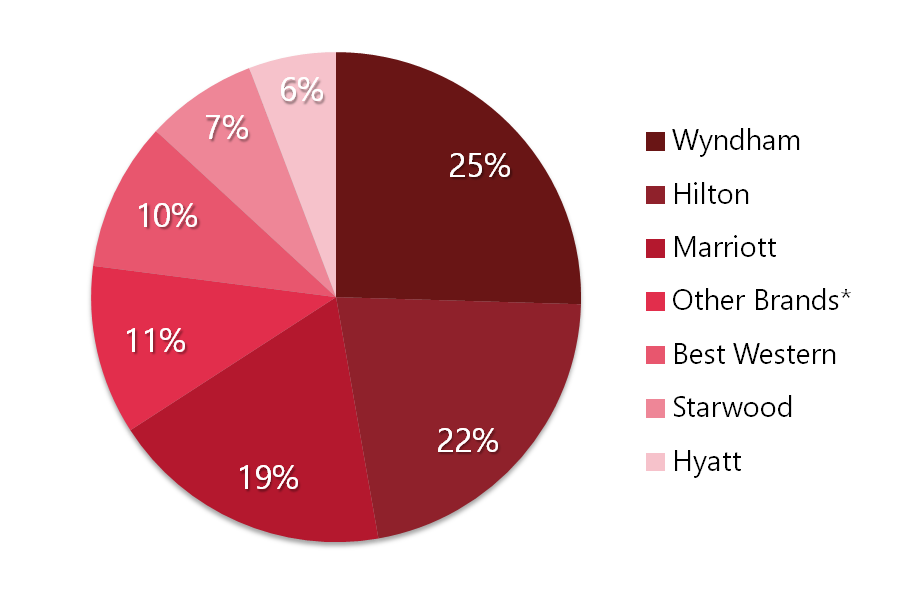 * Other brands include Choice, InterContinental Hotels Group (IHG), and Motel 6
Source: HVS with data from STR
Starwood Hotels & Resorts operates one hotel in the market, though a Luxury Collection Las Alcobas Hotel by Starwood is in development and is scheduled to open in 2016. Four Seasons is perhaps the most notable luxury brand missing from the market as of 2016; however, Four Seasons is anticipated to open an 85-room hotel in Calistoga in 2018.
The hotel pipeline in Napa Valley is on the verge of another boom, with 19 properties and over 2,000 guestrooms in either the planning or construction phases.
New Supply Planning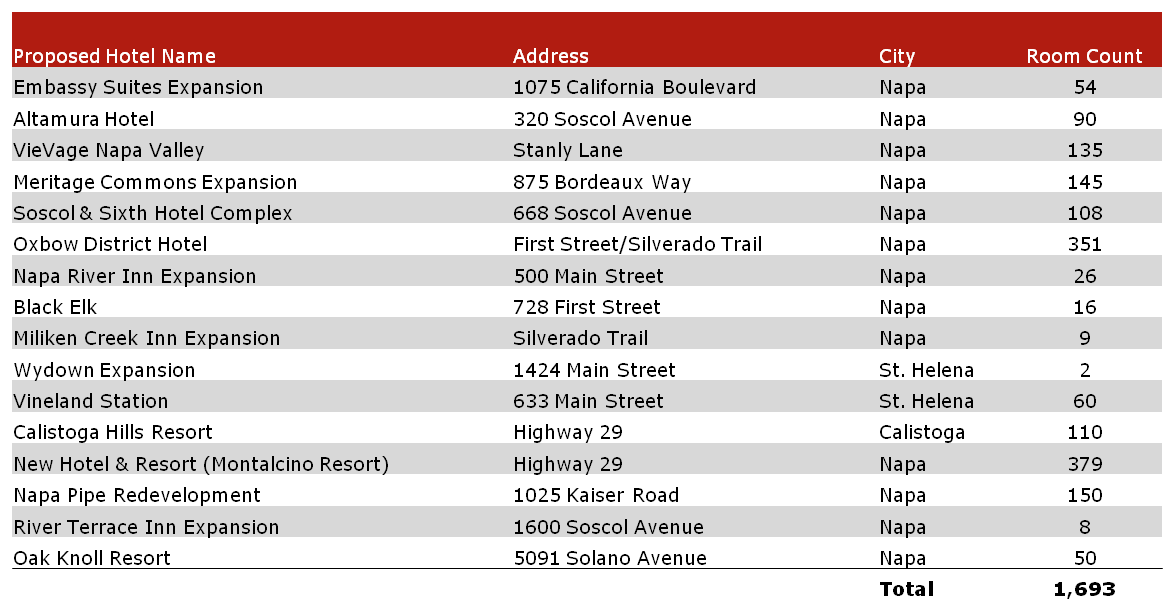 Source: HVS, Napa Valley Planning Departments
Though the pipeline spans hotels of many sizes, asset classes, and brands, a few notable trends are present. Most hotels in the planning phase are unbranded, while two of the three hotels already under construction represent branded assets. This gives some indication of the power of branding when it comes to initiating and finalizing construction in today's market.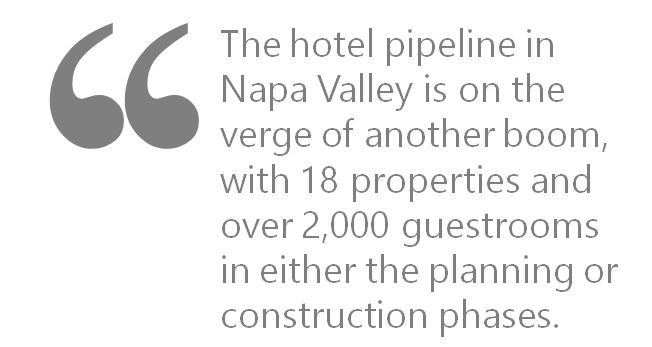 Even though projects may receive preliminary approval, the high barriers to entry in Napa Valley often produce substantial hurdles and lengthy timelines for new developments. The biggest obstacle for projects is receiving approval, followed by obtaining financing for large projects. Historically, the smaller projects have had a better chance of being financed, compared to larger projects. Some projects that received design approval prior to the 2008/09 recession are now no longer feasible due to features such as underground parking or other design elements; these proposed projects now have to undergo revision and resubmission for review and approval, further delaying the development timeline.
Concerns over available water supply, sewer infrastructure, environmental pressures, and increased traffic are additional constraints limiting the number of new hotels in Napa Valley. Traffic congestion on State Highway 29 is a particular problem; at its intersection with First Street, the average daily traffic count in 2001 was 52,000, a number that had risen to 61,000 in 2014.8
Land-use policy is a major factor in hotel development. Napa County has had agricultural land protection policies since the 1960s to preserve the agricultural character and quality of the Valley. In addition, new development and redevelopment projects in Napa Valley may be subject to extra infrastructure improvements, which can inflate costs, further hindering project feasibility.
New Supply – Under Construction

Source: HVS, Napa Valley Planning Departments
Getting hotel developments approved and financed can take multiple years. Two such examples are the New Hotel & Resort (formerly known as the Montalcino Resort), which has been proposed for over 15 years, and the Oxbow District Hotel (formerly known as the Ritz-Carlton site), which was first approved in 2008, but could not be financed during the height of the financial crisis. Both projects have subsequently been listed for sale multiple times and both were listed most recently in 2015. As of March 2016, both projects did not transact; however, the current ownership of the Oxbow District Project will reportedly proceed with plans for the hotel.
At a combined 729 rooms, each of these proposed hotels is more than 50% larger than any other hotel currently under development in the area; together, they also represent approximately 43% of the new supply currently in the planning stage of development. Having been stalled so long in the planning stages, however, it is uncertain when—or if—these hotels will actually be completed.
There have been 16 hotel transactions in Napa Valley over the past five years, with prices ranging from $115,254 to $1,370,968 per key, with the top sale being $1.3 million per key for the leasehold interest in Bardessono. These high prices per key are another factor that attracts developers to the market.

Napa Valley continues to be one of the strongest resort submarkets in California, driven by healthy demand and constraints on the development of new supply. With the recovery and resurgence of the regional Bay Area economy, largely led by the technology sector, area residents have increased discretionary spending related to travel, particularly for drive-to destinations like Napa Valley. The area also mounted a remarkable recovery from the recent earthquake, a sign of not only economic resilience but the determination of Napa County's winemakers, businesses, and government to keep tourism flowing.
Lodging demand is expected to remain strong through the near term, enhancing the market's appeal for hotel investors and developers. Furthermore, new supply should come about in staggered stages, allowing for healthy absorption of the additional room nights. This supports an optimistic outlook for the Napa Valley hotel market in the near term.