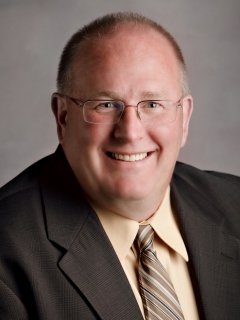 The hotel market in Atlanta saw significant improvements in 2010. The following article highlights some of the major market factors in the city, as well as the dynamics that are helping push hotel performance in 2011.
Hotel Supply in Atlanta
Atlanta's lodging landscape is diverse, consisting of seven major submarkets. The following map of greater Atlanta illustrates their geography: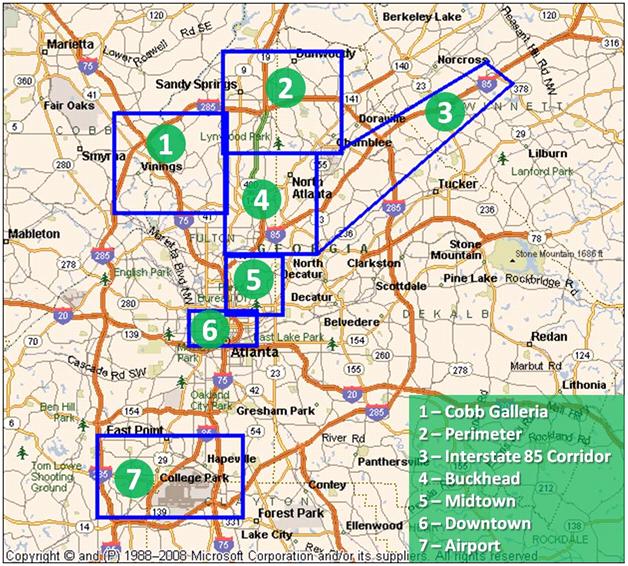 Hotels belonging to the limited-service asset class are spread throughout the city, predominantly in the Perimeter, Cobb-Galleria, and Airport submarkets, as well as along the Northeast Interstate 85 corridor. Hotels in the Downtown, Midtown, and Buckhead submarkets cater more to the full-service-oriented traveler.

Supply additions in the Atlanta metro area over the past two to three years have come predominantly in the form of high-end luxury hotels, mostly in the Downtown, Midtown, and Buckhead submarkets. The lack of new competitive limited-service supply, in particular, helped existing properties recover quickly in 2010.
Hotel Demand
Demand has grown significantly in the Atlanta market over the past twelve months. In fact, occupancy in Atlanta has almost returned to pre-recession levels, led by one of the strongest citywide convention seasons in years. All submarkets benefitted from compression from downtown conventions. Deeply discounted hotel rates across the board in 2010 proved an effective lure, and attendance was up for all conventions when compared with the levels achieved in 2009.
One of the biggest drivers of demand for hotels in Atlanta's northern submarkets is CSX Railroad. In 2009, CSX canceled training programs for the entire year, causing demand to recede approximately 10 to 20%. CSX resumed training activity in early 2010, creating a tremendously positive impact on hotel performance, with many hotels in the Perimeter and Cobb-Galleria submarkets selling out for six weeks at time.
Tourism also picked up in 2010. Atlanta is replete with tourist attractions, from the World of Coca-Cola to the Georgia Aquarium. Discounted hotel rates and Atlanta's position as a convenient and attractive southeastern destination have drawn a large flock of travelers who might otherwise have vacationed overseas.
Some forecasts had envisioned a slowdown in demand in the latter half of 2010 as the strong downtown convention season was expected to trail off. But with the recovery of the local economy and increased travel, hotel performance in Atlanta's submarkets actually grew through the end of last year and into 2011.
Hotel Performance
Occupancy and demand levels made a strong comeback in 2010, though average rate recovery still lags behind. The good news is that average rate has ceased to decline since late 2010, thanks to the healthy increases in demand nationwide, especially in gateway markets like Atlanta. Hoteliers remain cautious, given that the economy may see some turbulence as a result of conflicts in the Middle East and rising oil prices; this could have a very near-term effect on the summer vacation period (June through August), which is otherwise expected to be much stronger than in recent years. Average rate is, however, expected to make gains in 2011, with momentum building for stronger growth in 2012 and 2013. This assumes, of course, that the economy and demand levels stay on the recovery track.
Brand-mandated renovations and property improvement plan (PIP) upgrades will be a major force pushing the performance of full-service hotels in Atlanta and across the nation over the next two years. Travelers continue to seek the most refined hotel accommodations and amenities their dollars will buy; during the recession, many hotels put off PIP projects while lowering rates to capture demand. Now that demand is coming back in force, owners are putting money back into property upgrades that should prove a good investment when it comes to commanding higher rates going forward.
The Future
The Atlanta market is expected to rebound quickly given the large number of corporate headquarters located in the metro area, the ease of access to and from the city, major tourism attractions, and a recovering economy. A new international terminal at Hartsfield-Jackson Atlanta International Airport is also expected to stimulate a surge in international business and hotel demand, with an opening scheduled for April of 2012.
Other positive factors include a strong lineup for the 2011 convention season and the training activities of CSX Railroad. The biannual AmericasMart Atlanta, a mammoth congregation of exhibitors and buyers of a wide range of retail goods, had a large uptick in attendance in 2010. Attendance is expected to be even stronger in 2011 as an improving economy prompts retailers to increase their inventories. As local headquarters companies such as Home Depot and Cox ramp up hiring and business levels, they will be sending more business to Atlanta hotels; smaller companies that support or contract with the major players should also provide increased demand. Hence, with improving performance fundamentals and a resurgence of demand, the hotel market stands to gain ground in Atlanta.
HVS Atlanta office
. Mike earned his bachelor's degree in Hotel and Restaurant Management from East Stroudsburg University and has over 25 years of experience working at hotels and convention centers. He is a certified general appraiser in Georgia and surrounding states. Please contact Mike at
[email protected]
or +1 678-628-6577.
Mike is a Partner and Senior Vice President for the