India − with a large domestic consumer base, a significant increase expected in foreign tourist arrivals (FTA) and an overall healthy economic growth − is attracting several globally renowned hotel brands to set up shop in the country. While the Luxury and Upscale players started eyeing the Indian landscape during the mid-90s, Mid-Market and Budget brands like the Courtyard by Marriott, Hilton Garden Inn, Four Points by Sheraton, Novotel, Aloft, Premiere Inn and Ibis have strategically entered the market in the last two to three years. As the Indian hospitality sector gears up for stiff competition across the positioning spectrum, it is interesting to take note of the development costs associated with these assets. As most brands have an international presence, are the development costs and construction tenures of their India projects in line with their own international benchmarks?
Over the past two years, HVS has been collating data to shortlist hotels for the 'New Hotels of the Year Award' at HICSA [Hotel Investment Conference - South Asia]. This has enabled HVS to maintain its own repository of all the new hotel developments in the country. The two fundamental questions we ask are, 'How much does it cost to build these hotels?' and 'What is the average time taken to complete these projects?'

This article aims to answer these questions by presenting development costs and construction tenures of branded hotels across all positioning that have recently entered the Indian market.

Construction Cost Index

The last two years have seen building and material costs escalate, owing partially to the rising inflation. According to the Construction Cost Indices for Buildings released every month by the Construction Industry Development Council (CIDC), the material costs witnessed a steep increase in early-2008, then remained relatively stable for the remainder of that year as well as most of 2009, but have now seen a jump in 2010 again. Exhibit 1 displays the Construction Cost Indices for Buildings for six major cities in India.

Exhibit 1: Construction Cost Indices for Buildings*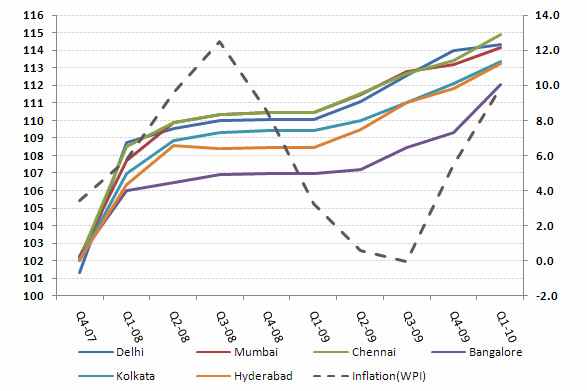 Development Costs Survey

HVS examined the recent trends in development costs of branded hotels that opened across the country in the past 24 months. Our survey sample included data for over 9,000 hotel rooms from 70 hotels, across five levels of positioning: Luxury, Upscale, Mid Market, Budget, and Serviced Apartments.

Exhibit 2 presents an average of the development costs incurred by these hotels (excluding land cost), per key in US dollars. As expected, the Luxury segment had the highest average development cost per key, followed by Upscale, Mid Market, and the Budget positioning. Branded Serviced Apartments incurred development expenses similar to that of the Upscale segment.

It is interesting to note that there was a significant variance between development costs within the same positioning, across all segments. For instance, the lowest development cost per key was almost a third of the maximum development cost per key within the Luxury segment. Although such a variance can be partially attributed to factors such as diverse hotel design elements, size and scale of public areas, varied brand standards as well as the experience (or lack thereof) of the developer, this huge gap across the same positioning also highlights an obvious lack of standardisation. This frequent deviation from brand standards is a result of several hotel developers merging their business plans with their personal aspirations in their quest for developing unique, landmark projects instead of constructing efficient products that maximize the return on investment. The international brands have set standards that they practice globally. However, they too are in the process of re-inventing their brand standards for India so as to effectively penetrate the Indian hospitality sector; thus, they are yet to establish firm guidelines that would ensure a consistent brand and product delivery, irrespective of the location of the hotel. It is, thus, no surprise that the same brand may offer two or more widely varied products across different cities in India.

Exhibit 2: Development Cost per Key (USD - 000's)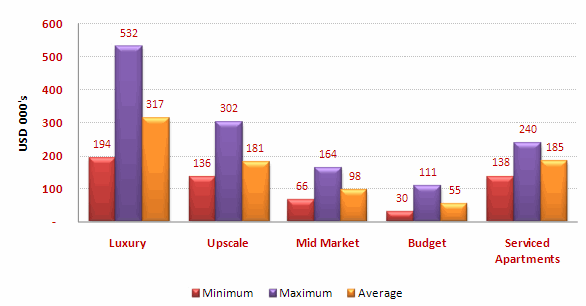 Construction Tenure Survey

HVS also analyzed the construction tenure for the same hotels that opened in the past 24 months. Exhibit 3 illustrates that the average time for building a hotel was approximately 39 months in the Luxury segment and 30 months for both the Upscale and the Mid-market segments. It took approximately 23 months on an average to construct Budget hotels and 34 months for the development of Branded Serviced Apartments. While the average construction tenure across different positioning was expectedly varied, an interesting outcome of this exercise was that the longest time taken to build a hotel across most of the researched positioning was approximately four years. This could be attributed to the fact that the actual time taken to gather the required licenses, permissions and funding ends up delaying projects, irrespective of their positioning. HVS research1 reveals that a full service hotel requires over 120 licenses from multiple state and central agencies (as many as 40 depending upon the state) before it can open and operate. This process can take multiple years, especially if the developer is new to the system.

Exhibit 3: Construction Tenure (Months)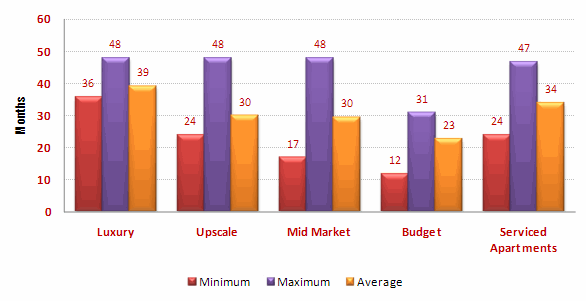 Other Emerging Trends

Most internationally branded hotels that opened over the last two years have provided extended and varied food and beverage (F&B) options. A typical Mid-Market hotel in the United States for instance, would offer no more than one F&B outlet and negligible meeting space, if any. However, the same brand is offering two to three F&B options and substantial meeting space in India. F&B is a significant contributor to the top line, especially in Tier II and III locations, such as Bhubaneswar, Raipur, Chandigarh, etc.

Also, the availability of relatively inexpensive manpower as compared to that in North America and Europe has given these brands an opportunity to develop full service hotels, even in the Budget and Mid-Market space. Another emerging trend in the Budget space is the outsourcing of F&B facilities on a revenue-share model to brands such as Café Coffee Day and Barista. Laundry and housekeeping services are also increasingly being outsourced with the expansion of facilities management companies such as Aramark entering India. Outsourcing allows the hotels to reduce fixed costs and thus enables even stronger bottom lines.

In Closing

As the Indian hospitality sector grows, it will begin to see more differentiation in the presently hazy hotel positioning. While it is fair to assert that hotels in India are currently witnessing several overlaps between the Budget and Mid-Market segments and then again between the Mid-Market and Upscale segments, it is likely that the picture will become clearer with time. We anticipate that as the industry matures, each segment will carve its niche in terms of the product as well as service deliverables and there will thus be a rationalisation of development costs, which will be in line with their respective market positioning.
---
1 Manav Thadani and Saurabh Gupta. Critical Issues Facing Indian Hospitality – An HVS Whitepaper, January 2009.